When you're busy roasting, basting, nurturing, loving, and otherwise babysitting the turkey to make it an Instagram-worthy centerpiece, you really don't have time to spend whipping up elaborate sides.
On the other hand, everyone says Thanksgiving is about the sides, not the bird.
What's a host to do?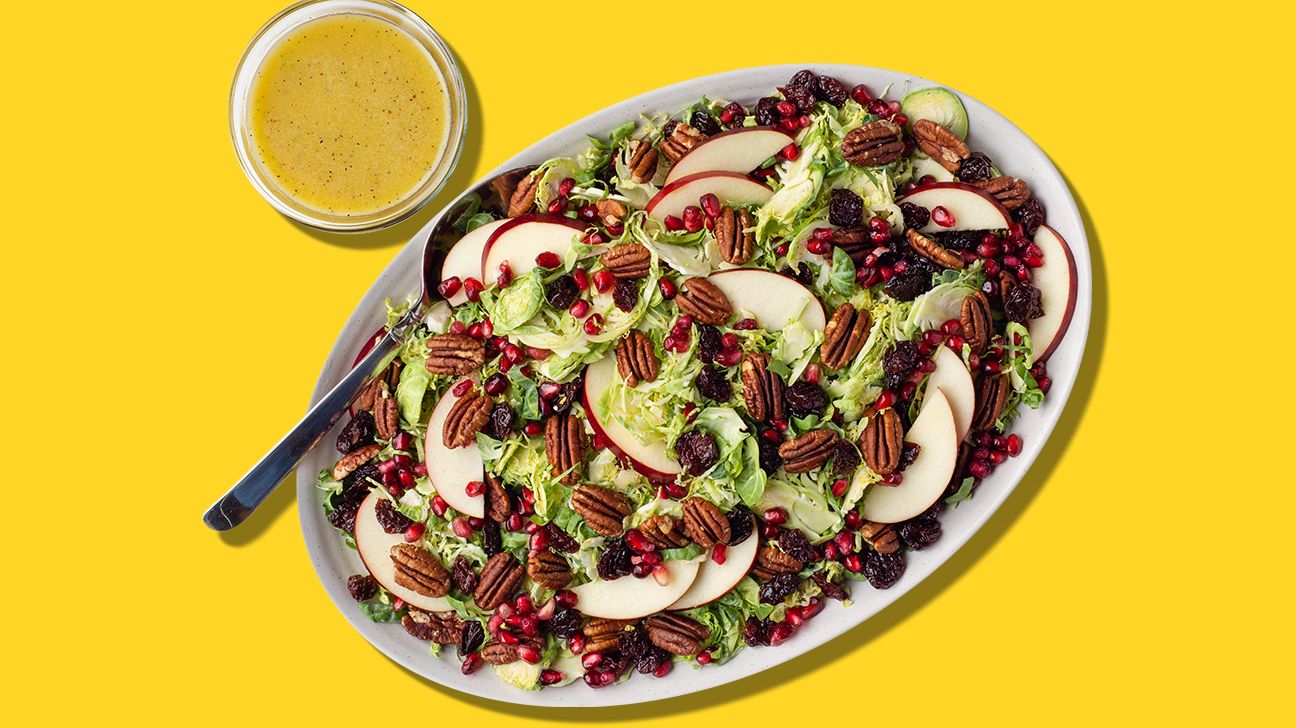 Fear not. If you're worried about what to make on Thanksgiving, help is at hand. There's a way to get a beautiful bird on the table and knock it out of the park with the Thanksgiving side dishes without completely losing your mind before your guests even show up.
From mac and cheese to mashed potatoes to pretzel stuffing (yes, you read that right), these easy Thanksgiving sides take only 20 minutes to make — but taste like they took hours and hours and hours.
(The pretzel stuffing takes a little longer, but it's worth it. Because pretzel stuffing.)
Your guests will be impressed, and you'll be walking away as the host of the year without breaking a sweat. Check out these epic Thanksgiving dinner sides!
The stuff of dreams…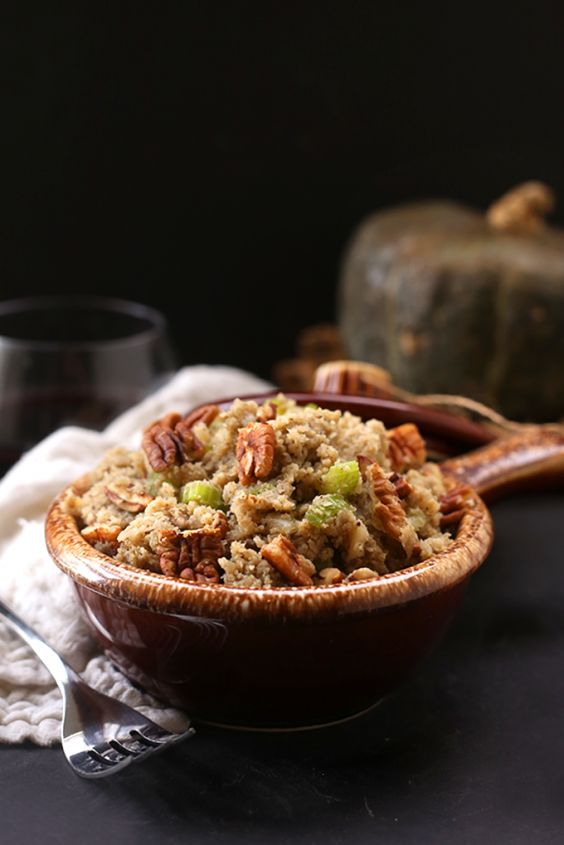 This bread-free stuffing isn't just gluten-free — it's also totally grain-free, thanks to using trusty cauliflower as a stand-in for rice.
Mushrooms add some meatiness, while pecans provide some crunch (despite the lack of croutons).
Pecans also play a key role in these Thanksgiving desserts.
Because name a single thing that's better without pretzels. It's OK. We'll wait.
If you're headed to someone else's dinner and are wondering what to bring to Thanksgiving, this will 100 percent secure your spot at the table for the next 5 years minimum.
It's a little more work than the other sides here, but we had to include it due to its deliciousness. Choose soft pretzels for the stuffingiest texture and make it as fall as possible with sage, thyme, rosemary, and parsley.
This recipe calls for an optional sprinkle of monosodium glutamate (MSG), but we'd recommend against it. There's more than enough indulgence in here to go round.
To counterbalance all. That. Meat. (Or veggie protein.)
With olive oil replacing some butter and a generous handful of pecans thrown into the mix along with the Brussels sprouts, this side is especially heart-healthy and has tons of fiber.
And there are only 2 tablespoons of maple syrup in the whole recipe, so you won't max out on your added sugar allowance before dessert.
Shredding Brussels sprouts instead of leaving them whole is a great way to get them into people who are convinced they don't like these cruciferous gems.
Tossed with sweet Honeycrisp apples, walnuts, and savory Parmesan, this salad will have even sprout skeptics reaching for seconds.
Slaws are usually reserved for warm weather picnics, but this one is the perfect fall accompaniment to your Thanksgiving entrees. You're welcome.
The shredded cabbage is tossed with fresh apples and pomegranates, dried apricots, toasted almonds, and tarragon for the perfect balance of sweet, savory, and crunchy.
Who needs a ton of other ingredients when bacon is around? This keto-friendly, dairy-free side requires just four ingredients, but every bite explodes with flavor.
From the meaty mushrooms and the earthy parsley to the salty bacon and all the garlic, this is a side that won't last long.
You can leave the canned peas on the supermarket shelf and head to the frozen aisle.
Simply zap frozen peas in the microwave for a few minutes, then toss them in a pan with some tender onions and crispy bacon. (Yup, we knew we'd have you at bacon.)
This gratin is much less labor-intensive than a stuffing, but it has much more of a comfort-food appeal than a salad.
The broccoli is roasted then baked with plenty of cheddar and Parmesan, as well as breadcrumbs, so you'll be getting in quality veggies while enjoying some cheesy goodness. Win-win.
Never thought of roasting cabbage before? Give it a go and you'll gain a whole new appreciation for it.
The oven tenderizes the tougher stalks and thicker leaves, charring them ever so slightly on the edges to give them an almost smoky flavor.
The dish is unconventional for Thanksgiving but incredibly easy and tasty.
You can totally use regular carrots here, but multicolored ones will make this dish that much more special without adding any complicated steps to the recipe.
The purple, orange, and yellow root veggies naturally caramelize in the oven, so they need the simplest of seasonings to be a stunning side.
Put seasonal fruits and veggies front and center with this light yet satisfying salad.
Apples, fennel, and kohlrabi hit their peaks in the fall and winter. So, they're the perfect base. Meanwhile, toppings like walnuts and blue cheese add some healthy fats and even more fun flavors.
With fresh parsley and mint, zesty lemon juice, and juicy tomatoes, this gluten-free take on the traditional cracked wheat salad definitely gives off summery vibes.
Plus, quinoa is quinoa, and that's an addition to boost any meal.
But that's all the more reason it'll make for a refreshing side next to the roasted turkey and hot casseroles. Ready in just 15 minutes, it's equally useful as a last-minute dish as it is a make-ahead one.
That sauce. (And soup.)
Why use store-bought cranberry sauce when it takes only 15 minutes to whip up a homemade version that's fresher, healthier, and undoubtedly tastier?
This recipe goes easy on the added sugars, throws in oranges and apples for more depth of flavor, and even adds chopped nuts for more texture.
It just isn't Thanksgiving without gravy, but instead of using turkey drippings and butter, this quick, vegan version uses shiitake mushrooms, plant-based milk, and vegetable broth.
Serve it with some dairy-free mashed potatoes (or cauliflower), and the herbivores at your table will be forever grateful.
Heck yes.
It's best to have some lighter options on the table. But the holiday is also a time to dig into some of the more decadent favorites.
Take this mac and cheese: Easily the reigning monarch of the Thanksgiving side dish recipes.
With plenty of cheddar and Parmesan, plus actual pasta instead of a low carb substitute, it'll be one of the richer sides on the table, but it sure will be delicious. Plus, a small portion will go a long way.
Grain-free folks don't need to miss out on one of the best Thanksgiving sides imaginable.
These drop biscuits have an almond flour base, which bakes up beautifully, especially since eggs hold them together, and lots of cheddar cheese is involved too.
You'd never guess that this creamy mash is low carb, but that's the magic of blended cauliflower!
Season this as simply as possible with garlic, salt, and pepper and make it with olive oil instead of butter and milk. It's also a suitable side for any vegans or dairy-free folks at the table.
Even lower maintenance than a skillet dish, this recipe eliminates the need for stovetop cooking.
Instead, this is one of the quickest easy Thanksgiving sides It requires just 5 minutes in the oven and puts the "easy" back into "cheesy power" by requiring little more than asparagus, mozzarella, and Parmesan.
You can mash cauliflower, you can rice it, but sometimes, you just have to let it be.
Here, the florets remain intact as they're skillet-cooked with garlic, red pepper flakes, and Parmesan. It's not overly fancy, and that's exactly why it works so well.
Your Thanksgiving sides don't need to be traditional or boring. You can really explore a world of food with both healthy and indulgent options to please any palate.
If you're limiting your guests this year (hey, COVID-19, why are you still here?), why not try one of these Thanksgiving feasts for two and see where your imagination takes you?