Forget the turkey. We say the star of any Thanksgiving showcase is the dessert table.
The pies. The pillowy pumpkin cookies. The sweet-and-savory cheesecake. The piecaken (wait, what?).
But how many Thanksgivings have you attended that have had the exact same dessert offerings? Let us guess: pumpkin pie, pecan pie, and apple crumble?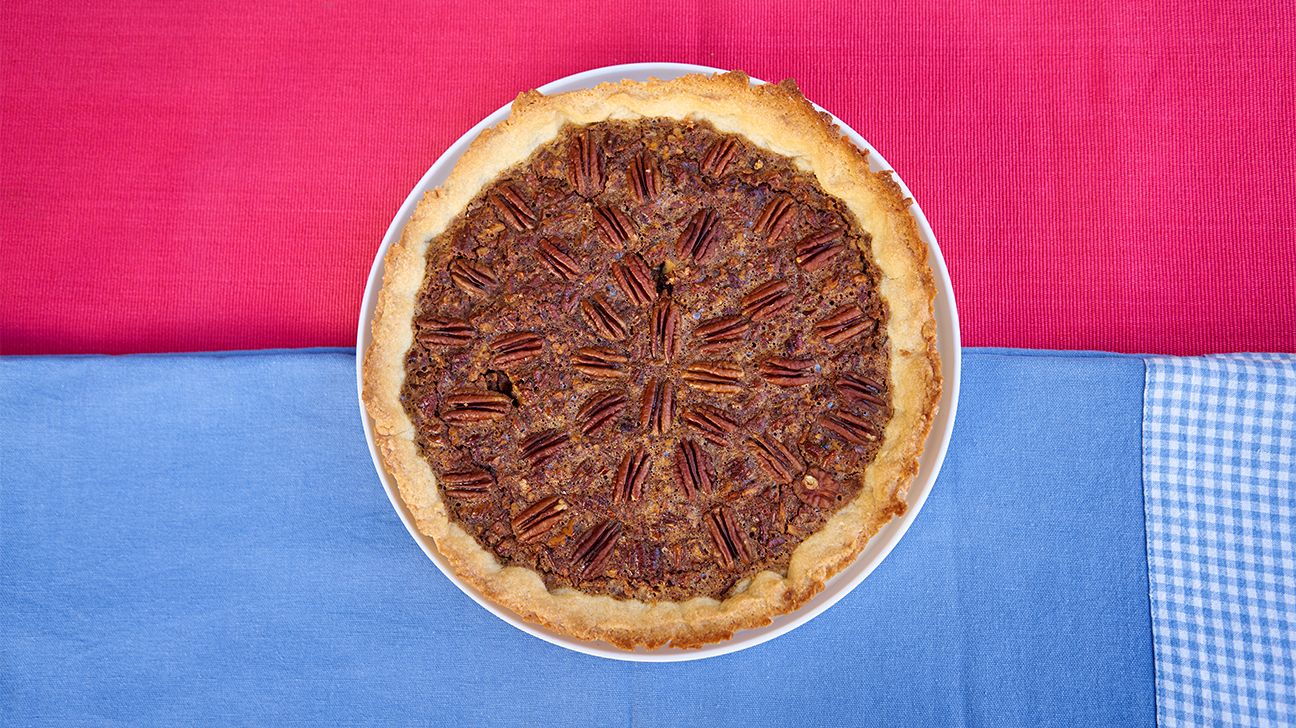 Let's shake things up, shall we? From cookies to crumbles to cakes, these 91 unique Thanksgiving dessert recipes are simply to die for.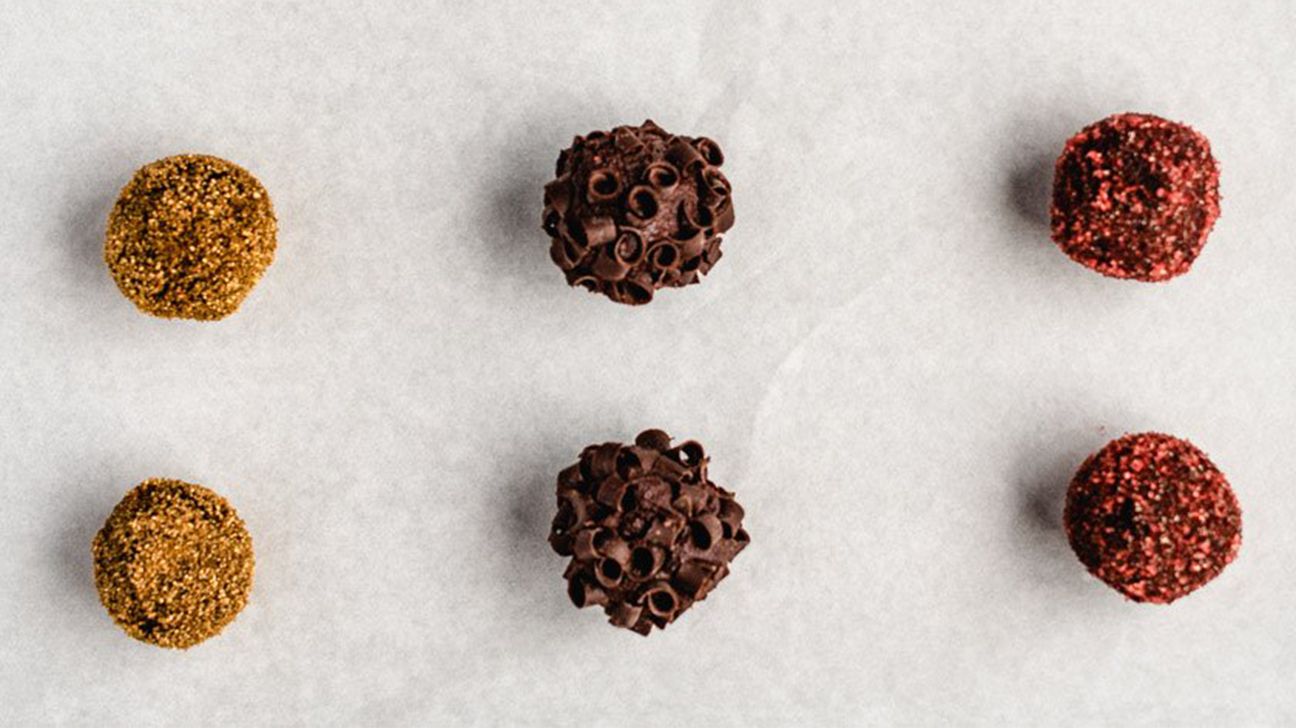 1. Chocolate pumpkin truffles
Rich, luscious, and a little bit boozy, these no-bake pumpkin spice truffles make an elegant (and easy) last-minute dessert.
2. Chocolate pumpkin pie
Why choose between a chocolate dessert and a pumpkin one when you can have both? An indulgent chocolaty spin on pumpkin pie takes this dessert to the next level.
3. Vegan chocolate pie
Hosting a vegan holiday doesn't have to mean skipping the rich chocolate desserts. Serve up this silky, six-ingredient chocolate pie.
4. Chocolate mousse
Chocolate mousse is a dessert worthy of any special occasion, including Turkey Day. We love this version for how truly light and creamy it is.
5. Chocolate mousse with pumpkin whipped cream
To make chocolate mousse a little more Thanksgiving-y, consider making this silky version. It's egg-free, sweetened with honey, and topped with a fluffy, spiced pumpkin whipped cream.
6. Chocolate almond cake
Gluten-free? Not to worry. Flourless chocolate cake makes a perfect ending to a Thanksgiving meal — especially this almond version laced with maple syrup and cinnamon.
7. Hot cocoa cupcakes
Hot chocolate in cupcake form? Yes, please. Topped with a cinnamon-spiced ganache and marshmallow buttercream, these cozy cupcakes are perfect for fall.
8. Pumpkin chocolate cake
This pumpkin-y dessert skips the refined sugar but not the flavor. Sweetened with coconut sugar and maple syrup and fragrant with spices, this cake also stays extra moist thanks to pumpkin and kefir.
9. Pumpkin chocolate swirl Bundt cake
Not your ordinary Bundt cake, this pumpkin version features fall spices and a chocolaty center.
10. Healthy pumpkin doughnuts with chocolate glaze
Switch things up this year with pumpkin doughnuts. This healthy, chocolate-crowned version can be made with whole-wheat flour or turned gluten-free.
11. Shortbread mug lid cookies
No Thanksgiving dessert is complete without coffee or tea. Top your mug with these adorable chocolate and hazelnut shortbread cookies to take your after-dinner beverage to the next level.
12. Easy chocolate shortbread cookies
Shortbread cookies are perfect because they're crisp and buttery and require only a few ingredients to make. This chocolate shortbread is so pretty when cut into fluted slices and sprinkled with sea salt.
13. Sweet and salty chocolate and peanut butter pretzel cheesecake
This creamy dessert has layers of chocolate cheesecake and peanut butter cheesecake to cover all the greatest dessert bases. The salty chocolate, pretzel, and brown sugar crust makes it extra special.
14. Swirled cream cheese pumpkin brownies
Brownies are always an excellent idea, no matter the occasion. This rich, showstopping swirled dessert is half pumpkin cheesecake, half brownie batter, and fully delicious.
15. Chocolate pots de crème
Is there such a thing as a ridiculously easy, no-bake, no-cook, no-fuss dessert that still looks elegant enough for a holiday celebration? Yup. And it's these pots de crème.
16. Dark chocolate skillet soufflé
Baking a dozen dainty, individual-size soufflés on Thanksgiving might not be the most practical thing. That's why we love this skillet version that serves a crowd.
17. Homemade pumpkin pie
When you need a go-to recipe for quintessential Thanksgiving pumpkin pie, look no further. This pie features a flaky, buttery crust; a creamy filling; a maple whipped cream topping; and cute leaf decor to boot.
18. Pumpkin pie with gingersnap crust
This is the pumpkin pie to make if you don't want to tackle traditional pie crust. The gingersnap crust couldn't be easier, and it leaves you plenty of extra time to make the pine nut brittle and maple bourbon whipped cream.
19. All-diets-friendly pumpkin pie
This pumpkin pie can please all kinds of eaters. It's gluten-free, dairy-free, egg-free, and vegan, but you wouldn't know that from its ultra-creamy filling.
20. Praline pumpkin pie
When half your crowd loves pecan pie and the other half loves pumpkin (and you don't want to make both), go for this pumpkin praline version, which is the perfect marriage of the two.
21. Pumpkin cheesecake bars
Delicious and creamy pumpkin cheesecake bars with buttery graham cracker crust make a sweet addition to any holiday dessert table.
22. Vegan pumpkin cheesecake
Celebrating a plant-based Thanksgiving this year? This vegan pumpkin cheesecake is as creamy as they come.
23. No-bake pumpkin dream bars
This is the perfect no-bake dessert for a day when your oven just can't fit another thing. With layers of gingersnap crust, pumpkin pudding, and pumpkin cream cheese, these bars really are a dream.
24. Pumpkin cupcakes with cream cheese frosting
No one will turn down a cupcake — especially one topped with a tempting swirl of cream cheese frosting. Bonus points for making the adorable marzipan pumpkin toppers.
25. Pumpkin cream cheese swirl cake
Who doesn't love a dessert that doubles as breakfast the next day? A swirled cream cheese layer makes this pumpkin cake just as pretty as it is tasty.
26. Pumpkin whoopie pies
No matter how old you are, we'd bet you love a delicious, nostalgic whoopie pie. Especially a cream cheese-filled pumpkin one.
27. Pumpkin apple crumb cake
This layered cake combines everything we love about fall: moist pumpkin cake, fresh apples, and an extra-thick, nutty crumb topping.
28. Warm pumpkin pudding cakes
If you love all the flavors of pumpkin pie but are ready to switch things up this year, try your hand at these warm pumpkin pudding cakes. Your guests will be asking, "Pumpkin pie who?"
29. Pumpkin roll with cream cheese walnut filling
Everyone loves a classic pumpkin roll. This version, stuffed with cream cheese and crunchy walnuts, might just be our favorite.
30. Skinny salted chocolate pumpkin pudding
This lightened-up pudding features banana, maple syrup, pumpkin, chocolate, and plenty of spices. You can make this adaptable recipe vegan and/or dairy-free.
31. Healthy one-bowl flourless pumpkin chocolate chip cookies
These pumpkin cookies are chock-full of chocolate. They're also gluten-free, egg-free, and dairy-free.
32. Chewy pumpkin oatmeal cookies
There's something so nostalgic about a glazed oatmeal cookie for the holidays. Try this chewy pumpkin version, which also happens to be vegan and dairy-free.
33. Pumpkin pecan streusel torte
When you want a pumpkin pie that has way more texture, this torte has double the pecans (in the crust and in the streusel topping).
34. Mexican chocolate pecan pie
Pecan pie, but make it spicy. Psst: The filling for this pie also includes Mexican beer, and we dig it.
35. Homemade pecan pie
Is there anything better than made-from-scratch pecan pie to end your Thanksgiving celebration? This version contains no corn syrup and includes a buttery homemade whole-wheat crust.
36. Vegan pecan cream pie
Vegan, oil-free, gluten-free, and refined sugar-free, this pecan cream pie requires only nine simple ingredients like coconut cream, dates, applesauce, and nut butter.
37. Healthy mini pecan pies
Why is everything so much cuter in a mini version? These itty-bitty pecan pies are delicious, and the best part is that you can have more than one (or five!) with getting a stomachache.
38. Mini pecan pies with chocolate ganache
Another sweet two-bite treat, these mini pies get a boozy kick from bourbon whipped cream and some chocolate ganache for good measure.
39. Butter pecan ice cream
Whether butter pecan ice cream is topping your pie or served as a standalone, this no-churn version is a keeper.
40. Browned butter pecan cake
When your Thanksgiving calls for a showstopping cake, this one — with creamy browned butter frosting and toasted pecans inside and out — fits the bill.
41. Carrot cake with coconut pecan frosting
This layered naked cake is almost too pretty to eat. We said "almost." The coconut pecan frosting is a welcomed unique spin.
42. New Orleans pecan pie bread pudding
Bread pudding is the perfect make-ahead dessert, and this pecan pie-inspired version is calling.
43. Caramel apple pecan cheesecake
Gooey caramel apples and toasty pecans: Could this cheesecake be any more fall-appropriate? The tempting topping makes it pretty enough to be a centerpiece.
44. Butter pecan blondies
Every holiday dessert table needs a great brownie, blondie, or bar. These nutty browned butter beauties are perfect warm and topped with ice cream.
45. Salted caramel and chocolate pecan pie bars
When you'd rather turn your Thanksgiving pie into bars, try this salted caramel and chocolate version for a fun twist.
46. Soft and chewy butter pecan cookies
The perfect cookie is soft and chewy at the same time, like these nutty, buttery cookies filled with pecans and toffee bits.
47. Chocolate pecan piecaken
Never heard of piecaken? It's basically a pie inside a cake, and it's wonderful. This version includes a pecan pie inside a chocolate cake, all enveloped in rich ganache.
48. Keto browned butter pralines
Eating low carb can mean missing out on most of the typical Thanksgiving desserts. Whip up a batch of these browned butter pralines, so good that even non-keto eaters will love them.
49. Pumpkin fudge balls
Looking for a recipe you can make in 10 minutes? Cue these melt-in-your-mouth chocolate-coated pumpkin fudge balls.
50. Pumpkin cookie dough dip
It's not a party without a dip! This dessert dip comes together in just 5 minutes, and you can have a lot of fun with the dippers.
51. Maple whiskey milkshakes with espresso
Can you think of a more perfect ending to a Friendsgiving feast? 'Cause we sure can't.
52. Easy salted caramel sauce
Don't feel like baking this year but still want to impress? Make this 15-minute caramel to serve as an addition to your bakery-bought desserts or over ice cream.
53. Pumpkin pie turkeys
Honestly, how cute are these? This dessert is an adorable way to dress up store-bought pumpkin pie.
54. Pumpkin gingersnap ice cream sandwiches
Make the cookies and buy the ice cream for a delicious, semi-homemade Thanksgiving treat everyone will love.
55. Iced pumpkin cookies
These soft pumpkin cookies topped with a delicious cinnamon and vanilla icing take just 27 minutes to make.
56. Ginger maple sugar cookies
Besides the chilling time, these cookies take only 25 minutes to whip up and bake. Extra points for cutting them into cute leaf shapes.
57. Extra-soft snickerdoodle cookies
If you have less than 25 minutes, you have time to make these buttery-soft snickerdoodles.
58. No-bake keto pumpkin cookies
All you need is 10 minutes and five ingredients for these delicious keto cookies.
59. Raw chocolate mousse and marinated oranges
A healthy, creamy chocolate mousse is achievable in 30 minutes. We love this festive version that's served with cinnamon-and-cardamom-spiced oranges.
60. Pumpkin pie hummus
Don't knock it till you try it! This dessert hummus is sweet and perfectly spiced, with a huge punch of protein.
61. Pumpkin cheesecake dip
Don't have 2 hours to make a cheesecake? No sweat. Make this drool-worthy pumpkin cheesecake dip instead.
62. Tahini chocolate dates
These chocolate-dipped vegan treats have only eight ingredients and taste like heaven.
63. Baked cinnamon bun doughnuts
A half-hour is all you need to make these cream cheese-glazed doughnuts that taste just like a cinnamon roll.
64. Four-ingredient lava cakes
You might not think of lava cakes as a quick dessert, but these have only a handful of ingredients and bake up in 10 minutes.
65. Easy pear crisp
This easy vegan and gluten-free pear crisp has a crunchy oat and pecan topping and takes only 10 minutes to prep.
66. Maple pecan fall fruit bake
This spiced, warm-from-the-oven fruit bake is perfect served with vanilla ice cream or whipped cream or just as is!
67. Gluten-free apple crisp
This no-fuss crisp ensures the apples are front and center, using three varieties for great flavor and texture.
68. Pumpkin spice latte chia pudding
If you're too full for dessert, you can save this delicious spiced latte pudding for your breakfast the next morning!
69. Caramel apple dip
A few fresh apple slices plus this cozy, cinnamon-laced caramel dip equals the perfect not-too-heavy dessert.
70. Healthy apple crisp stuffed baked apples
Baked apples are a great light dessert that still brings the warm and cozy fall vibes.
71. Brandied pears
Jarred brandied and spiced pears are a delicious dessert that can double as a take-home gift.
72. Candied oranges dipped in chocolate
These oranges are stunning and absolutely scrumptious.
73. Healthy vegan pumpkin spice ice cream
No matter how stuffed you are from that turkey (or Tofurky) dinner, there's always room for a small bowl of ice cream!
74. Cranberry-blueberry crumb bars
These healthy vegan bars include a cranberry chia layer and a whole-wheat and oat crust.
75. Pumpkin slab pie
What's slab pie, you say? Well, it's like regular pie, only way bigger. This go-to pumpkin pie gets baked in a large jelly roll pan and makes 24 slices.
76. Pumpkin sheet cake with Greek yogurt cream cheese frosting
Looking for the perfect one-bowl pumpkin recipe? This moist sheet cake combines pumpkin, spices, honey, and Greek yogurt.
77. Carrot cake sheet cake
Sheet cakes are one of the easiest ways to feed a crowd, and this cream cheese and pecan-crowned carrot version is perfect for T-Day.
78. Salted caramel apple pie bars
These bourbon- and salted caramel-flavored bars serve 12, but making a double batch might not be a bad idea.
79. One-dish apple dump cake
We love a good dump cake, especially one that has only six ingredients and takes 15 minutes to prep!
80. Banana pudding from scratch
This copycat version of the ultra-famous, fluffy banana pudding served at Magnolia Bakery will feed a very, very happy crowd.
81. Pumpkin pecan cobbler
You can easily double or triple this recipe to feed a large crowd, and it's way easier than pie.
82. Apple brandy slab pie
If you're not feeling pumpkin this year, try this apple slab pie with brandy, prunes, and spices. (It smells like heaven.)
83. Cheesecake-marbled pumpkin slab pie
Did you know you can make cheesecake into slab pie too? Check out this recipe that's part cheesecake and part pumpkin pie.
84. Bourbon pecan pie bars with shortbread crust
This recipe is for you if you prefer your pecan pie in handheld, boozy squares (it makes 40). Absolutely no judgment here.
85. Slow cooker pumpkin spoon cake
Let the slow cooker do the heavy lifting on Thanksgiving and feed your crew with this warm spoon cake.
86. Chocolate depression cake
Huge crowd but not-so-huge budget? Whip up this "depression cake," which is only $0.27 per serving.
87. Bread and butter pudding
Bread pudding is a great crowd-pleasing (and crowd-feeding) dessert, and this version is tried-and-true.
88. Texas-size vanilla sheet cake
You know what they say: Sheet cakes are bigger in Texas! This tender vanilla sheet cake with cream cheese frosting will feed your whole gang.
89. Potluck cheesecake dessert
You'll spend most of the prep time for this dessert waiting (patiently) for it to chill. This potluck cheesecake takes only 20 minutes to whip up!
90. Chai swirl white chocolate blondies
These blondies are laced with warm chai spices and sweet white chocolate. Best of all, the recipe feeds 16!
91. Pecan pie shortbread
Cookies are always a great way to feed a crowd. With this shortbread (which has only five ingredients), you won't even miss the pie.
These 91 Thanksgiving desserts are sure to provide plenty of inspiration this holiday! Which is your favorite from the list?
Need savory inspiration next? Check out our guides to 33 Vegetarian Thanksgiving Recipes Made with Real Food, 29 Unconventional Thanksgiving Sides, and 23 Leftover Turkey Recipes That Aren't Total Gut Bombs.