In an eating plan without gluten, breakfast options can become a little limited.
It's not that oatmeal, eggs, Greek yogurt with berries, and avocado toast on gluten-free bread are bad — it's that sometimes you stare so intently at your friend's stack of pancakes or scone at brunch that she starts to suggest meeting for "just coffee" instead.
Save your friendship and your envious, bored palate by making these gluten-free breakfast recipes at home. Whether you're craving sweet treats or something savory, we've got you covered.
We're talking baked goods just as delicious as any wheat-filled ones, hearty quiches complete with crust, grab-and-go bars, and even pizza to start the day off right.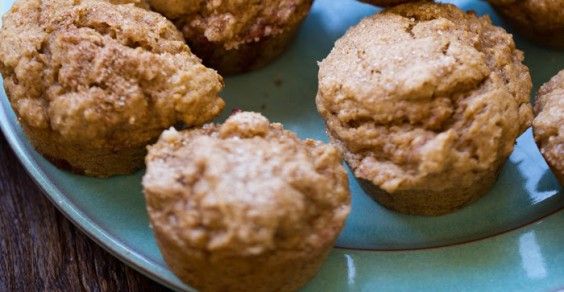 1. Cinnamon toast morning muffins
Cinnamon rolls are delicious, but they're usually loaded with butter and too big for anyone to finish comfortably. These muffins offer that same warm flavor — without the sugar coma. They're vegan, gluten-free, and even use protein-packed silken tofu for a muffin that's filling without feeling heavy.
Get your healthy baking on with the recipe.
2. Gluten-free orange cranberry scones
Cranberry and orange are basically the Jay-Z and Beyoncé of flavor combinations, so these scones are definitely a hit. Normally loaded with butter and cream, this recipe cuts back on the rich stuff and swaps in some fat-free Greek yogurt. While they bake, practice your Bey dance moves.
3. Gluten-free and grain-free muffins
There's something about mini muffins that makes them taste even better than the normal-sized ones. And with just seven ingredients, these are as easy as they are healthy.
Most of the sweetness here comes from banana, and the nut butter adds some protein. You're totally in the clear to enjoy the sprinkle of chocolate chips on top.
4. Gluten-free banana muffins
Like a shrunken version of banana bread, these muffins have every bit as much flavor as the traditional loaf.
With all the banana, there's no way these muffins won't turn out moist every time, plus you can likely use less sugar than is called for.
Head here for the GF banana baked breakfast.
5. Almond vanilla scones
Almond breakfast pastries can lack the flavor they seem to promise (those few slivers of nuts scattered on top are so misleading).
These treats rely on almond flour to ensure they're safe for those avoiding gluten and that they'll be packed with nutty flavor. They're almost like having a macaron for breakfast.
Find the almond-y treats here.
6. Gluten-free blueberry muffins
A classic blueberry muffin is too tasty to give up, and you don't have to if you're avoiding gluten. An easy two-bowl method churns these breakfast treats out in no time.
Blueberries score points for antioxidants, and the hint of lemon in this recipe makes their flavor pop.
7. Coconut oil, pear, and oat scones
Scones can be both a little dry and boring. Not these. The fresh pears add moisture and a boost of naturally sweet flavor, while the gluten-free oats bring filling fiber. The little bit of cardamom brings that "I don't know what that is, but it's amazing" taste.
Bake up a batch with the recipe.
8. Maple apple oatmeal muffins
A bowl of oatmeal makes a great breakfast, but it's pretty easy to get into a rut. Baking up a batch of muffins, however, takes only a little more time, and then you have breakfast for a few mornings.
Sweetened with coconut sugar (which is similar in flavor to brown sugar), maple syrup, and applesauce, these stay out of the overly-sugary zone that many muffins fall into, so you don't crash mid-morning.
9. Healthy pumpkin scones
Pumpkin bread is a breakfast staple, but portions can be hard to control with a whole loaf staring you down.
Why not introduce the tasty squash to the world of scones?
The pureed pumpkin and brown rice flour in this recipe pack each scone with a great dose of fiber. And it's much easier to stop at just one scone rather than one (overly) generous slice of bread.
10. Oatmeal chocolate chip cookie pancakes
Some mornings are just hard. For those days, these pancakes are there to brighten things up.
Though they sound decadent, they're vegan and sweetened with dates and banana. The recipe is as simple as throwing the batter ingredients in the blender, then stirring in the chocolate chips, and cooking. (You're welcome.)
Find this small-batch recipe here.
11. Fluffy gluten-free waffles
The secret to the airy texture in these waffles is whipping the egg whites before folding them into the batter. They may be a bit more work than a typical waffle, but the method is simple.
And be sure to use regular whole-milk yogurt, not Greek — the fat keeps the waffles from being rubbery, but Greek is too thick for this recipe.
12. Gluten-free oat crepes with tomato, basil, and goat cheese
Savory crepes are just as delicious as sweet variations.
In these savory ones, tomatoes pack the antioxidant lycopene, which may help prevent certain cancers, according to one study. With goat cheese and basil (another possible cancer-fighter), they make for a filling that's juicy, tangy, and irresistible.
Whip up this savory breakfast with the recipe.
13. Vegan gluten-free waffles with raspberry lemon syrup
It's hard to find recipes for waffles that are vegan and gluten-free. It's even harder to find ones that actually taste good, so consider this recipe your best friend.
A simple method yields waffles that are both tender and crisp, with a light coconut flavor and healthy fats thanks to coconut oil, flour, and milk.
Find this vegan, GF gem right here!
14. 2-ingredient pancakes
It's never fun when a craving for pancakes strikes, and you're out of flour. It might sound totally bonkers, but it's possible to make fantastic flapjacks with nothing more than a banana and eggs, which add 6 grams of protein into each serving.
Even better than the ingredient list? These pancakes can be on the table in a matter of minutes.
Got bananas and eggs? Head here for the how-to.
15. Spinach crepes with roasted root vegetables and tahini
Roasting a tray of veggies is great for dinner, and they're just as good at the breakfast table. Besides, their trip to the oven develops a rich, toasty flavor and frees up some time to prepare the crepes.
Made from frozen spinach and chickpea flour, these crepes come out with a gorgeous emerald color. Though the recipe calls for beets and sweet potato, feel free to use any veggies in the fridge.
16. Gluten-free buckwheat pancakes
Gluten-free pancakes can sometimes have the texture of a hockey puck. This recipe uses buckwheat flour to make a stack that's light, slightly nutty, and packs fiber and B vitamin, according to Oldways Whole Grains Council.
Bring on the fluffy pancakes with the recipe.
17. Peanut butter cup pancakes
Candy for breakfast? When it's these pancakes, we approve (though don't get us wrong, they are certainly a treat).
Half the batter is spiked with natural PB, while the other half has cocoa added. Cooking the peanut butter mixture on top of the chocolate one creates the bull's eye effect. They're rich and fudgey as is, or go over the top and garnish with a peanut butter cup. #Yolo.
Get the sweet treat recipe here.
18. Orange-spice gluten-free vegan pumpkin waffles
Pumpkin waffles can turn a blah morning into a fantastic day. This recipe mixes cinnamon with our favorite gourd for a comforting flavor that's brightened by the goodness of orange juice and zest.
You can buy oat flour, but this recipe demonstrates how to make it at home in about 15 seconds. Homemade flour? That deserves a round of applause, or at least an extra drizzle of maple syrup.
Spice up your morning with the recipe.
19. Banana coconut waffles
For days when choosing between waffles and banana bread seems nearly impossible, these waffles are a winning combination.
The ingredient list is a bit long, but the batter comes together in minutes by quickly combining the wet ingredients to the dry. Any nondairy milk will work, though coconut milk ups the tropical factor.
20. "Zen" quinoa bowl
The beauty of a breakfast bowl is that you can toss in just about anything — but that doesn't guarantee it will taste good.
This combo of egg whites, broccoli, tomatoes, mushrooms, kale, carrots, avocado, and sprouts comes together perfectly with some spices, and the mix keeps you full (and full of energy) all morning long. This would also make a great lunch or dinner.
Snag the restaurant-quality recipe here.
21. Quinoa breakfast bowl
Leftover quinoa from last night's dinner? Repurposing it into a morning treat is a great way to start the day off with protein and magnesium, which your body needs to produce energy, according to the National Institutes of Health.
Topping choices are endless: Pick two (or more) fruits and some nuts or seeds. A little cinnamon or nutmeg (or both) also adds depth of flavor.
22. Breakfast polenta with berry compote
Call them grits or polenta. They're delicious either way, and just like oatmeal, these whole grains can be savory or sweet.
Rather than smothering in butter and cheese, Southern-style, this recipe cooks the polenta in nondairy milk and tops it with a juicy berry compote.
Head here for this breakfast bursting with berries.
23. Superfood breakfast quinoa bowl
Spice up breakfast — not with chilies, but with warming nutmeg and cardamom. This bowl is naturally sweetened with dates, then garnished with pepitas, goji berries, and chia seeds for additional protein, fiber, color, crunch, and tasty satisfaction.
24. Polenta with roasted vegetables and feta
For an impressive way to entertain friends who avoid gluten, it doesn't get better or more beautiful than a brunch of polenta topped with smoky, oven-browned vegetables.
It's just as easy to make vegan by omitting the cheese. This takes some time — but only to bake while you sit and catch up with your guests. The actual prep time is minimal.
Start the day right with the recipe.
25. Breakfast fried brown rice
Cold leftover takeout can suffice as a morning meal, but it tastes a little… sad? We prefer to take leftover brown rice and turn it into a hot dish that's ready in minutes.
The addition of spinach makes this recipe good for your immune system, eyes, skin, and energy levels.
26. Gluten-free date bars
Sometimes something sticky and sweet sounds great for breakfast, and these treats will satisfy that craving without tons of sugar or butter. An easy crust with oats, coconut, and walnuts supports a layer of date puree that tastes fantastic and offers antioxidants, according to a research review.
These keep wonderfully in the freezer, so a double batch is probably in order.
27. Quinoa granola bars
Toast and jam is so ho-hum — and un-filling. Replace that dry bread with these soft, chewy bars. This recipe uses a blend of quinoa and oatmeal, plus a hefty helping of ground flax seeds for heart-healthy ALA omega-3 fats, according to a 2010 research review.
Bake up a batch with the recipe.
28. No-bake gluten-free and vegan protein bars
With a brownie-like crust beneath a creamy peanut butter layer, these taste way better than any protein bars sold in stores — and they're cheaper!
Don't be fooled by the flavor, though, these really are protein bars, even if the recipe calls for only plant-based ingredients: oats, oat flour, protein powder, chia seeds, hemp seeds, and peanut butter. Try this portable, hearty a.m. meal post-morning workout.
Make it a high protein morning with the recipe.
29. Savory quinoa spinach breakfast bars
Savory breakfast lovers seem to always miss out on the portability and ease of meal bars, but this recipe was designed with them in mind.
These taste almost like spanakopita with the combination of cottage cheese, spinach, and a bit of olive oil, and they're a great example of how delicious veggies can be at breakfast.
30. Healthy banana bread chocolate chip oat breakfast bars
Bananas and oats are healthy breakfast staples (hello, potassium and fiber). And since chocolate goes well with both of them, why not add some to the mix?
These bars are free of refined sugars and freeze beautifully, so don't worry about some going bad. And with these in the freezer, you're always armed with healthy snacks when a dessert craving hits.
31. Blueberry bars
For a fruity breakfast that's definitely more exciting than berries over yogurt, these are perfect.
The pretty, double-decker delights only take six ingredients, including oat flour, which is a source or prebiotics. These natural compounds help probiotics (good bacteria that promote a healthy digestive system) grow in your gut.
32. Gluten-free breakfast bars
Granola bars are perfect to fuel on-the-go mornings, but the gluten-free options out there can be boring. This just-sweet-enough recipe can easily be switched up — pick a nut or seed, a dried fruit, any milk, and spices. We wanna try sunflower seeds, blueberries, and ginger.
Choose your favorite add-ins with the recipe.
33. Puffed amaranth granola bars
Get to know amaranth, a gluten-free ancient grain, with these treats studded with pistachios and dark chocolate.
With a start-to-finish time of 20 minutes, the bars are perfect to whip up at night, so they'll be ready to go come morning. (They have to hang in the fridge for a couple of hours before you eat them anyway.)
34. 5-ingredient peanut butter granola bars
You had us at "five ingredients." These simple bars come together in a flash with no gluten and a vegan option. Plus, the combo of peanut butter and chocolate is always a flavor match made in heaven.
35. Mini Mediterranean gluten-free quiche
It's hard to top quiche for an elegant breakfast that's delicious and beautiful. But there is one way to make it better: Miniaturize it.
These beauties are made with almond flour, which packs a surprising 4 grams of protein into each quiche. The mix of spinach, onion, sun-dried tomatoes, and olives will perk up your taste buds and body for the day.
Find the brunchy beauties right here.
36. Gluten-free breakfast casserole
Few things are more fun than hosting a weekend brunch, but the meals can be so rich that everyone has to fight to stay awake at the table.
Not with this recipe! It's vegan and gluten-free, featuring tofu, hash browns, and veggies galore. Plus, it's way easier than trying to individually cook eggs or flip pancakes, which frees up plenty of time to enjoy a mimosa.
The tasty, allergy-friendly recipe is right here.
37. Chickpea flour breakfast pizza
While making pizza at home is fun, it can be a huge project that takes forever.
It doesn't have to be that way! Introducing the skillet-cooked pizza. The chickpea crust cooks up as easily as a pancake and makes the perfect base for eggs and salsa. The best part is that it only takes 15 minutes.
Want pizza for breakfast? Head here.
38. Gluten-free spinach strata
If you're not a pro at omelet flipping, meet the strata. Here, spinach and cheese get layered into the bottom of a casserole dish, then the egg mixture tops it off before a trip to the oven. You still get all the fluffy, eggy goodness, without the risk of your meal falling apart (or onto the floor) as you cook.
39. Vegan breakfast casserole
Savory breakfast options for those who avoid gluten and animal products can be hard to come by, so making it at home is the best bet.
This casserole includes tempeh bacon and mushrooms for a meaty texture and uses a tofu blend to sub for eggs. Protein and veggies (and vegan cheese) is a perfect start to the day.
40. Arugula and cremini quiche with gluten-free almond meal crust
The obvious gluten-free substitute for quiche is a frittata, but frittatas are seriously missing out on the goodness of a flaky crust.
This recipe uses an easy almond meal dough that's pressed into the pie plate and filled with mushroom, spinach, and goat cheese. A pinch of pepper flakes adds a hint of spice, but fresh jalapeño would add some serious kick.
41. Quinoa spinach bake
Some people are great at figuring out the perfect amount of quinoa to cook, but the rest of us always (always!) end up with too much. Oops.
Instead of tossing it out, use it to make a fabulous breakfast casserole. The calcium in spinach and Greek yogurt helps promote good bone health, according to the National Institutes of Health. The quinoa ups the protein and fiber to. Nobody has to know it was made from leftovers.
Put your leftover quinoa to work in the recipe.
42. Breakfast pizza with gluten-free cauliflower crust
Replacing regular pizza crust with cauliflower means no gluten, fewer carbs, more fiber, and way more flavor. Plus, it's cheese baked into the crust!
This recipe uses pizza sauce, cheese, and eggs for toppings, but the options are endless.
When you take out gluten-containing grains like wheat, barley, and rye at breakfast, what are you left with? A lot, actually! Try any (or all) of these delicious creations to start your day.