The traditional Thanksgiving menu isn't exactly vegan-friendly. But if you're planning a plant-based spread this year, don't panic! There are so many amazing vegan versions of the classic Thanksgiving dishes out there.
From dairy-free desserts to turkey alternatives (that aren't tofurkey), we've got you covered with all the recipes you need to feed your friends — and maybe even convert some carnivores.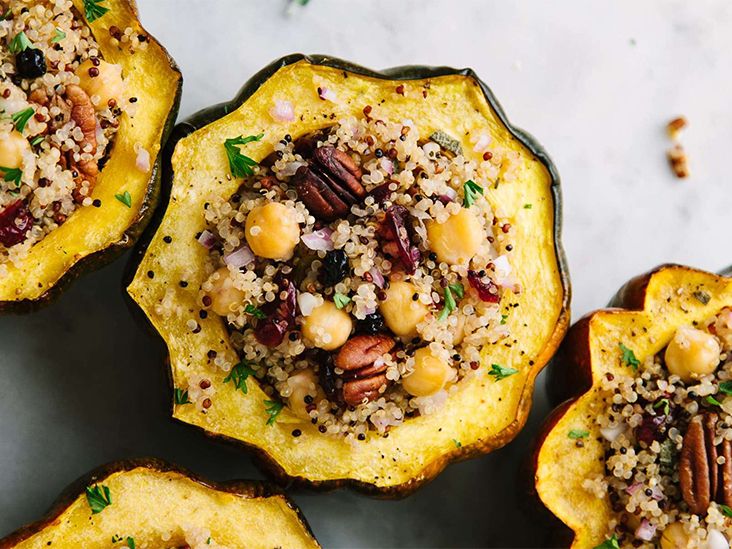 Stuffed acorn squash
This fall-themed main course will look beautiful at the center of the table — and it tastes divine, too. It's stuffed with chickpeas, quinoa, and pecans and has plenty of protein to keep everyone full.
Vegan shepherd's pie
This shepherd's pie is super easy to prep in advance. Topped with creamy mashed potatoes and tons of veggies in the filling, you'll end up craving this year round.
Vegan nut roast
While this roast has a vibe similar to meatloaf, the taste is entirely different (not just because it's meatless). The base of the roast is mostly mushrooms and nuts with lots of added seasonings. Top with gravy, and you'll have a perfect Thanksgiving main course.
Vegan mushroom gravy
Vegan gravy may sound hard to pull off. But this mushroom-based take is not only rich and flavorful, it's super easy to whip up. It comes together with only five ingredients and will make an amazing accompaniment to any side dish.
Vegan country gravy
Cashew milk and vegan butter come to the rescue in this thick country gravy. Drizzle it over mashed potatoes or save some for your eggs the next morning!
Cornbread stuffing
This sweet and savory, fall-forward vegan stuffing recipe includes pecans, dried cranberries, and maple syrup! It's sure to have you coming back for first and second helpings.
Vegan stuffing
This stuffing recipe uses whole-wheat bread as a base and is flavored with fennel and fresh mushrooms for a healthy take on the traditional side.
Simple vegan stuffing
The addition of lentils to this stuffing gives it a heartier feel. With only nine ingredients, this recipe is super easy to throw together in advance or at the last minute.
Roasted root vegetable stuffing
This stuffing recipe is easily made vegan by subbing the chicken broth for veggie broth. Made with roast root vegetables, it's an easy way to add more veggies to your Thanksgiving dinner table.
Vegan cornbread
If you're not a stuffing lover, whip up this classic vegan cornbread to sop up all your sides and sauces.
Simple vegan coleslaw
Coleslaw is a side that goes with every eating occasion! This recipe even comes with an accompanying recipe for vegan mayo.
Pear and cherry salad
We're really here for the fall flavor medleys in this salad. With ripe pears, dried cherries, and candied walnuts, the bright flavors in the balsamic dressing tie in the sweet and savory.
Warm spinach salad with figs and butternut squash
This salad is packed with fall flavors from figs to butternut squash. Half of the spinach gets a little heat while the rest stays fresh!
Kale and cranberry salad
The trick to any kale salad is properly prepping and massaging your kale. Once you've got that step out of the way, you can add whatever vegetables you have on hand.
Sweet and sour cucumber salad
Swap the honey with maple syrup to ensure you get the proper combo of sweet and sour in this salad.
Vegan sweet potato casserole
Thanksgiving is the perfect time for sweet and savory foods to make an appearance on the same plate. Add this recipe to your spread to balance the savory.
Vegan scalloped potatoes
These scalloped potatoes are just as creamy and delicious as the dairy-filled original. These can also be prepped in advance.
Mashed sweet potatoes
In this recipe, the sweet potatoes' sweet natural flavors are countered with savory flavors from the garlic and fresh herbs, keeping everything perfectly balanced.
Mashed potatoes
Every holiday dinner needs a big bowl of mashed potatoes at the center of the table. This recipe makes creamy, rich mashed potatoes to feed a crowd.
Oven roasted potatoes
Potatoes won't get much easier (and delicious) than with a good, simple, roasting. Toss these in the oven until crispy for a simple potato side dish.
Naturally sweetened cranberry sauce
Cranberry sauce tends to be too sweet. This version is naturally sweetened with maple syrup and allows you to adjust the quantity to match your preference.
Cranberry applesauce
Take your cranberry sauce to the next level with this cranberry applesauce recipe. For an easy assembly, all the ingredients can be thrown into an Instant Pot!
No sugar added applesauce
If you're looking for a side that's not cranberry-based or too sweet, try this super simple three-ingredient applesauce recipe.
Fresh cranberry relish
This recipe takes all the prep work out of cranberry sauce. Just throw the three ingredients needed into a food processor or blender, and you're ready to go.
Cabernet cranberry blueberry sauce
If you're looking to wow your guest(s) this year, try adding this cranberry sauce to your line up.
Cinnamon-roasted butternut squash
For a super-easy side, prep all the ingredients for this roasted squash in advance and just toss them in the oven for 1 hour.
Roasted Brussels sprouts
Gotta take advantage of Brussels sprouts while they're in season. By just roasting them with some oil and salt, you maintain the delicious Brussels sprout flavor.
Vegan green bean casserole
The holidays are all about indulging. So, why not add some creamy and crunchy components to your basic green bean with this casserole recipe.
Cauliflower rice risotto
This gluten-free risotto recipe is way easier than the classic rice-based version (which takes years of stirring). Serve with mixed veggies for a balanced side.
Roasted beet relish
Add some brightness to your plate with this beet relish. With lime, cilantro, and a little syrup for sweetness, the flavors in this relish would pair well with any root vegetable.
Mini pecan pies
A Thanksgiving classic, making these pecan pies mini is great for super-cute presentation and easy eating!
Pumpkin cake
This three-tiered pumpkin cake has a sweet cinnamon buttercream frosting between the layers and stays moist from the pumpkin puree in the batter.
Strawberry vegan cheesecake
Your dinner guests will be asking you to make this for every birthday and holiday after trying it. With a cashew-based cream, this rich cheesecake is also topped with strawberry cream and fresh berries.
Vegan apple hand pies
Make sure to grab a vegan puff pastry for this recipe. The store bought puff makes these hand pies super easy to put together.
Vegan pound cake
Pound cake can be topped with fresh fruit or icing depending on what you prefer. This recipe glazes the cake in an almond icing.