For those following a keto, paleo, or gluten-free lifestyle, cutting back on carbs in favor of more protein, veggies, and fats is nothing new. But when it comes to the best meal of the day (breakfast, duh!), cutting carbs out can be tricky no matter how much of a pro you are.
Toast, oatmeal, pancakes, waffles… a.m. meals are full of carb-heavy options. Before you commit to egg whites every morning, though, try making a few of these easy low carb breakfast ideas.
Yes, there are some eggs involved, but there are also pancakes, smoothies, and veggie bowls, so you don't have to be bored while sticking to your goals. Start your day with a low carb breakfast you actually enjoy.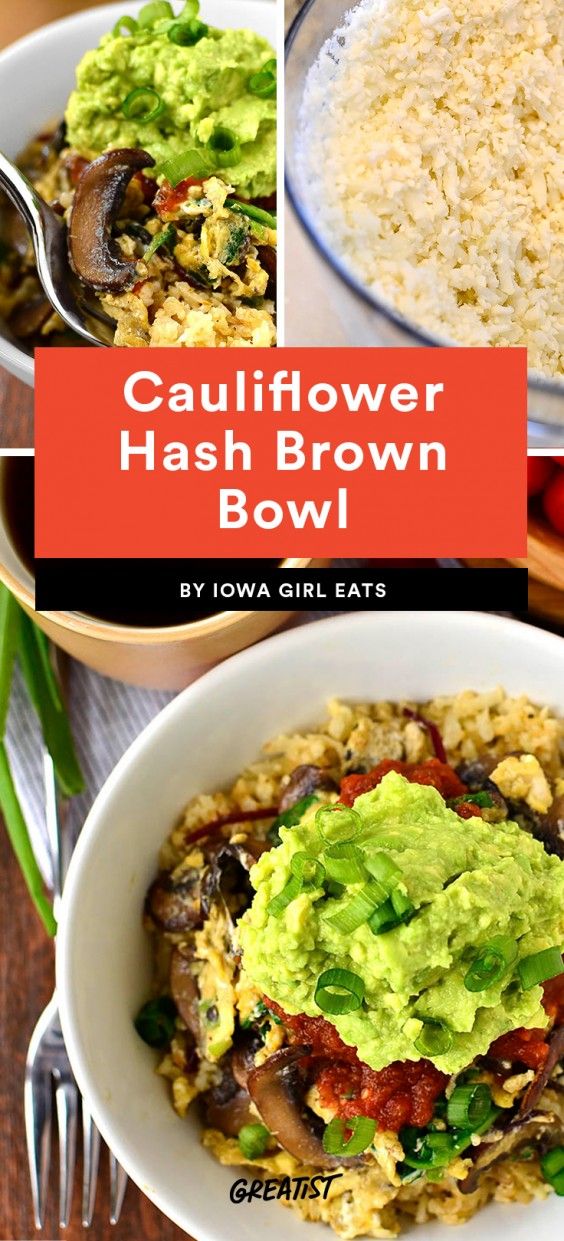 Cauliflower is almost as versatile as potatoes, so it was only a matter of time before we started subbing them in for hash browns.
While it doesn't get as crispy, it does taste similar when mixed in with veggies, eggs, salsa, and mashed avocado.
In this Instagram-worthy recipe, hempseed provide a hearty source of plant-based protein while chia seeds aid digestion (thank you, fiber).Munoz LA, et al. (2013). Chia Seed (Salvia hispanica): An ancient grain and a new functional food. DOI: 10.1080/87559129.2013.818014 Be sure to let them soak in the non-dairy milk for a while, so they can become gelatinous and clear out your gut more easily.
The antioxidant-rich berries and fat-filled nuts round out this recipe with an array of flavors and textures that will curb over your usual breakfast boredom. Don't forget to snap a photo!
You had us at "full English bowl" because, well, low carb doesn't exactly scream full, now does it?
Enter this recipe. Salty fried halloumi (a type of semi-hard cheese) pairs well with roasted red peppers, sautéed mushrooms, and kale. Warm marinara sauce takes the whole thing up a notch.
This breakfast casserole doesn't have any dairy or grains, but it will fill you up — and feed you all week long! It's packed with veggies, like spinach, mushrooms, onion, and tomato, plus eggs and sausage.
You can make your own sausage if you're feeling ambitious or just pick up a pack from the grocery store. For Whole30'ers, this Applegate sausage is compliant.
If you've ever swooned at the Starbucks egg bites, you're in for a treat. This copycat recipe not only tastes great, but it can easily be made in an Instant Pot for busy mornings. And let's be real, what morning isn't?
They take just 20 minutes, they're easy to customize for whatever you're in the mood for, and they're portable as heck. Plus, you know, there's bacon. You will need an egg bite mold to get that fun shape.
Breakfast. Egg. Muffins. Three simple words that bring back all the childhood memories — and the drool, too. But these have a twist: no bread. Don't worry, you'll barely notice.
These mini frittatas are a welcome addition to the low carb repertoire. Choose from spinach, tomato, and mozzarella; bacon and cheddar; or garlic, mushrooms, and peppers. Or, hey! All three. Why not?
Low carb pancakes sound impossible, but keto-friendly almond flour makes it happen. And since they're also made with full-fat cream cheese, eggs, and cinnamon, they won't taste like cardboard, promise.
Pro tip: Serve 'em with Greek yogurt, berries, and a drizzle of almond butter. So many flavors, yet they all work beautifully together.
It's a great thing when breakfast not only tastes great, but it's easy AF to throw together. That's what casseroles do best.
This recipe has all the classic ingredients: eggs, mushrooms, broccoli, peppers, onions, and Italian herbs. There's a curveball, too: sweet potato. It makes each serving all the more filling with a *hint* of sweetness.
Cottage cheese isn't just for grandma, guys! It's bomb in this breakfast bowl, all mixed in with berries and walnuts. Try frozen fruits to truly treat your tastebuds.
This recipes also features a teaspoon of flaxseed oil, a great plant-based source of omega-3 fatty acids, which can help reduce the risk of cardiovascular disease.Goyal A, et al. (2014). Flax and flaxseed oil: an ancient medicine & modern functional food. DOI: 10.1007/s13197-013-1247-9
While tortillas might be out of the picture, these Whole30-approved breakfast burritos are the next best thing… although, let's be real, you'll probably want to use a fork.
Wrap an omelet around lettuce, tomato, bacon, and avocado, then drizzle with salsa. All that's left is a sprinkle of cilantro and you can dig in.
Never clicked faster, amiright? The humble breakfast sandwich might just be the best (culinary) invention known to man, especially when the "bread" is two spicy pork sausage patties.
But wait, there's more: cream cheese, sharp cheddar cheese, avocado, and a touch of sriracha. This recipe wins all the points.
If you're missing easy, on-the-go, handheld breakfast foods like toast or muffins, these easy breakfast cups will make your week.
They're filled with spicy chicken sausage, creamy feta, and lots of veggies, so you don't have to worry about getting hungry an hour later. Not that we'd be complaining, if we had another one of these handy.
These have all the same appeal as traditional protein balls: cute, portable, and packed with ingredients to keep you full until lunch.
But instead of chocolate, coconut, nut butters, and seeds, this is a savory variety. The combo of sausage, eggs, cream cheese, shredded cheese, and coconut flour leaves little to be desired. Except, perhaps, seconds.
While some low carb diets cut out fruit altogether, we're more into moderation. Fruit is nature's candy, right?
Plus, strawberries have a low carb count, with only about 7 grams per serving, so they won't kill your carb budget. Mix a few with coconut milk, vanilla protein powder, and vanilla extract for an easy, balanced breakfast.
We think waffles just make everything more fun. They can transform an ordinary weekday breakfast into a treat meal you'd find on vacation. And we're here 👏for 👏it 👏.
While the almond flour can't get quite as fluffy as the original stuff, it does a fine job in its place. Try beating the egg whites with a little extra oomf to give those waffles a bit more lift. Don't forget to top them with butter.
Cinnamon rolls and muffins are two of the least "low carb" meals you could think of, yet these muffins amazingly fit the keto, paleo, and vegan bill. Check, check, and check.
They're made with almond flour, protein powder, pumpkin purée, and nut or seed butter, and have a Cinnabon-like glaze — breakfast dreams made.
"Low carb" and "breakfast" aren't usually two terms that belong in the same sentence together, but thanks to some seriously creative food bloggers, they fit together — and fit together well.
From egg bites to breakfast burritos, cheesy pancakes to sweet waffles, we're only left with one question: why on earth didn't we go low carb sooner?