Everyone knows Thanksgiving dinner is really all about the side dishes. But the same old menu year after year can get pretty boring.
If you can't stomach the thought of scarfing down your Aunt Dottie's condensed soup-doused green bean casserole one more time, or if you're not into marshmallows on sweet potatoes, you may be in the market for some new recipes to reinvigorate your Thanksgiving table.
These fresh, healthier ideas do just that, giving you 29 reasons to be extra-grateful this year.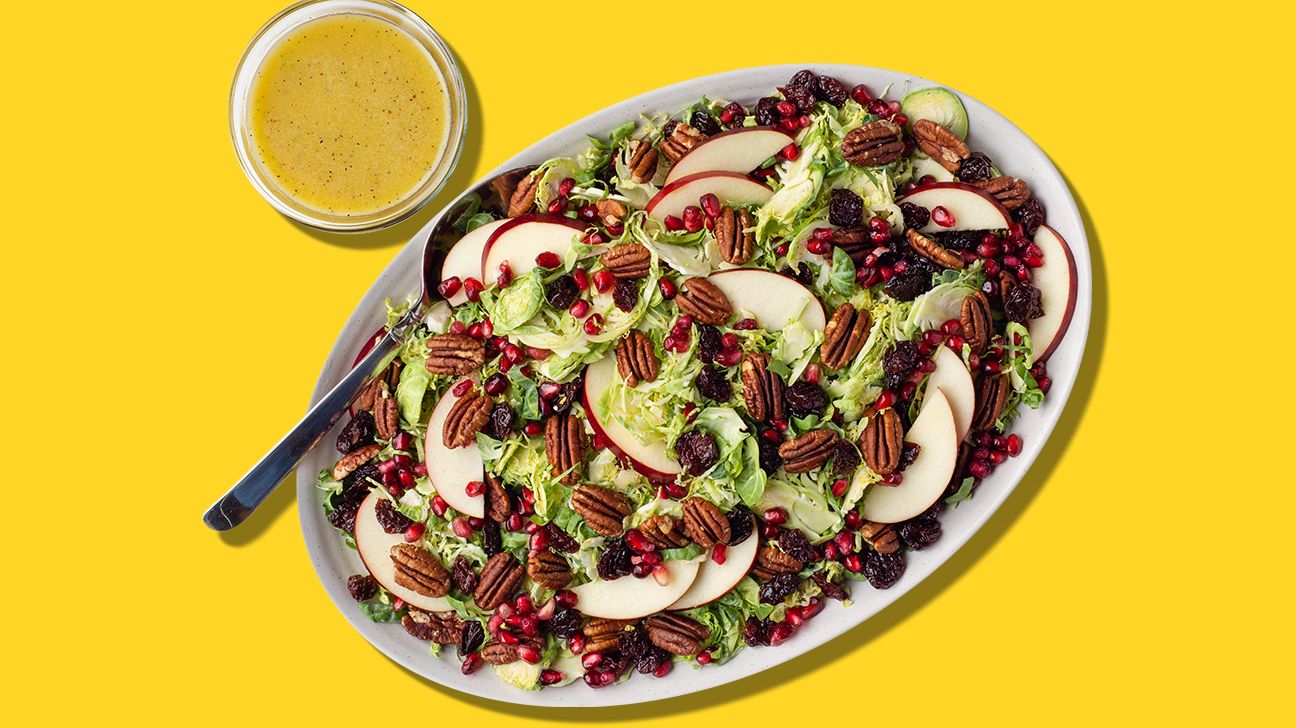 Food to put inside other food.
Simply swapping out the butter and eggs for their vegan substitutes makes this stuffing completely free of animal products.
The recipe goes one step further by adding green lentils so herbivores can still get their protein at the Thanksgiving table.
If you can get your hands on some Cornish game hens, you can drop guests' jaws with these wild-rice-stuffing-filled beauties.
And don't worry — they're way easier to prepare than they look. Plus, the homemade triple-herb butter is beyond delicious. If you want your Thanksgiving spread to be both unconventional and unforgettable, you can't do much better than this.
Wild mushrooms? Check. Sourdough? Check. Ground pork, sage, and Swiss chard? Triple check. This stuffing recipe is oozing flavor from crunchy crust to moist center.
Whether you serve it as a dressing or stuff it inside a bird, your guests will be blown away by the rich flavors of the unique herb and spice blend that sits alongside the garlic, onion, ground pork, and wild mushrooms.
This quick and easy Southern cornbread stuffing is moist and fluffy and has a sweet, herby taste that pairs perfectly with all your Thanksgiving favorites.
Parsley, sage, and thyme bring out the natural sweetness of the cornbread. This bad boy is great for opening up the palate ahead of a big dessert.
As King Curtis once said, "Bacon is good for me." Baconate everything, no exceptions.
This recipe brings the power of bacon to your traditional Thanksgiving stuffing. Why is this amazing? Because bacon, that's why. The recipe also uses ciabatta bread and celery to bring more crunch to the party. Nice.
For the carb counters and paleo enthusiasts in your life, this cauliflower stuffing is a taste bud-tingling winner. Roasted cauliflower soaks up the herby, spicy juices. And for that extra crunch, toasted pecans make a grand cameo.
This is a paleo-friendly low carb stuffing that even bread stuffing purists will love.
Some things are Thanksgiving as heck — and sweet 'taters are up there with squash as some of the most Thanksgiving-y foods of them all.
With more people going vegan every year, vegan-friendly turkey alternatives are becoming a regular recipe request. These vegan stuffed acorn squashes make an amazing main dish or a tantalizing side.
The seasoned quinoa, chickpea, and tomato filling packs a zesty yet hearty flavor that sits pretty both on the tongue and in the belly.
Pumpkin is one of the nation's most loved seasonal vegetables. If you want to give your Thanksgiving mash a little panache, this 30-minute buttermilk pumpkin mashed potatoes recipe is exactly what you need.
On top of those earthy pumpkin tones, the buttermilk in this dish adds body and flavor that we didn't know mashed potatoes needed.
If you want to bring the signature taste of sweet potatoes to the max, you can't do much better than this recipe.
Crunchy, orange, and sweet are the orders of the day here. This side dish isn't all about the sugar, though — orange juice, whole-grain mustard, cayenne pepper, smoked paprika, and espresso powder all add to the rich, deep flavor that will get folks sharing Insta snaps after bite #1.
Buckwheat gnocchi is a soft and pillowy side dish that matches super well with butternut squash.
The nutty flavor of the buckwheat goes nicely with the earthy tones of the squash. This recipe includes a browned butter and light olive oil sauce that will be an unusual but very welcome addition to any Thanksgiving spread.
This creamy sweet potato gratin is guaranteed to have everyone reaching for seconds. The combination of cream and goat cheese creates a dish that's rich in texture and full of nutrients.
Healthy and hearty? Sign us all the way up. Plus, this dish is gluten-free!
These adorable, nutritious spaghetti squash au gratin casserole cups are sure to delight guests. They're shaped like muffins — and who doesn't like muffins? In addition to being packed with protein, they're low carb and gluten-free.
If you're entertaining Thanksgiving guests of different ages and dietary requirements, these bite-size joys will definitely work their magic.
Good lord, look at those things. Is your mouth watering? Well, imagine how smug you'll feel on Thanksgiving when your guests experience the same.
With ginger, cinnamon, and brown sugar all rocking up to the flavor party, this sweet potato side tastes as good as it looks. Plus, crunchy roasted pecans give the dish that seasonal nutty-crunchiness we all love.
If you're not feeling the mashed potatoes this year, garlic roasties are a time-tested alternative that guarantees potatoes remain in their rightful place as the side dish of the table (yeah, we went there — don't @ us, Sprouts People). In addition to garlic, these crispy-tender chunks sizzle with golden, cheesy Parmesan goodness.
For a mashless Thanksgiving that satisfies every potato enthusiast at your table, look no further.
Ugh, fine, we can eat some veggies too.
If you want a vegan, gluten-free salad, this will have all your boxes thoroughly ticked. This recipe uses wild rice to provide a hearty bite.
Pistachios add to the crunch. Plus, the combination of butternut squash and pomegranate provides a unique flavor that pairs perfectly with Thanksgiving mainstays or the other wild alternatives on this list.
This harvest Cobb salad is another way to add squash to your nosh. It's a perfect Thanksgiving side dish filled with both seasonal and unusual ingredients.
In addition to butternut squash, your guests' taste buds get to enjoy toasted pecans, crispy bacon, dried cranberries, and apples. There's also a maple vinaigrette, which… Owen-Wilson-level wow, TBH.
If you don't have the time or stove space to whip up additional veg, this tangy take on sprouts can raise eyebrows the right way — and it requires only one pan.
To transform brussels sprouts, add a dash of maple syrup and a little bacon, plus some shallots, currants, and Dijon mustard. Once you go tangy glazed, your life will never be the same. Trust us.
Pumpkins aren't just for porch decor and pies. This pumpkin risotto recipe is the perfect seasonal side dish for Thanksgiving.
The kale brings a crispy crunch that matches perfectly with the creamy cheese and pumpkin risotto sauce. You also throw garlic and white wine into the mix for a touch of savory sophistication that will show those pesky in-laws whose table they're sitting at.
(Because to heck with Diane and her 2019 cranberry sauce — you make the family food memories now.)
LOL, what? Cranberries and jalapeños?! That's how your guests are going to react too — until they have their first bite, that is.
Jalapeños and cranberries shouldn't work together, so it's shocking and a little maddening that this is among the tastiest holiday dips in existence. Whether you serve it as an appetizer, party dip, or salad dressing, this spicy spin on cranberries is sure to have folks feeling nostalgic about your cooking for years to come.
Salads aren't traditional Thanksgiving fare, but they're becoming more common because so many of us now want to avoid gluten or meat.
If you want a quick and easy salad that gives your guests a little more than lettuce and slaw, this is the recipe for you. Pomegranate, goat cheese, and spinach with a raspberry vinaigrette drizzled lovingly over the top? Yep, yep, yep, and yep.
Keeping with the theme of spinach salads with kick-ass vinaigrettes, this little number is sure to get taste buds tingling without taking up room reserved for turkey.
The orange adds a little zest to the seasonal cranberry dressing. Spinach and pear may seem like an unusual combination, but they both pack a crisp crunch. Chopped pecans add even more crunchy texture points.
Everything combines for an Mmm-worthy Thanksgiving alternative.
The texture of this salad is sublime – a guaranteed crowd-pleaser for any carb-watching guest. The crumbly Gorgonzola adds a cheesy savoriness that pairs beautifully with the dried cranberries, sliced almonds, and shredded lettuce-cabbage combo.
Top the whole thing off with the complex flavors of honey, olive oil, garlic, and apple cider dressing and… well, heck, that's a mighty fine salad.
Plus, it's a holiday salad. It's got the word right in the name.
Go against the… yeah, yeah, we know.
Looking for something slick to do with all that leftover turkey? This slow cooker turkey wild rice soup is both healthy and a certified way to get two delicious meals from one bird.
Wild rice contains loads of fiber and antioxidants. Who doesn't like those? Parmesan, seared mushrooms, and leftover turkey (low-key the best kind) flavor the soup and bulk it out.
With its cranberry-tomato glaze, this quinoa lentil loaf is a perfect vegan and gluten-free alternative to many Thanksgiving staples.
The sweetness of the cranberry-based glaze blends perfectly with the loaf (which includes sauteed onions, toasted walnuts, carrots, celery… a whole mess of yum, basically).
This is a holiday loaf that will have even your staunchest anti-vegan uncle fighting over the last slice.
We were a little unsure where to put this recipe — squashes, salads, or grains? Then we realized it didn't matter too much because the main place you should be putting it is in your face.
As you can already tell, the squash brings a fall-flavored body to this hearty salad. But it's the quinoa that makes this a standout recipe.
The nuttiness of the quinoa, the crunchy pepitas, and the dried cranberries' trademark tang come together for one of the best grain-based Thanksgiving salads you can serve.
While the turkey hogs all the oven space, you can turn to wild rice and your slow cooker for this hearty stuffing. A rice-based stuffing, you say? Consider us interested.
To keep this recipe on-brand for Thanksgiving, cranberries are involved (of course). Mushrooms add a little body, and we're getting our crunch from almonds. Plus, this recipe is both dairy-free and vegan.
OK, so wild rice is clearly in this year. If you've still got a bag of it on hand after reading this far down our list, perhaps this wild rice and carrot soup is the Thanksgiving appetizer you're looking for.
This is a simple soup that looks amazing in the bowl. The fresh carrots are paired with fennel and shallots for flavor, and a dash of dry sherry adds that holiday heartiness every Thanksgiving diner hopes for.
This nutty and zesty quinoa side dish is perfect for any Thanksgiving spread. Walnuts, orange, and a dash of cinnamon bring that last-holiday-before-Xmas party your taste buds are hoping for.
Want to make it extra Thanksgiving-y? Replace the raisins with cranberries. Easy-peasy.
This Instant Pot salad is another absolutely divine way to slay it with the wild rice this Thanksgiving.
Plus, it's super simple. Throw in some lemon, orange, scallion, and kitchen mainstays like olive oil and sugar, and you'll have semi-cheated your way to your guests' hearts.
A memorable Thanksgiving spread is about attending to every detail, and the sides can make or break it. You can mix it up with soups, stuffings, salads, and grains to bring all that holiday flavor into nutritious, adventurous sides.
If you're looking for ways to fit Thanksgiving into a vegan lifestyle, we've got you covered.