Keto smoothies might seem like a pipe dream if you're living that low carb life. But guess what #TeamKeto, you can have your smoothie and drink it, too.
Here are 11 keto-friendly smoothie recipes that are totally tasty and super easy to make.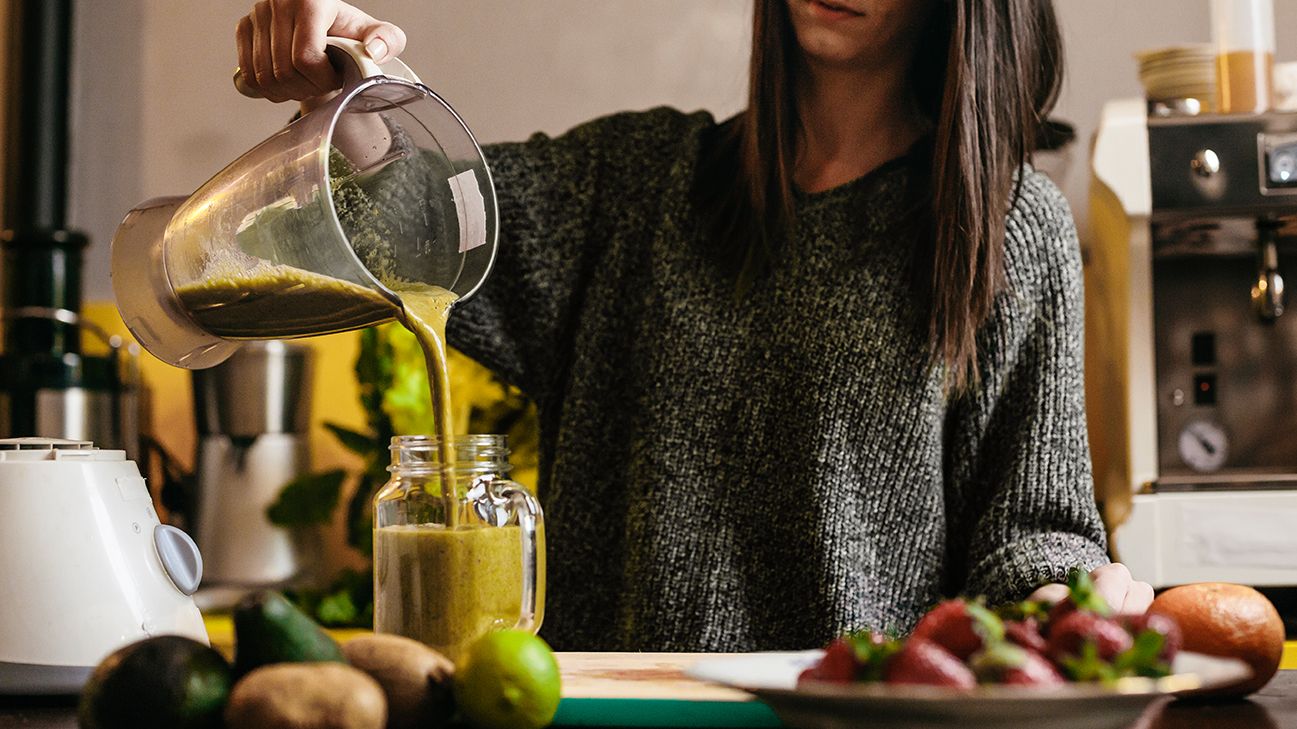 In a hurry? Here's a quick list of the 11 best keto smoothies:
If your keto breakfasts feel like a revolving door of meat and eggs, it might be time to make a sweet switch. This simple smoothie is the perfect keto snack. But the best part? You only need three ingredients (OK, four if you count the ice). Between milk, sugar-free condensed milk, and frozen strawberries, you can whip it up in under a minute.
Pro tip: Make it even more keto-licious by opting for whole milk or cream instead of low fat dairy.
Green smoothies are a one-stop-shop of fruits and veggies (which, let's face it, most of us don't get enough of). This easy-sipping green monster keeps things low in carbs with the addition of fresh spinach and almond milk. Greek yogurt and chia seeds up the ante, too, with healthy fats.
As a bonus, this blogger offers a tally of all the ingredient costs. The total? Under $2. We're willing to bet you won't find prices like that at your local smoothie joint.
FYI: Bananas aren't typically considered low carb. But since this recipe only calls for a 1/4 cup serving of frozen banana, it's still keto-friendly.
Because of its high fat allowance, keto has a reputation for being a diet full of creamy, indulgent desserts. And sometimes — shhhh — it kinda feels true. At least, it does when you get to whip up a blackberry cheesecake smoothie for breakfast.
A simple mix of five ingredients is all it takes to fill a frosty glass with a mini-meal that tastes like a bakery counter creation. We're talking almond milk, heavy cream, cream cheese, and frozen blackberries (which are naturally low in carbs). Since blackberries can be a bit tart, erythritol may be a saving grace. It adds some sweetness without any carbs or calories.
This nut-tastic smoothie can help you hit your healthy fat quota. Whether derived from peanuts, almonds, or cashews, nut butter is full of healthy fats. This makes them an ideal keto smoothie ingredient. In addition to the nut butter, it also contains avocado for even more monounsaturated fats. Plus, it makes the final product extra creamy 😋.
BTW, the main sweet stuff in this smoothie is monk fruit — a zero-cal plant-based sweetener. Just keep in mind, it's more than 300 times sweeter than sugar. So, um, go easy on it.
Folks who've gone keto often lament the loss of fruits in their diet. But not every fruit has to fall by the wayside! In fact, strawberries are some of the lowest carb fruits around. They have dope nutritional benefits like high amounts of vitamin C, potassium, and antioxidants. Plus, they brighten up any smoothie with their cheery red color.
This keto smoothie is a berry happy mix of strawberries and avocado, which is also — mind blown! — actually a berry. Just note that this recipe makes five smoothies. Hence, the entire pound of frozen strawberries it calls for. But you can tweak it for a smaller serving.
Sure, mint chocolate chip ice cream might not technically be keto. But if you create a creamy mint-choc treat with Greek yogurt and coconut milk (and give it green color with spinach instead of funky additives), you've got a dessert that's both keto-ish and busting with nutrients.
This smoothie has more ingredients than the others on our list, but each one has something to add. A dash of peppermint extract intensifies the minty flavor, a scoop of whey protein powder bulks up the protein content. You can also add collagen powder if you're feeling fancy.
This cinnamon almond butter smoothie is a world away from the meat-heavy morning meals you may get tired of on keto. It basically tastes like a cinnamon bun in a glass and is loaded with healthy fats and protein.
With almond butter, a dusting of cinnamon, and the nut milk of your choice, this blended creation keeps you in line with a low carb, high fat macro distribution. It even offers a bit of fiber thanks to flax meal! The recipe calls for stevia, but feel free to use another low carb sweetener instead.
Ready to take things up a notch? This affogato-style vanilla ice cream coffee smoothie is decadent AF. Simply pour leftover brewed coffee into ice trays. Then throw the cubes in a blender with heavy cream, chia seeds, and unsweetened almond milk. The caffeine will perk you up, while the ice-cold temp cools you off.
P.S. You can def use decaf if you're not cool with caffeine.
Is coconut the perfect keto smoothie ingredient? We're leaning toward heck yes! The tropical fruit is loaded with plant fats to help keep you in ketosis. It also has a rich-yet-mild flavor that plays well with other favorite smoothie add-ins. Like chocolate. (Always chocolate.)
Here, chocolate and coconut display their power couple status in an irresistible concoction of coconut cream, chocolate protein powder, and a handful of other ingredients. The finished product nets you 325 kilocalories, 28 grams of fat, and 6 grams of carbs. Woot!
Remember those trips to the mall in junior high when you'd slurp up Orange Julius by the gallon? (Just us?) Now you can enjoy a more grown-up version of the food court classic with an orange-y keto smoothie.
A real mandarin orange gives this one a boost of nutrition with vitamin C and fiber. Meanwhile, coconut cream recreates the velvety smoothness of the OG OJ smoothie without any dairy.
Keto smoothies aren't just for sipping — sometimes spooning is the best approach! This green avocado matcha smoothie bowl is thick and gorgeous. Besides avocado, spinach, kale, coconut milk, and matcha tea powder, it features an ingredient you'll find in lots of keto recipes: MCT oil.
What's the deal with MCT oil on keto? The theory is that the medium-chain triglycerides (the M, C, and T in MCT oil) are easily absorbed in the bloodstream, where they give you an instant energy boost. Research shows MCTs could boost metabolism, potentially speeding up weight loss. But we def need more research to prove all the perks.
Common smoothie ingredients like high carb fruits and sweeteners aren't part of a keto diet. Thankfully, this list of 11 low carb smoothies can help you curb cravings while keeping you in ketosis.
Look for recipes that include lower carb fruits and veggies like berries and greens. Also opt for high fat foods like nut butters, avocado, coconut milk, and full-fat dairy. With the right mix of ingredients, it's smooth sailing to keto sipping.