From complicated oven configurations to endless prep time to the turkey (that STILL isn't done), Thanksgiving can be a lot.
But what if there was another way? What if you could throw together a delicious and fulfilling Thanksgiving spread without throwing out your back?
Well, we're here to say you totally can. We went ahead and gathered a whole menu and more worth of recipes that you can whip up in 30 minutes or less (besides the turkey, that would require magic). Bon appétit!
A traditional Thanksgiving dinner menu
This spread may be small but it's all you need to celebrate the bounty of Thanksgiving.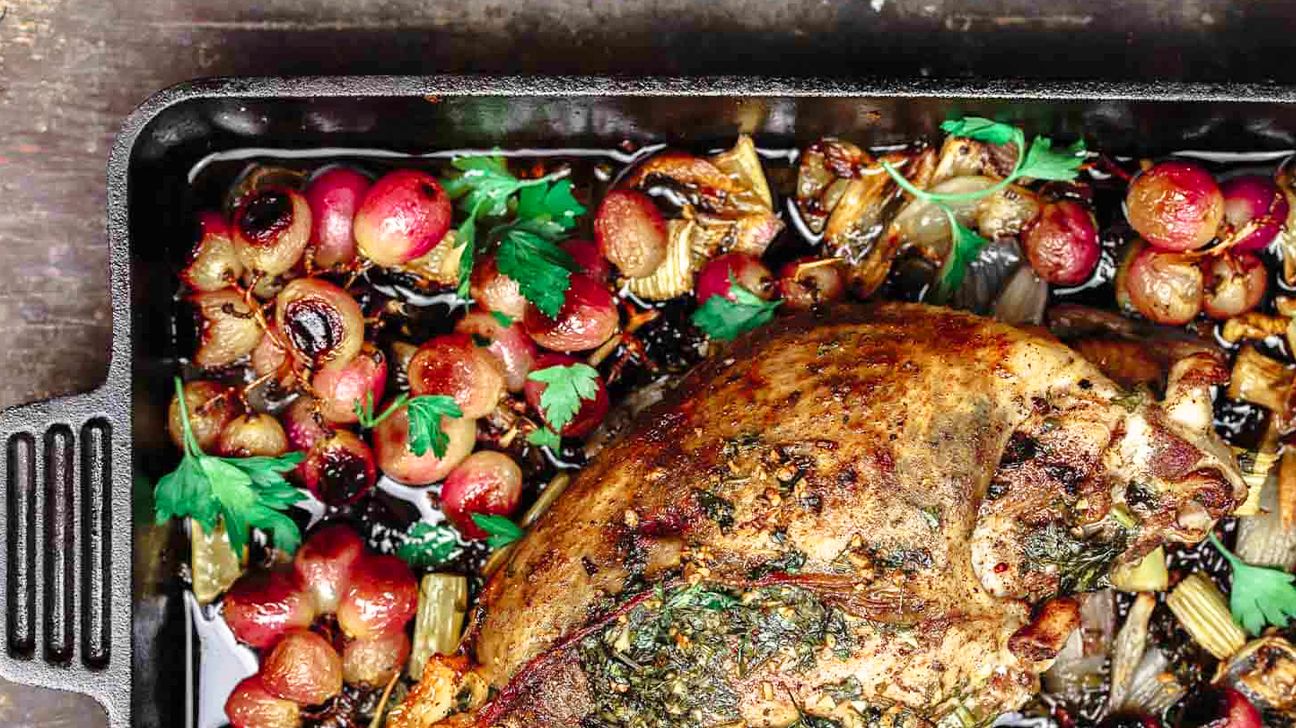 Roasted sweet potatoes
Knocking out the sides in advance gives you more time to handle your protein. These roasted sweet potatoes are super easy to partially cook or reheat prior to your meal.
Creamed spinach
An American classic, creamed spinach will add a creamy, rich component to your dinner table. Popeye would approve.
Roast turkey breast
The sheet volume of even the smallest whole turkey makes it an ordeal to prep and cook. If you want to cut down on time and still enjoy this Thanksgiving classic, roasting just the breast is a smart move.
Pro tip: Don't forget to salt the turkey in advance for maximum flavor!
Make-ahead cranberry sauce
Avoid leaving the cranberry sauce till the last minute (which always seems to happen for some reason) and make it the day before. Since it's served chilled, all you need to do is take it out of the fridge.
Baked Brie
This super easy baked brie is a cheesy and sweet delight for your taste buds. Pair it with some sliced bread, crackers, and apples for a treat.
Pigs in a blanket
Wrap these little piggies in pre-made croissant dough, pop them in the oven, and serve to all the hungry people. It's that easy.
Grilled shrimp
This simple shrimp dish (best marinaded a couple of days in advance to allow the flavors to permeate) goes well with pretty much anything. Grill them on the grill or heat them on the stovetop. Either way will be a hit.
Prosciutto wrapped asparagus
The best way to prep these mouth-watering puppies is to roll them a day ahead of time so they're all ready to pop in the oven day-of.
2-hour turkey
Turkeys can take days to prep and get cooked for the big feast. This recipe gives you a whole moist turkey in just 2 hours.
Easy roast turkey breast
We dare you to read the ingredients in this simple turkey breast recipe — butter, white wine, lemon, fresh thyme — without fantasizing about taking a bite.
Roasted Cornish hens
Did you know Cornish hens are actually a small breed of chicken? At 1 to 2 pounds a piece, they're a fraction of the size of a turkey. This is a great recipe if you're celebrating Thanksgiving with two people this year.
Deep fried turkey with herbs
Deep frying a turkey can seem daunting. But this recipe keeps it simple and takes you step-by-step. And the crunchy on the outside, super juicy on the inside result, will definitely make it worth it.
Note: Be sure to do this outside and away from eaves, trees, or anything flammable.
Easy stuffing
It doesn't get quicker than this no-frills stuffing recipe (It only takes 15 minutes to prep!) Eat it straight off the stovetop or stuff it into a bird for added flavor.
Simple stuffing
If you always make the same kind of stuffing, try switching it up with this hearty and creative recipe. Sausage, fresh or dried fruit, nuts, and lots of seasonings give this dish all kinds of flavor.
Vegan stovetop stuffing
Whether you're throwing a vegan Thanksgiving this year, or just looking for a simple stuffing recipe, this herb dish should make it onto your menu.
5-ingredient apple sausage stuffing
The star ingredient chicken apple sausage makes this five-ingredient stuffing taste much more extravagant than it looks. Give it a whirl, you won't be disappointed.
Cranberry orange sauce
Add a little juice and zest to your cranberry sauce to balance the bitterness of those fresh cranberries.
Cornbread muffins
Sweet, sweet cornbread, oh we love thee! Though never in a title role, cornbread is an invaluable sidekick at the Thanksgiving dinner table.
Pro tip: Making muffins instead of a whole tray of cornbread takes slicing and plating off of your to-do list.
Blistered green beans with garlic
Tossed in salt, pepper, garlic, and chili oil, these green beans are "blistered" in the broiler so their skins are a little browned. It's a great dish for a cold night.
Roasted Brussels sprouts
Brussels sprouts are a classic at Thanksgiving. But they're easy to mess up. Follow the steps in this foolproof recipe, and you'll roast them to perfection.
Easy gravy
A well-made gravy can add so much flavor to your Thanksgiving dinner. This one from Cooking Classy is delish. Make sure you make enough for everyone to top their first and second servings!
Savory mashed sweet potatoes
This savory mashed sweet potato recipe makes magic with these core ingredients: parley, butter, garlic, and sour cream.
Easy mashed potatoes
Buttery, creamy, and fluffy, mashed potatoes are the definition of comfort food. Whip these up in just 30 minutes.
Microwaved mashed potatoes
For even faster mashed potatoes, try this recipe that cooks the potatoes in the microwave.
Pound cake trifle
Feel free to use whatever fruits you have on hand or find them at your local store to assemble this super-easy trifle.
Peach hand pies
Making a lattice top for a peach cobbler can be a lengthy process. Give everyone their own individual desserts with this hand pie recipe.
Easy pumpkin pie
Pumpkin pie usually takes about an hour or more to bake and set. But this recipe gets the job done in just 35 minutes.
Note: You'll need to buy a pre-made crust.