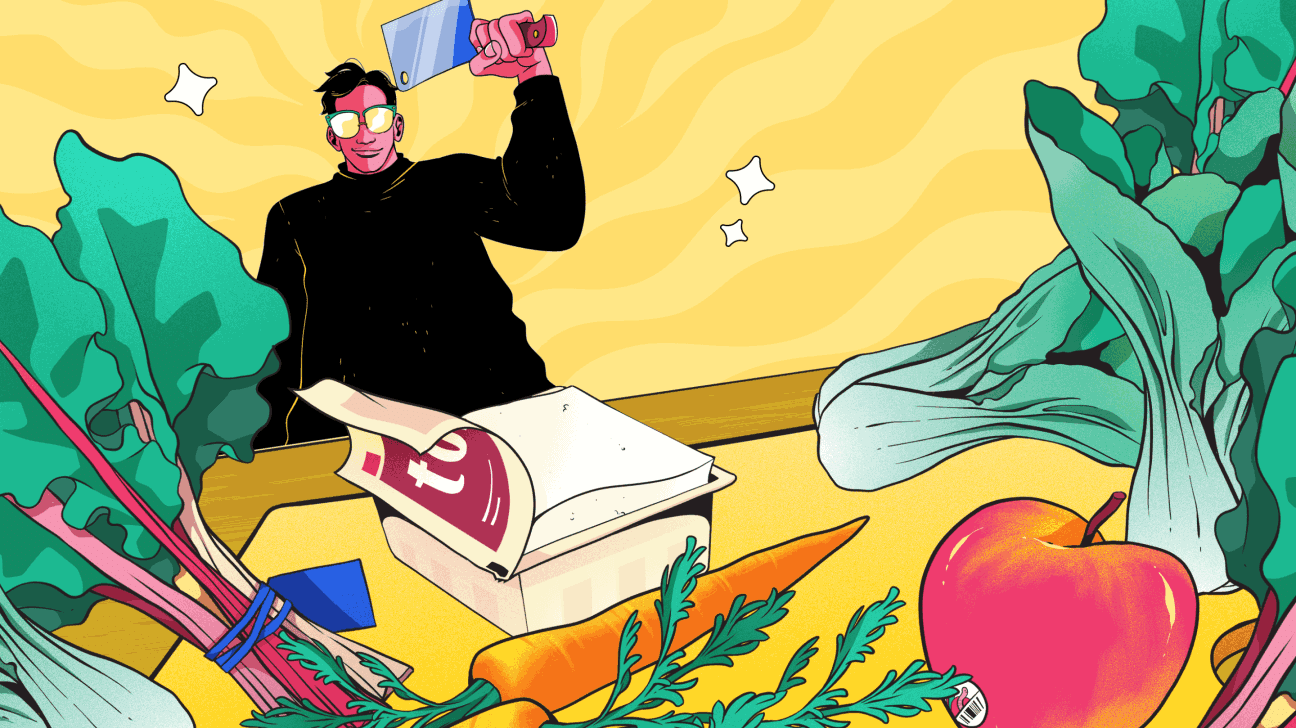 It's a new year, and after nearly 2 years of pandemic stress (and possibly, pandemic stress eating), it's time to make our physical and mental health a priority.
Eating a more plant-based diet (which doesn't have to be strictly vegetarian or vegan) is a boss way to help you meet your health goals while living a more sustainable lifestyle.
And if you're stumped about why, where, when, and how to begin? We've got you covered.
Welcome to our 14-day plant-based beginner guide! In this article, we'll cover:
why you should try a plant-based diet
what to expect when you start
quick-start guidelines, tips, and tricks for beginners
14-day meal plan providing breakfasts, lunches, dinners, and snacks
a comprehensive shopping list to help you build up your plant-based pantry
TONS of our favorite recipes 🙌
There are two key benefits of plant-based diets: health benefits and environmental benefits. Let's dive a little deeper into each one, shall we?
Health
Vegetarian diets offer several health benefits over a more conventional Western-style diet, especially when they're composed of mostly whole, minimally processed foods.
For example, veg diets may be linked to a reduced risk of heart disease, cancer, type 2 diabetes, and obesity.
They're also super rich in good-for-you antioxidants, fiber, and certain vitamins and minerals.
All those veggies are also excellent for your gut health. The fiber provides a food source for the beneficial bacteria in your large intestine, so they can function optimally — and in turn promote improved cognitive function, immune health, blood sugar control, digestive ease, and more.
Types of plant-based diets
Lacto-ovo: includes eggs and dairy products (milk, cheese, butter, yogurt, etc.); excludes all meats (chicken, beef, pork, fish, etc.)
Lacto-vegetarian: includes dairy products; excludes all meats; excludes eggs
Ovo-vegetarian: includes eggs; excludes all meats; excludes dairy
Flexitarian: mostly plant-based but includes small amounts of animal products (eggs, dairy, meat)
Pescatarian: plant-based diet that includes fish
Vegan: excludes all animal-derived products, including meats, fish, dairy, eggs, and even honey
Environment
Vegetarian diets may also be a better choice for the environment, especially compared to diets consisting of conventionally farmed meats.
One 2016 review of studies actually found that the widespread adoption of more plant-based dietary patterns could potentially reduce greenhouse gas emissions by up to 80 percent and water use by up to 50 percent.
Additionally, adopting a plant-based diet may be a must-do for you if you're concerned about animal welfare or animal rights. While more humane farming methods are becoming more mainstream, conventional farming is still a huge problem re: the welfare and treatment of the animals at these farms.
And if you want to avoid contributing to any harm, exploitation, or killing of animals, then a stricter vegan diet is a natural choice.
Is it a fit for your health goals?
Like omnivorous diets, plant-based diets can be as healthful or as junky as you want. You're unlikely to see health benefits from ANY change in the way you eat if you're depending on a lot of highly processed or sugary foods.
However, a high quality plant-based diet may be just the right fit if your goals are improving your overall health, losing weight, or leading a more sustainable lifestyle.
Additionally, plant based doesn't necessarily HAVE to mean that you're a strict vegan or vegetarian. You can still have meat or dairy occasionally on a primarily plant-based diet, while enjoying the health benefits of eating mostly plants. (Psst, choosing humanely-raised, grass-fed, or pastured meats when you do eat meat offers a more sustainable option than conventionally farmed meats, as well.)
full of fruits, vegetables, and whole grains
may be less expensive than a meat-based diet
rich in antioxidants
high in fiber
contains a variety of vitamins and minerals
more sustainable and animal-friendly
may aid with overall health and weight
may not be beneficial if you're depending on highly processed veg foods
will probably require more cooking at home
requires supplementation of certain vitamins
newbies have a bit of a learning curve
How you'll feel after starting a plant-based diet depends on a lot of things, and a big one is how you were eating before.
If you were already eating a plant-rich, whole food diet, you may not notice any major differences right away after cutting back on meat. However, many people experience skin improvements after cutting out dairy.
If you're starting a whole food plant-based diet fresh from a pretty processed diet (heavy in things like fast food or highly processed snacks, for example), you may go through a bit of an adjustment period where you're a little grumpier than normal. These foods can have some addictive properties that you may need to "detox" from.
Once you're over the hump, though, you'll probably find yourself feeling fantastic. Oh, and using the bathroom will be a joy 💩 thanks to all that regularity-inducing fiber.
Another thing to be aware of when you begin is that you may not have as many dining out options, so you'll probably have to put in more effort in the kitchen. If you're not confident in your cooking skills, don't worry — you will be soon!
Finally, you'll have some changes in the macro- and micronutrient content of your diet. Most plant-based diets are lower in protein than omnivore diets (which is why it's really important to have a protein source with each meal). You'll also want to supplement with some key nutrients that may be lacking in a plant-based diet, which we'll discuss more below.
Plan, shop, prep
Making a big change to your diet can seem really intimidating at first, but it doesn't have to be. There really are just three basic steps to getting through your first two weeks of eating plant-based:
Plan. Plan out 2 weeks of meals. Make them easy, give yourself some wiggle room, and choose meals you know you'll like — even if they're not quite the idealistic meals you see on the 'gram.
Shop. Next, do your shopping. However often you shop, make it a priority to build up a well-rounded plant based pantry — even if you're just picking up a few items for the pantry each week. (We've included a general shopping list below.)
Prep. Finally, doing a bit of prepwork ahead of time will help you to be more successful — especially if you tend to be lacking motivation after work during the week (prime hit-the-drive-thru time). Prepping all of your breakfasts and lunches for the week at once can be helpful (Sundays work well for many people).
Gearing up
Already have a well-stocked kitchen from your pre-plant based days? You should be all set.
If swapping to plant-based this year will also be your first foray into cooking at home, here's some essential gear you'll need to be successful:
good bread (serrated) knife
blender
strainer
measuring cups and spoons
mixing bowls of various sizes
baking sheet
loaf pan or muffin pan
whisk, turner, spatula, and large stirring spoon
can opener
Slow cookers, Instant Pots, food processors, rice cookers, and air fryers can also be really helpful and time-saving, but they're not essential.
Easy swaps
So, it's pretty obvious that you'll be swapping out the meat for plant-based alternatives, but what about all the other animal-based products that you reach for on the reg?
Here are some easy swaps for those.
Instead of…
Try
an egg
For baking: a flax egg (1 tbsp flax meal and 2.5 tbsp water)
For scrambling: tofu
pudding or flavored gelatin
chia pudding (1 part chia seeds, 1 part plant milk or fruit juice, plus flavors and sweeteners of your choice — refrigerate overnight before eating)
Parmesan cheese
nutritional yeast
cow's milk
plant milk (soy, oat, flax, almond, coconut)
mayonnaise
hummus (or vegan mayo)
butter
coconut oil
chicken or beef broth/stock
veggie stock (keep veggie scraps in a bag in your freezer to make it yourself)
Pick a protein
Getting enough protein is super important for a successful plant-based life. (And fortunately, it's super easy too).
You can get plant-based protein from nuts, seeds, soy products, beans, meat alternatives, and plant-based protein powders (additionally, from eggs and dairy products if you're not going strict vegan).
However, unlike animal proteins, plant proteins individually don't provide enough of the essential amino acids to meet your needs. The solution to getting enough of these essential AAs is to simply eat a variety of plant-based proteins throughout your day and week.
Make sure to include a variety of nuts, seeds, beans, and meat alternatives — and you'll have no problems getting those AAs in.
Simple meal prep
Here's our simple meal-prep formula that works for ANYONE and ANY MEAL (plant-based or not). This is a great way to figure out your lunches and dinners for the week if you like to batch cook on the weekends.
First, pick your protein. For this example, let's go with tofu.
Next, add a grain. Rice seems like a natural choice, but we could also go with barley, noodles, tortillas, etc.
Finally, pick a veg. Let's do bok choy.
Tofu, rice, and bok choy… that sounds like a great stir fry! Season with soy sauce, sesame oil, honey, rice vinegar, ginger, red pepper flake, and garlic, and garnish it with sesame seeds and green onions.
Our fave hacks and cheats
Need to save some time? Here are some of our favorite hacks to make plant-based eating a little bit easier:
Taco Bell. Hey, don't hate. While the food is highly processed, it's good if you don't have any other options. They are one of the only fast food restaurants that you can find almost anywhere, and they offer a full Veggie Cravings menu featuring items certified by the American Vegetarian Association.
Meal kits and meal delivery. If you've got room in the budget, consider a meal kit like Green Chef, Sunbasket, or Purple Carrot (all of which send preportioned ingredients and recipes for you to cook your own plant forward meals). Alternatively, if you're crunched for time or need an easy work-lunch solution, consider a fresh or frozen meal delivery service like Fresh N Lean (which offers vegan or low carb vegan meals) or Trifecta Nutrition (which offers vegan or vegetarian plans).
Frozen veggies. In an ideal world, you'd never find mushy brown bananas covered in fruit flies at the bottom of your fruit bowl, or liquefied bags of baby spinach in the depths of your crisper drawer. Alas, it happens — so there's nothing wrong with keeping some frozen veggies on hand for quick meals or busy weeks where lots of fresh veggie prep may not be an option. In fact, frozen bags of peas and carrots are great for quickly throwing together some takeout style fried rice, and frozen riced cauliflower is SO easy to add to soups or to add some extra veg to a rice dish.
Canned beans. Likewise, canned beans are AMAZING. Although dried beans are less expensive, and may taste a little bit better, they require soaking, sorting, a long cook time. So, it's a good idea to at least keep a few different varieties of canned beans on hand for when you need a quick meal.
Precooked grains. Likewise, precooked grains (like rice and quinoa) are a godsend for busy nights. The texture can be a bit off compared to grains you cook yourself, but they're super convenient and only require reheating. Sometimes you just need a good meal to come together fast.
Plant-based "fast food"
Need something quick and easy? We got you, veg fam. Here are a few 5-minutes-or-less, no-cooking-required, throw-it-together meals for when you just CAN'T.
PB&J. It's a classic. Make it better with a good, sturdy whole grain bread, locally made jam, and almond butter.
Chickpea and avocado toast. Canned chickpeas make this a super easy, protein rich meal. Season liberally with S&P, and enjoy reaching peak millennial as you eat.
Shortcut beans and rice. Canned beans, precooked rice, a quick jaunt through the microwave, and the seasonings of your choice. Maybe not the greatest beans and rice ever, but a good hot meal in a pinch.
Whatever's in the fridge salad. Exactly what it says. On a bed of salad greens, add leftover veggies, nuts and seeds, plant-based cheese, a cut up plant based burger patty, or leftover chickpeas from your toast. Add your fave plant based dressing, or just drizzle with oil and vinegar.
Supplements
Plant-based diets can come up short on certain nutrients (unless they are extremely well planned), so — especially as a beginner — it's important to include certain supplements to make sure all of your bases are covered. Here are the nutrients you may fall short on while eating a plant-based diet:
vitamin B12
omega-3 fats
iron
iodine
zinc
calcium
vitamin D
iron
selenium
A good multi should cover you for the most part, but be sure it includes at least 100 percent of the Daily Value (DV) for vitamin B12, as well as a vegetarian source of omega-3s. (Also, snack on seaweed! It's full of iodine.)
Here's a 14-day sample meal plan to help you get started. For the sake of variety, we've included 14 different breakfasts, lunches, dinners, and snacks or desserts for a grand total of 56 unique meal and snack ideas. However, we encourage you to tweak this to make it your own!
Most people, for instance, don't mind eating the same breakfast over and over again. So we recommend picking the tastiest sounding breakfast option (or two or three) and running with it for these first 2 weeks. This will help you save some time in the mornings, too. The same goes for snacks and lunches, or even dinners if you're willing to sacrifice some variety for more convenience.
Also — feel free to round out any of these meals with a side salad or some steamed or sauteed veggies that you have on hand.
This shopping list is your guide to fully stocking a plant-based pantry. With the exception of fresh produce and dairy alts, nearly all of these items are totally shelf stable and can be stored for a while.
To build out your pantry for super easy plant-based cooking and meal planning, we recommend purchasing two or three items off of this list each week as you do your regular grocery shopping.
Fats and oils
coconut oil
butter-flavored coconut oil
olive oil
avocado oil
sesame oil
Protein sources
Nuts and seeds: flax seeds, flax meal, chia seeds, pistachios, almonds, pecans, sunflower seeds, walnuts, peanuts, nut butters, etc.
Beans: canned and/or dried chickpeas, black beans, navy beans, white beans, red beans, lentils, peas, etc.
Soy products: black soybeans, tempeh, tofu, natto
Meat alternatives: plant-based egg, plant-based ground "meat," plant-based bacon, plant-based patties
Pantry staples
any spices, herbs, and seasonings that you like
onions and garlic
vinegar (apple cider, balsamic, red wine, and rice are good ones to keep handy)
flour
baking powder
baking soda
cornmeal
yeast
honey or maple syrup (*honey is not technically vegan, but some vegans eat it bc human honey consumption may help to drive bee population growth and bee conservation)
sugar or sweetener
tea
coffee
soy sauce or coconut aminos
nutritional yeast
Grains and starches
potatoes and sweet potatoes
corn or whole wheat tortillas
seed crackers
rice
whole grains (farro, barley, quinoa, teff)
whole wheat pasta (all different types)
whole wheat noodles (all different types)
oats
grits
whole wheat bread (if strict vegan, check the label for dairy products)
Veggies
broccoli
mushrooms
avocado
leafy greens for salads and cooking (lettuce, cabbage, spinach, kale, mustard greens, etc.)
asparagus
tomatoes
turnips
peppers
any and all of them that you like!
Fruits
apples
bananas
strawberries
pears
blackberries
cranberries
any and all of them that you like!
Dairy alternatives
plant-based cheese
plant-based coffee creamer
Need some more plant-based inspo? Here are a few links to some of our favorite veg forward recipes: