A lot of us are sizing down our Thanksgiving festivities this year. Whether you're missing family or relieved about there being fewer dishes, there's one definite upside to a gathering of two: way less competition for pie leftovers.
Though the recipes may be smaller when you're prepping and cooking a Thanksgiving for two, the meal can still be full of all the good, traditional stuff you love: turkey, dressing, sides, sweets — and all the joy.
Here, we've rounded up the best recipes for a smaller — yet mighty! — Thanksgiving dinner for two people, plus how to make it a cozy experience for you and your loved one.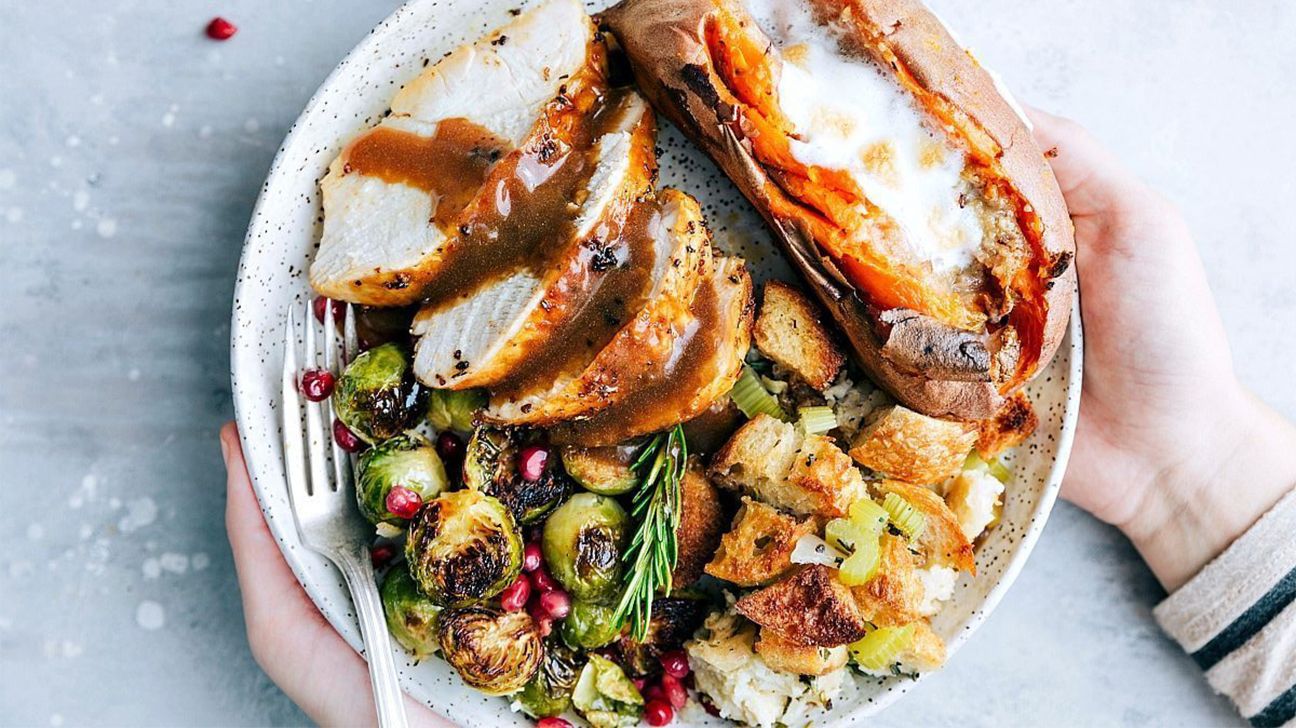 Thanksgiving dinner on two sheet pans
Let's be honest: A Thanksgiving dinner with all the bells and whistles creates a ton of dirty dishes. Rather than spend time scrubbing and cleaning, you can sit back and relax with this super-easy two-sheet-pan Thanksgiving dinner. It takes less time but still packs plenty of flavor with sweet potatoes, brussels sprouts, stuffing, and yep, turkey!
Sheet pan Thanksgiving dinner for two
Butternut squash, brussels sprouts with pomegranate seeds, stuffing, and turkey all come together to create this delicious sheet-pan Thanksgiving dinner for two.
Easy sheet pan Thanksgiving dinner
You don't have to skip any of your favorite go-to Thanksgiving dishes with this sheet pan recipe. It covers the classics — from turkey to sweet potatoes with marshmallows. Win, win, and yum!
Rosemary and orange glazed turkey
If you want to take the traditional route and bake up a full turkey, just look for a smaller bird when you're at the grocery store. Then, have fun with flavors, like the ones found in this recipe, including orange and rosemary.
Baked turkey spinach meatballs
A big ol' turkey for all your aunts, uncles, cousins, and siblings makes total sense. But there's only so much leftover turkey you can gobble down. Instead, consider taking a different approach with these garlic and spinach turkey meatballs.
Roast turkey breast
Instead of roasting a full turkey, scale down and focus on the breasts. This yummy recipe is simple to follow and requires a fraction of the prep time. The end product is a fall-off-your-fork, make-your-mouth-water tender dinner.
Simple oven-roasted chicken drumsticks
If you aren't committed to Team Turkey — or don't want to spend all day tending to a bird in the oven — roasting parts of a chicken is a low stress, high reward alternative. You can throw together these buttery rosemary-lemon drumsticks in less than 40 minutes. Praise be.
Soy Dijon pork tenderloin
It's your Thanksgiving — you can eat tenderloin if you want to! Honestly, though, there really aren't any rules, and the sweet and savory marinade for this pork dish will have you saying, "Turkey? Never heard of her."
Sheet pan lemon garlic Parmesan salmon
Baked salmon may seem like an odd choice for Turkey Day, but salmon, loaded with flavor and nutrients, is a special occasion type of food. Plus, many of the classic side dishes — like carrots, potatoes, and brussels sprouts — pair perfectly with salmon.
Herb roasted tri-colored carrots
This rainbow of sweetly roasted carrots is the perfect veggie side dish to round out a spread for two. Herb-speckled and tossed with fresh lemon, it looks and tastes fancy and is still easy to pull off.
Roasted brussels sprouts
There's a reason brussels sprouts are a mainstay on the Thanksgiving table — no matter if it's set for two, three, or a dozen. They're a versatile member of the cabbage family and can be dressed up or down with oils, spices, and even bacon. Consider this recipe a starting point and add your own touches.
Homemade mac and cheese
A must in Southern homes, this gooey, warming dish will soothe you from the inside. Plus, it's a piece of cake to throw together. If you're hesitant about the amount of dairy, you can substitute almond milk and lactose-free cheese.
Maple browned butter mashed sweet potatoes
You can't have Thanksgiving without some sort of sweet potato recipe. We like this one for the sweet additions of maple syrup and brown sugar, which pair nicely with the tartness of cranberry sauce and the crisp taste of green beans or brussels sprouts.
Cranberry-orange relish
This cranberry relish gets a lovely sweet tang from the addition of orange. It's perfect for slathering on your turkey or chicken slices or just enjoying all by itself.
Easy homemade turkey gravy
Last — but definitely not least — don't forget the gravy! This simple recipe doesn't take much effort but will add even more goodness to your turkey, mashed potatoes, and stuffing.
Note: You'll need turkey or chicken drippings to make this gravy.
Individual apple crisps
A personalized apple crisp is the perfect cap to your dinner. But if you and your Thanksgiving partner want to skip dinner altogether and just have these crisps, that's fine by us.
Pumpkin cheesecake bars
These rich, pumpkin-y puppies are to die for. The graham cracker crust adds a crumbly texture to the thick, creamy filling. Try not to get drool on your keyboard.
Pecan pie thumbprint cookies
Rather than have a dessert that lasts only one night, make these cookies to enjoy for a few days. These adorable pecan pie thumbprints are sweetened with coconut sugar and maple syrup, which give them an extra-rich flavor.
1. Prep the night before to reduce stress
By prepping your ingredients the night before — chopping veggies, making the marinade for the turkey, making pies and desserts — you can save time and headache. Just remember: Fresh vegetables like beans or carrots should be placed in cold water in the fridge so they don't lose their crispness.
2. Make a plan for the leftovers
When deciding what to cook on Thanksgiving, consider what you want to eat on National Pie for Breakfast Day, National Pie for Breakfast Day Two, and so on. After all, this holiday revolves around food, and even if you make smaller portions, you'll likely have leftovers for days.
Plan ahead by baking (or buying) bread for turkey sandwiches! Get creative with your turkey leftovers. And experiment with new post-Thanksgiving recipes.
3. Skip the turkey
And don't feel guilty about it! The most complicated part of Thanksgiving dinner is the turkey. If you don't want to worry about checking on it every few hours… don't. There are literally countless alternatives, pretty much all of which require less elbow grease.
4. Don't forget the gratitude
During a difficult lap around the sun, finding silver linings can be a challenge. You may be missing your extended family on Thanksgiving, which can make it tough to find joy. Even so, take time to discuss what you're thankful for as you enjoy your meal for two.