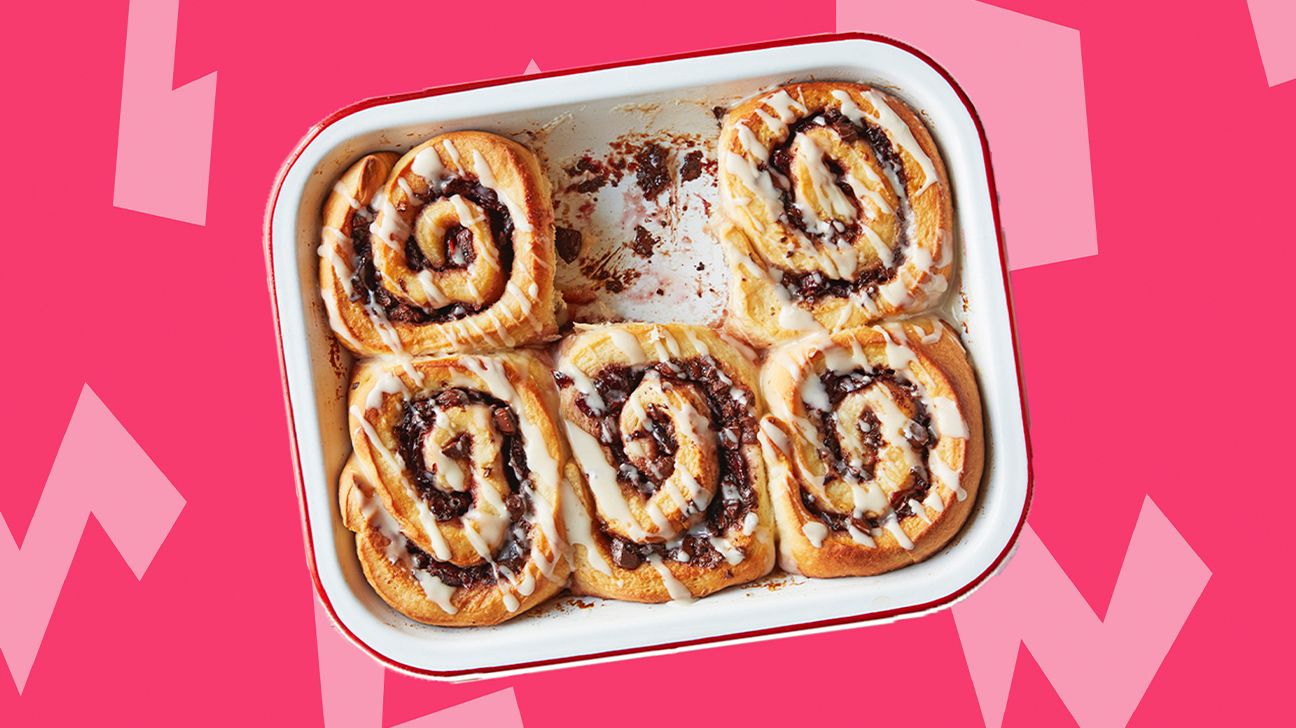 We include products we think are useful for our readers. If you buy through links on this page, we may earn a small commission. Here's our process.
Greatist only shows you brands and products that we stand behind.
Our team thoroughly researches and evaluates the recommendations we make on our site. To establish that the product manufacturers addressed safety and efficacy standards, we:
Evaluate ingredients and composition: Do they have the potential to cause harm?
Fact-check all health claims: Do they align with the current body of scientific evidence?
Assess the brand: Does it operate with integrity and adhere to industry best practices?
We do the research so you can find trusted products for your health and wellness.
Cinnamon rolls are a universally loved pastry, especially during the cooler winter months. Walk into pretty much any pastry shop and you'll likely find cinnamon rolls on display.
The cinnamon roll (or bun) is so beloved that it even has its own secular holiday on October 4th! We adore the classic sweet, cinnamony roll, but getting creative with your ingredients and finding the perfect flavor profile will make getting out of bed that much better. Or make it breakfast in bed!
Here are seven delicious no-recipe ideas to fancy up your cinnamon rolls. The best part: These tips and tricks work great whether you're using a homemade cinnamon roll recipe or store-bought dough.
We love how the smoky yet sweet cardamom complements the cinnamon and pairs so well with the zesty orange citrus.
How to: Sprinkle your cinnamon roll dough lightly with ground cardamom and your cinnamon sugar mixture before baking. Add some orange zest to your icing, mix well, and dollop it onto your warm cardamom cinnamon rolls for a slightly citrusy, super yummy dessert.
The addition of crushed Oreo cookies sends these rolls over the top! Take it all the way to dessert status by serving them with a scoop of vanilla ice cream.
How to: You'll need a sleeve of Oreos. Double Stuf Oreos work best, but original Oreos work well too. Separate the cookies from the filling and set the filling aside. Crush the cookies into bite-size pieces and sprinkle them in a thin layer across the dough, along with the cinnamon mixture. Then roll up the dough, slice, and bake.
For the topping, warm the reserved Oreo filling until melted and drizzle it on top of your finished rolls.
These are such a decadent delight — and surprisingly easy to make. The salty, savory bacon and the sweetness of the cinnamon and maple syrup are a match made in cinnamon roll heaven.
How to: While your cinnamon rolls are baking, fry up a few pieces of bacon until crispy. Once the bacon has cooled, chop it into small pieces and set it aside. Add maple syrup to your favorite plain icing recipe (or store-bought icing) to taste.
Glaze your rolls and sprinkle the cooked bacon pieces on top. For a bolder maple flavor, you can drizzle even more maple syrup directly on top of your maple-bacon glazed rolls. Yum!
Fresh strawberries and strawberry jam are a lovely way to lighten up this dense pastry. The tart sweetness of the fresh fruit goes nicely with the warm cinnamon spice and adds gorgeous color to your rolls. The strawberry jam gives them a gooey warm filling you'll want to make again and again.
Don't have strawberries? Substitute whatever berries you have on hand!
How to: Apply a thin layer of strawberry jam to your rolls before baking, either by slathering the jam on top of the cinnamon roll spirals once they're sliced or by spreading it on along with the filling before you roll up the dough. Then bake according to your recipe's instructions.
Serve with fresh diced strawberries on top of the rolls. Enjoy!
Let's be real: It's not fall if we don't incorporate pumpkin spice into all the things. Lean into PSL season by using sweetened pumpkin pie filling and pumpkin spice-flavored cream cheese frosting to make the ultimate autumnal confection. One bite and you'll be a believer!
How to: Assemble the cinnamon rolls in your baking pan, and then slather the pumpkin pie filling directly on top and bake until bubbly and golden brown. Add a couple shakes of pumpkin pie spice to your cream cheese frosting, mix well, and top off your rolls.
The nutty saltiness and crunch of the pistachios and the slightly bitter undertones of dark chocolate work flawlessly in harmony with your standard cinnamon rolls. If you don't happen to have roasted pistachios, chopped almonds or pecans will work wonderfully. For the dark chocolate, we recommend semisweet dark chocolate chunks.
How to: Stick a few of the dark chocolate chunks between the cinnamon roll layers, so they melt as the rolls bake. Finely chop the pistachios and sprinkle them on top of the rolls before you put them in the oven. Set aside some pistachios to use as a topping too.

Drizzle even more melted dark chocolate on the warm rolls and sprinkle the leftover pistachios on top! The added texture of the pistachios and the gooeyness of the dark chocolate chunks take cinnamon rolls to a whole new level!
Love apple pie but don't want to go through all the steps of making one? Satisfy your craving with these apple pie cinnamon rolls! To keep things simple, we recommend using store-bought dough and apple pie filling for this one.
How to: Grease a muffin tin and place a cinnamon roll round in each cup. Then spoon your apple pie filling right on top! We like to top these off with cinnamon sugar before baking so it caramelizes in the oven. To finish, drizzle the provided icing on top!
These fun add-ins are all so simple but contribute massive flavor and texture to the traditional cinnamon roll! It would be a shame to let any go to waste.
We love to bake big batches of one or more of these fun flavor combos, let the rolls cool completely, and then cover them with plastic wrap and foil to freeze. That way, you can eat some now (of course) and still have some for later.
Viola! Gourmet cinnamon rolls at your fingertips!
Mayra Mejia (she/her) is a queer Salvadoran-American freelance writer, body liberation advocate, and content creator. She is passionate about fostering a strong and inclusive body positive community and is the founder of PLUSH DMV, a Washington, D.C.-based fat positive community.