Vegetarians at a family Thanksgiving dinner are accustomed to getting the stink eye, the exasperated sigh, and the classic, "I think these mashed potatoes are meat-free… oh, wait — they're made with chicken stock."
😐 , right?
On a day that emphasizes indulgence to the point of a stomachache, folks who choose to avoid meat are often the odd ones out — and, as a result, the ones who miss out.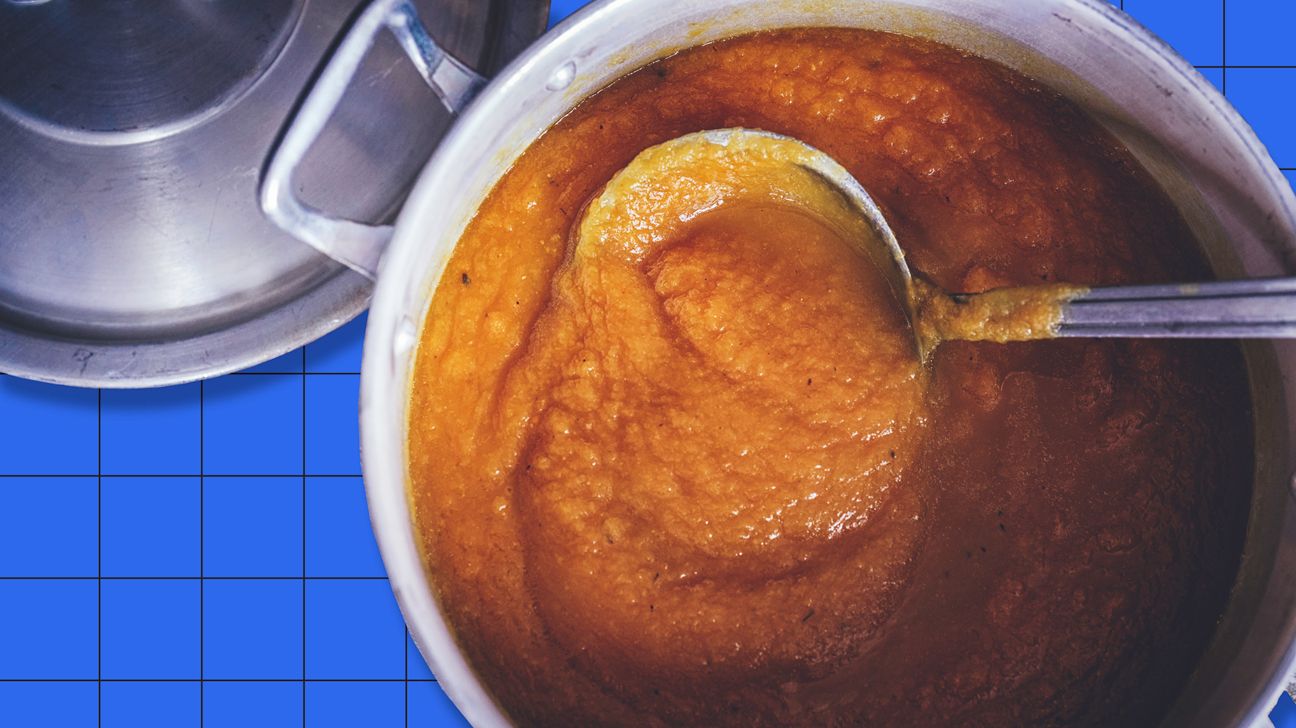 But instead of complaining, they slap smiles on their faces and fill up on not-so-satisfying green bean casserole, dinner rolls, and pumpkin pie.
Not so this year. Here are 33 of our favorite vegetarian Thanksgiving recipes that land pretty far from boring, tasteless, or the dreaded Tofurkey.
Feed me pies, feed me sweet little pies…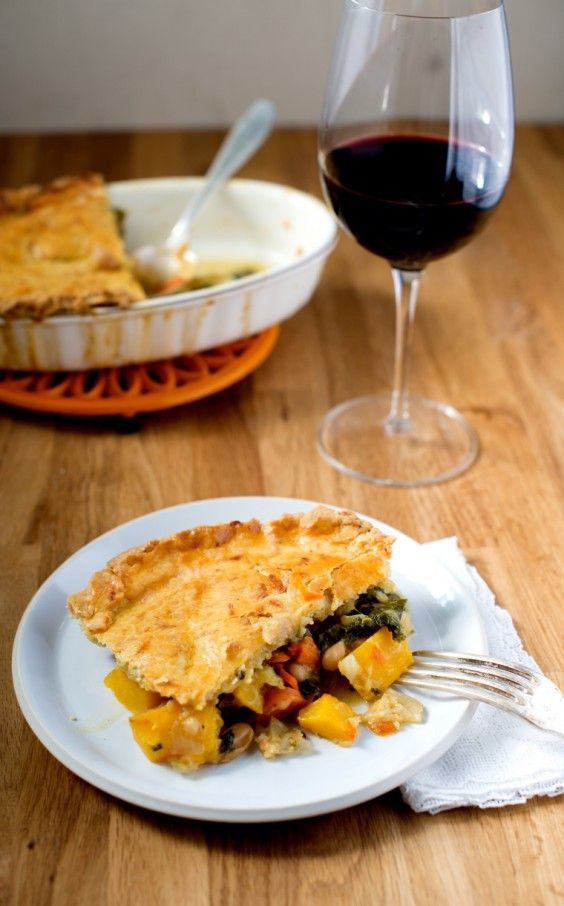 The classic chicken pot pie goes vegetarian and seasonal in this spotlight-stealing dish. Roasted pumpkin, carrots, celery, and kale take center stage, shoving meat aside. (And yes, kale does deserve center stage sometimes.)
White kidney beans give the dish some protein, so you won't miss the meat at all. Make the crust a tiny bit healthier by opting for whole-wheat flour and going easy on the Parmesan cheese.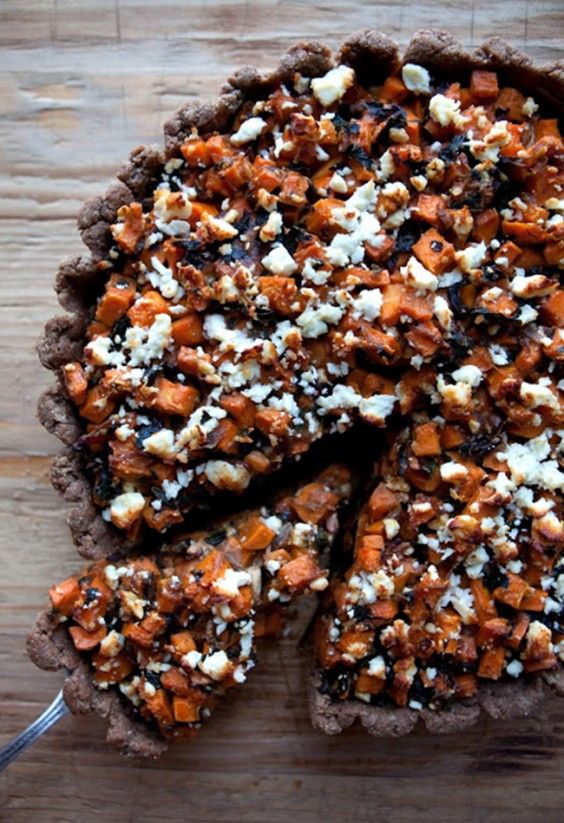 This beautiful, healthy tart will definitely upstage the turkey on your Thanksgiving table. Take that, turkey! (But in a nice way, where you get to continue running around your paddock.)
Sweet potatoes, onions, garlic, Swiss chard, and feta cheese hit their stride when tucked into a whole-wheat and teff crust (if teff isn't in your pantry, just use regular flour).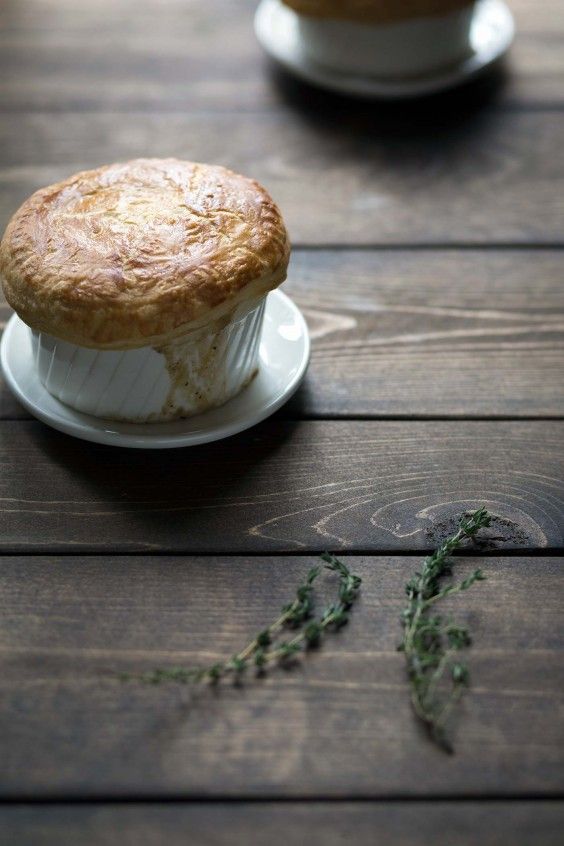 Like a pot pie, this dish is made from layers of pastry wrapped around a tasty filling. Also like a pot pie, it f*cking bangs.
Since pastry is, by definition, made from tons of butter, you can lighten up the filling by using part- or all-skim ricotta and going easy on the butter and olive oil.
With a lentil and veggie mix instead of ground beef as its base, this shepherd's pie is primed for a healthy makeover — and it's just as delicious.
This version is vegan, but if you're a cheese-eating vegetarian, we suggest sprinkling some goat cheese on top for an added creamy tang.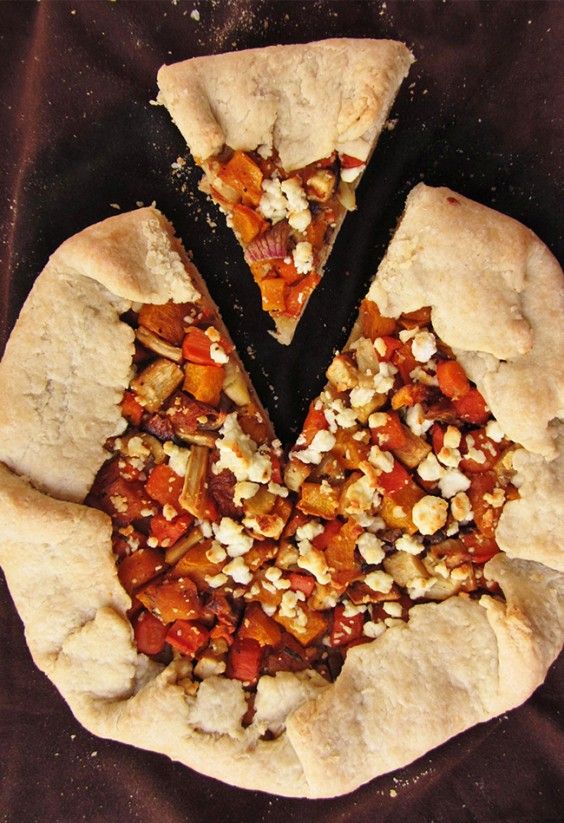 Put veggies front and center with this rustic vegetable tart. A galette is a type of savory crepe, and it's as good as it sounds.
Colorful carrots, parsnips, butternut squash, and shallots provide plenty of flavor, and the goat cheese crumbles give this dish a salty, rich finish.
Experiment with a whole-wheat crust to add some fiber into the mix.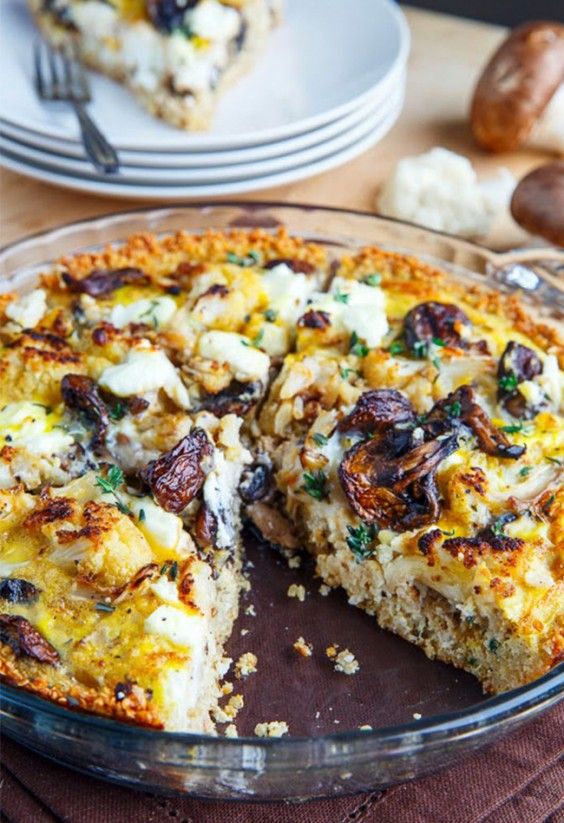 What happens when you cross a Chicago-style pizza with a vegetable quiche? You get a satisfying deep-dish vegetable tart that's impressive enough for Thanksgiving dinner.
The healthy cauliflower, mushrooms, and thyme filling plays off the Parmesan-quinoa crust. This decadent, veggie-rich main dish rivals any turkey for a hearty meal.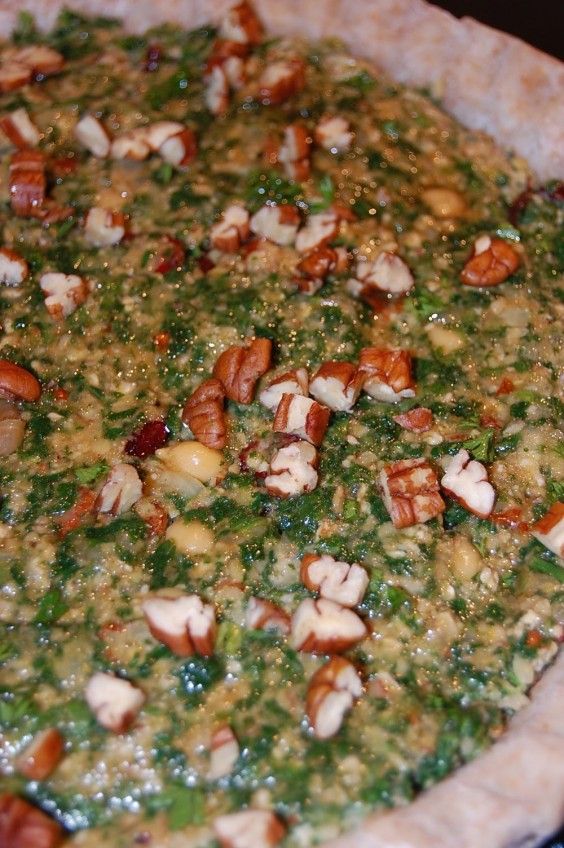 This veggie-rich seasonal tart looks complicated (and impressive), but it's pretty simple to whip together.
Save yourself a step by spreading the topping (made of ground chickpeas, cranberries, spinach, sage, walnuts, rolled oats, tamari, and celery, among other ingredients) on a premade whole-wheat pie crust.
Or, for extra brownie points, go full DIY and make your crust from scratch. Ooooooh, fancy.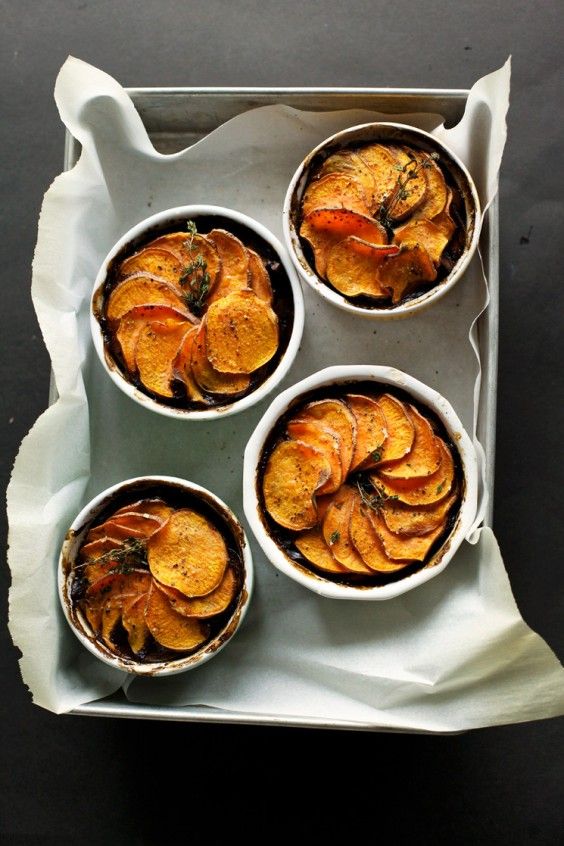 A savory pie that combines beer, sweet potatoes, and mushrooms is the perfect melding of decadence and healthy food.
As a Thanksgiving entrée, this dish is pretty simple and speedy, with just a few steps and minimal dishes to wash.
When the world gets back to a place where you can cook food for people en masse, you'll be able to keep your veggie friends and family content.
Crust? Sure, that's fine. Sweet potato crust? OK, we're listening.
This rustic quiche combines all the colors and flavors of fall. It's a beautiful dish that will surely tempt every person at the table, veggie or otherwise.
Leftover quiche makes a great breakfast the next day too.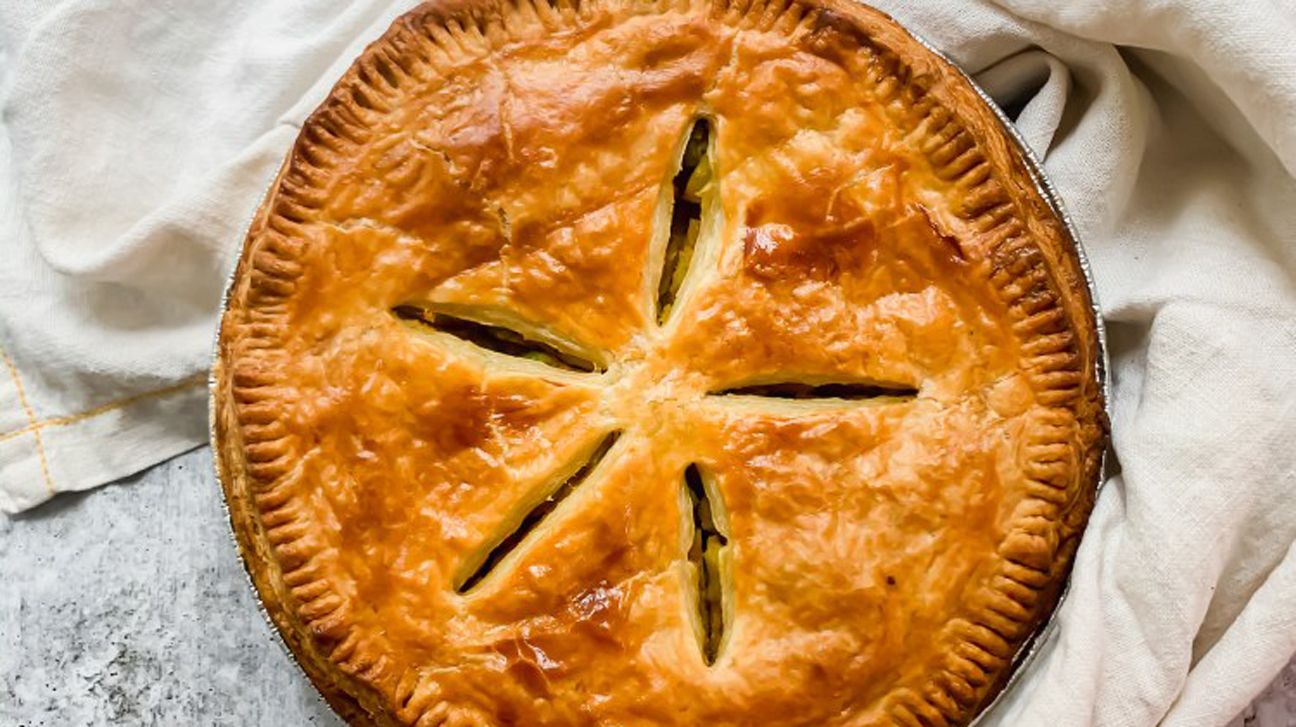 For a spicy twist on hearty, crusty Thanksgiving fare, look no further than a samosa pot pie.
Spiced with cumin, coriander, garam masala, and cayenne and filled with potatoes, these samosas in pie form add a super interesting veggie twist. These will fill you up all the way, but the puff pastry adds a lightness that means you won't instantly fall asleep after your meal.
(If you're into Indian food, check out these curry recipes as well — we loooooove spices and bold flavors.)
Things. Inside. Of. Buns. All. Damn. Day.
Eating a burger on Thanksgiving: sacrilege or genius? We'll always gun for a burger, whatever momentous day of the calendar it is.
This all-veggie patty is made from black beans, bell peppers, onions, and spices and topped with leftover Thanksgiving sides.
It's just like a traditional Thanksgiving dinner, only on a bun. What's not to love?
Once again proving that burgers are a totally acceptable Thanksgiving fare, these quinoa-mushroom-zucchini patties will probably steal the show.
Spread a little bit of cranberry sauce or mashed potatoes on top for some extra festive flair.
Thanksgiving meals shouldn't leave you with mushroom to eat more stuff. Say no more…
Gorgonzola, eggplant, garlic, and Parm transform these giant 'shrooms into a rich, filling meal. 'Shroom, 'shroom? More like vroom vroom.
Just swap in some dairy-free cheese if you want to make a vegan version.
Who needs meat when you can eat rich, meaty portobello mushrooms instead?
Stuffing them with celery, kale, onions, feta, and wild rice turns these veggies into a full-on meal.
These roasted gourds loaded with pomegranate seeds, quinoa, goat cheese, and nuts are bound to satisfy vegetarians, vegans, and meat eaters… that's everyone.
Imagine pleasing everyone. Now you can.
The best part? It's basically quinoa salad in an edible bowl, so there are fewer dishes to wash at the end of the night.
You can eat the bowls. That's magic.
These golden rings of squash look like mini suns filled with a seasonal quinoa mixture. That sounds pretty perfect for a chilly late-fall dinner, right?
With cranberry, sage, apple, and maple syrup, the quinoa filling hits all the season's high notes.
As the samosa pot pie proves, flavors from all over the world have every right to sit with us at the Thanksgiving table.
You can stuff a delicata squash with basmati rice, cinnamon, raisins, cashews, Granny Smith apples, and of course, fresh curry powder.
Traditional? Hardly. Delicious? Definitely.
Squash is a vegetarian staple, and this version stuffs in one of our Thanksgiving favorites: cranberries.
With just five ingredients, this is something you can whip up quickly, even if it's not actually Thanksgiving.
Even if you can't have everyone over for Thanksgiving this year, it can still be bellissimo.
This tasty risotto uses olive oil and vegetable broth to achieve a rich consistency. With an entire butternut squash, this baked dish is an easy way to get your veggies on Thanksgiving Day.
Skip the grated Parm to make this meal vegan-friendly.
Who said Thanksgiving dinner had to be a meat-and-potatoes affair? (OK, we'll hang on to the potatoes.)
This creative Italian-inspired dish is a good example of why stepping out of your comfort zone can be smart (and delicious).
Italian for Thanksgiving? Yes, please.
Mix things up with fresh, homemade ravioli (packets of pasta with a stuffing) filled with seasonal ingredients. Serve 'em with a bit of melted butter and a sprinkling of Parmesan cheese.
(Cauliflower Parm is another surefire win — here's how to nail it.)
What happens when you combine an Italian classic with a Thanksgiving classic? You get these delicious, healthy, totally main course-worthy stuffed shells.
Pow! Right in the turkey.
Butternut squash adds moisture and flavor, so it's possible to cut down on the cheese for a healthier dish.
Add some spice to your celebration.
Everyone's favorite winter meal gets the royal treatment in this festive chili recipe. Instead of ground beef, this version uses chickpeas and black beans, as well as pumpkin puree and canned tomatoes.
Don't forget to serve with cornbread!
Chickpeas and sweet potatoes are some of our favorite staples — even for those of us who aren't vegetarian. They absolutely scream fall. What better for Thanksgiving?
This recipe uses the awesome chickpea + sweet potato combo to makes these adorable Thanksgiving wraps.
A casserole may not seem like a special-occasion dinner, but this one-bowl meal will make a convert out of any skeptic.
Featuring zucchini, carrots, eggs, salsa, and cheese, this Tex-Mex-inspired dish is basically a vehicle for vegetables. Is it Tex-Mex? Is it lasagna? Is it a casserole?
Who gives a f*ck? It's delicious. All aboard the zucchini bus!
Anyone can make a soup or stew with delicious results.
Those who are serious about getting their veggies on Thanksgiving should bookmark this fresh stew recipe. Oh, it has veggies, all right. Loads and loads of veggies.
Combine onion, carrots, celery, portobello mushrooms, white mushrooms, garlic, tomatoes, potatoes, peas, and parsley to make this hearty soup.
Let soup take a starring role by serving this veggie dish as a main on Thanksgiving Day. Wait — it's not a starter? What is this madness?
Don't fret. Instead of turkey, this recipe features white beans, potatoes, zucchini, onions, and tomatoes. It'll both warm and fill you up in equal measure.
Spice things up at the dinner table by serving — 🙀 — soup as a main dish. (It still feels weird from the last point, but we stand by it.)
You can't go wrong with this flavorful dish made with just six ingredients (and an optional garlic-kale-sesame topping that becomes way less optional after you taste it).
Six ingredients too many? Here are some hearty slow cooker meals that need five ingredients or less.
Including stuffing, nuts, oatmeal, and some eggplant balls that will make your mouth water. 🍆
For a side dish that's filling enough to serve as a main course, look no further.
Quinoa and hazelnuts provide protein and fat while sweet potatoes and apples give this dish fiber and lots of fall flavor.
If you thought oatmeal was just for breakfast, you're about to discover a whole new world.
This savory dish features old-fashioned oats topped with mushrooms, greens, and chickpeas for a creative twist on Thanksgiving dinner.
You'll be the trendiest guest at the table.
If the word "meatloaf" still brings to mind scary cafeteria mystery meat, it's time to revisit the concept with this vegetarian version. (Is vegetarian meatloaf an oxymoron? Yes, and we love the mere thought of it.)
Lots of veggies, spices, and nuts make this meat-free loaf positively healthful. Top it with some grated cheese, because everything is better with cheese.
These super-easy eggplant balls are great with all your traditional sides or left over with some pasta the next day.
Just combine eggplant, garlic, shallots, breadcrumbs, and a bunch of spices (that you definitely have in your kitchen) in a food processor, and you'll get a creative vegetarian dish.
Like olives and anchovies, tempeh seems to fit in the "hate it or love it" category. If you're a fan, this richly flavored dish is ideal for the dinner table. If you're not, this will never be the salad for you.
This smoky maple version combines potatoes, avocado, and spinach for a filling, wholesome Thanksgiving salad.
Since this year's Thanksgiving is likely to be very different, why don't you try something different for dinner — even if you're usually a meat eater?
Even if it's less the Macy's Parade and more the Keeping 6 Feet of Space-y's Parade, you don't have to give up the comforting winter vibes. And you can still keep those Thanksgiving bangers going with our special playlist.
Hang on to a little bit of normal this Thanksgiving, but take advantage of the difference too.