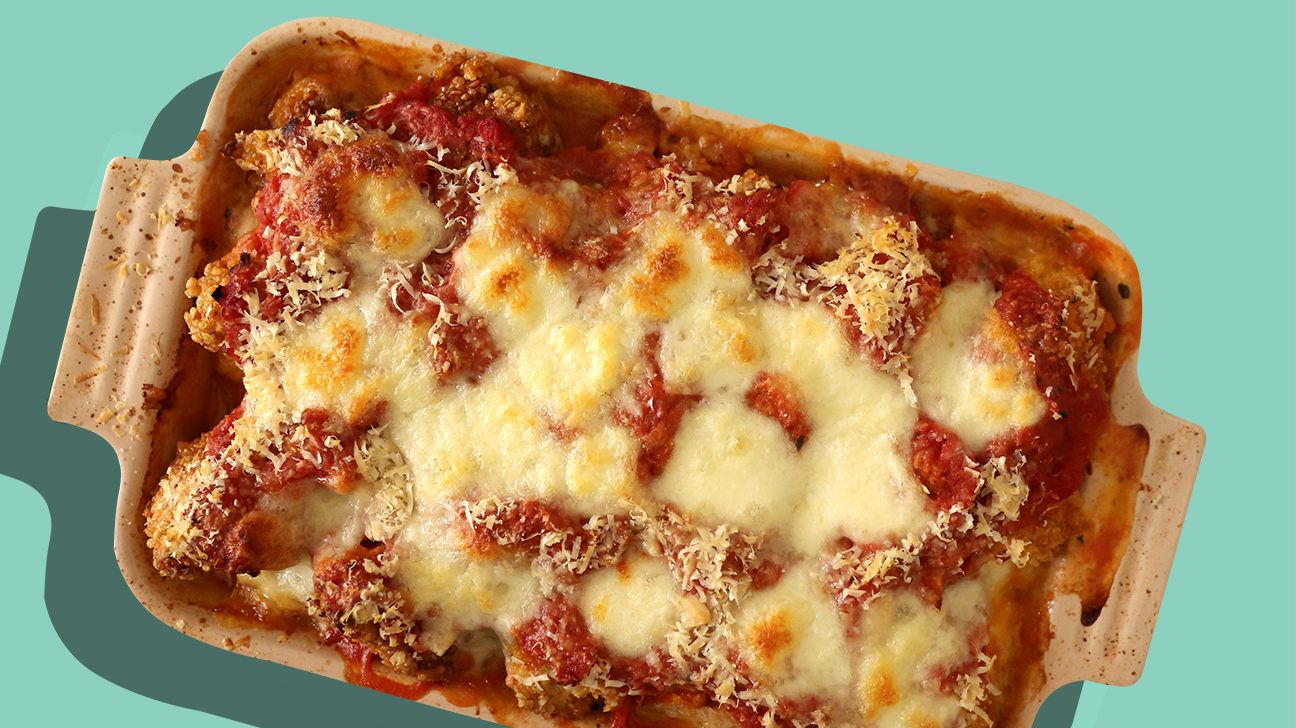 According to New York Times food writer Melissa Clark, all vegetables deserve "the parm treatment."
She's referring to the maximum deliciousness of breading and frying bite-size veggies in olive oil, slathering them with red sauce, dotting the tops with mozzarella and a hefty snowfall of Parmesan cheese, and then baking the Italian casserole until bubbly and molten. You in? Yeah, we thought so.
I was unapologetically drooling at The New York Times Food Festival when Clark made her famous Cauliflower Parmesan in front of a live audience. I had to ask Clark if the recipe could be easily adapted for other diets (like gluten-free and keto), and she responded, "Yeah, totally. They have gluten-free panko. Just use that. It fries really well."
With that green light, I headed to the grocery store for enough ingredients to make three versions of the casserole and conducted a side-by-side comparison of the taste and texture.
For the original recipe, I dredged the cauli in all-purpose flour and coated it with Kikkoman Panko, as the recipe instructs.
To make it gluten-free, I swapped in Cup4Cup Gluten Free Multipurpose Flour and Watusee Foods Organic Gluten Free Chickpea Crumbs (the GF panko works and I can attest it tastes the same, but my store didn't carry it).
Lastly, I created a grain-free version of the recipe by dipping each floret in Bob's Red Mill Super-Fine Almond Flour and Quinoa Crispies, which are sold in the bulk section of my local health food store. (FYI, quinoa is technically a pseudo-grain, since it's a seed that's cooked like a grain.)
Though I had my doubts that the alternative flours and breadcrumbs would adhere to the cauli florets, each version proved to be equally easy to prep and fry up. All three sizzled into a beautiful golden-brown hue and smelled tasty.
To cut down on dirty dishes, I assembled all three in one casserole dish, dividing it into three clear sections to keep track for taste-testing purposes.
Don't mess with any of the measurements, BTW. Even though that block of Parm will look humongous, once it's grated on a cutting board, you need every flake.
I'm seriously impressed with how perfect each of Clark's measurements is, even down to the time for baking. Forty minutes on the clock and the casserole top will caramelize and crisp up just the way you want it to.
Regarding the taste test, the OG wheat-based version is the winner, for sure. But the grain-free casserole also seriously wowed me. The nuttiness from the almond meal and the Quinoa Crispies provided depth of flavor. Plus, the Quinoa Crispies kept some of their crunchiness — unlike the panko and Chickpea Crumbs — despite being saturated in sauce.
The GF version was probably my least favorite. That had to do with the Chickpea Crumbs, which had a very distinguishable legume-y texture and scent.
To echo Clark, now I want to give everything the Quinoa Crispies treatment. This experience has inspired me to dredge, coat, and fry more foods with almond meal and Quinoa Crispies — broccoli, chicken, and tofu, for starters. It's an inspired way to liven up healthy foods and make them more texturally enticing.
Recipe from: Melissa Clark for NYT Cooking
Time: 1 hour 15 minutes
Makes: 4 servings as a main; 6 servings as a side
Melissa told the audience that you can use any jarred red sauce. If you want to glam it up a little, cook some diced garlic in olive oil, add the sauce, and then stir in a few basil leaves.
Ingredients
1/2 cup all-purpose flour
4 large eggs, lightly beaten
3 cups panko or plain unseasoned breadcrumbs
Kosher salt, as needed
Black pepper, as needed
1 medium head cauliflower, trimmed and cut into 2-inch florets
1/2 cup olive oil, for frying (more as needed)
5 cups tomato sauce
1 cup finely grated Parmesan cheese, preferably Parmigiano-Reggiano
8 ounces fresh mozzarella cheese, torn into bite-size pieces
Directions
Heat oven to 400°F (about 205°C). Place flour, eggs, and panko in three separate wide, shallow bowls. Season each generously with salt and pepper. Dip a cauliflower piece first in flour, then in eggs, and then coat with panko. Repeat with remaining cauliflower.
Fill a large skillet with 1/2 inch oil. Place over medium-high heat. When oil is hot, fry cauliflower in batches, turning halfway through frying, until golden brown. Transfer fried cauliflower pieces to a paper towel-lined plate.
Spoon thin layer of tomato sauce over bottom of a 9-by-13-inch baking pan. Sprinkle one-third of Parmesan over sauce. Scatter half of cauliflower mixture over Parmesan and top with half of mozzarella pieces. Top with half of remaining sauce, sprinkle with half of remaining Parmesan, and repeat layering, ending with final layer of sauce and Parmesan.
Transfer pan to oven and bake until cheese is golden and casserole is bubbling, about 40 minutes. Let cool for a few minutes before serving.
Anna Monette Roberts is a food writer, recipe developer, and photographer. Follow her in the kitchen on Instagram.