Pumpkins aren't just good for carving. These great gourds are loaded with nutritional perks. Here are 11 reasons why you should pack your plate with pumpkin year-round.
Health benefits of pumpkin
Here are some powerful perks of pumpkin:
Rich in vitamins and nutrients
High antioxidant content
Might boost immunity
Can be good for your eyes
Might be helpful for weight management
Can potentially help reduce your risk of cancer
Promotes heart health
Great for your skin
Versatile for cooking and baking
Might be good for bladder and prostate
May lower blood sugar levels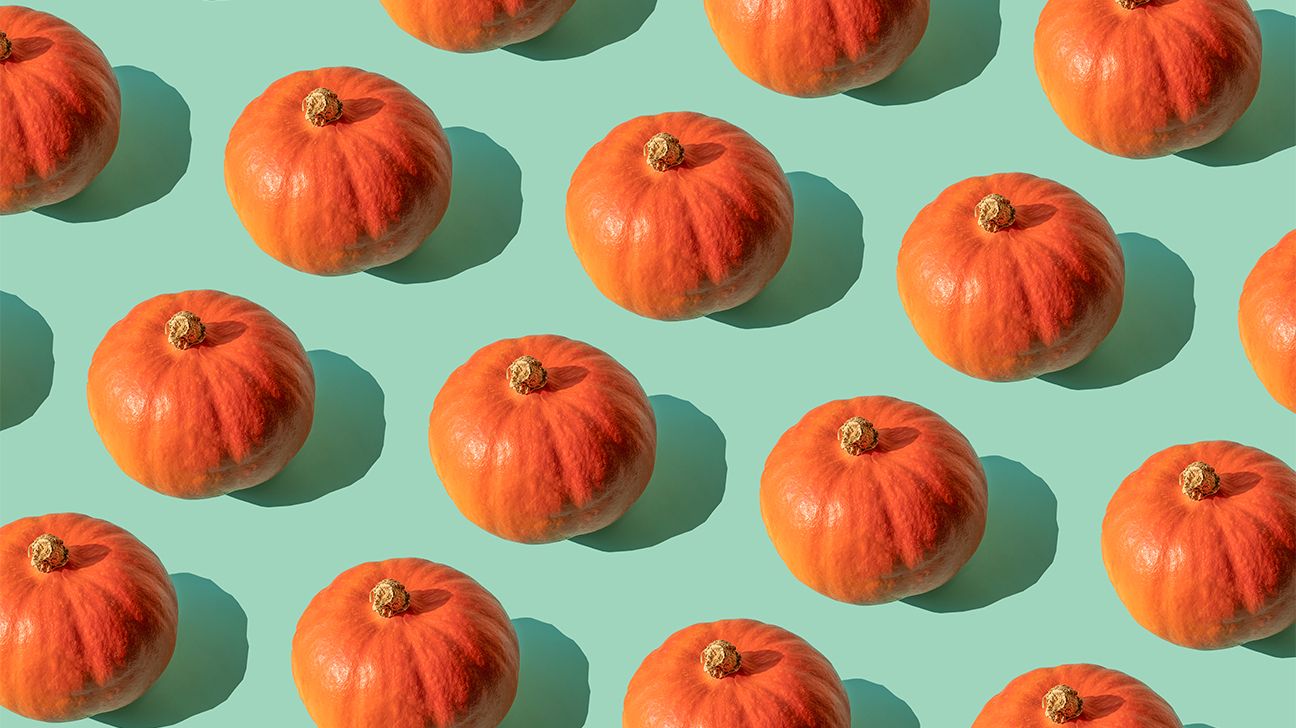 Pumpkins are chock full of vitamins and nutrients. Here's what cooked pumpkin and pumpkin seeds have to offer including the percentage of daily value, updated in 2020:
| | | |
| --- | --- | --- |
| | 1 cup (245 g) of canned pumpkin | 1 ounce (28.35 g) of pumpkin seeds, unsalted, without shell |
| calories | 83 kcal | 163 kcal |
| protein | 2.7 g | 8.45 g |
| carbs | 20 g | 4.17 g |
| fat | 0.7 g | 13.9 g |
| fiber | 7 g | 1.84 g |
| sugars | 8 g | 0.366 g |
| calcium | 64 mg (6.4% DV) | 14.7 mg (1.47% DV) |
| iron | 3.4 mg (18.9% DV) | 2.29 mg (12.72% DV) |
| magnesium | 56.4 mg (14.1% DV) | 156 mg (39% DV) |
| phosphorus | 85.8 mg (8.58% DV) | 332 mg (33.2% DV) |
| potassium | 505 mg (14.43% DV) | 223 mg (6.37% DV) |
| vitamin C | 10.3 mg (17.17% DV) | 0.51 mg (0.85% DV) |
| vitamin A | 1910 mcg (212% DV) | 1.42 mcg (1.2% DV) |
1. Rich in vitamins and nutrients
Pumpkins are a sweet source of vital vitamins and nutrients like:
2. High antioxidant content
Pumpkins are a solid source of antioxidants like beta-carotene, beta-cryptoxanthin, and alpha-carotene. So, eating pumpkin might help protect your body from free radicals. That's great, since free radicals have been linked to cancer and inflammatory disorders like rheumatoid arthritis.
3. Might help boost immunity
Pumpkins are high in beta-carotene. Not only does this pigment give pumpkins their signature orange color, but they also convert into vitamin A. Studies show vitamin A can bolster your immune system and might help your body recover from infections.
But wait, there's more. Pumpkins also contain vitamin C. This vitamin plays a key role in strengthening your immune system cells and can increase white blood cell production.
4. Can be good for your eyes
Pumpkins are pretty good for your peepers. A 2014 research review of 22 studies found that folks who get more beta-carotene have a lower risk of cataracts. Beta-carotene also helps the retina absorb light, which can keep your vision sharp.
On top of beta-carotene, pumpkins also offer vitamin E, vitamin C, and zinc. A 2013 study found that supplements containing these nutrients can slow the progression of age-related macular degeneration. But keep in mind, the study didn't include pumpkins specifically.
5. Could help manage weight
They're not just delicious and nutritious. Pumpkins can be a part of an eating plan to help manage weight. One cup of mashed pumpkin "meat" only has 49 kcal. That's a good amount of nutrients for a lighter amount of calories, if your doc thinks you need to watch for that.
Fiber FYI: Pumpkin is a high fiber food. Fiber can help curb your appetite and can make you feel full for longer.
6. Reduce your risk of cancer (maybe)
Pumpkins contain antioxidants that help neutralize free radicals. A 2015 small research review of 13 studies found that folks with higher intakes of beta-carotene and alpha-carotene had a lower risk of stomach cancer. Other studies have found that eating a lot of carotenoids can reduce the risk of breast, throat, and pancreatic cancers.
Keep in mind, we need more human studies on pumpkins to prove their anticancer perks.
7. Promotes heart health
Pumpkins are high in potassium, which is good for your heart. Studies have shown that potassium can lower blood pressure and may reduce the risk of stroke. Pumpkins are also a source of soluble fiber, which can help lower LDL (bad) cholesterol.
8. Great for your skin
Pumpkins have nutrients that promote skin health. When eaten, carotenoids can help protect your skin from UV rays. Carotenoids can act as a natural sunblock to help your actual sunblock (which you should try not to skip).
High levels of vitamin C are also great for skin health. Your body uses it to make collagen, which keeps your skin strong, plump, and elastic.
9. Versatile for cooking and baking
Pumpkin works well in soups, purees, cookies, cakes, coffees, casseroles, pastas, and (of course) pies. On top of being versatile AF, it's also very affordable when in season.
Pro tip: If carving a pumpkin doesn't seem worth the hassle, you can buy it pre-sliced or canned.
10. Might be good for bladder and prostate
Pumpkin seeds might help relieve benign prostatic hyperplasia (BPH). This condition can enlarge the prostate gland, which can trigger pee problems. A 2009 study found that a combo of pumpkin seed oil and saw palmetto oil helped improve BPH symptoms. The same study showed that eating pumpkin seeds helped improve quality life and reduced symptoms.
There's also a chance pumpkin seeds are beneficial for the bladder. A small 2014 study of 45 folks with overactive bladders found that 10 g of pumpkin seed extract a day helped improve urinary function.
11. May lower blood sugar levels
A 2011 animal study found that pumpkin seeds, pumpkin seed powder, pumpkin juice, and plain pumpkin can help reduce blood sugar. A more recent animal study also found that a pumpkin polysaccharide, a type of antioxidant, improved insulin tolerance and decreased blood glucose, among other cardiovascular benefits, suggesting that type 2 diabetes could be improved.
Keep in mind, we need more human studies to show this is legit.
Ready to pump(kin) up the volume on your next meal or snack? Here's a round-up of fab pumpkin recipes.
This smoothie is so good, it'll satis-pie your sweet tooth without triggering a sugar crash. It's packed with protein, healthy fats, and nutrients. Reviewers also say it has a smooth, sultry feel and is full of flavor.
Bonus: It takes less than 10 minutes to make.
This recipe calls for roasting a pumpkin ahead of time, but we won't tell if you use the canned variety. Keep some chicken or veggie broth on hand, along with a few more veggies, and your dinner is set.
Vegans, rejoice! This one-pot pumpkin pasta is autumn in a bowl. It's hearty, healthy, and super easy to make. You can also customize it by throwing in your favorite veggies or herbs for a one-way ticket to Flavor Town.
OK, so this isn't the most nutrient-dense recipe on our list. But sometimes a treat is in order. This tasty treat is the perfect combo of creamy cheesecake and comforting pumpkin pie. It's sure to be a fan fave.
Move over mashed potatoes! This pumpkin puree is just as filling. You can eat it on its own or add it to your next loaf of pumpkin bread.
Psst. You can keep the seeds for a snack.
Speaking of pumpkin bread, here's a loaf that's hard to beat. A single loaf serves 24 and each slice has about 166 calories. It's the perfect breakfast on the go, but also makes for a delicious dessert or snack.
You don't need to spend big bucks for a top-notch facial. You can whip up a dope DIY pumpkin face mask at home in a flash. Here's how:
Ingredients
3 tablespoons organic pumpkin puree
1 teaspoon milk (or nut milk)
1 teaspoon manuka honey
Directions
Mix all of the ingredients together with a whisk or fork.
Remove any makeup or facial products.
Apply the mask to your skin using a makeup brush or your fingers. Make sure you don't get any in or around your eyes.
Chill out for 20 minutes.
Gently wash the mask off with warm water. You might need a damp washcloth to remove all of the residue.
Follow up with a moisturizer.
Pro tip: Feeling fancy? Use a fresh pumpkin. Just scrape some of the insides out and mash until gooey. The mix with the milk and honey.
Pumpkins are so much more than Halloween. They're loaded with vitamins, nutrients, and antioxidants that have some pretty impressive health perks. We also love that they're flavorful and affordable.
If you can't get your hands on a real pumpkin, you can find canned versions at the grocery store. Just be sure you stick to high quality products that don't contain added sugars, flavors, or harsh preservatives. They can mess with the flavor and might make the pumpkin less healthy.