Monday? Oats. Tuesday? More oats. Wednesday? Oh, Lord, make it stop.
Even though there are endless ways to jazz up your morning.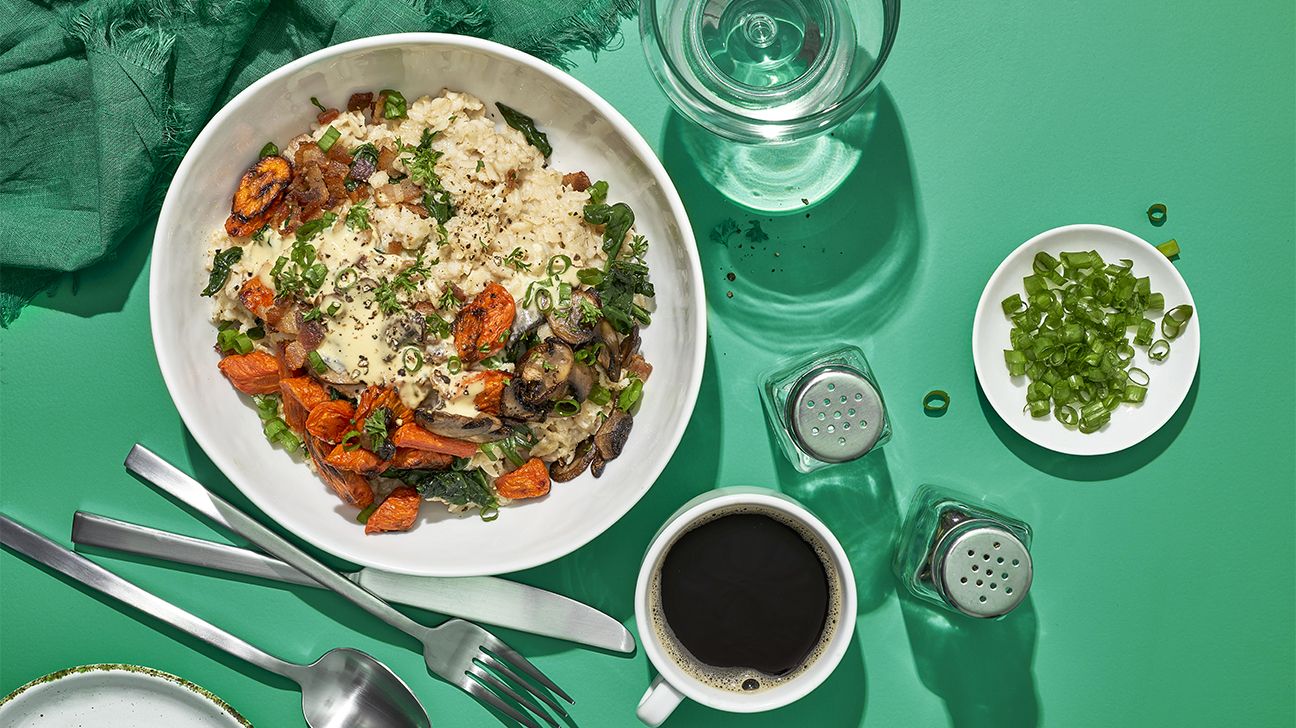 For all their health benefits, we're only human and, sometimes, need a break. But don't abandon the giant bag you've got sitting in the pantry just yet.
There are so many other ways to use the whole-grain powerhouse. You can use them as a base for burgers, bake 'em into granola bars, hide them in chocolate truffles.
These 25 recipes show you just how fun it is to think oatside the bowl (groan).
Yes, it's breakfast oats again — but not how you think.
Granolas these days can go a bit overboard on ingredients, packing in all sorts of fancy nuts, seeds, and dried fruits. Can you cope with that much flavor when you're still rubbing sleep from your eyes?
This recipe keeps things simple but effective — because when there are oats and cacao nibs involved, you don't really need much else.
You can't really go wrong with the blueberries and oats combination (although it's not quite as good as Hall and Oates).
But this recipe improves on an already-awesome pairing by adding bananas into the mix and taking it from bowl to bar form.
With just 2 tablespoons of maple syrup in the entire batch, these pretty purple squares are sweet without a ton of sugar too.
Made with real pumpkin puree, nutmeg, cinnamon, and lots of hearty oats, these muffins are a much better way to get your fix of fall spices without resorting to artificial flavorings.
Chocolate chips add sweet surprises in each bite, and the oat topping makes them look just like the muffins you'd get at a bakery.
Leave packaged granola bars on the store shelves.
These are all about real-food ingredients, packing in all sorts of goodies from rolled oats and puffed whole-grain rice to dried fruits and peanut butter.
Energy-dense and handy, they're a super-smart way to start your day.
Somewhere between baked oatmeal, pie, and granola bars, these apple-packed portable treats sit pretty, looking like breakfast and tasting like dessert.
And dessert for breakfast is an immediate winner in our books.
Oats go in the batter and on top for the streusel-like topping, so there are tons of whole-grain, fiber-rich benefits to go around.
Baked oatmeal doesn't always have to be sweet. And it doesn't always need to stay home — especially when you bake it in bite-size, to-go portions that can accompany you on whatever morning quest you undertake.
It's equally tasty the savory way, with veggies and tahini. Bake it into muffin tins for an easily portion-controlled and portable breakfast.
When you've got bananas rapidly browning on your kitchen counter, but no flour, vanilla, butter, or even oil on hand, this recipe's got your back.
Thoughtfully calling for just five ingredients that even those of us who aren't avid bakers will likely have in our kitchens. It's not only convenient, but it's also lower in sugar and higher in fiber than typical banana bread.
Not everyone loves oatmeal, but few might say no to pancakes.
Pack a cup of rolled oats into this flourless, vegan batter, and you'll get all its benefits without ever having to force down a bowl of actual oatmeal again.
Oats aren't just out here making your breakfast better.
For an express route to risotto, use oats instead of rice. Traditional? Heck no, but the texture is surprisingly familiar.
With plenty of veggies and chicken sausage in the mix, it's also much more wholesome than just a plain ol' pile of carbs.
Tired of making the same old arguments for your veggie lifestyle (not that you should need to)? Make your veggie burger so good, even meat-eaters will ditch their beef patties for it.
This one fits the bill. With rolled oats, black beans, and Mexican-inspired seasonings, it's robust in both texture and flavor.
If you don't partake in the bird on Thanksgiving, this healthier sweet potato casserole — made with oats, nuts, coconut sugar, and maple syrup — can make sure you don't go hungry.
It's so good, we won't blame you if you're still making it well after the holidays.
Turn the classic soup into a balanced meal by adding oats and Greek yogurt, and serving it up in casserole form.
Baking the dish also gives you that unbeatable golden cheese crust on top that you'd never get with soup.
Sometimes a big, chunky bowl of proteins is in order. And, complete with bacon, eggs, blueberries, and avocado, this hearty dish provides all the hunger-swatting fiber and sustenance your morning glory needs.
This bowl would be amazing on a workout day, and needn't serve as breakfast alone — this meal clearly bangs at absolutely any time of day.
KFC now stands for Krunchy Fiber Celebration.
Instead of breadcrumbs, try coating your chicken fillets with oats and sesame seeds.
Not only are they healthier than the refined flour alternative, they'll also make for a much more satisfying crunch factor.
If you can put pasta, rice, and barley in soup, why not oats?
Old-fashioned, rolled oats work best here, since they hold up well to the liquid.
With a ton of vegetables, garlic, and Italian-inspired seasoning, this is a minestrone-inspired meal that'll warm you to your core.
Although, we won't be telling this Meat Loaf to his face. We'd do anything for a hearty meal, but we won't do that.
Oatmeal = comfort food. Meatloaf = comfort food. Combine the two, and you get the edible version of a bear hug.
Straightforward, satisfying, and with less than 10 ingredients, this recipe might just become one of your favorite dinners.
No pizza stone, no rolling out dough, no fancy cornmeal dusting.
With just three ingredients (and dairy isn't one of them!), this oat-based crust bakes up in under 15 minutes, making it dangerously easy to satisfy a pizza craving anytime.
Then, top it with absolutely anything you like (yes, even pineapple).
Oats aren't done being sexy yet… Oat my goodness.
Bite into one of these silky, chocolate-dipped truffles, and the filling will taste just like cookie dough.
Nobody has to know that with the heart-healthy dates, almonds, and oats hiding inside, these are more like energy bites than dessert.
Oatmeal chocolate chip cookies are always a hit, but why stop there? Throw cocoa powder into the batter and extra chocolate chips on top to make these even more chocolatey and irresistible.
Without refined sugars, dairy, or gluten, they're still healthier than your average oatmeal cookie.
Fun. Freakin.' Fetti.
Skeptical that anything with the word "funfetti" in its title can be healthy?
With oatmeal as their base and a Greek yogurt/protein powder frosting, these oil- and butter-free cupcakes will make a believer out of you.
When "healthy" tastes like a decadent ice cream sandwich, it really isn't difficult to stick to your healthy eating habits.
With a banana base, oats scattered throughout for texture, and no dairy, this no-sugar-added frozen treat will have you going for double scoops.
Oats and almond flour replace a traditional flaky butter crust for something a bit more rustic and vegan-friendly.
No rolling out dough either. Just press the ingredients into a tart pan, pour in the fresh blueberry filling, and stick the pie in the oven until your kitchen smells like dessert heaven.
Oats are a standard ingredient in most fruit crisps, but they're often paired with way more butter and sugar than necessary.
This recipe keeps the oats but slashes the sugar and butter down to mere tablespoons, letting the whole-grain goodness and the natural sweetness of the fruit do their delicious thing.
With oats and peanut butter instead of flour and oil, plus 1 1/2 cups zucchini hiding in the batter (we see you, zucchini), these aren't your standard brownies from a box — they're so much better.
You still get all the chocolatey flavor and that all-important chewiness, just with much more fiber and protein, and only 6 grams of sugar per serving.
Few people would say no to a thick, chocolate peanut butter slab tucked between two peanut-buttery oat layers.
But it gets even better: There's no butter in the recipe, you can customize it with alternative nut butters, and you can make the chocolate center as thick as you'd like.
We're willing to bet you didn't know that oatmeal could wear so many hats.
Whether they're slightly more visible in a breakfast, completely covert in chocolate truffle bites, or replacing rice in a risotto, oats are super versatile and easily flavored — sweet or savory.
There are plenty of oatmeal recipes you can leave to sit overnight so they're ready for you in the morning,
You can even bathe in oatmeal to help skin conditions.