Fresh crepes are one of the staples of hip-hop culture ("look at those crepes" being a regular insult thrown around in freestyle battles). But, sneaker slang aside, they're also a staple of getting a damn good breakfast into your face.
You might associate crepes with lavish desserts. But this thin pancake is much more versatile (and easier to make) than its crepe-utation would suggest.
Savory, sweet, fruit-filled, veggie-filled, meaty — these easy crepe recipes will show you all the ways you might be missing out. You can enjoy crepes all day, errrrrrrryday.
Because there's no reason on Earth not to.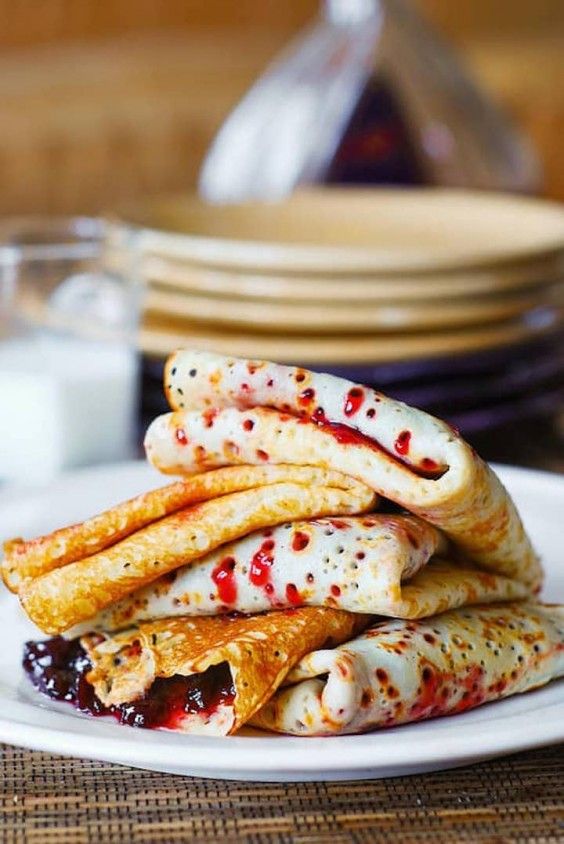 Do you ever feel like the bread-to-jam ratio of toast is a bit off? Would you like never to be cheated out of your rightful jam ever again?
These jam-filled crepes have your back. They let the filling shine with plenty of fruit flavor. We love blackberry and raspberry, but you can swap in just about anything. These crepes provide just the right amount of padding for a successful jam delivery.
The recipe creator helpfully provides a gluten-free option, so no one has to feel excluded from this crepe party.
Go wild and experiment with the filling (for example, we swear by stewed apples and cinnamon in the fall), but keep an eye out for the added sugars in store-bought jams — they're a pantry staple you should really buy organic.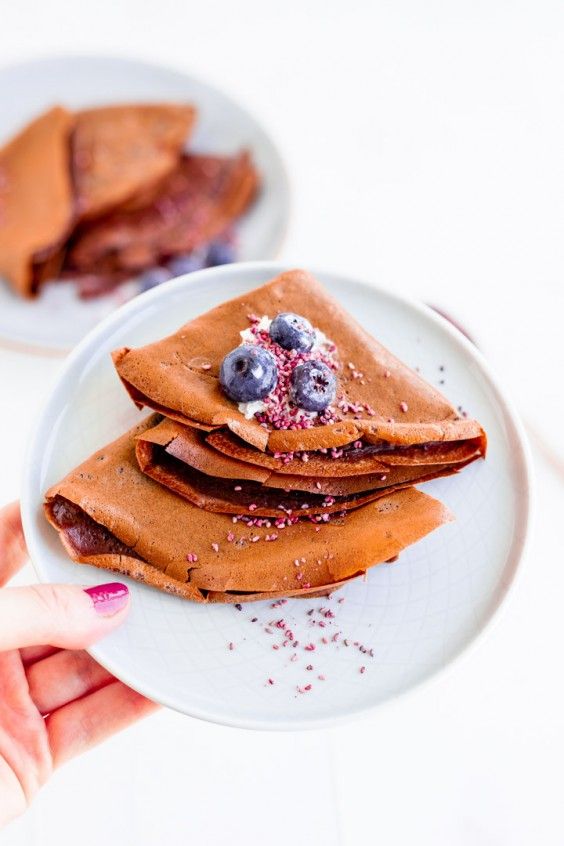 It takes minimal effort and ingredients to transform traditional crepes into a delivery method for chocolate. And who's gonna argue when chocolate crepes appear in front of them?
Simply add cocoa powder and sugar (or vanilla extract). Voila! You just leveled up.
The hardest part is deciding on a topping. Fresh berries? Toasted nuts? Oh, heck, ice cream, why not?
For a filling that provides a dose of healthy fat, try almond or cashew butter. For a sweet option, Nutella or cookie butter is your friend. (And no, you don't have to feel guilty about Nutella — here are 17 recipes that prove it.)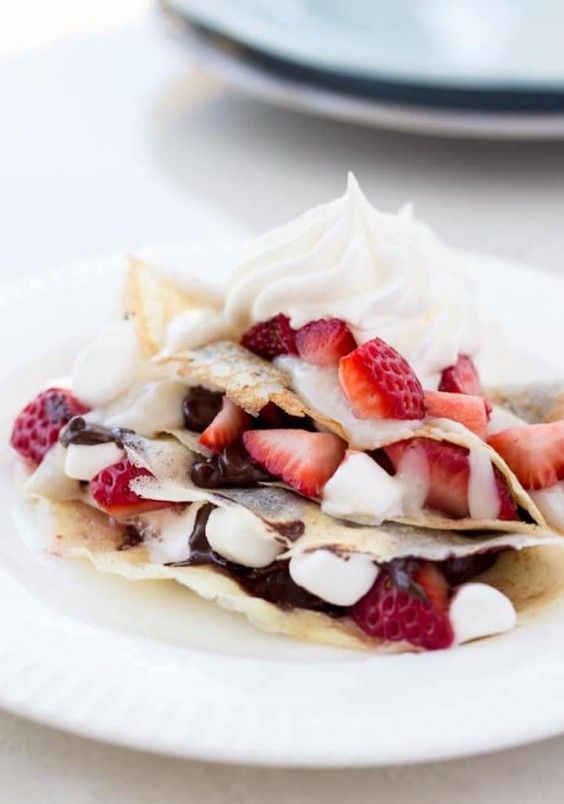 Fresh strawberries, custard sauce, toasted marshmallows… this recipe sounds too good to be true. Except it isn't. It super heckin' exists. And — *klaxon sound* — it has chocolate.
A step-by-step guide makes the recipe as foolproof as it is flavorful. And because the crepes are covered in marshmallows, you'll be able to hide any mistakes anyway.
Perfect for a weekend brunch with friends or an unexpected dessert, this is a meal for the masses (or you might risk eating it all yourself).
If you're looking for Mexican food with a twist (although calling these "enchiladas" in the first place might be a reach), look no further.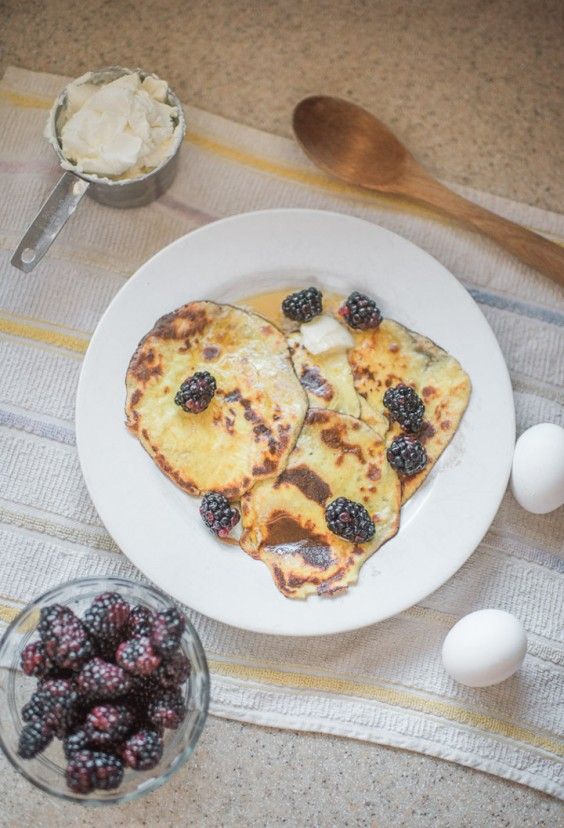 If you love Paleo pancakes, get ready to be blown away by these simple two-ingredient crepes. Made with cream cheese and eggs, this recipe is arguably the easiest way to whip up crepes — and quite possibly the tastiest.
Simply blend the ingredients, cook in a buttered pan over high heat, and top with more butter, berries, nut butter, or anything you're craving. You really can't go wrong.
We compiled some recipes for Paleo pancakes that don't taste like packing foam.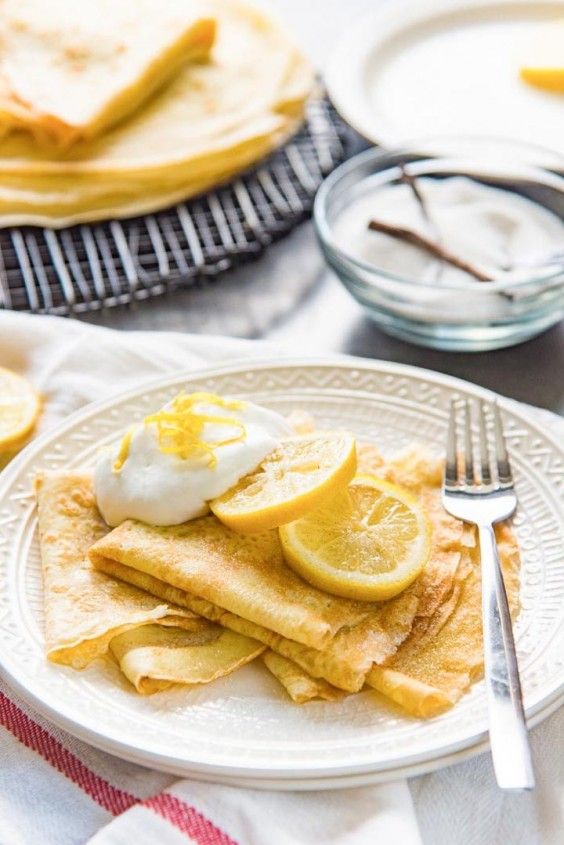 Crepes come in many shapes, sizes, and flavors, but perhaps the most classic variation is the traditional French mini-masterpiece, filled with granulated sugar and a hefty squeeze of fresh lemon juice.
If you're a crepe newbie, this recipe is a great place to start. It breaks down every step and every potential pitfall (such as a rubbery consistency due to overcooking).
It also adds methods for making these crepes with whichever tools you have on hand. So go ahead and make that optional whipped cream mandatory. You deserve it.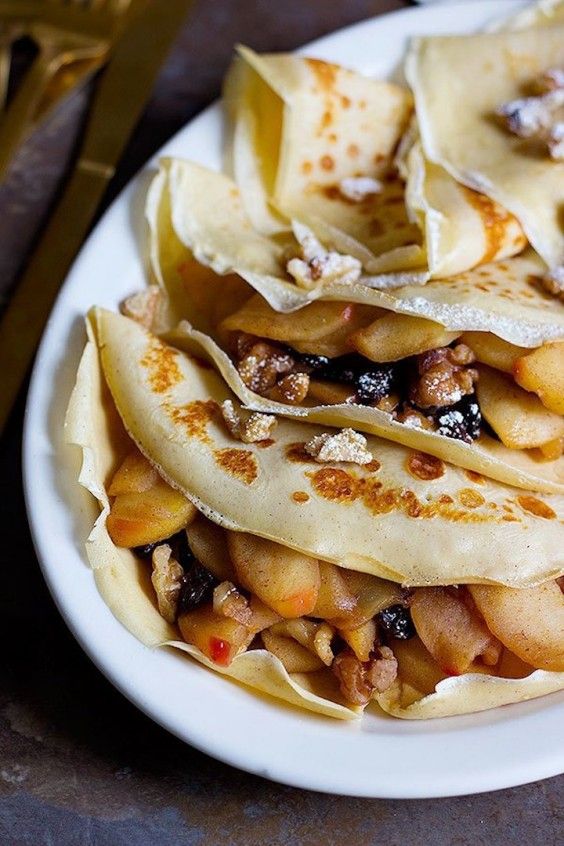 There's having pie for breakfast, which we love, and then there's having pie filling-packed crepes for breakfast. In a crepe, it feels more like breakfast anyway. And we might just love it more.
This recipe takes inspiration from the classic pie filling but makes it healthier by sticking to the good stuff, like apples (duh), raisins, cinnamon, and walnuts.
Pro tip: Make the crepes in advance and store them in the fridge. Then, when hunger strikes, all you'll need to do is heat them up and stuff them. Because who wants to make stuff first thing in the morning?
(OK, you might want to — so here are some quick breakfast recipes to get you going.)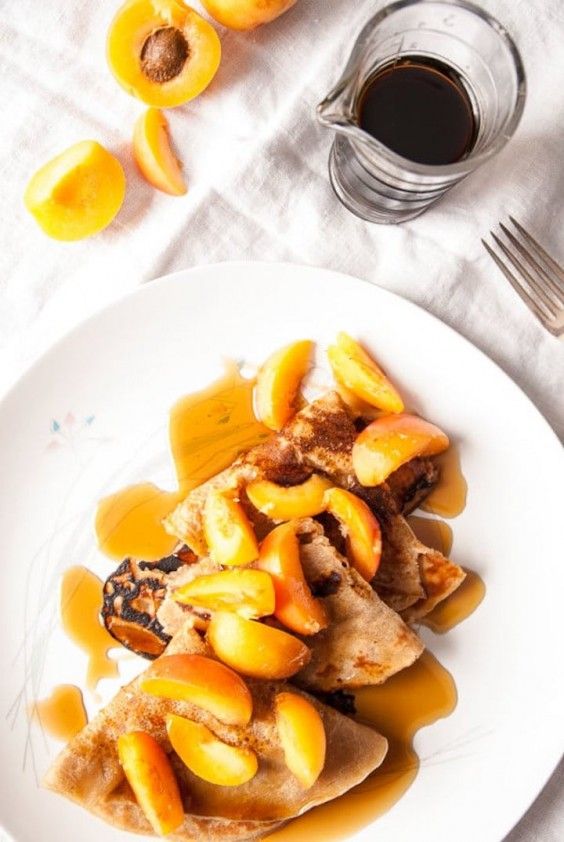 While the classic crepe add-ins are all kinds of awesome (we've almost never said no to Nutella), sometimes you just want something different. This vegan recipe goes for apricots as the fruit of a choice and a ginger syrup as its sweet, sticky topping.
To help the ingredients bind (since there's no egg, of course), let the batter sit for up to 2 hours before cooking. We love the earthiness of the whole-wheat flour and that touch of coconut from none other than coconut oil.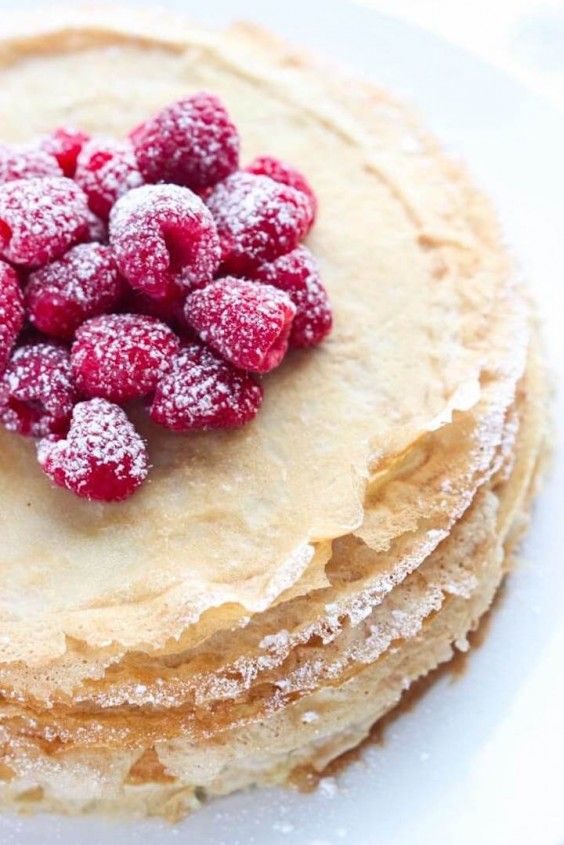 If you're not nutters for butter, try this coconut oil crepe recipe. These crepes are made with all the usuals — eggs, milk, salt, flour. The only thing different is the oil (which actually makes for a pretty amazing, somewhat flaky texture).
To get these right, make sure all the ingredients are at room temperature before you combine them. And don't panic if your batter has clumps — it's the coconut oil, not spoiled milk (and it'll melt in the pan).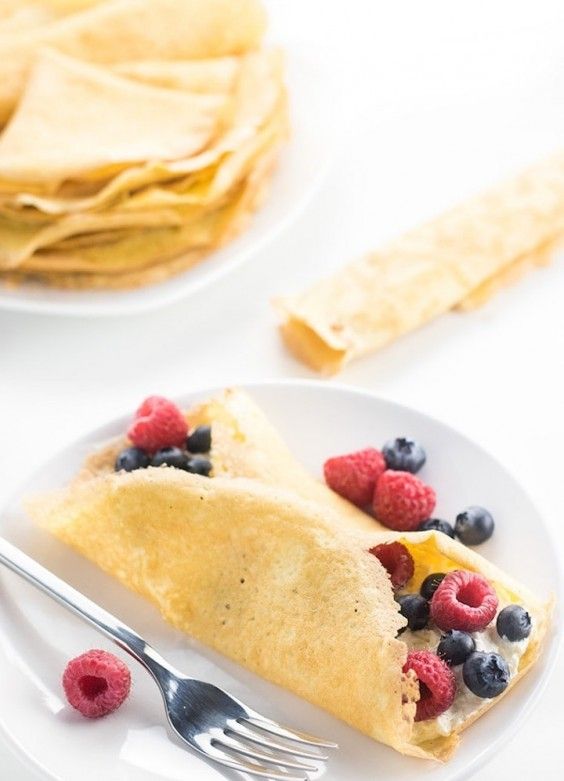 As Paleo, gluten-free, and delicious as can be, these crepes are for all foodivores. And they have a low carb count, so even folks who are limiting their carbs can dig in.
Made with almond flour, ghee, sea salt, and a gummy-bear-esque secret ingredient, these crepes can become savory or sweet on a whim.
Those with a sweet tooth can add vanilla extract and top with fresh berries and nut butter. On the savory side, you can fill these crepes with bacon, chives, and a handful of cheese. Or, you know, whatever the heck you want.
We've got low carb breakfast options on deck.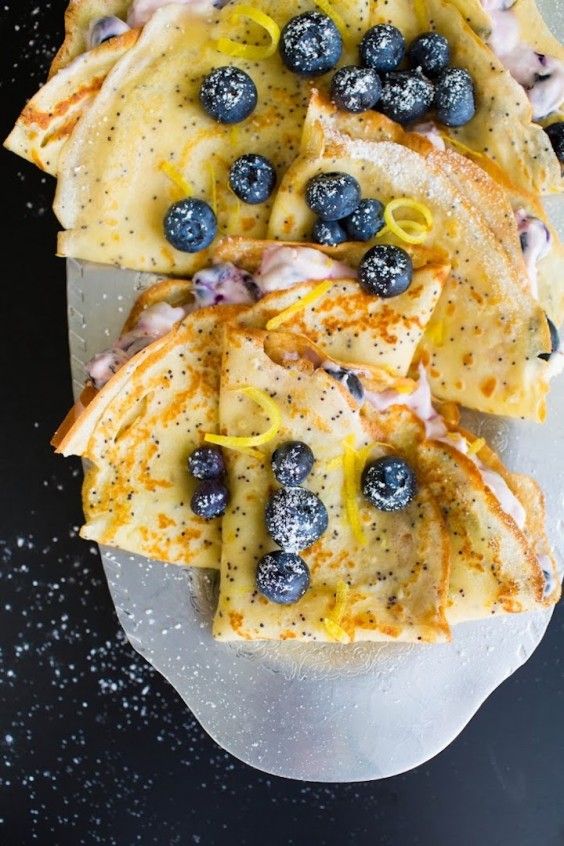 This recipe takes crepes to a new level, producing a delicious blueberry and cream cheese filling on top of a tart yet sweet lemon poppy seed crepe.
This filling is more dessert-like, so we like to dial back the sugar and increase the protein by using Greek yogurt instead of cream cheese and skipping the powdered sugar.
To get that beloved lemon poppyseed flavor bursting through like crepe-uscular rays, simply add lemon zest and poppy seeds to the crepe batter.
When you feel super fancy and want crepes for dinner.
Though we do a love a good English muffin, these folded crepes make the perfect base for the ham, hollandaise, and infamous poached eggs that make eggs Benedict so darn good.
Both poached eggs and crepes have a reputation for being tricky, but this recipe provides the perfect tips to get them just right. (Psst… one of them involves vinegar. "WHAT!?!" we hear you cry. Just eat your crepes and be happy.)
We've got our own tricks for nailing poached eggs.
Crepes meet enchiladas meet dinner heaven. This low carb, keto-friendly crepe dish is all kinds of fancy and healthy.
They're filled with shredded rotisserie chicken, cream cheese, Parmesan cheese, and still more cheese (HOORAY! CHEESE!). It's recipes like this that make eating low carb so freakin' easy — or, well, easier.
But it's not just about the fats. These crepes are also filled with spinach, mushrooms, onions, and garlic, ensuring you get plenty of veggies. Is there anything this concoction doesn't have? Only Nutella, it would seem.
This is a very pizzazz-y way to do chicken. Here are five even more pizzazz-y ways.
Vegan and gluten-free? Sign us up. These crepes skip the tradition and instead call for combining garbanzo bean flour, water, salt, and garlic powder for the batter.
Crammed with avocado, carrots, hummus, and lettuce and topped with a homemade hemp ranch dressing, they may just be the perfect lunch.
For extra protein, add crumbled tofu. Job done.
The key to unbreakable crepes is making a batter that's nearly as thick as sour cream. With this recipe, you can achieve just that by whisking together eggs, salt, and sugar and gradually adding the milk and flour.
The next trick is using a pan that's the size of the crepe you want and pouring batter into a layer that's not too thick. From there, add chicken and cheese — cheddar and mozzarella is a great combo.
Once the cheese is melted, put it in front of yourself for noshing… if you can even wait that long.
Big cheese fan? We like cheese too. Here's everything you need to know.
This recipe reminds us of one of our favorite panini, brimming with melted Swiss cheese, shredded turkey, sautéed mushrooms, and plenty of herbs and spices. Good heavens.
Instead of plain ol' bread, however, this recipe uses crepe batter that's zhuzhed up with parsley, basil, and red pepper flakes, giving it more oomph than your average slice.
Use fresh turkey if you have some on hand (Thanksgiving leftovers, anyone?) or feel free to use store-bought deli slices for a less bulky bite.
We're teff-initely into these savory crepes. Inspired by the spongy Ethiopian bread injera, these crepes are meant to sop up the likes of lentils, stewed meats, and saucy veggies.
These make pretty convincing stand-ins for a fork. Yup, eating with your hands never looked this classy.
It's super important (and tasty) to know about cuisines from around the world — it's like learning with your mouth.
Hooray for hollandaise, always stepping in to become the hero. The ideal topping for herb-filled crepes, this yolk-based sauce adds the perfect depth of flavor to the ham and arugula filling.
Mix things up by subbing shredded chicken for the ham and spinach for the arugula, or go full veggie with avocado slices and melted cheese. Just don't skimp on the herbs, which are the small but mighty winners in this dish.
Hollandaise can also boost the hell out of a potato salad.
So long, stuffing. One of the few things better than cheese is cheese in crepe form.
This crepe recipe sticks to the best thing about crepes: the crepes themselves. The batter is extra special, made with loads of shredded cheddar. This results in super-soft, somewhat sharp rolls of cheesy goodness.
If you're looking to take it up a notch, combine sour cream (or Greek yogurt) and scallions for a savory topping with a touch of extra protein.
Sometimes it's hard to know what to do with butternut squash. While we could certainly eat it simply roasted, we also love finding creative alternatives like these chipotle crepes with cilantro crema.
The crepe batter contains a combo of cornmeal and whole-wheat flour for extra heartiness, and the crema is a mixture of sour cream, heavy cream, and freshly chopped cilantro.
We love the recipe as is, but you can't go wrong with added protein like black beans.
Hosted a party and now you're stuck with tons of leftover brie? What a shame (just kidding!). Instead of eating slice after slice, use the creamy cheese in these spinach and artichoke crepes.
(No offense, plain brie. You're still delicious. We just need a change sometimes. It's not you, it's us.)
The whole-wheat crepes boast garlic, red pepper, fresh spinach, marinated artichoke hearts, and some brie and Parm. A sweet honey sauce tops the whole shebang.
A word of caution: Your guests may come back for round two. So don't give these to people you don't like.
Brie is one of the stars of the charcuterie board — learn how to put one together here.
Love samosas? You'll love this recipe even more. We've been talking a lot about French crepes, but did you know they're all the rage in Ukraine as well?
This festive dish that often appears at weddings skips the sugar and sticks to meat and veggies to make quesadilla-like pockets stuffed to the brim with flavor.
Mayo is used to hold the filling together, but feel free to sub mustard or pesto for added flavor (not that this dish needs it). These savory delights will have you saying "I do" in a heartbeat.
These crepe on most other food options, so get your crepe together and get some crepes together.
If you're a fan of pancakes, the crepe's fluffier cousins, we've got you covered.