String cheese and crackers. Yogurt and fruit. Hard-boiled eggs. Jerky. While these healthy snack suggestions are great, most of them don't account for those of us who don't do the whole animal products thing.
But it's far from slim pickings when it comes to vegan snacks. We're here to dig you out of your hummus-and-carrots rut with vegan recipes that take less than 10 minutes to put together.
Because really, when that mid-morning crash, afternoon slump, or post-dinner pang hits, who wants to wait longer than that?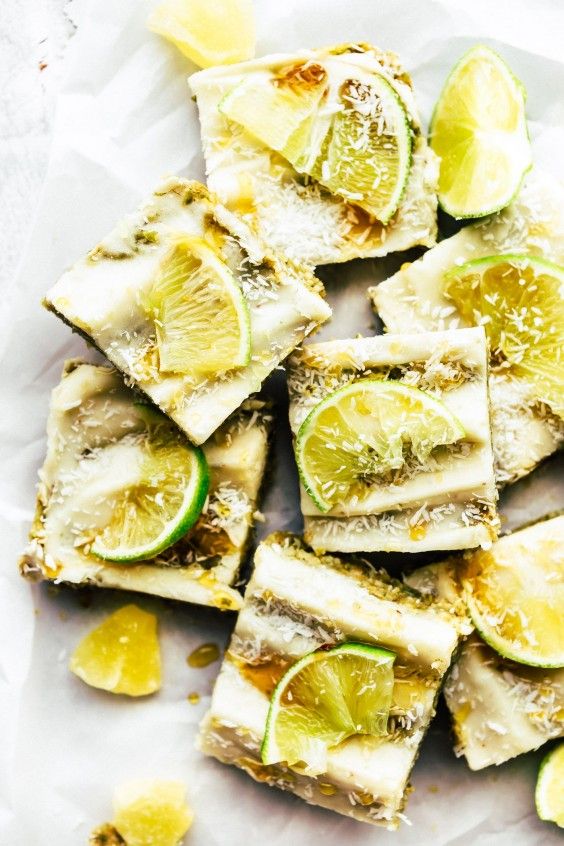 In just 10 minutes, you can satisfy your munchies and feel like you're on a beachside vacation. Packed with coconut and dried pineapple on the inside, and topped with a lime-infused coconut icing, these are basically piña coladas on a plate.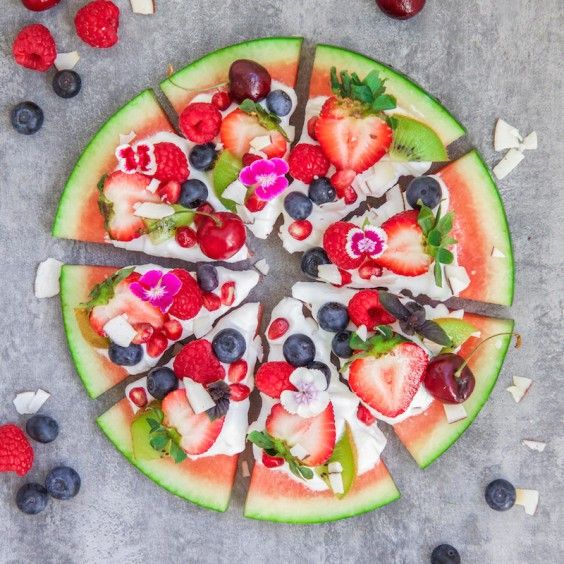 A more wholesome take on dessert pizza, this pretty pie replaces both the crust and the toppings with fruit and swaps out dairy in favor of coconut yogurt. Even if you do polish off the whole thing, you'll still have room for dinner.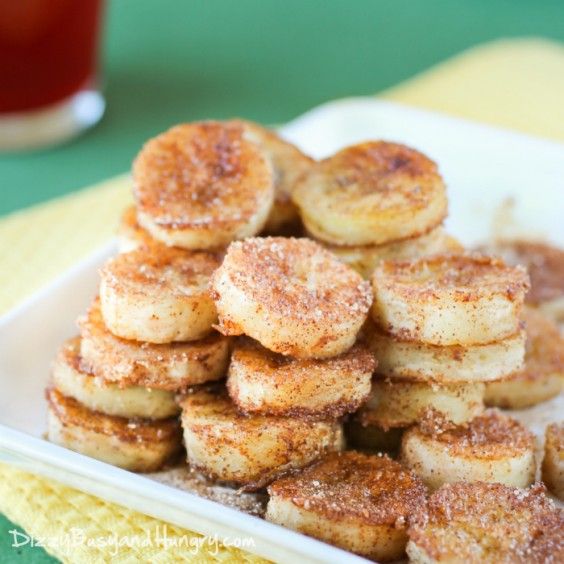 A banana alone makes for a great energy spike, but why not jazz it up a bit, especially if it only takes 5 extra minutes?
Sprinkle your slices with cinnamon sugar (or use coconut sugar, if that's what's in your pantry) and skillet-cook them until gooey and warm. Snack time just became special AF.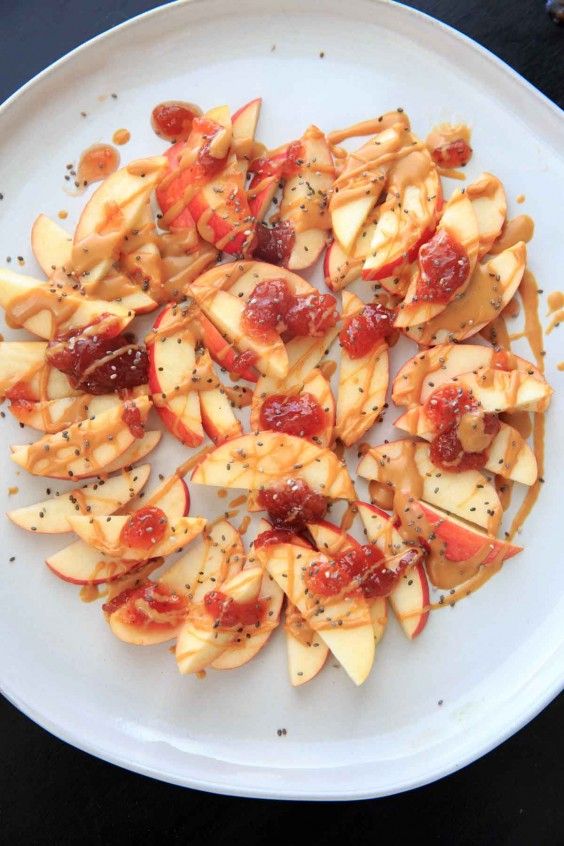 Whether you're looking for a grain-free alternative to a PB&J sandwich or a sweet substitute for chips, these "nachos" hit the spot.
Apples provide a nice fiber base, while the peanut butter and jelly drizzle doesn't even compare to the processed cheese-in-a-can.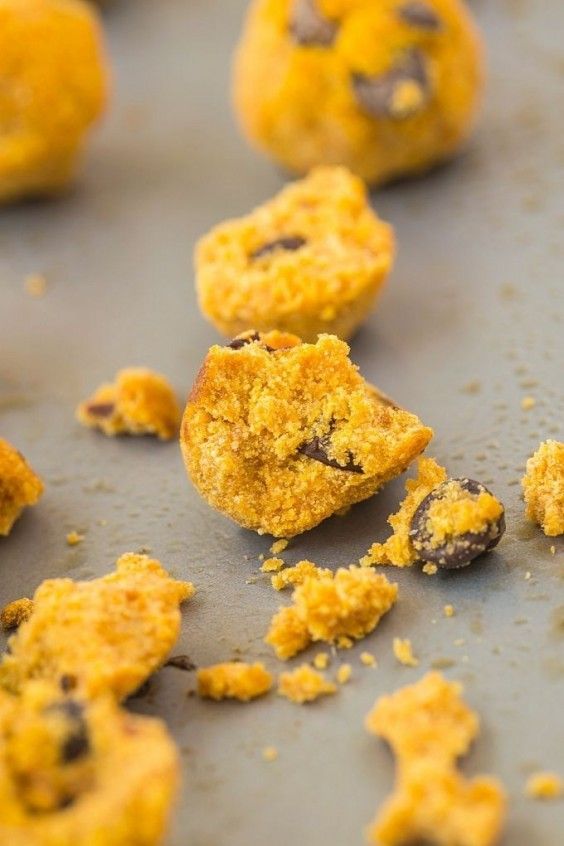 Yep, pumpkin is on this list because, little known fact, it's actually considered a fruit! Who knew?
And before you dismiss cake pops as a dessert, not a snack, check out this recipe. Free of butter and made with grain-free coconut flour and pumpkin purée, these make for a healthy snacking option that lets you have your cake and eat it too.
It may be granola, but this particular recipe is anything but basic. Not only does it need a fraction of the time in the oven than most granola recipes, but it opts for lesser-used pistachios instead of the usual almonds or walnuts for a pop of color.
Date and nut balls are staples in the healthy snacking world, but a decent pinch of turmeric makes these particularly helpful in the anti-inflammatory department.Kocaadam B, et al. (2017). Curcumin, an active component of turmeric (Curcuma longa), and its effects on health. DOI: 10.1080/10408398.2015.1077195
You won't really notice it though because the big tablespoon of cocoa powder makes sure that all you taste is chocolate.
Pro tip: It's not in this recipe, but it's a good idea to add in a pinch of black pepper to the mix. The piperine in pepper increases the bioavailability of turmeric's active ingredient, curcumin, by a heck of a lot — 20-fold, to be exact.Patil VM, et al. (2016). Quantum chemical and docking insights into bioavailability enhancement of curcumin by piperine in pepper. DOI: 10.1021/acs.jpca.6b01434
Research shows that for every teaspoon of turmeric, you'll want 1/10 teaspoon of pepper.Shoba G, et al. (1998). Influence of piperine on the pharmacokinetics of curcumin in animals and human volunteers. DOI: 10.1055/s-2006-957450 In this case, a pinch (or about 1/8 teaspoon) should be just fine.
Forget the butter-drenched buckets at the theater or the super-processed stuff at the fair.To make this vegan, use maple syrup instead of honey. With this bit of sweetness and light and tasty coconut oil, this sweet and sour batch is as delicious as kettle corn but better for you.
For an alternative to cookies, try these no-bake, oat based bites, where almonds and almond butter pack in healthy fats to make them highly satisfying. Again, to make this vegan, use maple syrup instead of honey.
Note that the dark chocolate drizzle on top adds a bit of time to the recipe, but as with most things chocolate, it's totally worth it.
Not only does this recipe require just 5 minutes to satisfy your cookie craving, it also uses one of our favorite legumes, chickpeas, instead of flour for a protein boost.
Just be sure to use dairy-free dark chocolate chips to make it vegan. Bonus: You don't have to worry about salmonella since this cookie dough is egg-free.
Unlike traditional pinwheels that are stuffed with cream cheese, these dairy-free spirals are slathered with a tahini based spread before getting rolled up with veggies for a quick and simple snack.
These go with artichokes, tomatoes, and olives to keep with the Mediterranean vibe, but feel free to use any vegetables you've got.
Okay, okay, we know tomatoes and avocados are technically fruits, but they are on the veggie snack list because of their savory Mediterranean vibes.
Piled high with creamy avocado, juicy cherry tomatoes, and the brightness of fresh basil, this no-cook bruschetta is all about creating summer feels for snack time, no matter what the season.
Far from tasteless diet food, rice cakes can actually be awesome vehicles for creative, satisfying toppings. Take this recipe, for example: The avocado, Sriracha, nori, and seasoning combo make for a snack that's anything but bland.
Yes, you read that right. And although you might be tempted to eat it by the spoonful, this cheese-free "cheese" dip doesn't quite work alone as a snack.
Whip it up in 5 minutes, and use another 2 to chop up some veggies or plate some chips for a restaurant-quality snack that still comes together in under 10 minutes.
If you're looking for something heartier to snack on than just nuts or fruit, these quesadillas fit the bill.
With hummus standing in for cheese and extra veggies upping the fiber quotient, they're a fantastic balance of protein, healthy carbs, and produce to keep you going until your next meal.
Making potato chips from scratch is practically as simple as popping open a bag of Lay's, not to mention these are less processed and not deep-fried.
It's also just plain cool to see them go from raw slices to crunchy crisps after just a few minutes in the microwave. Top with a bit of sea salt and away you go.
Mushrooms may not be your automatic first choice when it comes to snacking, but that's only because you haven't tried these yet.
After just 10 minutes of soaking in the slightly sweet, slightly tangy marinade, they give you something to munch on that's exploding with flavor without ruining your appetite.
We know we said we'd dig you out of a hummus rut, but we changed our mind. It's worth it, trust us.
This recipe makes the cut because of one key ingredient: oil-packed, sun-dried tomatoes. It's just one extra item and requires zero extra time, but the added tanginess makes a world of difference.