There aren't too many things in life that are certain. But one thing we can be pretty heckin' sure of is that everyone loves tacos. How can you not? They're just crispy shells of yum with stuff inside.
And who doesn't love yum and stuff?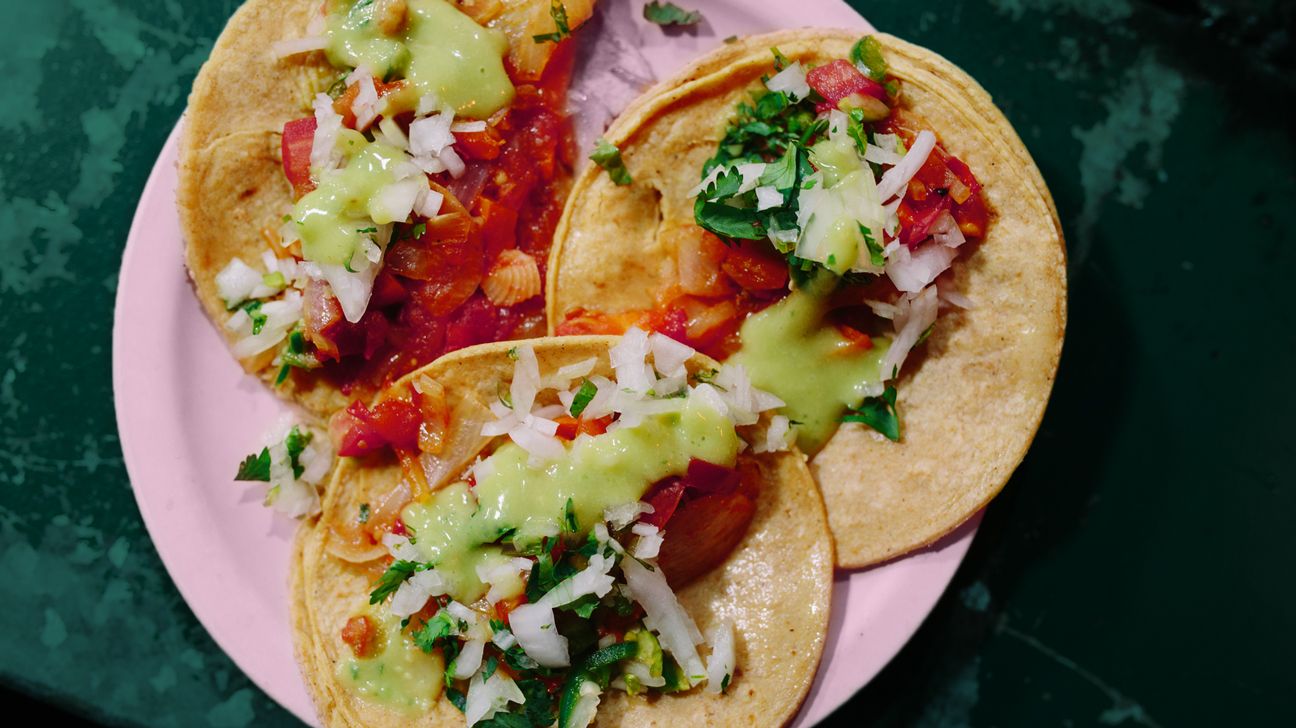 This is all well and good. But what happens when you're going meat-free and can't dig in to the traditional carne asada, chorizo, or carnitas that usually fill up a tortilla? Stand aside, doubters. We're about to fill you with vegetables.
From riced cauliflower and charred brussels sprouts to marinated tofu and crumbled walnuts, these totally plant-based ideas make sure the herbivores never have to miss out on Taco Tuesday again.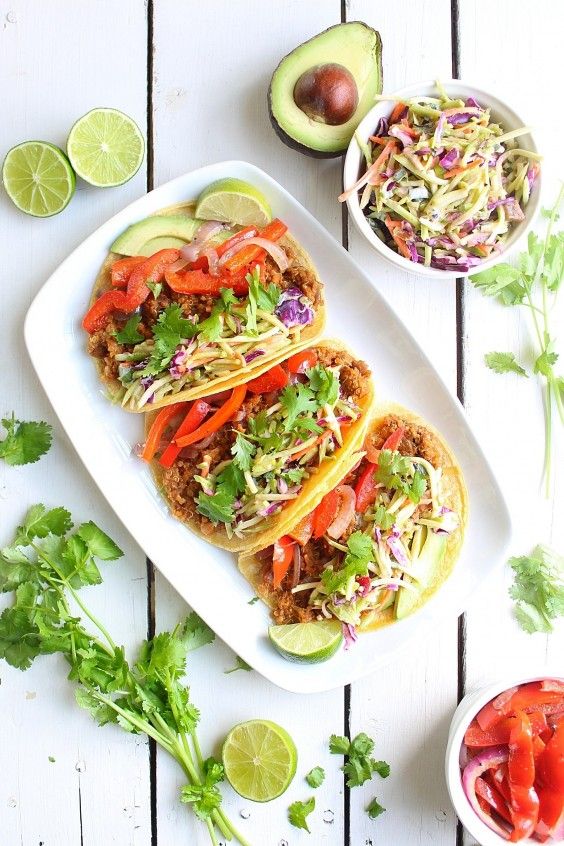 Quinoa is boss. Lentils are boss. When they're combined (inside a taco, of all places), expect a (non-literal) ton of quality carbohydrates and an impressive delivery of plant-based protein.
For an even more balanced meal, top the tacos with plenty of chopped veggies.
We should all bow down to quinoa, a superior force in the universe. Discover these 50 creative ways to work it into meals.
The name says it all: With pantry-staple spices and super-customizable toppings, these vegetable-centric tacos take all of 15 minutes to put together.
Taco night can happen even on the busiest evenings. Taco Tuesday? Pfffft. More like Taco ALLTHETIMESday.
Heck — some tacos don't even need a shell.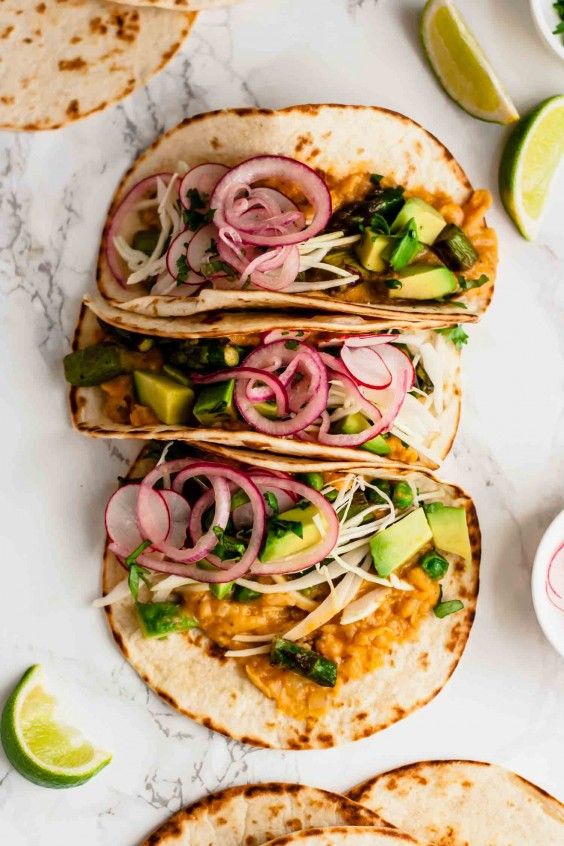 Instead of canned refried beans, which can often contain lard and are not actually vegan, this recipe makes a homemade version using lightly spiced mashed cannellini.
Spread the mashed artwork onto tortillas for a creamy complement to the crisp sautéed asparagus and tart pickled onions.
Beans! Put beans in everything! Or at least 29 more things.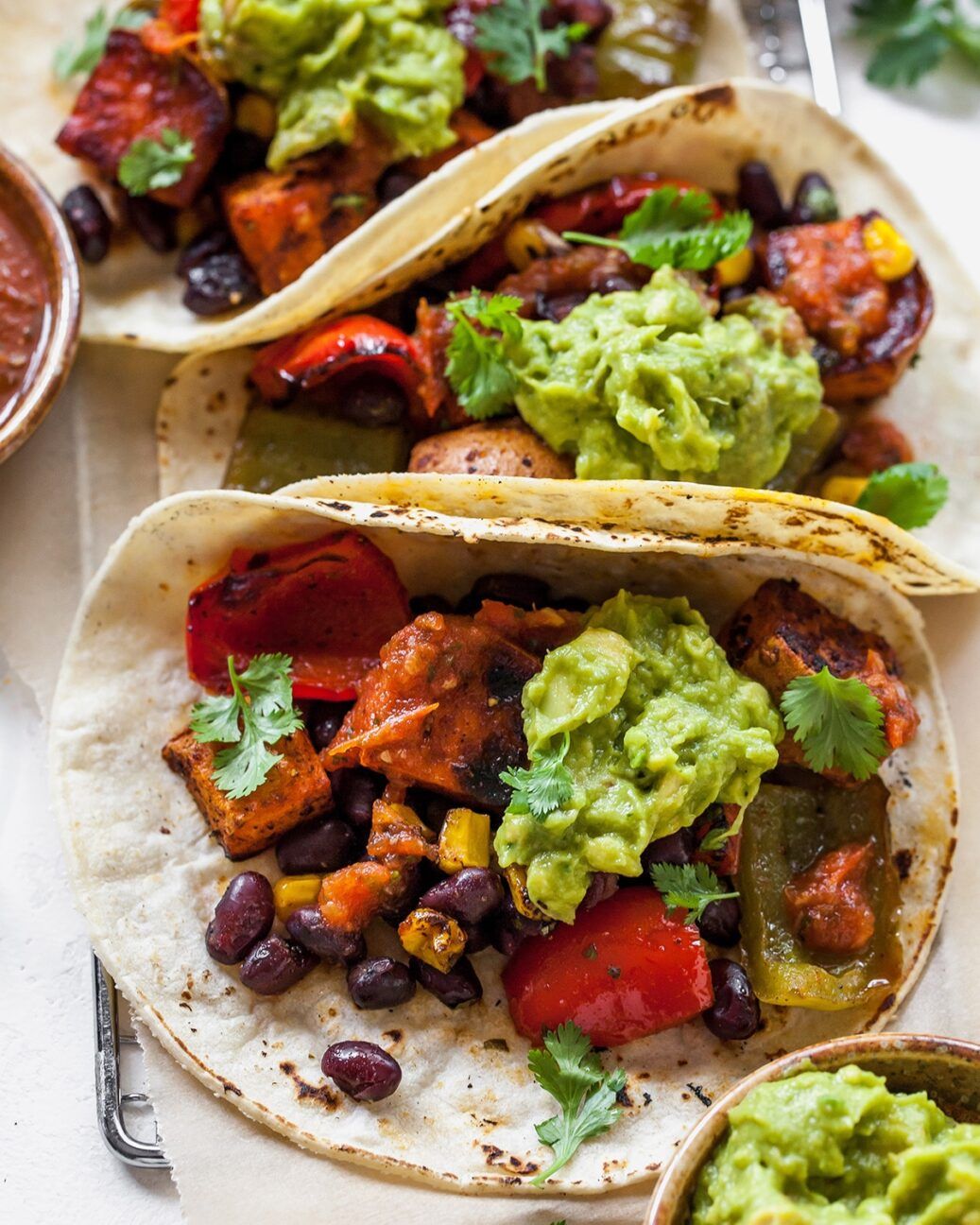 e combination of black beans and sweet potatoes makes for incredibly filling and high fiber tacos. And a sweet and zesty honey, lime, and cilantro sauce lifts the flavor and ensures the tacos don't feel too heavy.
More beans, you say? OK, great.
A dusting of chili powder, paprika, and cumin transforms cauliflower from bland white florets into the spicy roasted filling for these colorful tacos. Bell peppers sautéed in chipotle paste and shredded cabbage add even crunchier veggie power.
If you fancy kicking off the day with bold Mexican flavors, we have the breakfast recipes for you.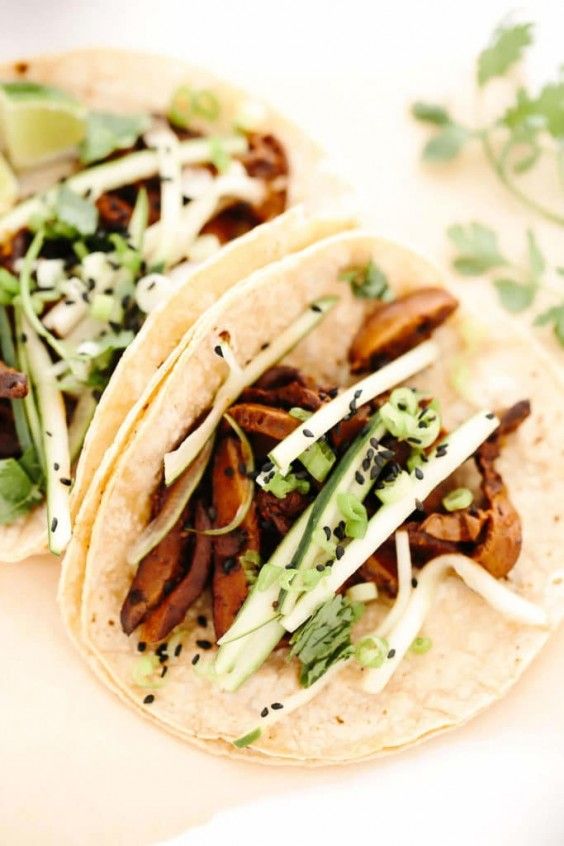 Use barbecue sauce, paprika, and garlic on mushrooms and you get a taco filling so meaty it may even fool omnivores.
These are especially well-suited for those easing into a plant-based diet or for serving a friend who just can't imagine a meal without meat.
There's plenty more vegan comfort food out there that makes the transition easier.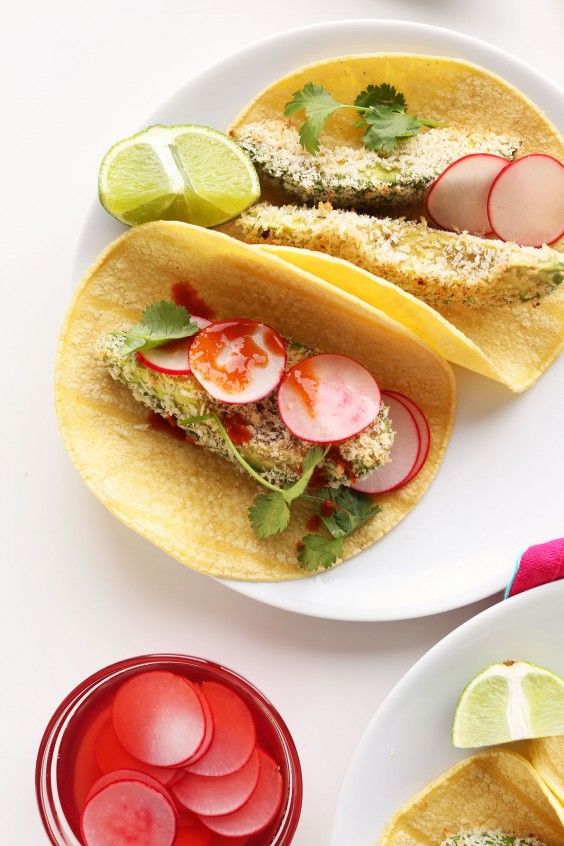 Avocado typically lives in the guac on top of tacos, but this recipe turns everything topsy-turvy by putting it inside the taco instead. Yikes. You won't know which way's up after eating this — but you will enjoy it.
The avocado slices are panko-breaded and baked until crispy on the outside and buttery on the inside.
These tacos may become your new favorite avocado-delivery vessel. But in case you really just feel like pulverizing an avocado, here are 26 ways to guac-ify them.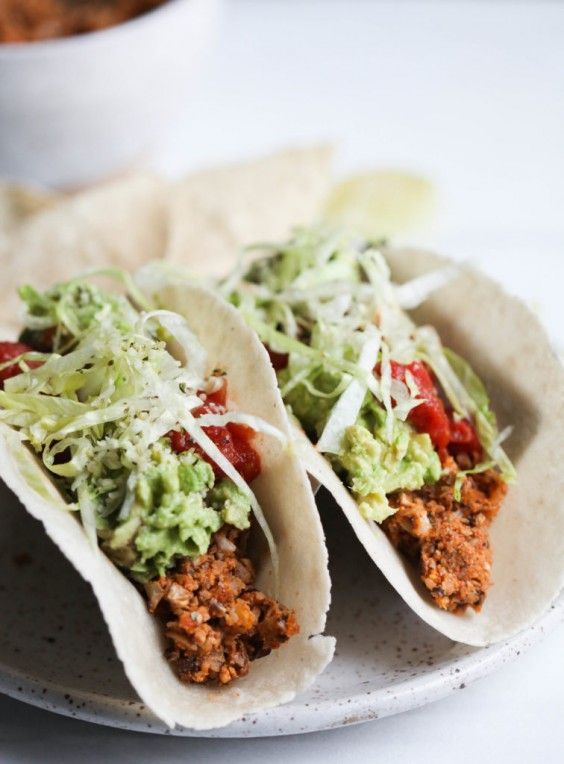 Sick of stuffing your tacos with beans? Try this blend of walnuts, mushrooms, and cauliflower instead. If it sounds bizarre, eat it until it becomes your new normal — it's simply amazing.
Seasoned with a homemade taco spice mix and pulsed to a ground beef-like consistency, this taco filling is a flavorful way to get some proteins and healthy fats.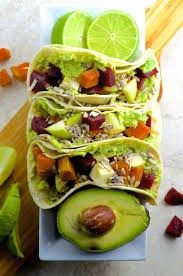 Beet and… potato?
These hearty tacos bring out the best of nature's fall collection, with the roasted beets and potatoes providing the sweetness and the Granny Smith apples adding a tart edge.
Sunflower seeds add a fun crunch factor, and avocados contribute their signature creaminess. It's a whirlwind of texture and flavor that's sure to please even the most discerning vegan foodie.
Look! Here are 45 other things you can do with a sweet potato.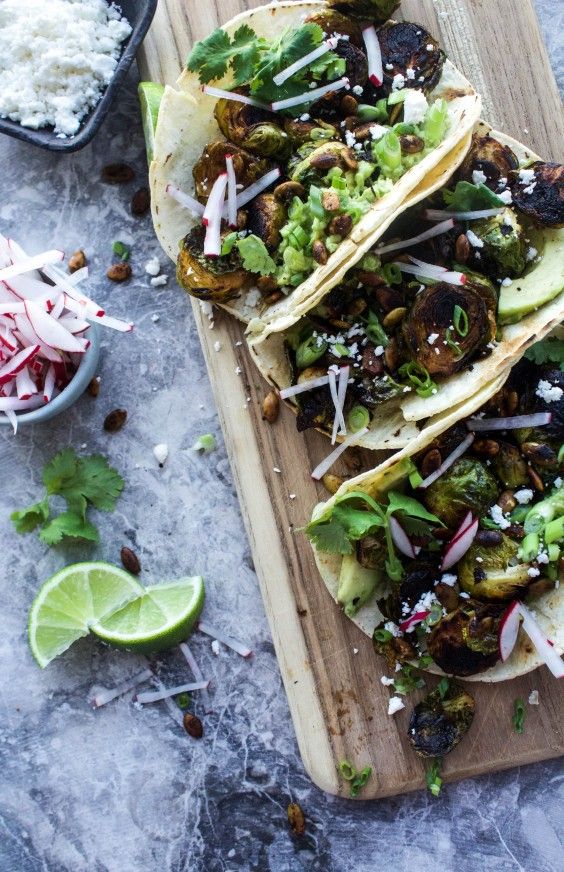 It's like Thanksgiving has come early.
You may not have thought to put brussels sprouts inside a taco, but once you try their crispy, charred leaves in combination with roasted pumpkin seeds and creamy avocado, you'll wonder why you didn't do it sooner.
Even if you've never loved this veggie before, this recipe may make you a fan. You may also fart a whole bunch due to the sprouts, which is intrinsically funny.
If you're now all about the brussels sprouts, here are 29 more recipes that can bring unexpected joy all year round.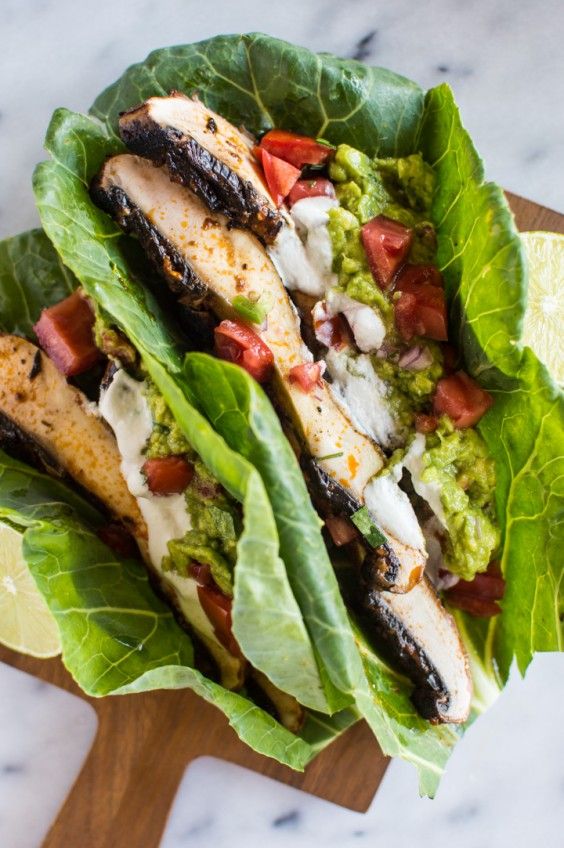 Portobellos are often the go-to vegan substitute for meat, but the use of spicy North African harissa paste sets these 'shrooms apart.
That's not all that's different about this recipe. Using lettuce leaves instead of tortillas, it's a lower-carb answer to your taco cravings.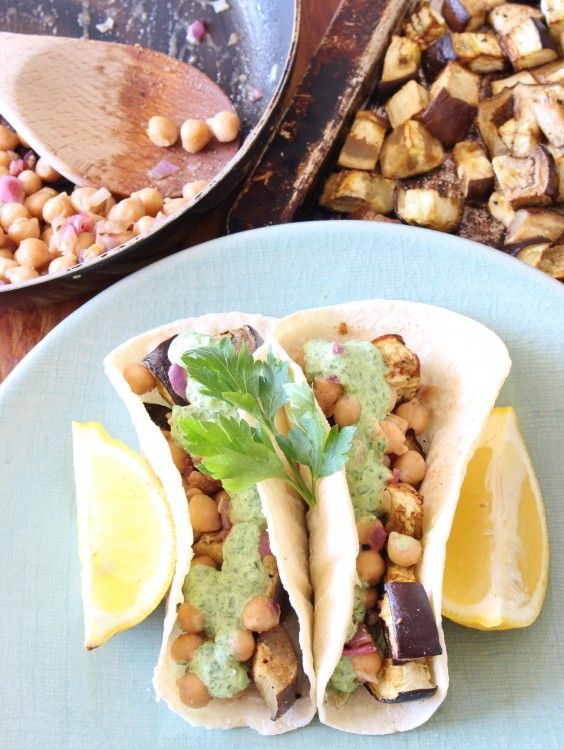 Intimidated by eggplant? This Mediterranean-inspired recipe might alleviate your fears.
Amused by the eggplant emoji? OK, fine, just this once: 🍆
A quick 20 minutes in the oven makes the diced veggie tender and ready to shove into tortillas alongside garlicky chickpeas and a savory Greek yogurt sauce.
The Mediterranean diet is truly a gift — here's what it involves.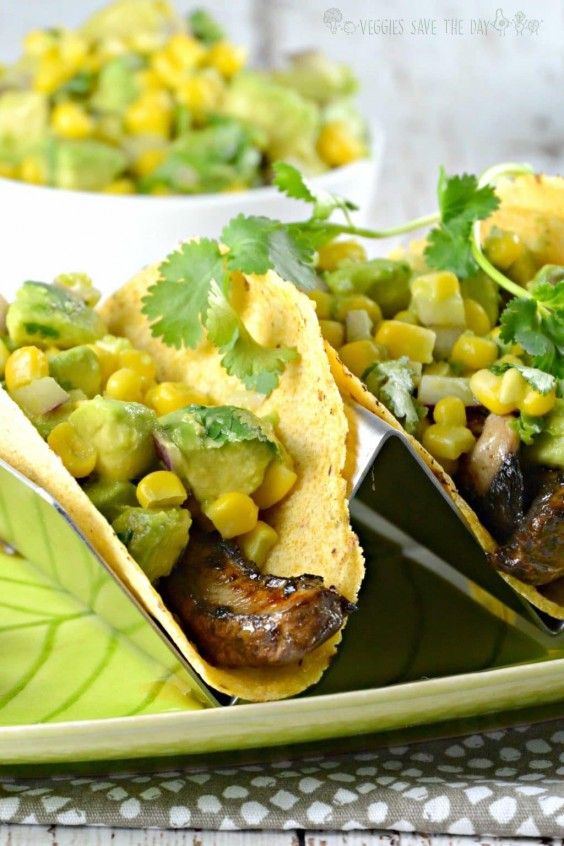 Crack open a (vegan) cold one. Then, instead of sipping it, pour it over a few hearty portobellos.
The mushrooms soak up the liquid just like meat would and taste perfect with the refreshing corn and avocado salsa.
We recommend enjoying these with a chilled bottle of beer. Come on, what else were you expecting? We rounded up the healthiest beers to go with your tacos.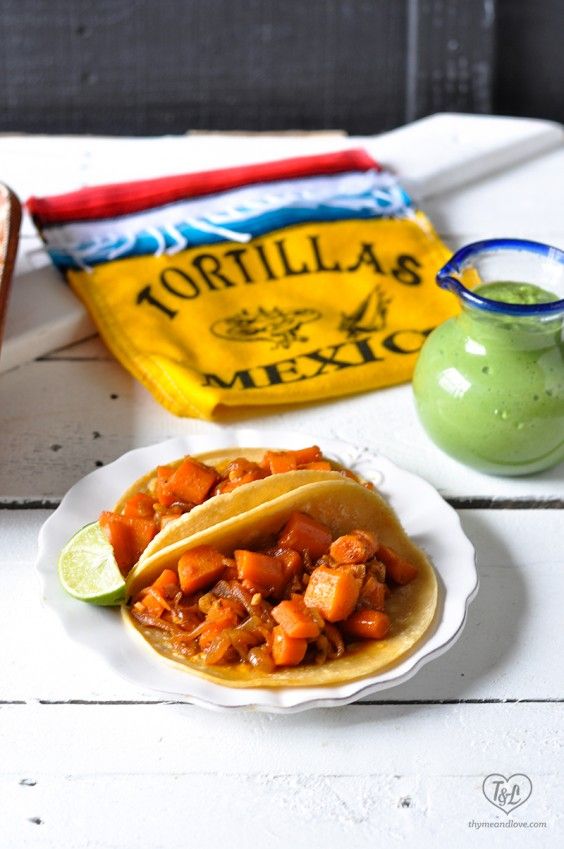 It's not all about fancy meat substitutes and elaborate toppings.
This recipe proves that even the humble carrot, when cooked in a simple spiced broth, can work as a creative, satisfying, and tasty taco filling.
Tired of tacos after making all these recipes at once? Try a Mexican-inspired salad.
When tacos meet meat subs…
This taco is fir-meant to be in your tummy.
Beans may be a bit much for your digestive system to handle (sorry, beans — we still love you). In that case, fill your tacos with tofu and gut-healthy kimchi instead.
The fermented cabbage adds probiotic goodness to your meal, and the briny, garlicky goodness totally hits the spot in the taste department.
Here's how to make kimchi just like Grandma's.
Yes, freezing tofu is an extra step in this recipe. But the crumbled, meaty texture you get is totally worth it.
Plus, once the protein is thawed, these tacos come together in a speedy 15 minutes.
If you prefer your tofu more scrambly, we've got just the recipe for you.
In more locked-down times, you can still take your taste buds around the world.
The corn tortillas give these tacos a decidedly Mexican foundation, but that peanutty tofu filling transports you straight to Thailand. You won't know where you are geographically, but you'll love the flavors.
If you want friends in Thai places, here are 11 recipes that just might be as good as what you'd order at your favorite local Thai eatery.
If you've had your fair share of tofu, it might be time to graduate to the next level of quality soy protein: tempeh.
These fermented soybeans are especially tasty when crumbled and cooked with Mexican seasonings. They make a darn-tootin' taco "meat."
If you want interesting ways to get your tempeh fix, we've got 23 ways to jazz it up.
When cooked, jackfruit has a look and a texture similar to pulled pork, so it's the perfect substitute for the meat in these vegan "carnitas."
In fact, when you sauté it with chipotle chiles, cumin, and chili powder, the difference might be hardly noticeable.
If you've got a thing for jackfruit like we do, why not try these bangin' jackfruit recipes?
While the cumin-and-chili-infused tempeh filling is delicious, it's the avocado and kiwi salsa that knocks these tacos out of the park and back again. Flavored with jalapeño and lime juice, it's the perfect sweet, savory, spicy, and fruity topping. Make an extra batch to eat as a snack later!
While jalapeños are an excellent spicy addition to any meal (apart from desserts), learning your way around the whole wide world of spices can seriously boost your cooking skills. Get in the know.
Turning walnuts into anything resembling chorizo may seem far-fetched — that is, until you take a bite of these tacos. Then you won't even remember pork chorizo.
The nuts look just like actual ground beef when they're crumbled and sautéed with an earthy homemade taco seasoning mix.
The best part is that you can serve yourself an extra scoopful, knowing that they're even more heart-healthy than chorizo would have been.
There you have it. Vegans can very much get a ticket for the taco train — first class, no less.
And now, breakfast burritos — with a whole section of vegan options. Don't say we don't spoil you.