Think of a traditional Christmas dinner. Maybe you picture a crispy turkey or plump ham surrounded by buttery mashed potatoes — plus, maybe a glass of eggnog to wash it all down. While these visions may appeal to those who eat animal products, for vegans… not so much.
The holidays can be a tricky time for folks who don't eat meat, dairy, eggs, and other non-vegan foods. But that doesn't mean vegans can't still enjoy amazing entrées, sides, apps, and desserts at Christmas.
Whether you're a vegan or cooking for one this holiday season, we've got you covered with this list of animal product-free recipes that are sure to satisfy.
So, forget carving the roast beast — and dig into these 33 plant-based delights!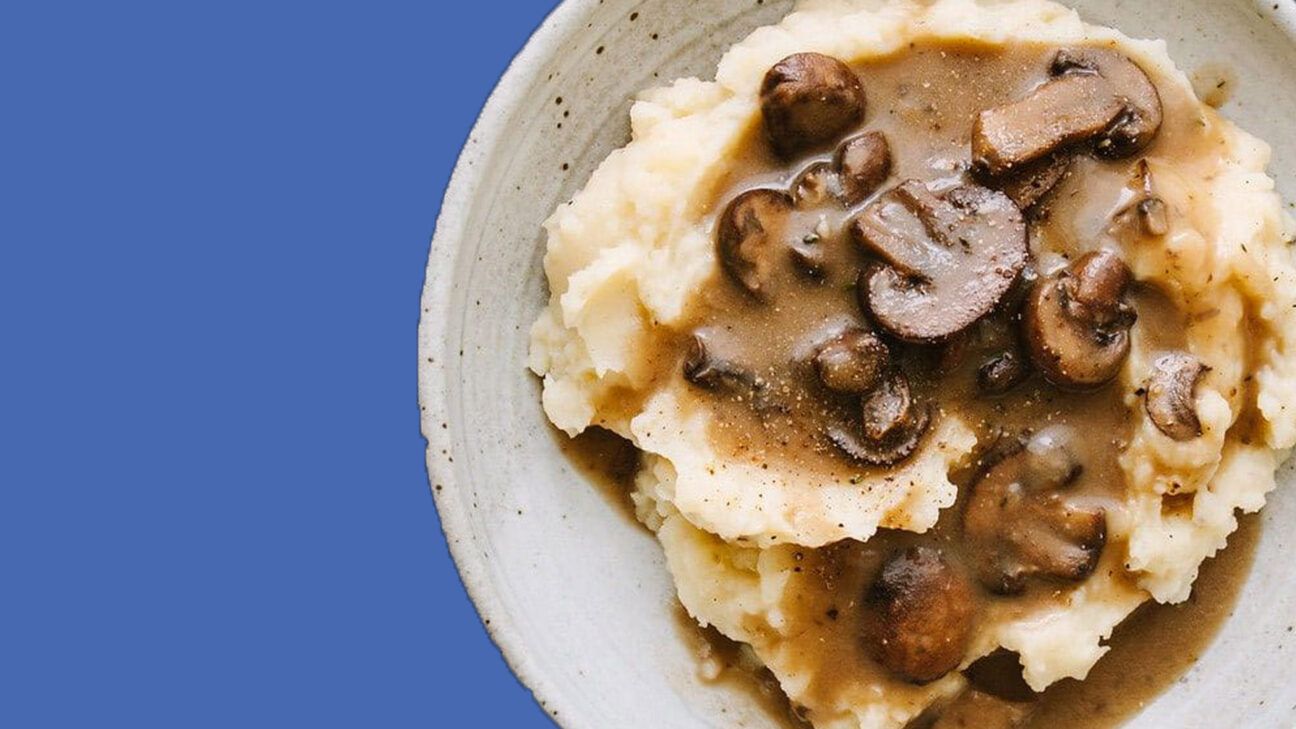 Need a starter template for your vegan feast? Try this menu.
1-hour vegan pot pies
Make-ahead dishes are a chef's best friend — especially when company's coming. Prep these vegan pot pies in advance and pop them in the oven. Then give yourself a well-deserved moment to relax by the fire.
Seitan roast stuffed with chestnut white wine risotto
Not a creature was stirring? Well, not exactly. There is some stirring involved with this chestnut risotto, but when it graces your holiday table packed inside a homemade seitan loaf, the results will be worth it.
Mushroom lentil loaf with cranberries
We dare you to find a meatloaf that can compete with the stunning visual of this molded veggie heartthrob.
Savory vegan nut roast
Dried herbs, veggies, and nuts lend their savory flavors to create a plants-only roast that'll have your guests talking until next Christmas. Bonus: Leftovers make great sandwiches.
Best vegan lasagna
If you're from an Italian-American family, it's not Christmas without lasagna (or eggplant parm…or baked ziti). Keep the mangia! going without animal products in this vegan lasagna.
Crispy coated baked tofu with gravy
Choose extra-firm tofu to get crisped-to-perfection texture in this entrée. P.S. Don't worry: The poultry seasoning used here contains no actual poultry (or any other animal products).
Carrot and cashew nut roast
You'll get a substantial dose of protein plus heart-healthy fats and plenty of fiber in a carrot and cashew nut roast.
Vegan mushroom gravy
Even omnivores will want to slather this gravy over their meal.
Roasted vegetable lentil salad
This salad has it all: caramelized roasted veggies, tender lentils, and a simple dressing with a hint of sweetness.
Maple cranberry sauce
Some cranberry sauces use honey — a no-go for vegan eaters. Check out this version that uses the plant-based goodness of maple syrup.
Vegan cauliflower gratin
A traditional gratin nestles cooked veggies in a cheesy sauce. This variety recreates the comfort food down to the crunchy bread crumb topping —with all-vegan ingredients.
Vegan cornbread
The secret to this cornbread's dense-but-fluffy texture? It's not eggs! Almond butter works its textural magic here.
Colorful Christmas slaw
Get your fruits and your veggies in this unexpected mix of sliced-and-diced produce. It's perfect for adding moisture to any faux meats that roasted a tad too long.
Garlic mashed potatoes
Oat milk has won many a vegan heart for its thick, creamy consistency. Paired with fresh garlic and olive oil, it makes perfectly dreamy mashed potatoes.
Vegan charcuterie board
They said it couldn't be done — and they were wrong. A vegan charcuterie board is totally possible when you use a mix of bean- and nut-based dips, plant-based meats, and veggies.
Vegan cream cheese and beet tart
Let the festivities begin! Bright red beets sit atop a golden vegan pastry crust in this show-stopping Christmas app.
Citrus salsa
With its colorful presentation and zesty taste, no one will be thinking about the fact that this citrus salsa contains no animal products.
Black olive tapenade
We love hummus, but it's become a bit cliched at parties and get-togethers. Think outside the bean dip box with a more inspiring (and way easier) olive tapenade.
Sun dried tomato sweet potato bites
You say potato, I say…tomato? The orange veggies and red fruits coexist beautifully in these unique meal-starters.
Vegan paté
Feel all fancy with a veggie-based version of the trés chic spread.
Grilled maple mustard Brussels sprouts
These grilled kebabs start the feast with something sweet, savory, and — of course — vegan.
Easy pear crisp
Did someone say "easy" and "dessert?" We're sold! A homemade vegan caramel sauce tops off this decadent pear crisp.
Vegan pumpkin pie
Pumpkin pie is the inevitable centerpiece of any Christmas dessert spread. Let vegans dig in with this alternative that uses coconut milk for richness.
Vegan peppermint bark
The microwave makes melting dairy-free dark and white chocolates a snap! Layer and top with crushed candy canes.
Vegan snowball cookies
Just five ingredients come together for a yuletide vegan dessert that's hassle-free. Go ahead, lick the powdered sugar dust off your fingers.
Best ever vegan apple pie
Vegan-izing a classic doesn't have to be complicated. Simply sub plant-based butter for regular butter to achieve the flaky crust in apple pie.
Raw vegan lemon cranberry cheesecake
For the raw vegans on your "nice" list, soaked, blended cashews make a creamy base in this flavorful cheesecake. (And for you as the chef, the recipe makes for simple, no-bake prep.)
Chocolate orange Christmas pudding
This lovely chocolate-orange treat will have vegans and non-vegans alike hovering around the dessert table.
Homemade vegan eggnog
Vegans don't have to miss out on a Christmas toast with the classic creamy drink. This recipe starts with a DIY cashew milk, then adds Medjool dates, vanilla, and spices for a plant-based copycat.
Apple cider hot toddy
Some of the best cocktails are naturally vegan — including this hot, apple-flavored cup of comfort (Southern Comfort, that is).
Grapefruit gin fizz
Winter is grapefruit season! Make the most of these tangy, vitamin C-rich citrus fruits in an easy gin fizz.
Slow cooker holiday wassail
For a warming drink post-caroling or sledding, get this sweet, nonalcoholic concoction in the slow cooker ahead of time.
Cranberry Moscow mule
Haul out your most festive copper mugs — it's time for a Christmas-y Moscow mule. Garnished with fresh, ruby-red cranberries, lime wedges, and a jaunty sprig of rosemary, these are almost too pretty to drink.