We include products we think are useful for our readers. If you buy through links on this page, we may earn a small commission. Here's our process.
Greatist only shows you brands and products that we stand behind.
Our team thoroughly researches and evaluates the recommendations we make on our site. To establish that the product manufacturers addressed safety and efficacy standards, we:
Evaluate ingredients and composition: Do they have the potential to cause harm?
Fact-check all health claims: Do they align with the current body of scientific evidence?
Assess the brand: Does it operate with integrity and adhere to industry best practices?
We do the research so you can find trusted products for your health and wellness.
If you're a newbie chef, you probably have the best intentions for honing your kitchen prowess. After all, who wouldn't want to cook like Emeril or Giada for a swanky dinner party?
But here's a little secret: No matter how much you learn, without the right tools, you aren't getting far. (Raise your hand if you've ever attempted to slice an onion with a butter knife. How'd that work out for ya?)
To get started on the path to pro chef status, outfit your kitchen with these must-have kitchen tools.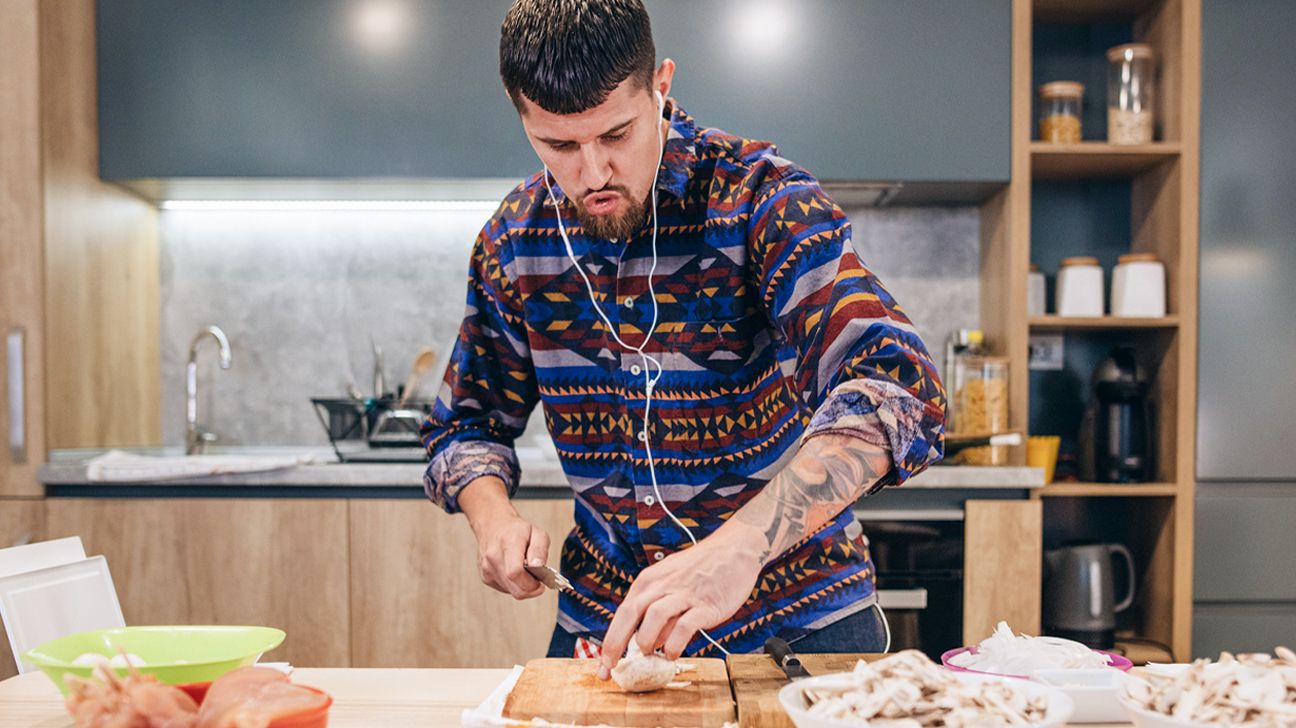 In choosing this particular baker's dozen, we looked at the following:
Price. You're just starting out — so you're probably not looking for ultra-high end gear. That's why we've kept things budget-friendly here. The highest-dollar item on our list comes in at around $80, and most tools fall in the sub-$50 range.
Multipurpose, everyday use. You won't find any super specialized gear on this list, either. (A latte frother or gnocchi maker is quite a ways down your culinary road.) We choose basic, sturdy tools you'll use time and again for everyday cooking.
Excellent reviews. Color us skeptical of products with zero reviews. (Who wants to buy something nobody's ever tried?) We chose only products with hundreds — or thousands — of glowing reviews from satisfied customers.
Availability. We didn't find any of these items in a rando corner of the internet that's never seen the light of day. All the items on our list are widely available via trusted retailers.
Every new chef needs to start somewhere, and you could do worse than starting with these.
Pricing guide
$ = under $25
$$ = $25–$50
$$$ = over $50
1. Best chef's knife
Price: $$$
A good chef's knife is one of the most important tools to have in your kitchen. You'll use this baby for just about every meal you make, from prepping vegetables to breaking down full chickens (you'll get there eventually).
This 9-inch variety from Mercer is a good start: High carbon steel means this knife will get sharp and stay sharp, which you'll soon realize is v. important.
It's a little on the pricey side, but we say a good chef's knife is one of the kitchen tools that deserves a splurge, considering you'll probably use it for, like, everything.
2. Best paring knife
Price: $$$
This sweet little paring knife from J.A. Henckels may have only a 3-inch blade, but it will prove its might when you're prepping smaller ingredients. (Try peeling garlic without it and you'll see what we mean.)
You can also sub in a good paring knife for a more specialized tool like a peeler or a tomato stem scoop (yes, that exists, and it's a complete waste of money).
Oh, and to clear up any confusion: You may have noticed that Henckels knives look awfully similar to Zwilling knives. Both have logos of little stick figure dudes who look like something out of an '80s video game.
Zwilling and Henckels are both owned by the same German company, but Zwilling is the brand's premium knife line, while Henckels is the more entry-level collection.
For lower prices, look for the two stick figures vs. just one.
3. Best serrated knife
Price: $
If your kitchen adventures include bread or softer foods like squishy tomatoes or tender cakes, you're gonna need a serrated knife. Using a smooth-edged knife for these tasks just won't cut it (har har).
Since these guys are tough to sharpen, you want a blade that retains its edge over time. While expensive ones do exist, this Orblue knife gets the job done for less than $15.
4. Best peeler
Price: $
Peeling starchy veggies such as potatoes with a knife is a real pain — and should probably be left to the professionals, anyway. For now, you can save yourself some headaches with a good peeler like this one.
For less than $10, this cooking tool will have peels piling up quicker than a chimp at a banana party. And even though you could grab any old peeler at the dollar store, Spring Chef's easy-to-grip swivel peeler gets our official recommendation for its enormous fan base. More than 26,000 Amazon reviews (most of them 5 stars) are a good sign.
5. Best box grater
Price: $
The last thing you want when shredding cheese is to accidentally lose hold of your grater, spilling precious Gouda all over your kitchen. That's why we're fans of OXO's Good Grips box grater. In addition to its sturdy, comfortable rubberized handle, it has a detachable measuring cup that keeps cheese (or other foods) contained.
Coarse, medium, and fine grating surfaces (and a slicing side to boot) allow you to choose your own adventure for grating cheese, veggies, fresh spices, and more. Reviewers also love that this grater is fairly slim, making it easy to store — not cram — in a kitchen drawer.
6. Best cutting board
Price: $
The cutting board will become your prep station, where ingredients get sliced, diced, minced, and mashed to make your meal delicious.
While plastic cutting boards are popular for being dishwasher-safe, they're prone to staining. We like wood for its aesthetics and durability.
This bamboo model will get the job done. It's big enough to provide plenty of room to work but not so massive that you'll have trouble stashing it away after a chopping spree.
The small groove running around the edges is handy for collecting runoff from cooked proteins as well.
7. Best mixing bowls
Price: $$
Pyrex has been churning out mixing bowls and other reliable dishware for more than 100 years.
This eight-piece set has you covered for all things mixing, stirring, and serving, with four small-to-large glass bowls and colorful snap-on lids. Though the total price runs more than $40, it's not bad for all the everyday use you should get out of them.
Throw a whisk into your Amazon cart while you're at it and whip it, whip it good.
8. Best measuring cups and spoons
Price: $$
There's an adorable trend of hand-painted ceramic measuring cups and spoons designed to look like everything from kitty cats to cactus pads — but these materials have a tendency to break quickly. For measuring tools that won't snap (and can handle heat, cold, and the almighty dishwasher), snag some stainless steel.
This color-coordinated set supplies 16 cups and spoons for every measuring need. From the itty-bitty 1/8 teaspoon to the hefty 1 cup, no food shall go unmeasured on your watch!
9. Best cast-iron skillet
Price: $
Cast-iron skillet = cast-iron skillz.
This will become your go-to pan in the kitchen. Sure, you could go with a nonstick or stainless steel variety, but what's great about cast iron is that you can use it for literally anything.
Sauteing, frying, baking, roasting — all these techniques are possible with one simple hunk of metal. You can even put together dope desserts with a skillet.
The American manufacturer Lodge has been making cast-iron pans since 1896, so it's fair to say they know a thing or two. This 10 1/4-inch version of their preseasoned skillet will be a perfect jumping-off point for mastering the stovetop and oven.
10. Best stockpot
Price: $$$
Soup is one of the easiest meals to make when you're a new cook. It usually requires only one pot, yields large amounts of food (leftovers are everything), and makes you feel cozy in cold weather. That's a trifecta of winning endorsements.
But you need a big pot to make soup. Same goes for mashed potatoes, spaghetti, etc. A solid stockpot will open the door to exploring even more recipes and techniques.
When choosing a stockpot, you'll want something heavy that comes with a lid. This 8-quart model from KitchenAid is a high quality pick for a cook who's just starting out. We also love that it's nonstick, because nobody likes to scrape cooked-on gunk off the bottom of a pot.
11. Best saucepan
Price: $$$
Contrary to the name, these guys are useful for more than just making sauces. You can also boil vegetables, cook rice and other grains, and melt cheddar… for mac and cheese, of course. This 1-quart version from Calphalon is perfect for all those tasks.
A nonstick surface means easier cleanup, and a tight-fitting lid ensures that heat will stay exactly where it needs to be. And if you're planning to cook pasta in it, check these technique tips first, because you've probably been doing it wrong.
12. Best sheet pan
Price: $
Think sheet pans are just for cookies? Nope. (Though we're Team Cookies all day.) A sturdy sheet pan is the necessary vehicle for baked meats, sheet pan dinners, roasted veggies, ooey-gooey Texas-style sheet cake, and so much more.
Nordic Ware's budget-friendly two-pack is Amazon's bestselling sheet pan combo. Their light aluminum won't rust and is just right for gentler heat – the kind you want for cookies and cakes. Plus, their 18 by 13-inch size is a big blank slate for any baked, roasted, or broiled creation.
13. Best all-purpose cookbook:
Price: $$
We love us some online recipes, but the millions of options can get a little overwhelming (and borderline confusing for those of us who struggle to boil a pot of water).
That's why we suggest going back to the basics and opening a cookbook for some guidance in the kitchen.
One cookbook that has never steered us wrong is Mark Bittman's How to Cook Everything. A former New York Times food columnist and author of multiple cookbooks, Bittman walks you through how to make, well, everything — without getting fussy or overly technical.
Cooking your way through this back-to-basics tome can have you feeling like a better chef in no time.
Wanna know how to home in on the right tools for your specific kitchen? Here are some factors to consider.
Cost
Cost is always a top consideration when choosing the right kitchen equipment. Of course, good-quality, longer-lasting items tend to come with a bigger price tag, but some inexpensive brands, like OXO and Pyrex, are known for their high standards.
And hey, even if you can't afford big-ticket items yourself, they can always show up on your birthday list or wedding registry.
Space
Novice chefs don't usually have expansive kitchens. Give some thought to what your countertop, cabinets, and drawers can actually accommodate. Don't have space for an epic sheet pan or a cheese grater the size of the Eiffel Tower? Be sure to select a more compact version.
Durability
Unless you want to refurbish your whole kitchen a year from now, you'll want to pick tools that stand the test of time. Cooking accessories made with the right materials (like stainless steel, aluminum, and cast iron) are likely to be more durable than those made of plastic or ceramic.
Frequency of use
Sure, plenty of kitchen gadgets are fun and funky, but if they're not practical, they'll end up languishing in your lazy Susan. Before you drop moolah on culinary tools, be sure to ask yourself how often you'll actually use them.
Design
Aesthetics are important. If a kitchen tool has 50,000 rave reviews, but you think it's ugly as sin, is it really worth it? Instead, pick products that appeal to you and your sense of style.
Here are some of the hotter kitchen tools questions.
What is the most useful kitchen tool?
It would be awesome if there were one Swiss army knife-style kitchen tool that could literally do it all. In reality, though, there's no single MVP of the home kitchen.
Generally speaking, to produce full home-cooked meals, you'll want a set of knives and other cutting tools, mixers, measurers, and cooking receptacles (like pots, pans, casserole dishes, and sheet pans).
What's the best brand of kitchen tools?
While the best brand is a matter of opinion, some trusted options include Calphalon, Cuisinart, Breville, KitchenAid, OXO, Zwilling, Henckels, Nordic Ware, Pyrex, and Rubbermaid.
If you can't find many reviews of a brand, chances are it might not carry much of a quality rep for kitchen tools.
How much should I spend on kitchen tools, generally?
It wouldn't be hard to dump your whole annual income on equipping your kitchen with the finest tools money can buy. There's a pricey, boutique version of every gadget from A to zucchini corer. Then again, if you need to save some of your hard-earned cash for other stuff (like the actual food to cook), decent kitchen utensils don't have to be pricey.
Some knives, peelers, and box graters, for example, start at less than $10. And certain brands, like OXO, Sabatier, and Rubbermaid, are known for more budget-friendly prices. Craft your budget around the type of prep/cooking you plan to do most and target some essentials to start with.
How should I take care of my kitchen tools?
If you like to live dangerously, you could always go rogue and put a non-dishwasher-safe pot in the dishwasher — but there's a reason kitchen tools come with care instructions. For long-term durability, it's always best to follow a product's directions for washing and upkeep.
When in doubt, you can (almost) never go wrong with handwashing items in warm water with a gentle dish soap.
Where should I buy kitchen tools?
Purchasing kitchen tools directly from the manufacturer may earn you some extras like improved customer service and the occasional flash sale. But most kitchen must-haves are also available on Amazon. (That said, some high end companies don't sell their products on Amazon.)
For those who'd rather feel the heft of a saucepan or the grip of a peeler before purchasing, an in-person visit to a department store, a big-box retailer, or your local independent kitchen supplier can fill in the sensory details.
The tools on our list are, of course, just a starting point for a well-equipped kitchen. You can fill out your cooking arsenal with as many gadgets and doodads as your budget and cabinet space allow. (S'mores maker and banana slicer, anyone?)
But if you're fairly green in the cooking department, it's best to take it slow, starting with the basics. As you gradually morph into a culinary rock star, you can determine which extra tools are worth your while.