Smoothies can hit pretty much any spot they need to, but you might think there's a shortage of vegan options. We're here to show you that there are plenty of vegan smoothies to keep dairy-free delicious.
This week's featured foodie is Angela Simpson of Eat-Spin-Run-Repeat.com.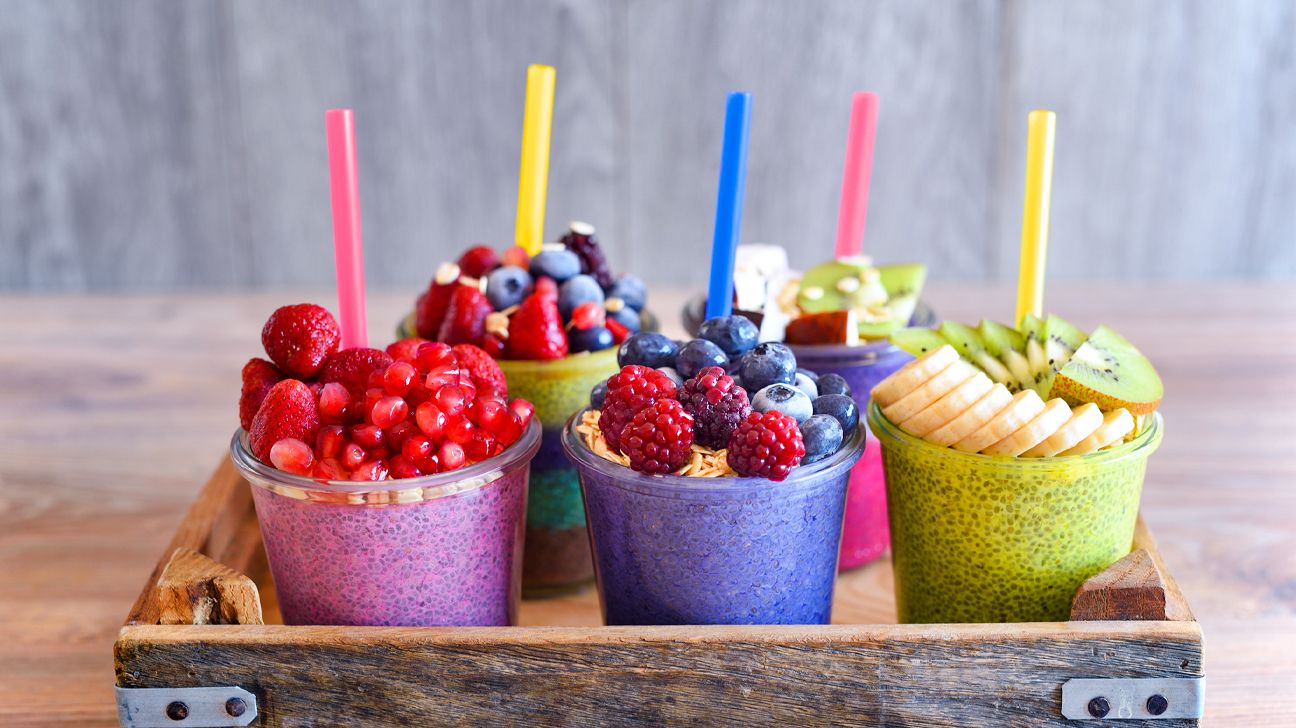 An avid runner and health coach, Angela's goal is to inspire others to live life to the fullest and to passionately chase their goals — all while eating clean, nutrient-dense foods that don't skimp on flavor.
Case in point: These seven delicious, plant-based smoothies. Enjoy!
Whisk these up, then hit the running track for all the brownie points you could possibly want in 1 day.
Can you ever go wrong with chocolate and coconut?
Made with chocolate protein powder, cacao powder, coconut milk, and coconut oil, the thought of this smoothie during your next run (or meeting) might just help you find the motivation you need to finish strong.
It's essentially a vegan shake, right? A coconutty, chocolatey, indulgent shake? That's somehow good for you? Pinch us to make sure we're not dreaming.
If you're looking to start with a plant-based diet but don't know where to start, we've got you covered.
If you're not keen on the bitterness of grapefruits but still want to take advantage of their health benefits, this is the smoothie for you.
It's naturally sweetened with banana, and it's super creamy, thanks to avocado (we're always in the mood to give thanks to avocado).
Blended with some chilled green tea, this dairy-free smoothie will give you more energy than your morning cup of coffee.
If you're looking for vegan alternatives to milk, we found seven options that hit the spot.
Blueberry muffins are a peak breakfast-in-a-hurry food. So, why not just cut out the chewing part? This is a vegan breakfast smoothie to end all others (except the other six on this list).
Gluten-free oats, coconut yogurt, almond milk, and, of course, blueberries make this smoothie, sweet, and satisfying.
Blueberries pack a hefty antioxidant punch and the frozen coconut cubes are a neat alternative to ice cubes.
Even though healthy breakfast shakes are the absolute bomb, vegans don't need to stick to pureed or blended fruit for brekkie — there are casseroles, burritos, and sandwiches that can make for a more substantial serving.
Even if you're not feeling under the weather, this summery smoothie bowl is a great way to keep your immune system strong.
Peach, papaya, plum apricot, and nectarine bulk out the nutritional elements and help you forget the cold weather. Vanilla protein powder and coconut milk bring the smooth texture that makes a smoothie and not just… a bowl of fruits.
Even compared to other vegan fruit smoothies, this is an absolute blast of nutrition and flavor.
Stocking a vegan pantry isn't as simple as throwing some apples into a fruit-bowl. Learn about the absolute essentials of a vegan grocery list.
Umm, what?
Yep, not only can you put a raspberry pie into a smoothie, but it's also a) healthy and b) completely vegan. That's what we're talking about.
There's even spinach smuggled in here, and it's not even green. That's how vibrant raspberries are. Coconut milk, ginger root, and hemp seeds flesh out the smoothie's nutritional heft alongside protein powder (and there are plenty of vegan protein powders out there).
Topped with coconut whipped cream, toasted coconut shavings, and fresh raspberries (duh), this is a treat that stays nutritious. It really is one of the best vegan shakes you can make.
Pineapple is an excellent fruit for masking the taste of greens, and it adds a nice tartness to this smoothie.
The green hue comes from — you guessed it — spinach, with kale thrown in for good measure. Aside from the pineapple, ginger lifts the flavor with a kick.
Garnish with some toasted coconut, close your eyes, and daydream about lying on the beach. This is, as they say, tropical as f*ck.
If you're following a vegan diet, there are plenty of snacks you can make yourself that aren't a handful of raisins.
OK, now you're just messing around. How can this be vegan? And healthy?
No dairy in sight and a wealth of nutritional benefits make this most-certainly-not-your-average peanut butter cookie.
Spinach, chia seeds (a great source of omega-3 fatty acids), cinnamon, frozen banana, and almond milk don't seem like peanut butter cookie staples. Still, they all contribute to the all-round nutrition and, weirdly, the flavor and texture.
If you're feeling indulgent, you can crumble a peanut butter cookie into this. You can imagine the deliciousness. This recipe rundown has some excellent vegan PB cookies that use only 4 ingredients.
Vegan smoothies don't need to be spinach-heavy veg-fests. They can be as flavorsome or as sweet as you like so long as you're using alternative milks and badass ingredients.
If you're looking for something a bit more substantial (but still in line with the vegan ethos), look no further. There are plenty of proteins for you too.
To learn more about Angela, check out her blog or follow her on Instagram, Facebook, and/or Pinterest.