We include products we think are useful for our readers. If you buy through links on this page, we may earn a small commission Here's our process.
Greatist only shows you brands and products that we stand behind.
Our team thoroughly researches and evaluates the recommendations we make on our site. To establish that the product manufacturers addressed safety and efficacy standards, we:
Evaluate ingredients and composition: Do they have the potential to cause harm?
Fact-check all health claims: Do they align with the current body of scientific evidence?
Assess the brand: Does it operate with integrity and adhere to industry best practices?
We do the research so you can find trusted products for your health and wellness.
Eggs may be a go-to source of protein and vitamin B12 for vegetarians, but living that vegan life means skipping animal products. Like, all of them. Forever. So what can vegans use as substitutes for eggs?
With more than 9.7 million Americans now eating a plant-based diet, veganism has hit the mainstream.
So, vegan comrades, you can still make cakes, cookies, mayo, and scrambles without using eggs. You might say vegans are no longer eggs-cluded from all the fun (#SorryNotSorry).
There are now more ways than ever to switch out eggs in your meals.
The best vegan egg replacements
There are literally dozens of ways to replace eggs in all your favorite recipes. Depending on what you're making, you might use:
flaxseed/chia seeds
firm or silken tofu
egg substitute powders
aquafaba
chickpea flour
coconut milk
Whether you're baking a birthday cake for your vegan BFF or cooking an eggless Spanish tortilla for date night, you can find eggs-actly what you're looking for without a shell in sight.
There's no one-size-fits-all rule for switching out eggs. Different recipes call for different subs.
You'll probably have to experiment a little and find out what works best for each application. But embracing your inner scientist can be super fun. (And you'll know no lab rats are being harmed — win-win!)
With a few additional store cupboard staples and a little know-how, you'll be making epic egg-free vegan creations in no time.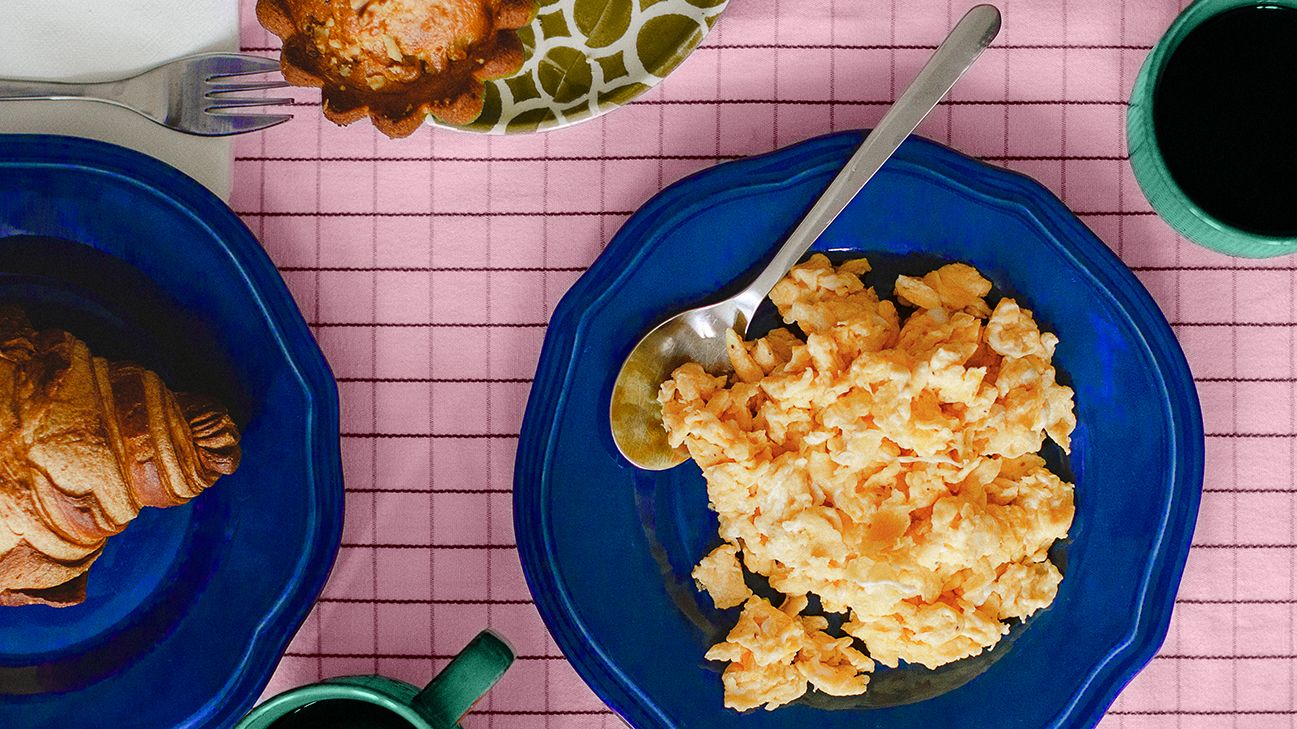 These sneaky subs can convince any omnivore they're eating perfectly normal muffins. You know better, though. 🕵🏻‍♂️ Prepare for comfort food – the vegan way.
Flaxseed and chia seeds
OK, hear us out: You can totally make a legit (vegit?) egg substitute from ground flaxseed.
Just combine 1 tablespoon of ground flaxseed with 2.5 tablespoons of water. Let it sit for a few minutes to thicken and… presto! Flax egg at your service.
It won't bind and stiffen exactly like an egg. But it does a great job in cookies, muffins, brownies, and pancakes. Tell us you wouldn't shove one of these vegan blueberry muffins into your face without hesitation.
You can also use chia seeds to create a chia egg (and no, it won't hatch into a Chia Pet). Just follow the same ratio and instructions as above.
Applesauce
Applesauce makes a great fat-free replacement for eggs in baking. It provides moisture and an extra hit of zingy flavor to cookies, cakes, muffins, and breads.
Use 1/4 cup of unsweetened applesauce to replace a single egg.
The stuff you can find in any grocery store will do. But why not be a boss and make your own? It tastes a million times better when you make it yourself.
Other fruit purees can work too. Try experimenting with pumpkin, sweet potato, or banana puree. They can really pack a flavor punch, like in these delicious pumpkin chocolate chip cookies.
Tofu
Tofu — for when you can't beat the classics. This protein-packed vegan staple can make a fantastic egg substitute, not just for savory dishes but for desserts too.
If you're looking for a smooth, creamy texture for cheesecakes, puddings, and ice cream, silken tofu will become your bae.
Use 1/4 cup (which seems to be the magic number) to replace one egg.
For savory dishes, firm tofu can provide a more egg-like texture. Fool your vegetarian friends with this outrageously tasty vegan quiche, or keep it super simple with a 10-minute tofu scramble.
Egg substitute powders
Loads of packaged egg substitutes have been hitting grocery store shelves. If you're looking for the same versatility you'd get from an egg, one of these could be your best choice.
Most of them contain starch or flour and a leavening agent. They're particularly great when you're looking for volume and extra fluff in your baking.
Some products try to mimic that eggy flavor and taste a bit… erm… eggy. Try a few different brands to see which works best for you. A range of options is available for purchase online.
For when you're craving mayo but are also an animal whites activist. (Are these jokes getting old? Probably. But so will the chicks you didn't eat.)
Aquafaba
This magical liquid will blow your f*cking mind.
Aquafaba is the briny liquid you'll find in canned or cooked chickpeas. It's also one of the best (and most surprising) replacements for egg whites.
Use it as-is for a dope vegan mayo or whip it up to stiff peaks for vegan macarons. It's also great for fluffing up cakes and other baked goods when a flax egg doesn't quite cut it.
Use 2 tablespoons of aquafaba to replace one egg white or 3 tablespoons of aquafaba to replace a whole egg.
Check out these bangin' recipes that make the most of aquafaba.
If you're not eating eggs, supplement B12
B12 is an essential vitamin for keeping your body, cells, and brain healthy. Many animal products — such as meats, cheeses, and, of course, eggs — naturally contain it.
If you're all about that vegan life, you might not get enough of this vital nutrient. Try to eat plenty of fortified foods, such as plant milks and breakfast cereals, or consider taking a supplement.
The FDA doesn't regulate supplements in the same way as medications, so be careful and stick to trustworthy and recognized brands. To help you out, we rounded up the best B12 supplements out there.
Speak with a healthcare professional if you're not sure whether you need a supplement.
For when you want that golden-brown sheen on your homemade bagels without leaving a hole in the environment.
Plant milks
The typical baker will reach for an egg wash when going for that gorgeous, glistening brown finish. But what if eggs aren't on your radar? Don't panic. We've got you.
Plant milks work just as well. Use any type you have on hand, whether it's almond, oat, or soy. But go for unsweetened milks — the sweetened versions contain extra sugar and might burn more easily.
Bewildered by the choice of plant milks at the grocery store? Get some help on choosing the best alt-milk for you.
Coconut oil
Oils work great for getting that must-have golden-brown color, like on these vegan dinner rolls. And coconut oil is pretty much always a champion.
Other oils can also work, such as:
vegetable oil
rice oil
corn oil
Thin out thicker oils with some plant milk. Make sure you mix it well to get that beautiful coating.
For when that vegan lifestyle is no yolk.
Chickpea flour
The magic of chickpeas returns, this time in flour form. Chickpea flour (aka gram flour) is an all-star egg replacement badass.
Not only does it kinda taste like eggs, it also works like them. It helps with binding and rising, which makes it one of the best au naturel alternatives.
Mix 3 tablespoons of chickpea flour with 3 tablespoons of water for each egg you need to replace. Whip that bad boy up until it forms a creamy paste.
This a perfect option if you're eating gluten-free. Just look at these yummy vegan, gluten-free chickpea flour brownies.
Coconut milk
We're talkin' full-fat, thick-creamed coconut in a can here. Its high fat content works great for fleshing out vegan ice cream or desserts that lend themselves to that coconutty flavor.
Who could say no to five-ingredient coconut milk ice cream? We'll wait.
(Still waiting — turns out there's no one.)
Cashews
If you're looking for more subtle dessert vibes, try using cashews. They're equally high in fat but don't come with that overpowering coconut flavor.
Soak them in boiling water for 30 minutes, and then blend them until luxuriously smooth. Cashews are surprisingly perfect for making a thick, creamy custard, like the one used in these adorable little vegan custard tarts.
Being vegan might sometimes leave you feeling like you're missing out on the good stuff. But with these vegan egg substitutes in your kitchen arsenal, you'll be whipping up all kinds of tasty treats and snacks.
Eggs-perimenting in the kitchen to find out which subs work best for your recipes is key. Embrace the artist within and let them run wild without sacrificing your lifestyle.
With these alternatives for every possible situation, you can say goodbye to that food-based FOMO. You'll find that eating vegan can be so much more than endless bowls of vegetables.