You don't get your kicks from washing a tower of dirty pots, pans, and dishes. That's why one-dish meals are go-tos for easy healthy eating at home.
Throw 'em in, cook 'em, job done.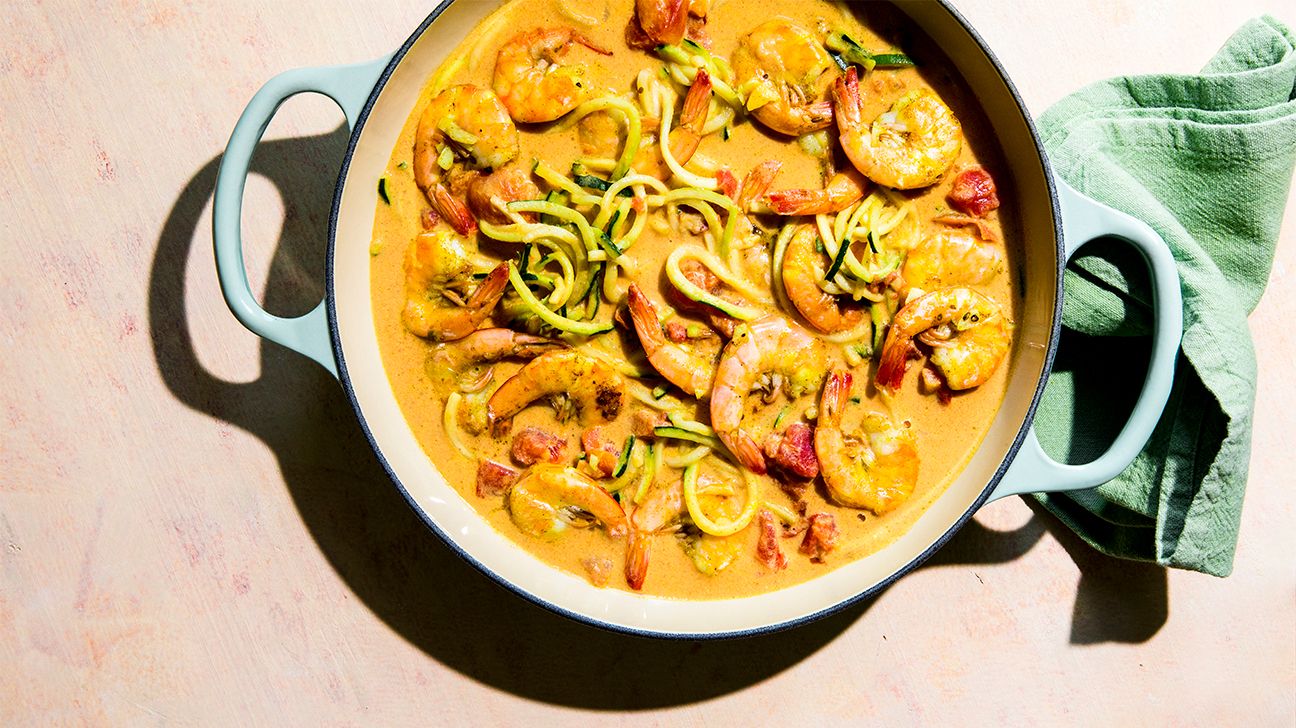 We've gathered 48 healthy recipes for breakfast, lunch, sides, dinner, and dessert that only use one vessel.
Whether you cook them in a skillet or casserole or serve them raw in a bowl, and whether they're sweet or savory, vegan or not, these meals share a goal – they're easy to clean up.
Wake up, throw in pan, wipe sleep from eyes, do very little else.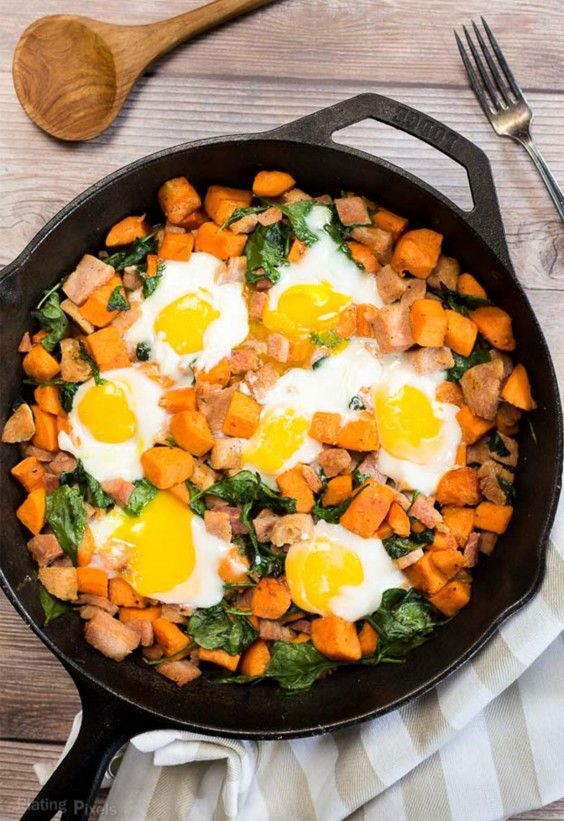 This easy savory skillet transforms leftovers into a hearty weekend breakfast, brunch, or even dinner. Because who doesn't love breakfast for dinner?
No worries if you've got to cook the sweet potatoes from scratch. Cut 'em into 1/2 inch cubes, and they'll only take 15 minutes to sauté.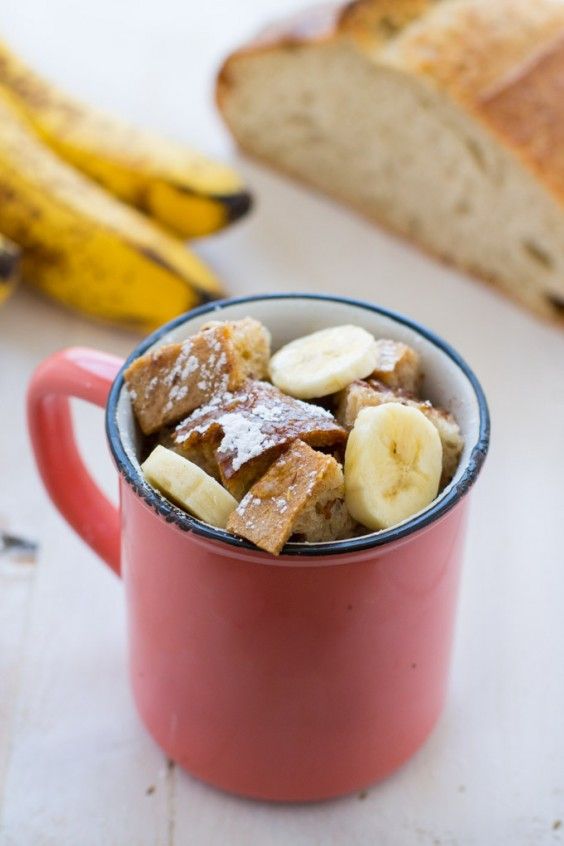 Healthier French toast without all the mess. You're sold, right?
Mix half a mashed banana, coconut milk, flaxseed, and vegan buttery vegan spread in a mug, and store that bad boy in the fridge for 10 to 15 minutes.
Stir in a diced-up piece of day-old bread and microwave it for 2 minutes. Serve with cinnamon, banana slices, sliced almonds, or a little maple syrup, and you're onto a slice of heaven in a bowl.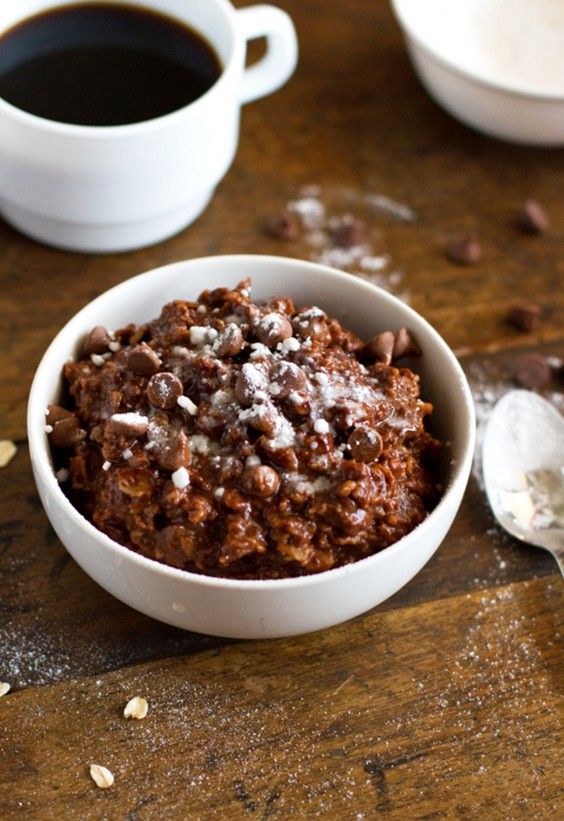 Go ahead, start the day with cocoa oatmeal. No-one's judging, especially when it's this nutritious.
Flavorful, filling, and warm, this breakfast is boosted with ground flaxseeds and lightened with egg whites. Sprinkle on your favorite nuts and sweeten with a few chocolate chips.
Talk about healthy delicious.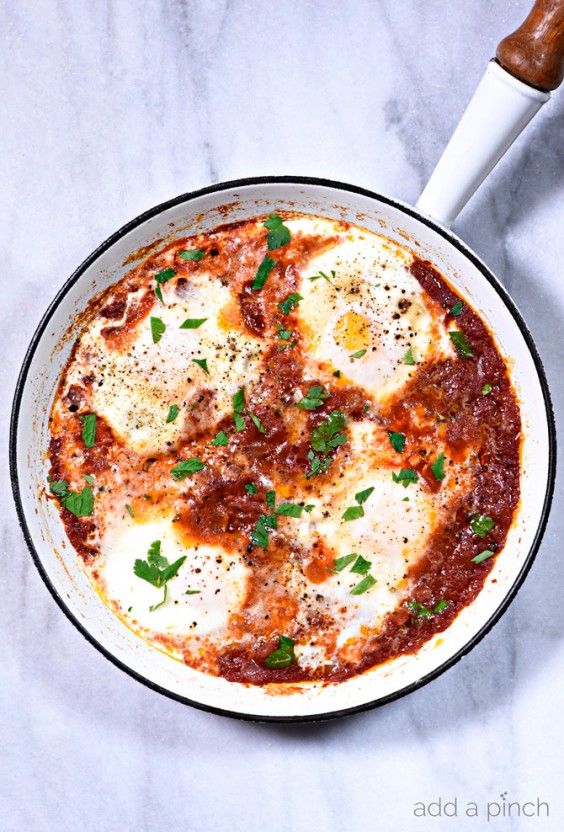 This Mediterranean-inspired dish takes just 10 minutes of prep time and 15 minutes of cooking. And it's a delicious way to finish that tomato sauce in your fridge.
The spicy sauce is smooth and creamy underneath the runny eggs, fresh parsley, and shaved Parmesan. Purgatory never tasted so good.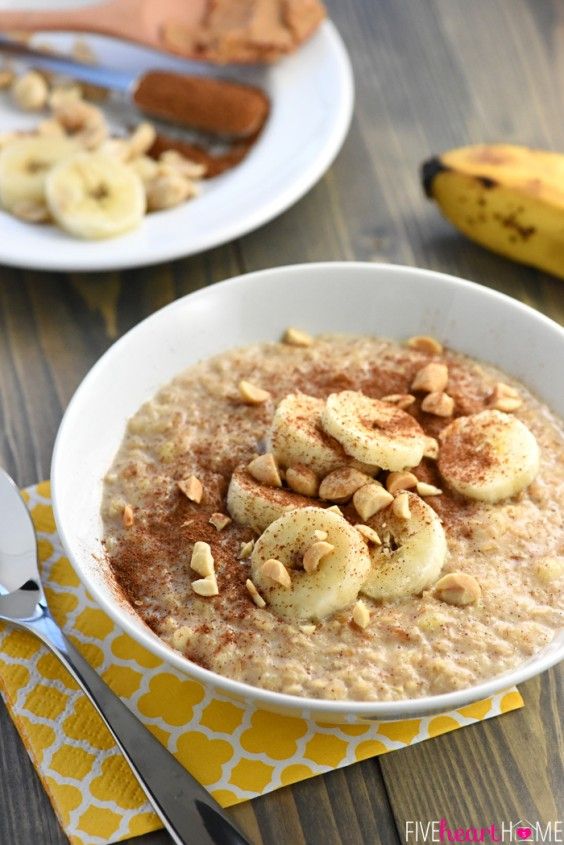 Forget those packets of artificially flavored instant oatmeal. Quick oats take 2 minutes to cook, and you can sweeten them naturally with mashed banana, peanut butter, vanilla extract, and cinnamon.
A sprinkle of nuts and a drizzle of honey or maple syrup over this bowl of goodness can make it even better. Veganize it by cooking with water instead of milk.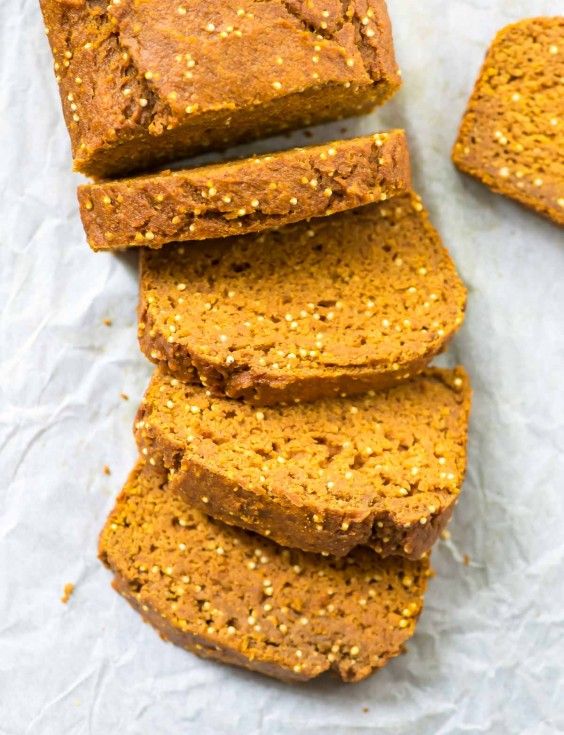 As far as breakfast breads go, this one is miles ahead of whatever you'd find in your standard coffee shop.
Greek yogurt, honey, and whole-wheat flour make this pumpkin bread a top-notch quick breakfast or snack with a mug of coffee or tea.
If muffins are more your style, mix everything in a bowl and then transfer to muffin tins.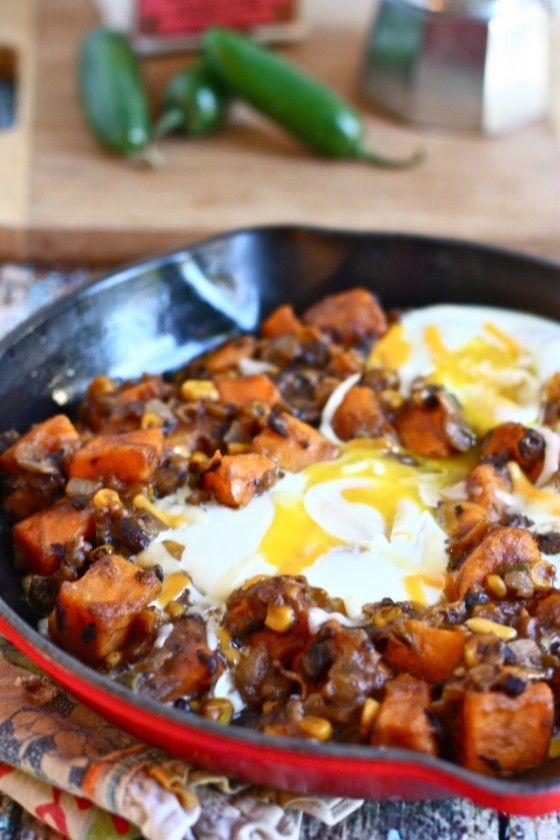 Hearty and spicy, this skillet sings Sunday morning. As you can clearly see from number one, we looooove sweet 'taters in skillets.
Cayenne pepper and hot sauce pizazz up sweet potatoes, black beans, and corn. Then, bring on the runny eggs and melted Monterey jack cheese.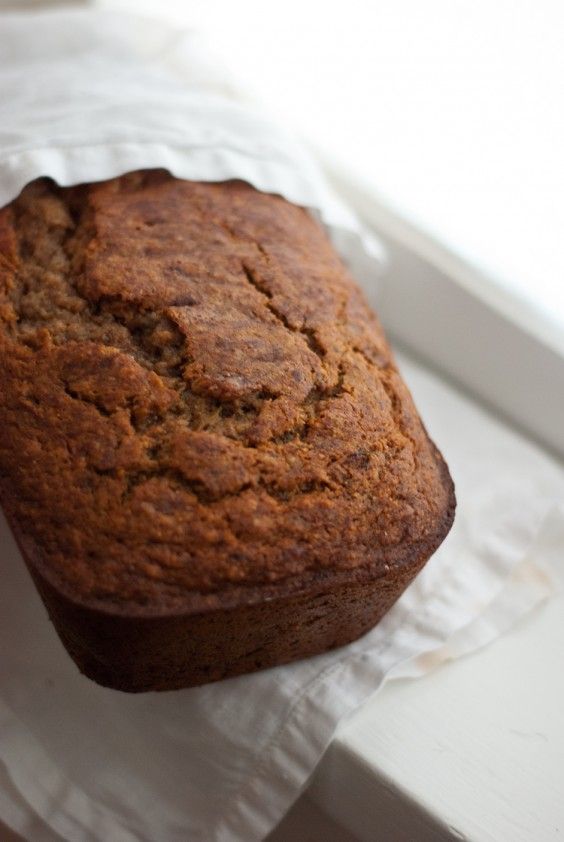 Bake this baby ahead of time, and you've got breakfast for the week.
Grab a slice on your way out the door or savor one with a cup of tea on the mornings you wake up on the first alarm (#goals).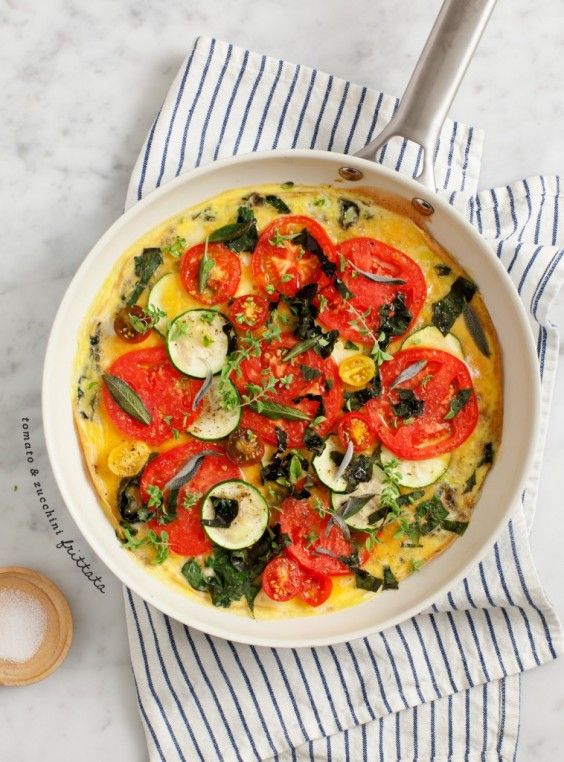 For a veggie-rich breakfast, look no further than this easy frittata. This skillet egg dish is loaded with colorful greens, tomatoes, and zucchini.
The sage, thyme, and basil on top will have you wanting to plant your own garden ASAP.
It's only going on the side, so why take a whole bunch of time? These all still pack flavor while saving on pre-nosh energy.
The beauty of this fall recipe is you can make it healthier and it will still be warm and comfy.
For a lighter version, just use less butter and cheese and sub in non-dairy milk.
If you're looking for a super-flavorful, veggie-filled soup that's a complete meal, your search ends here.
Kale, beans, and carrots are the healthy base, and the broth is enhanced with nutty, herby pesto right before serving.
One pot, 30 minutes. You can't beat it.
Sometimes, there's no knead to worry too much.
When you hear homemade bread you probably don't think "easy" or "one-bowl," but this no-knead recipe is a just that. You can mix it up and bake it in an oven.
Pro tip: While the dough rests on a board, preheat the oven for about 35 minutes. That'll help your bread bake into a light, golden, and crusty loaf.
This big, colorful salad is filled with raw veggies like red cabbage, carrots, edamame, and bell peppers. The Thai-inspired peanut sauce brings out the natural sweetness in the crunchy salad. It's a winning combo.
You can sub in apple cider vinegar for rice vinegar — it has plenty of health benefits. And we're excited about apple cider vinegar anyway.
This bean salad will become your go-to bowl of nutrition.
It's super easy, and it fills in as a dip, side dish, or taco add-on. Dump canned black beans and defrosted corn into a bowl, and add chopped tomato, red onion, scallion, and cilantro. Boom.
Drizzle with lime juice, olive oil, and cilantro, and refrigerate for a bit to let the flavors meld. You're not even going to need a recipe next time you make this. And you're certainly going to think twice about switching recipes.
Not that it needed one, but chicken soup gets a makeover here, flavored with lemongrass and nutritionally boosted with quinoa and beans.
You're going to want to cook up a big pot and freeze batches for quick, easy, restorative bowls whenever you need a pick-me-up.
Chop, layer, and bake. It's that easy. No advanced culinary rodent skills required.
Some people say that each vegetable must be peeled, chopped, and cooked separately before the whole dish comes together, but sometimes you just don't have time, and that's OK.
You'll be delighted to have leftovers — ratatouille gets better the next day.
This traditional version of minestrone is a meal in a bowl. It's rich with simmered tomatoes, beans, carrots, and zucchini. That'll fill you right up.
Not only that, it's so easy to make.
To make it healthier, use whole-wheat orzo.
Noodles? Pah!
If you haven't invested in a spiralizer yet, this recipe will convince you. Zucchini "noodles" are the base for this super-fresh tasting bowl featuring your choice of protein. Tofu, chicken, and shrimp are all good choices.
If you don't have fish sauce in your pantry, sub in soy.
These guys are so cute and tasty, you're not going to miss the tater.
And they're easy. Just mix chopped broccoli, cheddar cheese, eggs, onion, breadcrumbs, and seasoning.
Form the tots, then bake them on a parchment-lined sheet. Hooray for easy cleanup!
Because why should meat eaters get all the fun?
Quinoa is the star of this dump and simmer one-pot wonder.
Mexican-inspired flavors of chili and cumin permeate grains, beans, and tomatoes.
You can whip up the rich, avocado mousse topping in minutes.
The mashed potato topping is what makes shepherd's pie so irresistible. So, if you have leftover mashed potatoes, put them on top of this easy dish. You can swap in mashed sweet potatoes or cauliflower too, for a healthier take.
It's just 10 minutes of prep, an initial stove top sauté, and a half hour bake in the oven.
Spicy and sweet is one of the best flavor combos, and this vegan dish is a victory lap for both overtones.
Curry and chili powders balance sweet potatoes, coconut milk, and pineapple. You can add your favorite veggies to the spinach and onions.
Next time you're craving fried rice, resist the urge to pick up the phone. This version takes 25 minutes to make, and it has chunks of chicken. What more could you want?
You know that's faster than delivery. And way healthier, too, thanks to brown rice and lots of veggies.
This whole-wheat spaghetti dish is filled with veggies: spinach, mushroom, onions, and fire-roasted tomatoes.
And get this: You cook the pasta right in the sauce so it absorbs the flavors. Heck, yes, we say.
This hearty, low sodium bean salad is unreal-easy to make — just open some cans. In 10 minutes, you'll have a flavorful topping for a bed of greens or a side-dish for roasted vegetables and a slice of crusty multi-grain.
This is a light, no-stress meal. 10 minutes. You can throw this together in your sleep.
Get ready to fill your kitchen with the aromas of Indian-inspired spices and more.
If the number of spices seems daunting, you can buy curry spice blends. And, sure, you can swap sweet potato for pumpkin. This is one excellent way to embrace pumpkin spice season to the max.
Pro tip: Make a big batch on the weekend and reheat throughout the week for plenty of easy meals.
Every once in a while, you need a clean, simple meal. Boil mung beans, drain, and add chopped veggies and avocado.
Pour olive oil, apple cider vinegar, and lemon juice over the beans. Then, mix it all up.
Veggie-wise, feel free to swap out ingredients for what's in the crisper — this recipe is ideal for using up the last bits of whatever vegetables you have.
You can create layers of flavor in this Indian-inspired recipe. Chickpeas star in a spice-rich pot of warming goodness. Chana masala is super versatile. Serve it with brown rice or naan. Or, hey, just go at it with a spoon.
Meat your main course.
Now you can put together Garfield's favorite entrée with Garfield-level effort.
While three different types of cheese make this gooey and delicious, they don't make it the healthiest option on the list.
For a healthier twist, you can replace the Italian sausage with chicken sausage.
What's the only thing easier than a one-pot meal? A one-tray meal, of course.
Just toss the broccoli and shrimp with dressings, and roast. Line a baking tray with aluminum foil so you have absolutely zero cleanup.
You can cook a restaurant-worthy meal on one sheet pan in a half hour. Start with potatoes, add the lemon salmon, and finish with asparagus. Serve with chimichurri sauce made using fresh basil, for a final *chef's kiss* touch.
Orzo, a thick, small pasta that looks like rice, is pure comfort food.
You can swap in whole-wheat orzo to make this Mediterranean-inspired recipe healthier.
This is how to up your pasta game. With chicken drumsticks, cherry tomatoes, spinach, and onions, you can be confident you're leveling up.
Chorizo is top-tier meat. So, if you haven't tried it yet, you're missing out on tons of flavor and a protein that's super easy to prep.
In a skillet, combine the spicy sausage with rice, veggies, black beans, chicken broth, and spices. Then, give it a cook for 20 minutes.
Get ready for a kitchen that smells so good, you'll want to munch on the appliances instead (don't, though, just eat the chorizo and its edible friends).
Update classic arroz con pollo by swapping out rice for quinoa.
The protein-packed grain, simmered in chicken stock with chicken breast, carrots, peppers, onions, and peas, tastes like it was always meant to be part of the arroz con pollo family.
Almost everything is better while wearing a sunny-side egg as a hat, and this hearty bowl of kale, lentils, potatoes, and sausage is no exception.
To make it truly one pot, you can skip the blender and mix the tomatoes, garlic, water, and chili powder right in the skillet.
Three distinctive ingredients give this recipe some big North African-inspired flavor.
Sweet apricots and spicy cinnamon cook with the earthy lamb for a complex mishmash of flavors. This recipe is beyond easy to make — just 10 minutes of prep followed by a low and slow simmer gets you an insanely accomplished dish.
The result is fork-tender lamb and chickpeas in a sauce that'll make you want to lick the plate (but please don't, it's 2020).
Spicy Tabasco sauce brings this dish from basic to awesome (and Tabasco isn't your go-to, there are plenty other sauces that would work, including Cholula).
All you've got to do is sauté skinless chicken thighs, add diced tomatoes, cooked garbanzo beans, chopped onion, and kale, and let the whole concoction simmer.
Pro tip: Chicken thighs have more flavor than breasts.
Why attempt this recipe? How about just for the halibut! (Just for the hell of it? No? I guess you had to be there.)
Cooking fish "en papillote" (French for in a parchment-paper packet) is the ultimate one-dish cooking method. You're going want to learn this, because the impressive presentation shows just how easy it is.
Lovely aromas release when you open the baked packet. Just watch out for the hot steam. And when dinner's over, just toss the empty wrappers. Au revoir, messy kitchen. Bonjour, easily attained sophistication.
Swap in whole-wheat pasta or zoodles in this creamy, cheesy pasta fortified with sausage and spinach.
This is what you want to eat on a cold, blustery day. It's pure heartiness and warmth without skimping on the nutrition.
The leftovers are so good the next day, as well. Make more than you can eat in one sitting and embrace the complete lack of effort the following day.
Chicken cacciatore is another Italian-inspired classic you want in your repertoire. It brightens the dinner table with bell peppers, tomatoes, onions, and mushrooms.
This version uses skin-on chicken thighs on the bone due to their abundance of flavor.
The trick is to brown the chicken, creating the first layer of flavor. Add chopped veggies, and bake in the oven for 35 minutes.
Top with fresh basil and oregano, and call out "Tutti a tavola." ["Everyone to the table."]
Everyone has their own special recipe for chili, but you'll want to give this turkey version a try.
You can use a slow-ground turkey, kidney beans, corn, peppers, and plenty of chili powder.
Top with your favorite add-ons and go nuts on this dish.
By cooking this both on the stove and in the oven, you're looking at a crispy, rich, veggie-stuffed meal that feels like an indulgence without anywhere near the effort.
This dish provides an alternative to tortillas with a nutritious bowl that simply builds from the chicken up in a single pot.
First, you brown the chicken. Then add the veggies, sautéing them. Chuck in the other ingredients, then simmer the whole shebang.
The recipe also recommends topping with avocado and lime slices, as well as cilantro. But you can make it veggie by getting rid of the chicken and doubling up on the kidney beans — job done.
Sometimes you want the sweetness without having to bake up a storm.
If a craving for sweets hits, you can whip up this easy cake-in-a-mug. All you need is a banana, cocoa powder, frozen raspberries, and an egg.
Yep, a single serving #healthyish and flourless dessert. Best of all, it bakes in a minute in the microwave.
This baked fruit dessert is so easy to make:
Fill a baking dish with 2 cups of fresh or frozen berries.
Top with a mix of oats, brown sugar, butter, and cinnamon.
Bake in the oven for 30 minutes till the top is crisp and the juices are bubbling.
Wait, that's it? What are you waiting for! Get berry crisping. A creamy whipped dairy or non-dairy topping is always a welcome addition.
Gooey, chocolatey brownies with no flour, refined sugar, butter, or oil. WTF? What's even in these? How do they even brownie? So. Many. Questions.
The answer? Peanut butter, shredded zucchini, maple syrup, cocoa powder, ground flaxseed (or an egg), baking soda, and chocolate chips make a fine faux brownie.
Dessert will be ready to share in a half hour.
Natural ingredients, no baking, and it all comes together in one bowl — sounds pretty Greatist to us! This is nut your average power snack.
Mix:
nut butter
honey
rolled oats
unsweetened coconut
vanilla
sea salt
any other of your favorites like chopped nuts, seeds, dried fruit, chocolate chips, or spices
Refrigerate the "dough" for 30 minutes, roll it into balls, and refrigerate or freeze them until you're ready to eat.
Even with no added sugar, this chocolate pudding is seriously yum-inducing.
Pureeing dates, coconut milk, cocoa powder, and vanilla until they form a thick and creamy mixture is the order of the day.
You can pour the pudding into ramekins or small bowls. Or, you can serve your hard work (pffft, right) in a larger bowl.
These flourless cookies are quick and easy to prepare with great results.
Combine bananas, oats, peanut butter, vanilla protein powder, chocolate chips, chopped almonds, and a pinch of salt.
Then spoon cookie-size portions onto a foil-lined baking sheet. In 10 minutes, you'll be pulling these babies out of the oven.
Keep the dentist happy with this no-refined-sugar fudge. The sweetness comes from super-ripe bananas, with a touch of maple syrup, if the bananas aren't ripe and sweet.
Best part: Your food processor does the work.
Hard part: Staying patient while the mixture sets in a pan in the freezer.
This fro-yo is easy to make with or without an ice cream maker. Plus, pumpkins. So, awesome.
Just combine Greek yogurt, pumpkin puree, maple syrup, pecans, vanilla extract, and spices.
If you're making it without a machine, remember to stir occasionally. You don't want a frozen block of pumpkin instead of creamy pumpkin goodness.
(Don't get distracted by carvings either.)
No bake?
No sugar?
No problem!
Oats are an ideal base for healthier cookies. Combine peanut butter, honey or maple syrup, cocoa powder, vanilla, and shredded unsweetened coconut. Spoon 1 tablespoon portions onto a lined baking sheet.
Refrigerate till hardened. And you've got easy, healthy cookies.
The idea of chocolate peanut butter cookies? Yes. Heckin'. Please. It's hard to go wrong. But the idea of making them? Ugh. Chores.
This recipe not only cuts out the baking but most of the washing up after.
Technically, you move the mixture of butter, milk, sugar, oats, vanilla, chocolate, and peanut butter to a baking tray to cool and form. With wax paper, though, you don't even have to clean up that tray.
When you're looking for recipes that'll won't leave you on dish duty for hours, one-pot meals are the bomb. Plus, they're easy.
These one-pot dishes are suitable for omnivores, vegetarians, and vegans alike.
It could be breakfast, lunch, dinner, or dessert, you'll eat well, and your kitchen is going to smell great too.