Fresh herbs are the unsung heroes of cooking. Not only do they enhance the flavor profile of just about any savory dish — they also add dashes of color and touches of aroma to your food.
But when you buy fresh herbs from the store, you usually end up with a lot more than one recipes calls for. You may be wracking your brain as to what to do with them before their lovely leaves go saggy and sad.
Whether it's a bouquet of mixed herbs or a single bunch of parsley the size of a small dog, we're here to help! We've got six recipes that call for large amounts of common fresh herbs, including dill, parsley, rosemary, thyme, basil, and mint.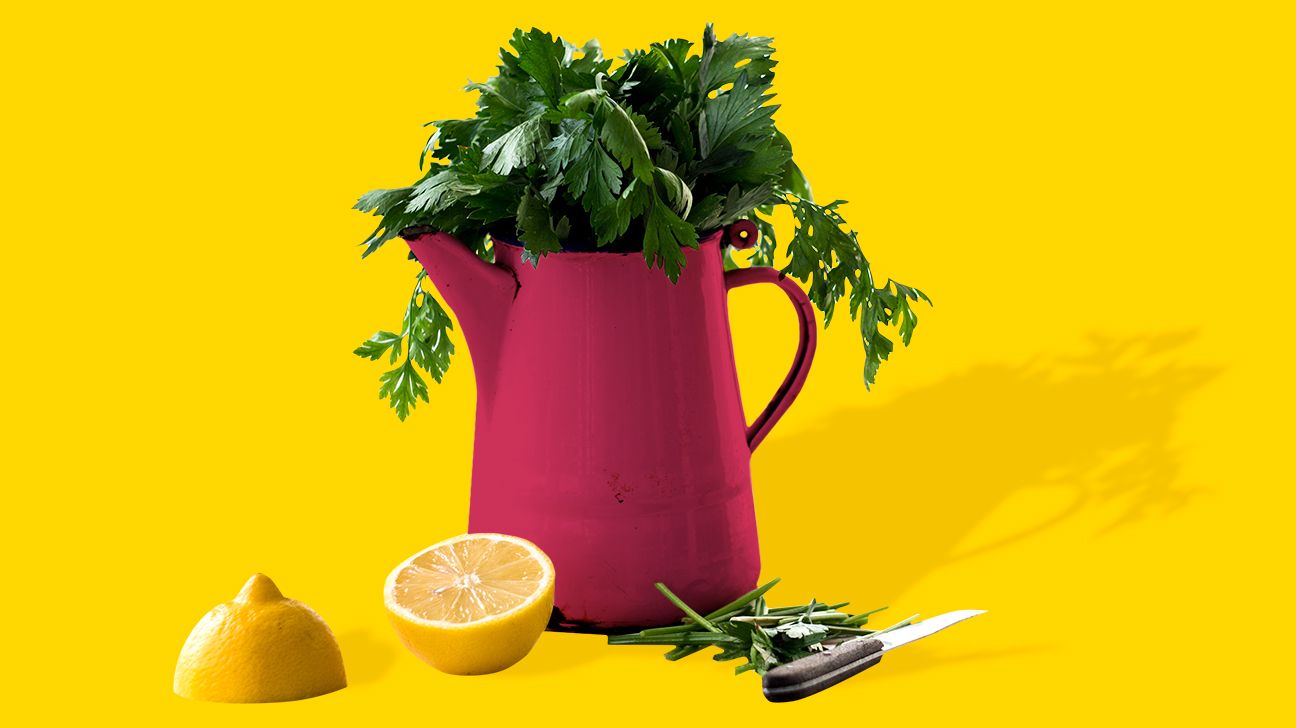 Once harvested, fresh herbs can be rather delicate, so you'll want to store them with the right amount of TLC. Here are best practices.
Dill
Dill does best in the fridge, where it can stay fresh in a resealable bag for up to 2 weeks. If you won't be using up your bunch within 14 days, rinse dill fronds gently, pat dry, and freeze in an airtight container.
Parsley
Storing fresh parsley is a fairly no-fuss affair. For best results in the fridge, rinse leaves, shake them dry, and keep them wrapped in a paper towel in a resealable bag.
Freezing is just as easy: Double-bag the leaves, removing excess air, and pop in the freezer.
Rosemary
Rosemary wins best in show for hardiness. This herb is among the longest-lasting, with a life span of up to 3 weeks in the refrigerator in a sealed container.
There's not much fanfare to freezing fresh rosemary, either. Simply place sprigs on a baking sheet in the freezer until solid, then transfer to a baggie for longer-term freezing.
Thyme
Thyme keeps remarkably well in the fridge, especially when wrapped in a damp paper towel in a resealable bag. Stored this way, you can expect to get up to 2 weeks of use out of this savory herb.
To freeze, strip thyme leaves from the sprigs and place in an airtight container.
Basil
Ready for a shocker? Fresh basil doesn't do as well in the fridge as it does at room temp — but there's a method to this madness.
For countertop storage, place the bunch in a cup of water as if they were a bouquet, then cover with a plastic bag. (It should look like you're giving it a hair treatment.)
For freezing, basil takes a little more work than other fresh herbs. To keep it from turning an unsightly mud color in the freezer, you'll need to blanch fresh basil (i.e. boil it momentarily, then cool immediately in an ice bath). Once blanched, dry the leaves thoroughly and freeze in an airtight container.
Mint
The glass of water and plastic bag trick that works for fresh basil is a friend to fresh mint, too. Or, if you don't feel like going to the trouble of storing mint in a vase of water, you can seal it in a bag and refrigerate.
Mint also does well chopped and frozen with a splash of water in ice cube trays.
As a general rule, a ratio of 1 to 3 for dried to fresh will do the trick. Example: If a pasta dish calls for 3 tablespoons of fresh basil, it's safe to use 1 tablespoon dried.
It's important to get your proportions right, a mouthful of raw rosemary or dill isn't so appetizing.
Most recipes with dill call for a sprig here and a sprig there, but this cucumber dill salad with lemon vinaigrette from Spend with Pennies goes all in with 1/3 cup of the springtime herb. With such a hefty dose, you'll snag some of dill's supply of manganese, vitamin A, and vitamin C.
Repeat after us: Parsley is more than a garnish. This all-purpose herb provides a pop of color, mild, woody flavor, and powerful antioxidants. There's no better place to use a heaping bunch than in falafel.
This vegan, gluten-free, baked version from Eating Bird Food makes an easy way to reap parsley's health benefits without frying in oil. To use even more parsley, make a double batch and serve extra falafel atop a green salad or wrapped in lavash.
In a chicken and potato meal that might otherwise be bland, rosemary steals the show. This simple, homey roasted chicken and potatoes recipe from Tori Avey elevates basic ingredients to something to look forward to (and uses up at least 10 sprigs of rosemary in the process).
Is there anything fresh thyme doesn't make more delicious? Even sweet foods and drinks can benefit from a well-balanced addition of thyme. Try this thyme-infused lemonade from Real Housemoms to test the theory.
Pizzas, pastas, and Italian dishes galore get their signature spicy-fresh flavor from basil. One way to hop on the Italian bandwagon — and use a ton of basil in the process — is to make your own pesto.
Thing is though, the pine nuts most pesto recipes require are a bit pricey. To cut costs without sacrificing flavor and texture, we're all about this lower-cost basil and walnut pesto from Garlic and Zest.
Using a whopping 4 cups of basil, it's near guaranteed to help you power through a large bunch of the fragrant herb. If this batch makes more than you'll use right away, freeze extras in an ice cube tray to pop out individually later.
Did someone say mojito? Okay, maybe it's not an actual mojito, but this healthy, non-alcoholic mojito fruit salad from Iowa Girl Eats packs all the flavor of a poolside cocktail into a refreshing, minty side dish.
Perfect with grilled meat or Mexican food, it may become your new summertime favorite.
Sarah Garone is a nutritionist, freelance writer, and food blogger. Find her sharing down-to-earth nutrition info at A Love Letter to Food or follow her on Twitter.