You've spent the last hour whipping up a masterpiece, the likes of which bellies have never digested before. Your thankful guests lap up every bite, barely touching the sides of their plates.
And then… the cleanup. Suddenly, you're not feeling quite so Michelin-star, since you don't have an army of kitchen porters to handle the debris.
But there's an unlikely hero on the scene — and odds are you probably have it lying around in your cupboard, eagerly waiting to be useful. Aluminum foil is about to become your new secret weapon in the kitchen.
Foil packet dinners are the pinnacle of easy cleanup. You just… walk to the trash can and toss away your wrapper. Job done. Plus, most of the recipes we found will take 30 minutes or less, including prep time.
Cooking in foil is also really hard to mess up. Consider your chicken-in-foil a blank canvas even if you're subpar at art, cooking, and chicken-herding.
You may be sick of cooking time-intensive weeknight dinners, or maybe you're wildly unprepared for the dinner party you forgot to plan. Whatever the motive, your trusty foil can serve as the perfect tool for getting a creative dish on the table with minimal effort.
You can't just up and fly to the Mediterranean or take a quick sojourn to France, but you can eat their wares with minimal effort.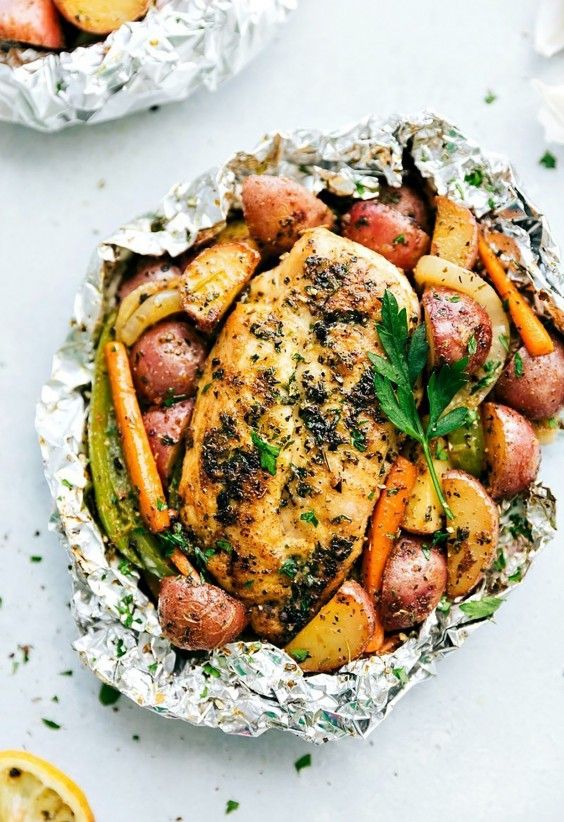 We like our chicken dinners as juicy as we can get 'em. According to this mini-masterpiece, that's very. Sealing the Italian seasoned chicken and potatoes in a little foil will preserve all the natural juices.
It also doesn't require any fancy-pants ingredients — just the following:
chicken breasts
baby red potatoes
green bell pepper
yellow onion
carrots
Skip the store-bought seasonings and rely on your spice rack to introduce intense flavors. If you want your inner Ina Garten to show, get creative with fresh lemon, fresh Italian flat-leaf parsley, grated Parmesan cheese, and red pepper flakes.
Chicken isn't just for roasting. Get your fill of several other amazing methods here.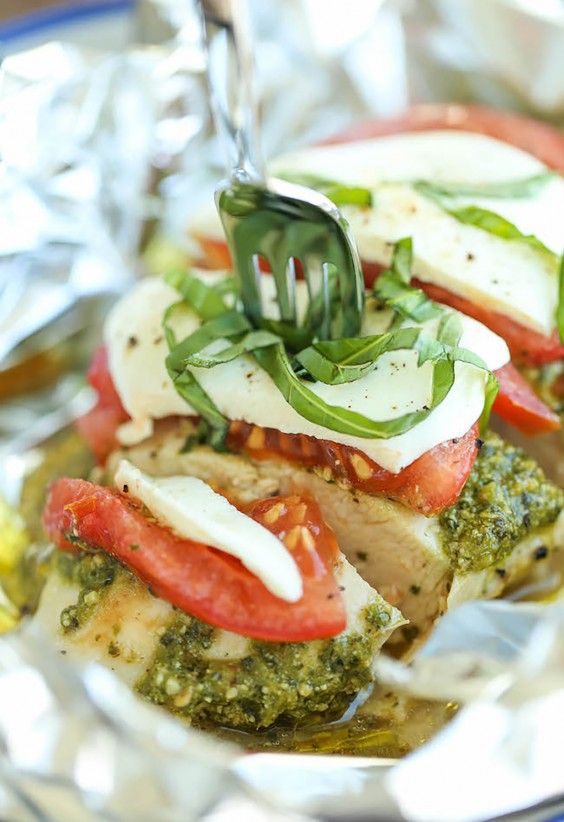 The right sauce can elevate any meal, and pesto is no stranger to taking meals to the next level.
We always recommend taking the extra 5 minutes to throw together your own sauce rather than buying it from the store. Beyond that, all you'll need to master this bad boy are tomatoes, fresh mozzarella cheese, and basil.
This dish looks so good it deserves to be showcased twice. Make extra for lunches to take to the office. The people need to know how badass you are.
The caprese formula is also a truly banging combination for salads — and healthy too. We cobbled together 19 healthy Italian recipes that are directly copied from restaurants (shhhhh!). Don't tell and we won't either.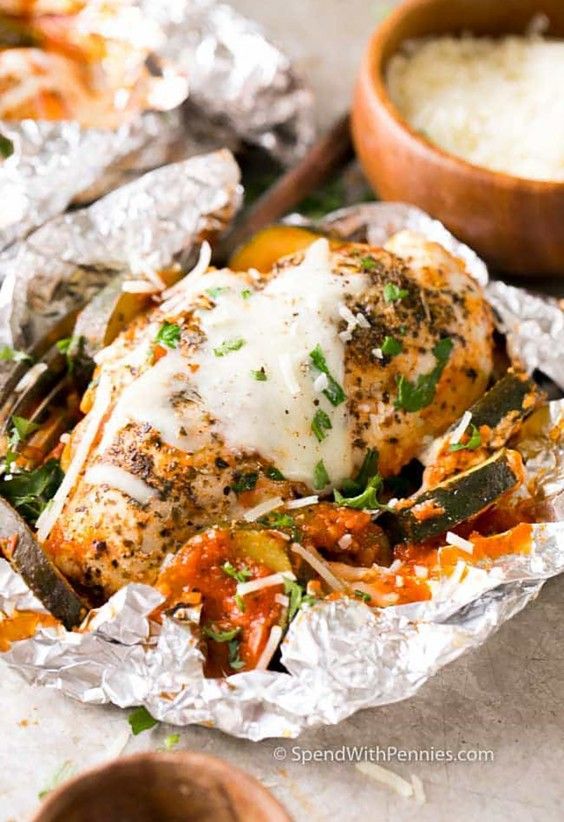 We see this dish as a healthier version of a traditional chicken Parmesan because it's got all the cheese without the panko breading. That means gluten-free eaters can also get in on the Parmesaction.
The recipe cooks up a storm with zucchini, but you can also use broccoli, mushrooms, asparagus, or summer squash instead.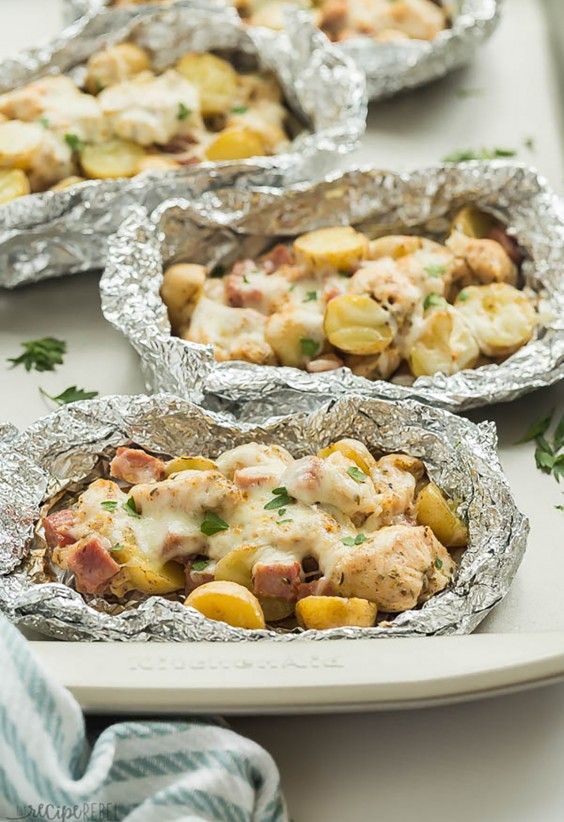 This classic French pick doesn't require much attention in foil. Now you can take your guests all the way to the "I'm full" tower and make it look easy.
You'll be piling cooked ham, canola oil, Italian seasoning, dry mustard, and Swiss cheese into one tidy packet.
Pro tip: Make sure you buy high quality ham. It makes all the difference between salty meat goodness and a ham-fisted attempt at fine dining.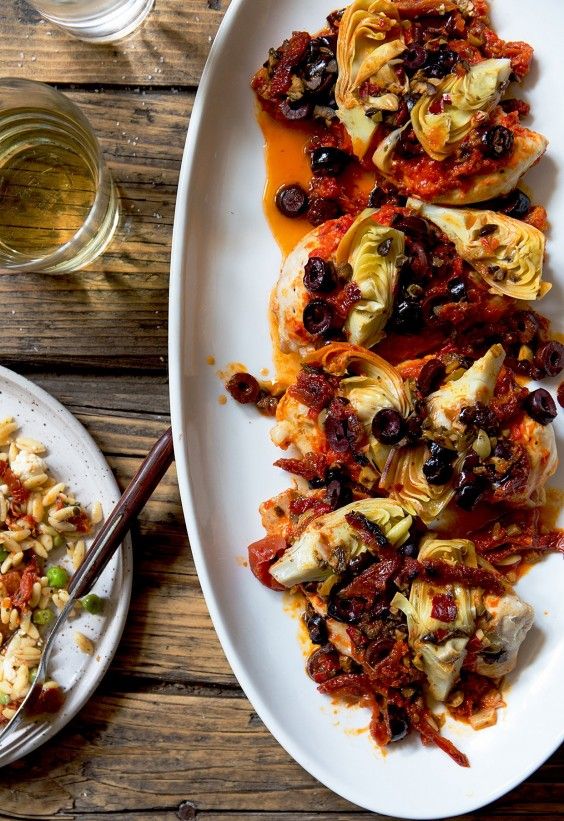 We like to think of this recipe as a jazzed-up Hunter-style chicken. The chicken soaks up flavor while cooking in a sweet red pepper spread with Kalamata and green olives.
The artichokes add a nice savory flavor and a texture you just can't beat. If you feel like amping up the dish even more, throw in some feta cheese or goat cheese.
Either of these can transform even the plainest flavors into the perfect Mediterranean lunch.
Because who needs to cross the Atlantic to find great meals?
Tuck into a piece of chicken slathered in a tangy honey-barbecue glaze. Bring the backyard into your living room. Because why not? You can whip up the glaze using apple cider, paprika, chili powder, barbecue sauce, and honey.
This one comes together quickly on the grill — in 8 minutes, to be exact — without getting sticky BBQ sauce everywhere, since it all stays in your throwaway foil.
If you want more of a vegan BBQ vibe, we've got you covered.
Instead of greasing up the skillet, reaching for the foil is an easy way to make fajitas healthier. And when it comes time to decide whether to top your tortilla with cheese or sour cream, just go with both.
If you have the time, we say get as much flavor into your chicken as possible: Let it marinate for as long as it can before dinner, though this step is totally optional.
We love a good marinade — you can simply leave something alone and it gets better. What's not to like?
Mexican night can be so much more than tacos — and way lower in carbs too.
This meal is cost-effective AF. All you need in your shopping cart is:
frozen corn
black beans
taco seasoning
chicken
salsa
pepper jack cheese
cilantro
If you're cooking on a grill, be sure to flip the packets halfway through the cooking time to ensure evenly cooked meat.
When it comes to pineapple on pizza, the jury is still out. But even pizza purists can get behind the taste of the fruit grilled with smoky BBQ chicken.
Alongside BBQ sauce and pineapples, soy sauce, garlic, red bell peppers, zucchini, and green onion make this a super interesting, flavor-packed meal that could silence even the most ardent pineapple hater.
You can avoid buying pricey precut pineapple and go for a fresher option by learning how to cut a pineapple the right way,
You may not be able to fly to New Orleans for a soul-satisfying dinner, but attempting Creole-style food in your own kitchen doesn't have to be intimidating.
All you need to get started is a large zucchini, broccoli florets, bell pepper, garlic, and spices for your homemade Cajun seasoning. These chicken packs will definitely add a kick to tomorrow's lunch.
This lemony chicken dish takes just 30 minutes (including prep time) to get on the table.
Be careful not to check on your masterpiece too often while it's baking. If you must, check the tenderness of the asparagus to test for doneness. Every time you fully open the foil packet, you're releasing steam that's needed to fully cook the chicken.
This chicken and potatoes recipe will make Mama proud.
Here's what you'll need:
garlic powder
onion powder
dried oregano
dried basil
dried dill
With these few flavorings, you'll perfectly season your chicken before tucking it into foil and throwing it on the grill.
Mushrooms are always all-stars alongside starchy potatoes, but if you've got finicky eaters on your hands, you can easily swap in asparagus or broccoli.
Teriyaki chicken is a crowd favorite. It's sweet, it's savory, and most importantly, this homemade alternative won't be loaded with ridiculous amounts of sodium.
These foils are packed with:
saucy, glazed chicken
broccoli
bell peppers
pineapple
edamame
green beans
If you have the extra few minutes, definitely shoot for making the teriyaki from scratch so you know exactly what's going into your sauce.
Bored of chicken? We got some fishy ideas for you as a replacement.
There we go — maximum flavor with minimal prep time, cleanup time, and general effort.
If you're concerned about the foil adding metals to your food, learn more about that here. (Your body gets rid of most aluminum when you use the bathroom.)
You may fall in love with the idea of not having to clean up, in which case one-pot meals are a world of discovery just waiting for you to lift the lid and peek in.