The day drinkable food was invented, humanity reached a zenith. It is second only to peelable cheese. Soup is a wonder, and we should relish in its might and drink in its glory.
Soup can also be pretty darn healthy if you choose the right one. Chicken soup has a well-earned reputation as "Jewish penicillin," and many parts of Asia run on nutritious, filling broths and veggie noodle soups.
If you've had a couple slices too many, you might be feeling like your body needs a bit of a reset. But that doesn't mean punishing yourself during the week. Instead, you can jump on the souping trend by replacing one or two midweek meals with one of these healthy soups.
That means no chilis, chowders, or creamy bisques — sorry. We're talking light, broth- or veggie-based bowls that won't weigh you down and are super nutritious.
Spoon up one of these 19 soups to avoid hanger the healthful way.
If you fancy a soupy feast from the East, look no further than these fantastic, filling, and fancy Asian-style broths.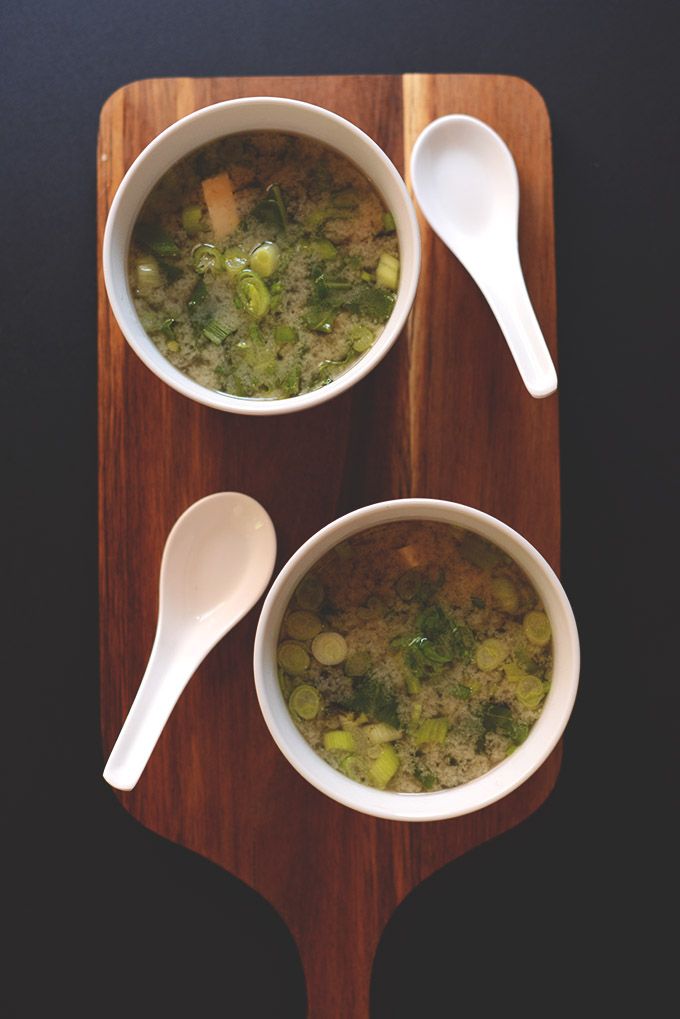 Soups are dope for their simplicity, and this soup fits the bill snugly. Four ingredients (including water or veggie broth) make up this naturally flavorful delivery of liquid loveliness.
With plenty of tofu for protein and miso paste for that umami taste, this bowl is plant-based eating at its best. It may have zero extra seasonings, but the natural flavor of the veggies will blow you away, and the kick from the ginger leaves little need for anything else.
Love miso but after something a little more substantial? We've got you covered.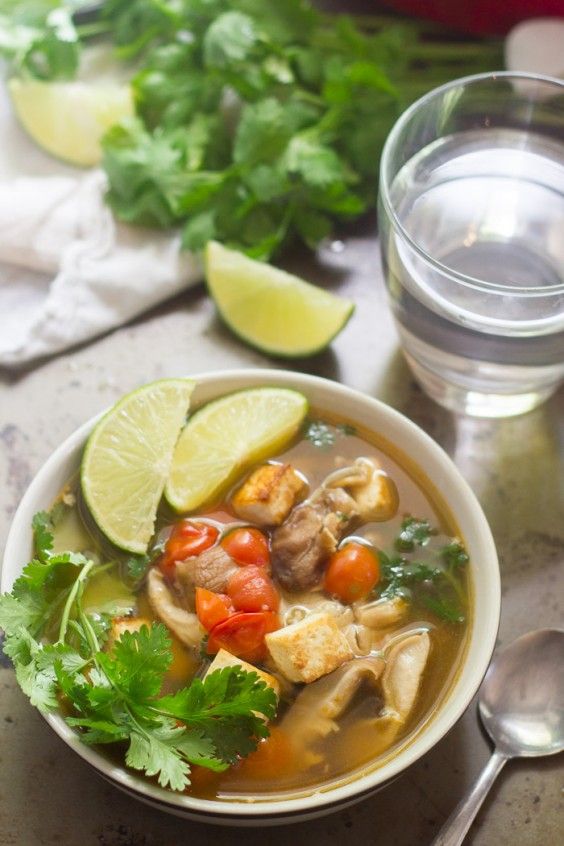 Inspired by tangy tom yum broth, this Thai-style soup swaps some of the traditional ingredients for more easily accessible items.
The sambal, lemongrass, ginger, and cilantro in the soup keep its familiar fragrance on point. A buck says this soup rivals any restaurant version. (Disclaimer: It's a Monopoly dollar. I don't actually have to give you any money.)
Here are 11 Thai recipes you can throw together any day of the week. Who needs takeout?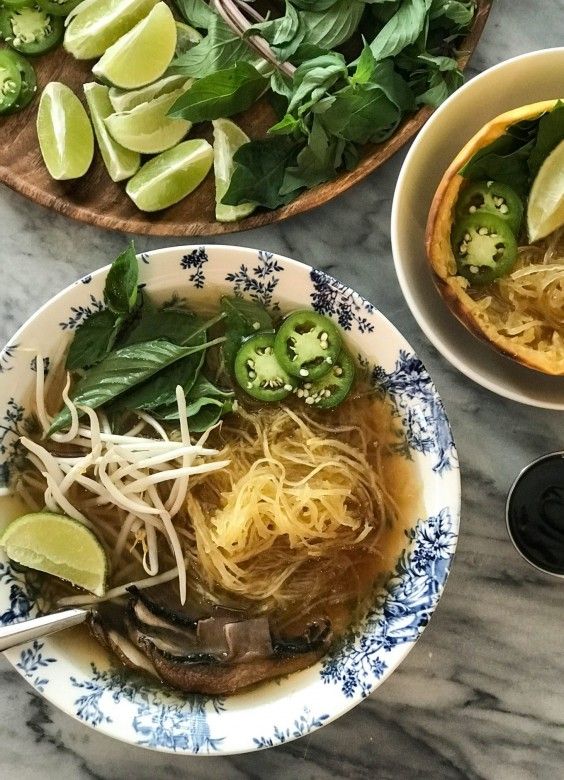 Traditional pho (pronounced "fuh") is a deceptively heavy offering due to the rice noodles that live in its depths. This version replaces the rice noodles with strands of spaghetti squash, drastically cutting the carb count.
Once the squash takes a scuba dive in the cinnamon-and-anise-flavored broth, the dish tastes like the real deal. Pho shizzle.
If you're on a Paleo diet, head here for more Asian-inspired soup options.
Chunky, filling, and lean, meat can really give soup some oomph if it's part of your diet.
If classic chicken noodle soup had a millennial nephew, it would take the shape of this recipe. And it would be seriously sassy.
No, a zoodle isn't a trendy new breed of dog that somehow incorporates zebra DNA. Instead of pasta, spiralized zucchini bulks out this soup.
The drizzle of sriracha makes this dish about as new age as it gets. But the generous chicken chunks and garlicky broth help maintain the comforting quality of the OG version.
Here's how to use the very same spiralizer to make sweet potato fries.
This satisfying, light Instant Pot creation is some distance from the bland, watery nonsense that might come to mind when you think of cabbage soup.
How does the soup pull it off? Well, all-purpose seasonings, dried herbs, lots of black pepper, and a good amount of diced ham seem to do the trick. Or maybe cabbage just has more swag than you originally thought.
Make Taco Tuesday happen even when you're sticking to soups, even when it's not Tuesday, and even when Taco Tuesday is not part of a "Lego Movie"-esque evil plot to glue everyone to the floor.
This piquant tango of shrimp and veggies has the perfect balance of lightness and flavor. Warning: There's a chance you may never want to eat a dry taco again.
We know this looks like a hearty soup, and it is, but the broth base keeps it from feeling too heavy. Sweet potato and turkey give this soup a rich, warming flavor. Save it for the days you want a substantial but light meal.
Sweet potato is a crafty devil that fits most recipes like a glove. Not convinced? Here are 45 reasons you're wrong.
If all-veggie soup just isn't hitting the spot, a simple solution may be to throw some shrimp into the mix. It's a single addition that provides bulk, flavor, and protein all at the same time.
All shrimp, no carbs: Read about more intriguing ways to put shrimp in your mouth.
Meat simply isn't an option for some people. Luckily, soup's always got you — and if you nail enough of these recipes, you've always got soup.
This is a bowl of all-conquering nutrition just waiting to happen. Packed with spinach, zucchini, avocado, and apple cider vinegar (praise be!), the nutritional profile of this soup is incredible on its own merit.
But what makes it even better is its superpower: You can lighten the soup as you like with water or add richness by mixing in coconut milk and nutritional yeast.
Remember how you used to buy ringtones to customize your Nokia 3310? This is that, but more edible. And cheaper.
It's filling, wholesome, and super tasty, and so are these alternative vegan options to bowl you over.
Look at all that goodness! 😲
If it's true that we eat with our eyes first, then we're guaranteed total satisfaction with this colorful soup. The pretty appearance would be immaterial if the soup tasted like an old boot, but luckily, you can leave those criticisms at the door — this soup sings with flavor.
The ginger, garlic, and herbes de Provence are simple enough seasonings to let the natural flavors of the six vegetables shine through.
If you feel that soup involves too much chewing, here are 31 ways to completely pulverize your vegetables.
Fennel is a longtime favorite in healthy food circles for its effects on digestion and lactation.Badgujar SB, et al. (2014). Foeniculum vulgare mill: A review of its botany, phytochemistry, pharmacology, contemporary application, and toxicology. DOI: 10.1155/2014/842674 If you've been scratching your head about how to actually use it in a recipe, we have the answer.
You won't see the fennel underneath the bright green of the asparagus and basil, but it announces its presence through a distinctive, slightly sweet flavor.
Spiralized veggies aren't quite pasta, but the two are good pals and the veggie version has way more nutrients. While the nifty swap is nothing new, it is the gift that keeps on giving.
Recipes like this one use several noodle-fied (noodulared? ennoodlicated?) veggies for a variety of flavors and colors. And you can put this meal on the table in just 10 minutes.
If you're looking for oodles of noodles with a veggie twist, take a peek at these five options.
Become the Timbaland of your kitchen by whipping up some sick beets.
Would it help you ignore that awful pun if we tell you that beets might help you control blood pressure,Coles LT, et al. (2012). Effect of beetroot juice on lowering blood pressure in free-living, disease-free adults: A randomized, placebo-controlled trial. DOI: 10.1186/1475-2891-11-106 reduce inflammation, and boost brain health?Clifford T, et al. (2015). The potential benefits of red beetroot supplementation in health and disease. https://www.ncbi.nlm.nih.gov/pmc/articles/PMC4425174/
OK, great. Glad we're on the same page.
Borscht isn't the only soupy home for beets. See how casually they slip into this crimson (and totally vegan) concoction. Apples join the fray to add natural sweetness, and fresh herbs wander around the party looking for the restroom, spreading flavor the whole time.
Even taking into account the roasting time for the beets, it all comes together in less than an hour. If you need more quick, easy soups that require zero talent in the kitchen, head on over to this piece.
One look at this thick, velvety soup and you'll be convinced it contains cream, potatoes, or at least puréed nuts. But it actually has none of the above. Everything you've ever known is a lie.
Believe it or not, that texture comes entirely from blended non-starchy veggies and a touch of olive oil. It's like drinking tasty air — not an udder in sight.
How's that for light but satisfying?
Egg drop soup is a (Crouching Tiger?) hidden treat at Chinese eateries the world over. It might not be the first thing that comes to mind when you think of the menu at your local takeout place, but most people adore it.
It's also much easier to make at home than you'd think. It's really a matter of stirring beaten eggs into a boiling pot.
This recipe also takes the nontraditional route of adding extra veggies in the form of carrots, spinach, and even a touch of tomato sauce for some more flavor without extra fat.
If you have too many eggs and not enough ideas, here are some more ways to put those eggs to good use.
Many of us have a nostalgic soft spot for tomato soup from a can (preferably accompanied by a grilled cheese), but the condensed kind doesn't come close to this made-from-scratch version.
Not only is it free of high-fructose corn syrup, but the addition of roasted red pepper gives it a smoky depth you'd never find in a can.
Inspire rage and envy in anyone who ever slopped soup out of a can. And while their skin turns green, you can use tomatoes to look after yours.
Enjoy bowlful after delicious bowlful of this immune-boosting, carotenoid-crammed, anti-inflammatory soup on cold winter days.Huang Z, et al. (2018). Role of vitamin A in the immune system. https://www.ncbi.nlm.nih.gov/pmc/articles/PMC6162863/
Its nutrients do a pretty awesome job of helping your body fend off the flu, and a sprinkle of golden raisins adds a subtle yet unmistakable sweetness that takes the classic carrot and ginger combo to new levels of tasty.
Talk about raisin the bar.
If ginger is your bag, learn more about its benefits.
With infection-fighting garlic, kale, shiitake mushrooms, and turmeric, this soup is practically an edible flu shot (though you should still get a real one of those).
Downing a bowl or two of this will prep your immune system for tackling any passing pathogen it sees. (But if you're reading this during the COVID-19 pandemic, know that this soup is not actually a shot and you still need to do your part to save the world by staying home and watching Netflix.)
Read about more herbs that work wonders for your immune health.
This recipe takes two of today's trendiest veggies and blends them up into one irresistibly creamy concoction that's bound to sound impressive at Zumba.
The soup gets its color from the kale, its texture from the cauliflower, and its TLC from you. If the idea of chewing kale makes you want to hide, this is a much easier ride. (And if kale's not your thing, here are 37 ways you can drink spinach!)
Whether you're cooking up a warm bowl for a winter's night or looking for something light before or after a workout, there's a soup to suit everyone, and it doesn't have to be creamy and heavy.
These soups are super versatile, and many of them are quick and easy to boot.
If the idea of waiting any amount of time to eat soup makes you upset, here's our guide to breakfast soups (yes, breakfast soup is a thing).