Oven-baked salmon sounds—and tastes—fancy, but it's so easy to make you won't believe it. Plus, making your main dish in the oven frees you up to do something else while the meal cooks. (Netflix? Chill? Or make a delicious veggie side dish?)
Cleanup is minimal, as long as you remember to line the baking dish or sheet pan with tin foil. (Don't skip that step—trust us). This method also works well when you're cooking two or more fillets—simply increase the cooking time.
Grab a sheet pan or baking dish, nonstick cooking spray, olive oil, salmon fillet, salt, and pepper and you're good to go.
Directions:
1. Preheat oven.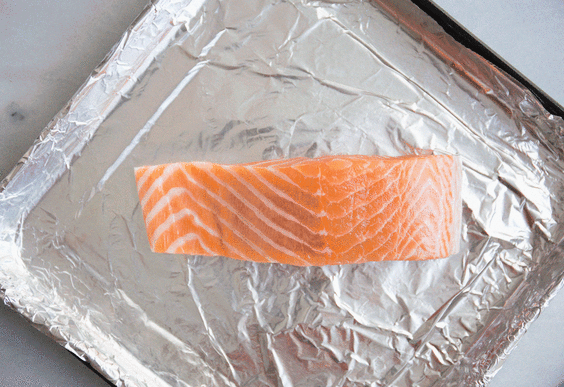 Preheat oven to 400 degrees. Line a sheet tray or baking dish with foil and spray foil with nonstick cooking spray. Pat salmon dry with a paper towel.
2. Season.
Drizzle salmon with about 1 tablespoon olive oil. Sprinkle with salt and pepper to taste (or any seasonings you prefer).
3. Bake for 10 to 12 minutes.
Bake in the top half of the oven for 10 to 12 minutes. Start checking for doneness around the 10-minute mark, but a thicker fillet will need more time. Fish is ready when the flesh flakes easily with a fork.
4. Serve.
Squeeze a wedge of lemon over the top right before you serve.