We all know Thanksgiving is really about the food (and gratitude, of course!). But what if celiac disease or a non-celiac gluten sensitivity keeps you from enjoying holiday dishes like stuffing, pie, and uber-creamy au gratin potatoes?
Fear not, friends: We've got your back — and your stomach. We've rounded up 25 tasty gluten-free Thanksgiving recipes that make it possible to enjoy Turkey Day.
25 gluten-free Thanksgiving recipes
From fluffy stuffing to creamy pies, these gluten-free recipes will satisfy even the pickiest, most gluten-loving members of the family:
Autumn harvest kale salad
Baked zucchini chips
Loaded sweet potato bites
Easy stuffed dates
Easy gluten-free green bean casserole
Roasted Brussels sprouts with pomegranate and pecans
Healthy sweet potato casserole
Butternut squash mac and cheese
Vegan corn casserole
Spiced cranberry sauce
Creamy vegan mashed potatoes
Sweet potato bread
Vegan pot pie
Wild rice and butternut squash
Air fryer turkey breast
Homemade turkey sausage
Dry brine turkey with garlic butter rub
Simple cinnamon roasted apples
Vegan lentil loaf
Sweet potato coconut crisp
Savory gluten-free stuffing
Perfect, easy gluten-free pecan pie
Gluten-free vegan apple crisp
Gluten-free pumpkin slab pie
Purple sweet potato pie bars
Loaded sweet potato bites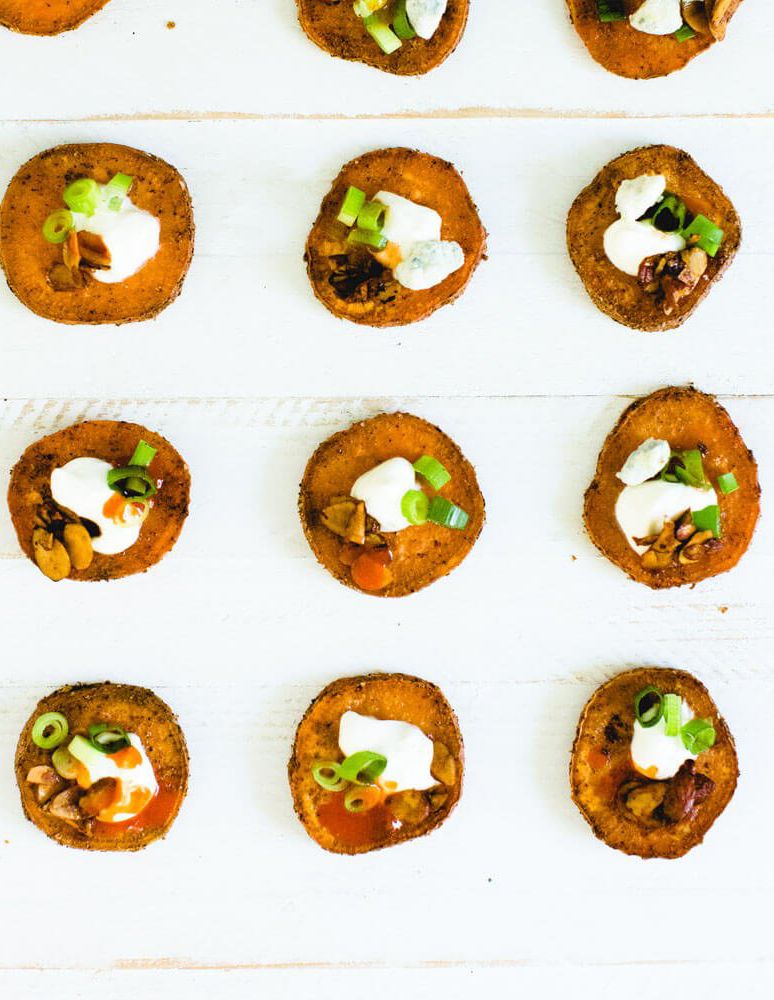 Swap crostini and crackers for these gluten-free toasted sweet potato slices. The recipe calls for common pantry spices, hot sauce, shredded cheese, sour cream, and scallions — but you can load 'em up with any of your favorite appetizer toppings.
Heads-up: This recipe makes only one baking sheet of potato bites. If you're serving a crowd, double or triple the ingredients.
Autumn harvest kale salad
This pomegranate-seed-studded salad makes a beautiful opener to your Thanksgiving feast. It's topped with sweet Honeycrisp apple slices, caramelized almond slices, and a tangy apple cider vinaigrette.
Bottom line? No one will miss the gluten from soggy croutons or wheat-thickened salad dressing.
Baked zucchini chips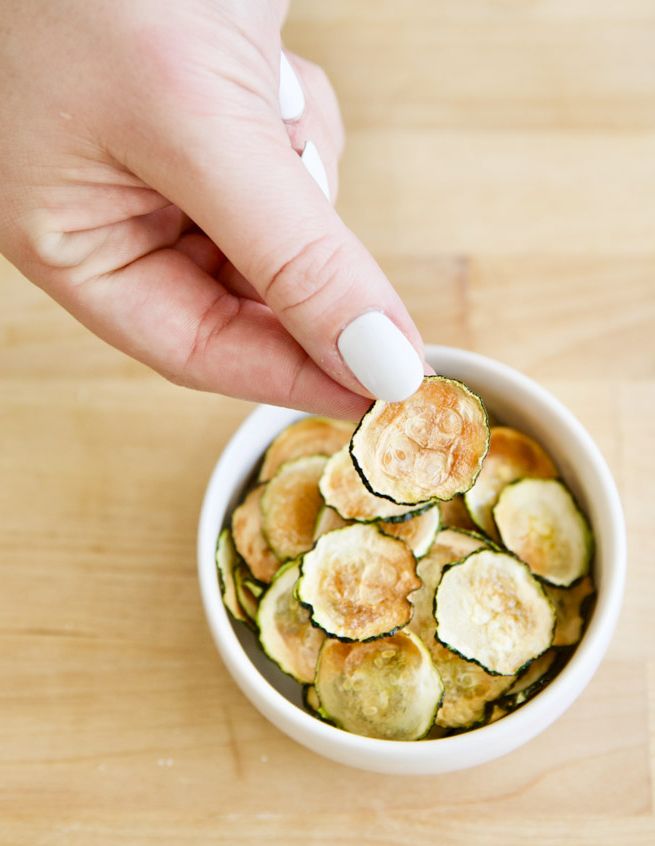 There's a common misconception that Turkey Day appetizers should be formal. But your friends and fam might appreciate this simple, healthy twist on potato chips. While you're pouring drinks and setting the table, they'll be munching away on baked zucchini chips with whatever gluten-free dip or salsa you choose.
Easy stuffed dates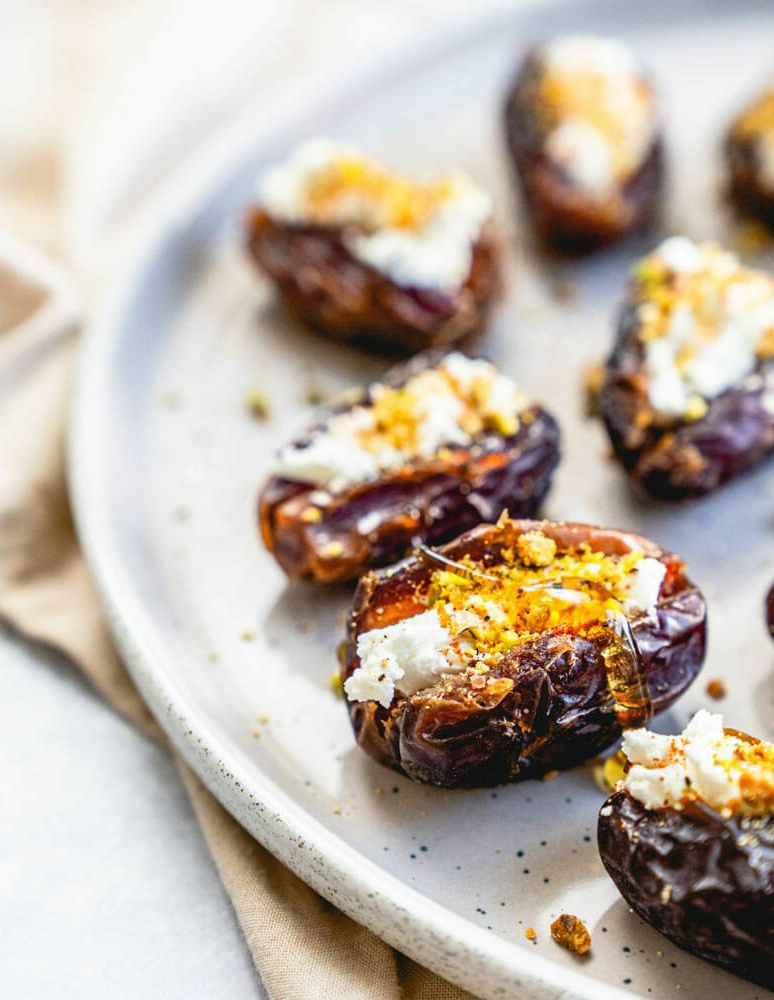 Stuffed dates seem fancy-schmancy, but they're super easy to prep and look pretty on an appetizer platter. Plus, the sweet dates + tangy goat cheese = a match made in heaven. Good luck keeping these stocked on the kitchen counter until it's time to carve the turkey!
Easy gluten-free green bean casserole
Not a fan of turkey? We see you. For many of us, the Thanksgiving feast is *all* about the sides and pies.
This gluten-free green bean casserole is as crunchy and creamy as your granny's OG version. The trick is to whip up the recipe's homemade cream of mushroom soup instead of relying on the sodium-heavy, gluten-containing canned soups from the supermarket.
Our prediction: You won't miss the gluten, but you *will* be back for seconds.
Vegan corn casserole
Would the Thanksgiving Day table be complete without corn casserole? Maybe, maybe not. But wherever you stand on the T-Day classic, you'll find that this vegan, gluten-free spin tastes a *lot* like the Jiffy Corn Muffin Mix original.
If you don't keep ingredients like coconut oil, millet, and coconut sugar on hand, here's your warning. Squeeze in a grocery run before the holiday rush and stock up.
Roasted Brussels sprouts with pomegranate and pecans
This six-ingredient side dish takes veggies to a whole new level. With a caramelized leek here and a toasted pecan there, these sprouts are anything but boring.
You can also make this dish on the stove or in the oven, which is helpful if your kitchen has been dubbed Command Central for Thanksgiving Day side dish prep. Just be sure to time it so that you can serve the piping hot Brussels sprouts immediately.
Secretly healthy sweet potato casserole
This recipe takes a classic Thanksgiving side dish and makes it gluten-free and healthy-ish.
Here's how: The creamy filling is anchored by coconut milk, which is brimming with healthy fats. And the crunchy oat topping is sweetened with honey or maple syrup instead of sugar. Of course, we know natural sweeteners are *still* sugar, but at least honey gives you a microdose of minerals, right?
Butternut squash mac and cheese
Served in little cups, this gluten-free mac and cheese could also be an ooey-gooey Thanksgiving appetizer. The recipe uses butternut squash instead of flour to thicken the cheese. And you're welcome to use your favorite gluten-free pasta, whether it's brown rice fusilli or quinoa penne.
Spiced cranberry sauce
Let's keep it 100: Most cranberry sauces are naturally gluten-free. Bu check the label for sneaky additives or potential cross contamination in the manufacturing facility. Or, if you have the time, you can whip up this healthier, guaranteed-gluten-free version.
This homemade Turkey Day staple packs in oodles of antioxidants and fiber (thanks, cranberries!) without any high fructose corn syrup or preservatives. You can safely keep it in the fridge for up to 7 days or the freezer for up to 3 months.
Creamy vegan mashed potatoes
If you're hosting Thanksgiving or Friendsgiving, you've probably gotten notice of a dietary restriction or two. Respecting dietary needs goes beyond good hosting — it's a matter of health too.
These creamy vegan mashed potatoes are the perfect gluten-free, dairy-free Thanksgiving side dish. Savory, filling, and delicious, this mash will satisfy *everyone* at the table.
Sweet potato bread
This twist on pumpkin bread uses sweet potato puree and gluten-free oat flour. It's a vegan autumn treat that's tender, sweet, and easy to whip up.
Bonus: Make it the day before Thanksgiving to avoid same-day prep and let the flavors fully meld. Just store it loosely covered on the counter or in a breadbasket.
Vegan pot pie
This gluten-free, dairy-free, meat-free main dish uses blanched almond flour and cassava flour to build a delicate, flaky crust. Nutritional yeast adds a cheese-like flavor. Fill it with a medley of veggies, cover it with another layer of crust, and voilà! You've got a Thanksgiving main dish for even the pickiest eaters.
Wild rice and butternut squash
This gluten-free, dairy-free Thanksgiving side dish can be made a day ahead. The wild rice, butternut squash, and pomegranate seeds create a vibrant rice salad that can be served warm or chilled. Bon appétit!
Air fryer turkey breast
Most of us grew up with one Thanksgiving main dish front and center: the bird. Though some store-bought turkeys are glutenous as heck (thanks, stuffing), it's super easy to make 'em juicy, savory, and gluten-free.
This air fryer recipe works best for small crowds since it's, ya know, just the turkey breast. If you're looking for a quick (less than an hour!), tender turkey dish for two to four people, look no further.
Homemade turkey sausage
Tired of dry, boring turkey on Thanksgiving Day? Why not get creative with the bird by whipping up homemade turkey sausage instead? It would also steal the spotlight at a post-Turkey Day brunch.
This recipe uses ground turkey, bacon fat, and a handful of spices. It's a fun turkey main dish for keto eaters or folks on a low carb diet.
Dry brine turkey with garlic butter rub
If you're looking for succulent Thanksgiving turkey to feed a crowd, stop here. Many brine recipes are gluten-free, and this dry brine turkey is no exception. It's almost guaranteed to be tender and juicy on the inside and crispy and golden brown on the outside.
The carrot, onion, and orange stuffed inside the turkey add a delightfully aromatic touch.
Simple cinnamon roasted apples
Meet one of the simplest healthy gluten-free treats for any occasion. You'll need apples, vanilla extract, sugar, lemon juice, cinnamon, and about 10 minutes for prepping. Easy-peasy!
Vegan lentil loaf
Being vegan doesn't always = being healthy. But in this case, eating plant-based and gluten-free pays off. This lentil loaf is packed with filling fiber and nutrient-rich veggies for a food allergy-friendly feast.
Sweet potato coconut crisp
Here's a better-for-you version of candied marshmallow yams. The filling includes sweet potatoes, coconut milk, and egg whites, and the topping made of oats and pecans maintains the OG recipe's crunch. We call this a gluten-free #win.
Savory gluten-free stuffing
One of the worst things about eating gluten-free is missing out on bread. Traditional stuffing is basically bread cubes soaked in eggs and liquid, which is a real downer for the celiac crowd. This Thanksgiving stuffing keeps it simple with toasted gluten-free bread, savory veggies, eggs, herbs, and chicken stock.
Perfect, easy gluten-free pecan pie
Nutty, chewy, and sweet, this gluten-free pecan pie is seriously simple to make.
After whipping up the flaky gluten-free crust, you'll create the custardy pecan filling using superfine white rice flour as a thickener (in place of corn syrup). Bake the pie at a *slightly* lower temp than most pies to help with even heating.
Gluten-free vegan apple crisp
Let's hear it for another gluten-free, dairy-free Turkey Day treat! This holiday dessert uses crumbly oat topping instead of flour. And the homemade apple filling is a stellar combination of sweet and spicy.
Gluten-free pumpkin slab pie
Thanksgiving would feel incomplete without pumpkin pie, right? This pretty slab pie looms large enough to serve a crowd of gluten-free eaters. It will also stay fresh in the fridge for a few days after the holiday — that's if you have any left over.
Purple sweet potato pie bars
Would you believe these vegan, gluten-free pie bars don't have *any* artificial food coloring? The rich hue comes from purple sweet potatoes, which you can find at some grocery stores (hey-o, Whole Foods) or farmers markets or even online.
We'll be honest: This recipe has some unusual ingredients. But we also think that's what makes it so perf for a special occasion like Turkey Day.
Maybe you're planning a gluten-free feast to honor a friend's dietary needs, or maybe you or a family member has celiac disease. Gluten can be sneaky. Follow these tips from the U.S. Department of Health and Human Services to steer clear of it this Thanksgiving:
Watch out for cross contamination. Cross contamination is when a food with gluten touches a gluten-free food. Basically, it means the GF food isn't fully GF anymore. So if you're baking a gluten-free pie and a pie made with regular flour, keep all ingredients, utensils, and prep spaces separate.
Check your labels. Packaged products don't often list "gluten" among their ingredients. So check for gluten-containing grains like wheat, durum, emmer, semolina, spelt, barley, and triticale.
Opt for foods labeled "gluten-free." If you're not sure about some of the ingredients, check the label for a "gluten-free" marking.
Make your feast from scratch. One of the easiest ways to ensure that your food is gluten-free is to make it yourself!
Offer simple, whole-food snacks. The more ingredients a food has, the more chance there is for cross contamination at the manufacturing facility. So stock up on naturally gluten-free whole foods like nuts, seeds, veggies, and fresh fruit.