Serious question: Why does fruitcake still exist? Crammed with the rejects of the dried fruit world, roughly the weight of a small truck, and filled with an average adult's yearly sugar quota, it's no wonder the booze-soaked bread-brick is high on the list of worst holiday foods ever.
Thankfully, there's no shortage of alternative breads to celebrate the festive season. From chocolaty loaves to cheesy biscuits, these tastier, better looking, and healthier bread recipes are guaranteed to keep spirits bright.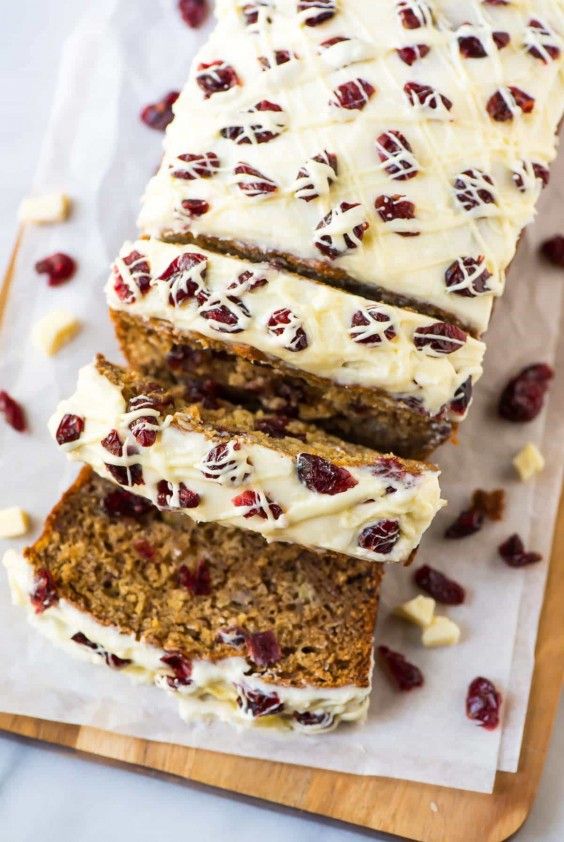 So beautiful! With a white chocolate drizzle and cranberries on top, this banana bread is all dressed up for the holidays.
And surprise, surprise! Don't let the appearance mislead you. Inside, it's made with whole-wheat flour, dried fruit, and nonfat dairy (yes, really).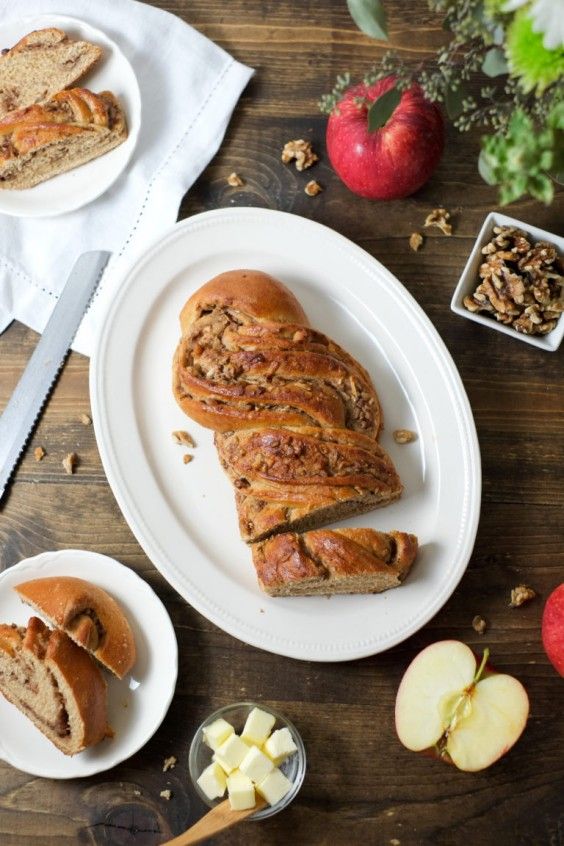 We like to think of this as a cross between pastry and bread. With less sugar and oil than other breads, it can pass as a breakfast option, but the cinnamon-spiced, nutty apple mixture in the middle? Tastes like dessert.
This recipe makes sure your holiday loaf is a veggie powerhouse, with the addition of sweet potato purée and grated carrots.
It really doesn't get better than chowing down on carby goodness and knowing that you're getting a ton of nutrients in the process.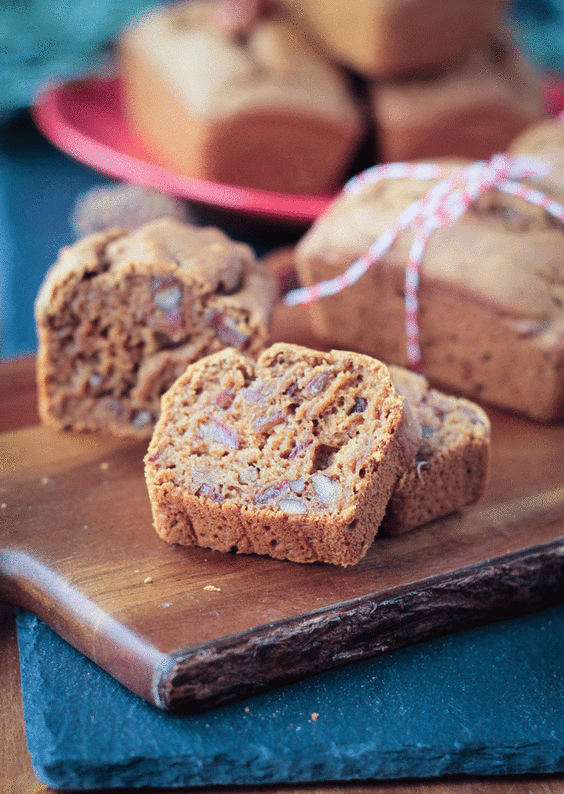 This nutty loaf is the poster child for unrefined sugars, using dates, coconut sugar, and molasses to get all the necessary sweetness.
Plus, if you've never used aquafaba (chickpea water) in baking before, this is a great, nonintimidating way to start.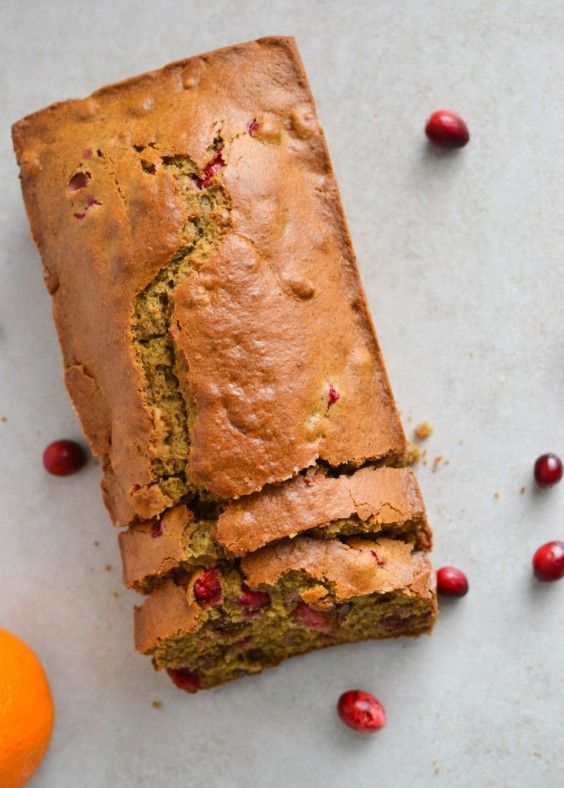 Put leftover cranberries to good use by throwing them into the batter for this quick bread. It's a great way to add festive flair to snack time or breakfast, and the fresh orange juice, walnuts, and whole-wheat flour make sure that a slice is as hearty as it is tasty.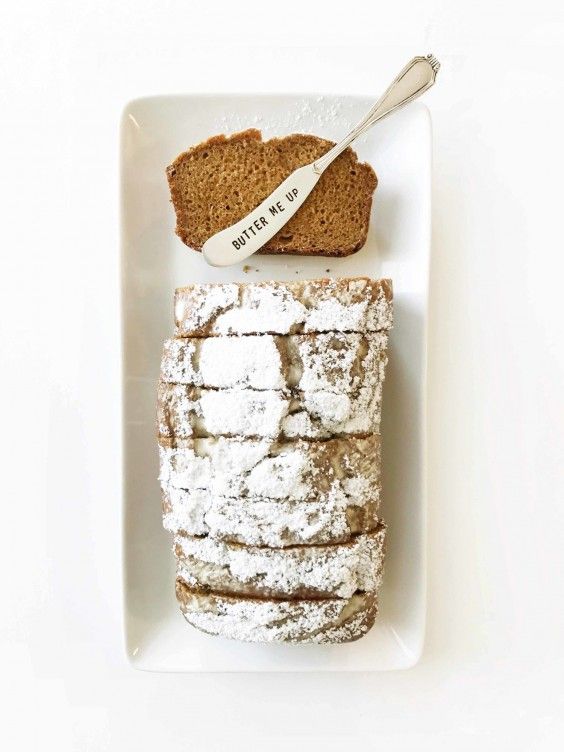 This lighter loaf packs in all the spicy, rich gingerbread flavor without turning into an empty-calorie bomb. Simple but classic, a slice of this with a cup of coffee or tea will never disappoint.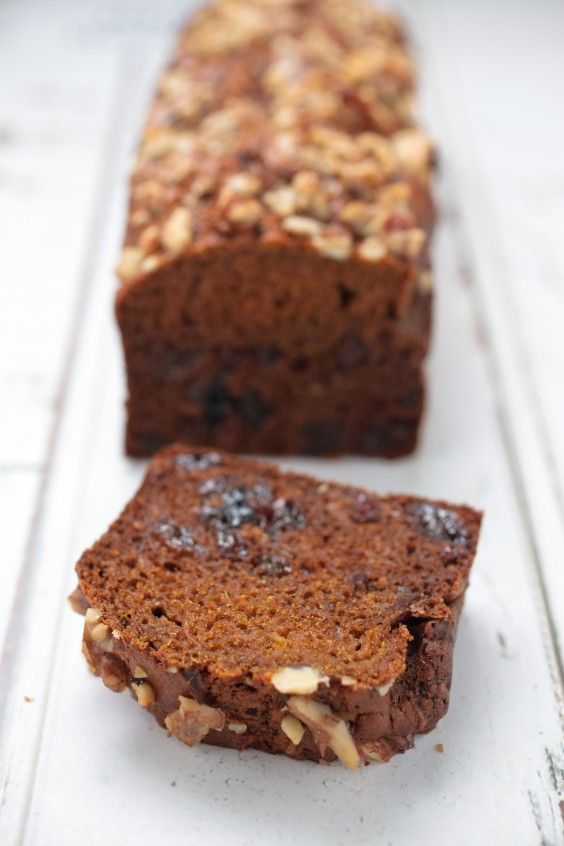 What's a holiday-related roundup without something pumpkin? From two cups of pure pumpkin to hearty spelt flour, ground spices, and unrefined sweeteners, this bread is real food at its finest.
Ginger and nutmeg join cinnamon to give these breakfast buns even more warm spice. With coconut oil and coconut sugar for the butter and brown sugar, they may still look exactly like Cinnabon creations. But as far as taste goes, these are in a league of their own.
Modeled after mini pumpkins, these adorable buns make for quite the showstopping breakfast.
It's much easier to get those ridges and stems than it looks. All you need is a pair of kitchen scissors and some cinnamon sticks. The end result is so worth the extra bit of effort.
Celebrate the holidays, Swedish-style, with these swirly, saffron-scented Scandinavian rolls. Aren't they lovely to look at?
There's less sugar and butter in this recipe than traditional St. Lucia buns, but the combination of the slightly floral saffron and the sweet raisins is perfection.
It may not be traditional, but babka in bun form is so much fun. And even if you're not the best baker out there, this recipe couldn't be simpler to follow.
These babies will have you coming back for seconds, with their big chunks of chocolate swirled into fluffy rolls of dough. Plus, your house will smell like heaven for hours.
For these sticky pecan buns, there's no waiting for the dough to rise.
Get ready for this genius innovation: These treats are made in a slow cooker, not the oven, so you don't have to stand around and keep an eye on them as they bake. Set it and forget it.
At some point during the holidays, everyone's likely to have sweet potatoes on hand. Instead of baking them into yet another casserole, turn them into these soft, fluffy dinner rolls.
Sweet from the tuber and the maple syrup, but slightly earthy from the sea salt and rosemary, they're the perfect side for any festive table.
These dinner rolls look simple but have so much going for them. For starters, molasses provides that deep sweetness without being overwhelming.
Then there's just enough cocoa powder for that irresistible golden-brown color, but not so much to make them taste like chocolate bread. Be prepared for these to outshine even the entrée.
Holiday cooking doesn't need to hike up your stress levels. If you're not a from-scratch baker, go easy on yourself without phoning it in with the help of some cornbread mix.
Jazzed up with cheddar and a mouthwatering garlic butter, these biscuits may only take a jiffy (literally) to make, but don't taste it at all.
These biscuits are packed with butternut squash. The puréed veggie keeps them from becoming dense, cardboard-like rocks, and gives them a totally natural golden-yellow tint.
Take 'em to any holiday gathering and we guarantee even your most curmudgeonly uncle will be blown away.
Eggs are one of the main ingredients in regular challah, but this recipe is looking out for the vegans and those allergic to eggs.
With no eggs in the batter or the glossy top coat, and olive oil instead of butter for that garlicky crust, it might just be your new favorite garlic bread — non-vegans included.
Gluten-free friends, get in on the homemade bread baking with this satisfying loaf.
Almond and coconut flours step in for the wheat, and with pumpkin seeds, pumpkin purée, rosemary, and coconut sugar, the sweet and savory balance make this just as good for breakfast as it is as a side for turkey.
These dinner rolls are a refreshing departure from the overload of sweet pumpkin recipes during the holidays. With olive oil, cumin, thyme, the flavor combo here is hard to find at any ordinary bakery.
We all want to bring our A-game to the holiday table — or work party, ugly Christmas sweater competition, white elephant gathering, etc. — but some recipes are just way more complicated than we thought they were. (Oh no, is something burning?!)
But that's not the case with this roundup. These holiday bread recipes are as simple to make and gift-worthy as they come. Consider them a breath of (sweet, sweet) fresh air for those willing to get a little creative.
From our Greatist family to yours, Happy Holidays!