If you're craving some greasy fries or a juicy burger but you're gluten-free, it can be hard to find fast-food options.
Ronald McDonald might not be showing off a gluten-free menu, but some fast-food chains have upped their gluten-free game. Chains like KFC and Popeyes, which are known for fried items, likely won't have too many options.
But fear not — some restaurants are hopping on the gluten-free train. We've rounded up the top gluten-free fast-food options, and we'll tell you how fast food stacks up when it comes to gluten contamination.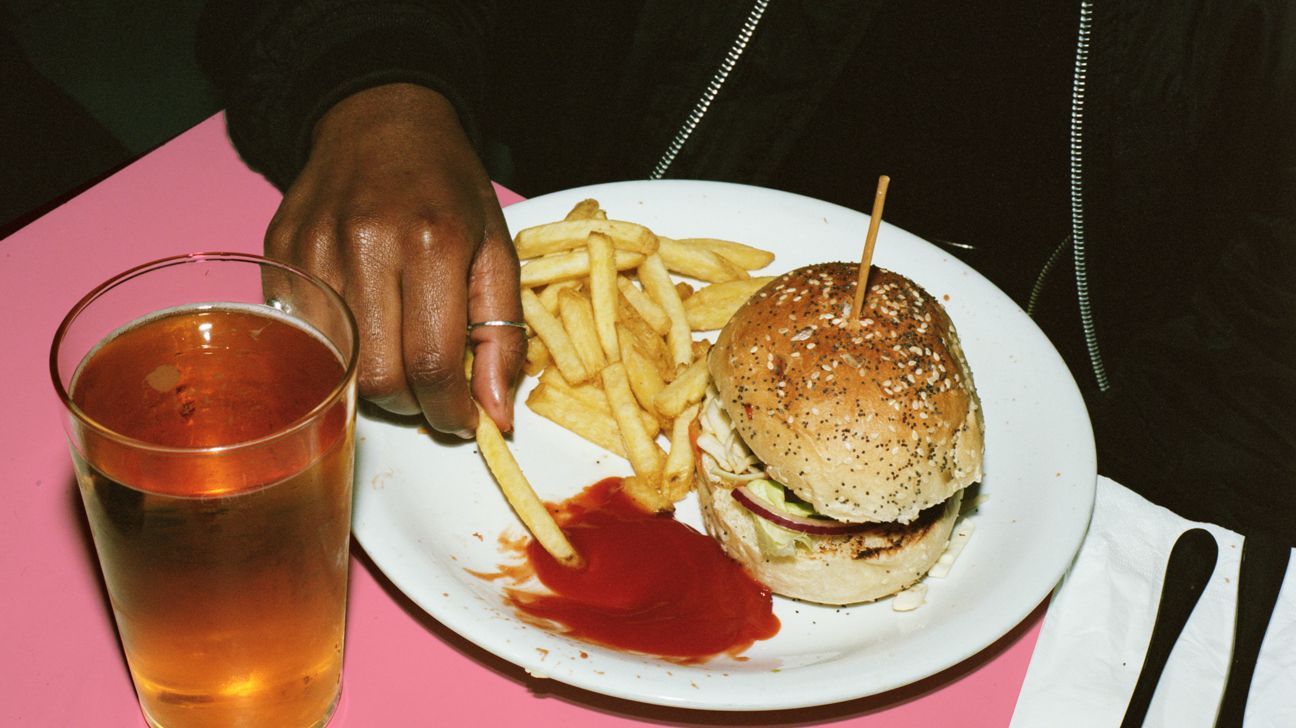 Gluten is a protein found in wheat, rye, and barley. If you're on a gluten-free diet, you'll need to avoid any products that contain this protein. Wheat products like breads and pastas may be the first to come to mind, but gluten can sometimes pop up in other packaged foods too.
When eating out, it can be difficult to eat gluten-free since sandwiches come on buns and salads often include breaded chicken and croutons. Even if you order your meal without these gluten-containing foods, cross contamination can happen in the kitchen.
As you would at any other restaurant, be mindful of the possibility of cross contamination at fast-food joints. The biggest culprit is frying oil.
Oil is naturally gluten-free, but restaurants may use the same batch of oil to fry a bunch of different foods. Once that oil has been used to fry gluten-containing foods (nuggets, anyone?), it's def contaminated — and so are the french fries or any other foods that take a dip in the oil afterward.
Even with GF labels, the risk could still be high since the food prep is fast. If you have an allergy, don't be afraid to ask specifically how your food is cooked and mention that it must be gluten-free.
Telling the staff might help limit cross contamination that can happen if folks touch gluten-containing foods while prepping your meal.
Wondering what you can actually eat? After weighing all the gluten-free options, we've broken down what's available and what's potentially risky at America's fave fast-food chains.
Here's how we evaluated our GF picks:
Was there a gluten-free menu? We searched each restaurant's website and menus to see which options should be gluten-free or are clearly labeled.
Best gluten-free options. We looked over the entire menu to see what the options are and whether the most popular menu items are considered gluten-free.
Best menu item. What is a well-known or most popular item on the menu? We researched what the GF community loves.
Cross-contamination risk. Do they use the same or different fryer oils? How is the food prepared? We looked at processes to note where the risks are.
Transparency. Some websites clearly state whether the restaurant is a gluten-free-friendly environment or not, giving a heads-up about fryer oil and cross contamination. We considered what restaurants might be better based on their transparency about GF menu items and cross-contamination practices.
KNOW BEFORE YOU EAT!
There is ALWAYS a risk of gluten cross contamination unless a restaurant is specifically gluten-free.
To help minimize risk, let the staff know about your gluten allergy or intolerance when ordering. But contamination is still possible, so eat fast food with caution.
If you have celiac disease, a heightened gluten sensitivity, or a wheat allergy, you might want to avoid fast food completely.
Five Guys
Good news for all the Five Guys fans: You can eat a lot here if you forgo the bun. The website also has a chart for anyone with specific allergies.
Most of the toppings on the menu are gluten-free, and you can get burgers wrapped in lettuce. Most importantly, all fries are cooked in a gluten-free fryer.
Here are the best gluten-free options:
burgers (no bun or with lettuce wrap)
fries
plain milkshakes
hot dogs (no bun)
Bottom line: High five, guys
Since Five Guys has a pretty gluten-free-friendly menu, there's a lower risk of cross contamination. That doesn't mean you aren't at risk, but the odds are in your favor in comparison to other chains.
You can also specifically tell them you have an allergy, which they will note when making your order.
Five Guys also mentions to avoid these foods due to gluten:
malted milk and cherry milkshake mix-ins
Oreo piece mix-ins
malt vinegar
Fry Sauce
Note: Five Guys uses peanut oil to fry, so you'll want to avoid this chain if you have a peanut allergy.
Wendy's
Wendy's doesn't have a gluten-free menu, but it has a larger number of options than similar fast-food joints. You always have the option to skip the bun for a gluten-free burger. Salads without fried chicken and croutons are also considered gluten-free.
The chain also acknowledges on its website that it's not considered a gluten-free restaurant but notes items on the menu that contain wheat.
Here are the best gluten-free options:
taco salad
chili
variety of baked potatoes with toppings
Frosty *cue the balloons and streamers*
Bottom line: Wendy's is pretty fresh for GF peeps
Even though Wendy's doesn't have a gluten-free menu, it has quite a few options that are actually a meal and should be gluten-free.
As with most small-environment fast-food places, there is a risk of contamination. But our top GF picks naturally don't contain gluten and are often prepped ahead of time. The contamination risk for these items is a lot lower than the risk when getting a burger without a bun.
Chick-fil-A
Your favorite cow mascot is not considered gluten-free, but there are some options, including a new gluten-free bun. That's a pretty big deal for a fast-food chain.
Here are the best gluten-free options:
waffle potato chips (fried in different oil than the breaded chicken)
fruit cups
side salads
added bacon
grilled chicken
grilled chicken nuggets (not breaded)
Bottom line: You can prob eat more chicken here
If you want an actual meal, you can get one here. Just give them a heads-up when you order so they're aware of any cross-contamination risk. Chick-fil-A does acknowledge that cross contamination is a risk, so you'll still want to be careful.
But the separate frying oil is a game-changer if you need your fry fill. And having a gluten-free bun shows they're trying.
Chipotle
Just about everything at Chipotle is gluten-free except the flour tortillas (so sorry, no iconic burritos). Chipotle also has a comprehensive list on its website of all items for anyone with certain allergies or special diets.
Here are the best gluten-free options:
burrito bowl with any of the toppings, even the famous guacamole (And yes, we know guac costs extra…)
corn tortillas
Bottom line: Have your guac and eat it too
Because you have almost no restrictions on what you can eat, Chipotle may be one of the best chains for gluten-free eating.
But cross contamination is possible as a result of the ingredient ladles touching flour tortillas when burritos are being made. If you have celiac disease, you might want to skip this chain or be extremely cautious.
In-N-Out Burger
Good news! Just about all In-N-Out Burger items are gluten-free without the bun! All burgers can be made "protein-style," which means wrapped in lettuce and free of gluten.
Another plus: The french fries are cooked separately in 100 percent sunflower oil, so they're perfectly gluten-free for you.
Here are the best gluten-free options:
vanilla, chocolate, and strawberry shakes
french fries
hamburger with onion (no bun)
cheeseburger (no bun)
Double-Double Burger with onion (no bun)
Bottom line: Lettuce give thanks for protein-style and GF fries
In-N-Out Burger appears to do a pretty decent job with gluten-free options and tries to avoid contamination. The restaurant even has an allergy button when ordering, which might help limit contamination risk if you have celiac disease.
Shake Shack
We have to give Shake Shack mad props for having an in-depth section on its website about allergies, including wheat. It includes descriptions of what has wheat and what might have a trace of wheat.
All fry options have a chance of cross contamination, so you'll want to ditch the fries.
Here are the best gluten-free options:
burger patty with gluten-free bun
all floats
vanilla, chocolate, coffee, strawberry, and peachtree milkshakes
If you're getting any ice cream, be sure to lose the cone and have it in a cup. But pretty much everything on the menu is full of heavy gluten-containing items.
Bottom line: Stand for some… burgers and shakes
If a single beef patty on a gluten-free bun and a milkshake is your fast-food vibe, go for it. But no fries here, which is a bummer.
Just remember that Shake Shack is still higher-risk due to the amount of gluten-containing food being made in a small work environment.
Arby's
Arby's does a good job of keeping its customers aware of which foods contain gluten and which can be easily contaminated. Most of the meals are gluten-free if you skip the bun.
Arby's does warn customers to avoid any potato-based items, like the Homestyle Fries and Potato Cakes, because they're fried in the same oil as gluten-containing foods.
Here are the best gluten-free options:
vanilla and chocolate milkshakes
Chopped Farmhouse Salad with roasted turkey
sausage and bacon
Angus beef (no bun)
roast beef (no bun)
Bottom line: Has the meats but not the bun
This chain might be good for a salad or shake, but what's an Arby's sandwich without the bun? Definitely not a top contender, but there are options.
Panera Bread
Don't let the name fool you — Panera Bread has a pretty decent variety of gluten-free menu items and lists them on its website. Unfortunately, no sandwiches are on that list, but all soups and salads can be made without croutons.
Here are the best gluten-free options:
Baja Warm Grain Bowl
Mediterranean Warm Grain Bowl
Greek salads
Fuji Apple Salad
Green Goddess Cobb Salad with Chicken
yogurts and oatmeals
Southwest Chicken Tortilla Soup
Some favorite GF treats at certain locations include the coconut macaroon and the triple chocolate cookie with walnuts. Shout-out to Panera for having some GF dessert options!
Bottom line: Food as it should be… if you don't have celiac disease
Celiac peeps should be wary. While Panera is more gluten-conscious than some other chains, cross contamination can happen. (It is a bakery, after all.)
Panera specifically notes that if you have celiac disease, its GF items might not be for you. (Translation: There's a contamination risk.) Always be sure to mention your allergy or sensitivity when ordering.
Sonic
Sonic is another chain without a gluten-free menu, but the chain says all its grilled items are gluten-free (except the buns).
The ice cream is supposedly gluten-free, but keep an eye on any add-ins you get in your shake. You also probably won't find gluten-free fries or Tater Tots if they're cooked in the same oil as the breaded items. But some locations may have separate fryers — just ask.
Here are the best gluten-free options:
hamburgers and hot dogs (without buns)
bacon
sausage
eggs
ice cream and shakes (watch the toppings)
slushes
Bottom line: Service at the speed of sound… with a side of contamination?
It's a toss-up whether the fries and Tater Tots are gluten-free, and there's a high risk of cross contamination.
Sonic is a tricky one for GF food options, so be sure to tell the employees about your allergy when ordering. If you're ordering with someone else, be sure their food doesn't touch yours. You don't want those gluten-y fries all up on your bunless burger.
But if you're craving ice cream or a slush, you should be A-OK at Sonic.
Subway
This is a tough one. It doesn't look like you'll be getting a gluten-free $5 footlong from Subway. The restaurant lists on its website all foods for anyone with allergy sensitivities, but most of the menu includes gluten. Your best bet would be a salad plus most meats or soups.
Here are the best gluten-free options:
Tomato Basil Soup
Broccoli & Cheddar Soup
Black Bean Soup
Gluten-Free Brownie (certain locations)
gluten-free packaged English muffins for breakfast sandwiches (certain locations)
Bottom line: Eat fresh if you don't want a sub
Cross contamination is a high risk at Subway, and the options are pretty minimal. While certain locations have some GF options, you're not gonna get the iconic Subway meal — just some soup or a salad.
Taco Bell
Taco Bell doesn't claim that any of its food is gluten-free due to contamination risk during prep. Even though some items are made without gluten, they may be made with the same fryer oil or in the same area as gluten-containing foods, risking gluten exposure.
But the website does include a guide to what should be gluten-free.
Here are the best gluten-free options:
Power Menu Bowl
Black Beans and Rice
Crunchy Taco
Hash Brown
Doritos Locos Tacos
Bottom line: Live Mas, but with contamination risks
This one is fairly high risk, since Taco Bell doesn't claim to be a gluten-free fast-food chain. Be wary before ordering if you have celiac disease or are gluten-sensitive.
McDonald's
Hello, nostalgic childhood Happy Meals. McDonald's is one of the first names to come to mind when thinking of fast food. Unfortch, McDonald's doesn't have a gluten-free menu — but any burger can be made gluten-free without the bun. Sorry, Sir Mix-a-Lot, perhaps a lettuce wrap instead?
Here are the best gluten-free options:
burgers without buns
most salads (grilled chicken only!)
McFlurry with M&Ms
yogurt parfait
Bottom line: We're not lovin' it
McDonald's might be one of America's top fast-food joints, but those with gluten allergies or celiac disease might want to head elsewhere. Risk of cross contamination with gluten is pretty high here.
Oh, and sorry to break it to you, but the Special Sauce on the Big Mac isn't gluten-free, either.
KFC
Well, there's not much to say here except Kentucky. Fried. Chicken. The menu is solely based on breaded and fried foods, so if you want anything here, it's gonna have to be a side dish.
Here are the best gluten-free options:
mashed potatoes
corn on the cob
coleslaw
green beans
Bottom line: Probs avoid the colonel if you want a GF meal
KFC might not be the best place to run to for some fast gluten-free comfort food unless you're really craving some mashed potatoes or green beans. Options are limited, and contamination risk is high.
Popeyes
Popeyes is known for its famous fried chicken. So, as with KFC, there aren't too many options to give you the gluten-free love you deserve. But unlike KFC, Popeyes has a bit more variety of sides to choose from.
Here are the best gluten-free options:
green beans
coleslaw
Cajun rice
red rice and beans
Bottom line: Louisiana fast, but not super GF-friendly
Popeyes wouldn't be our first choice for gluten-free fast food because of the high risk of contamination. But you can get a more complete meal here than at KFC.
Burger King
The last on our list is one of the most popular fast-food chains in America, Burger King. But don't get your paper crown out yet, because there isn't much to celebrate. BK lists on its website the items that are considered gluten-free, but it's not a gluten-free restaurant.
Here are the best gluten-free options:
Whoppers (without a bun)
apple slices
sausage
bacon
milkshakes
Garden Fresh Salad
sundaes
Bottom line: The King is risky
Be sure to check whether the type of patty you're ordering is considered gluten-free. BK comes with a high risk for cross contamination, so if you have a gluten allergy or sensitivity, this shouldn't be one of your top choices for fast food.
We can't expect fast-food employees to know everything about allergies or to have psychic abilities to know whether you have one. Different restaurants and employees will prepare and cook their food differently, so even if something is labeled gluten-free, there's always a chance of cross contamination.
If you have celiac disease or a non-celiac gluten sensitivity, be sure to let an employee know or talk to a manager beforehand. Don't be afraid to ask how the food is prepared or cooked.
Some major chains, like McDonald's, Burger King, or KFC, might not be your best options. But if you do your research and find places like Chipotle, Chick-fil-A, or In-N-Out Burger, you'll have some pretty good options.
When in doubt, research menus or call the restaurant beforehand to get an idea of what you're in for and how high of a risk you'll be taking.