So many of us eat carrots mostly in the form of raw sticks, probably plunged into a bowlful of ranch dip or crunched on as an alternative to chips alongside our lunchtime sandwiches.
Cooked carrots, on the other hand, are relegated to playing supporting roles in stews and stir-fries, where they're overshadowed by the other, more bold ingredients.
But there's something to be celebrated about the caramelized crispness of a roasted carrot, the tender bite of a ribboned carrot "noodle," or the silky sweetness of a pureed carrot soup. Plus, the root veggie retains some nutrients more in cooked form.
It's time to discover the culinary magic that cooked carrots are capable of with these 20 breakfast-to-dinner carrot recipes.
1. Carrot cake oatmeal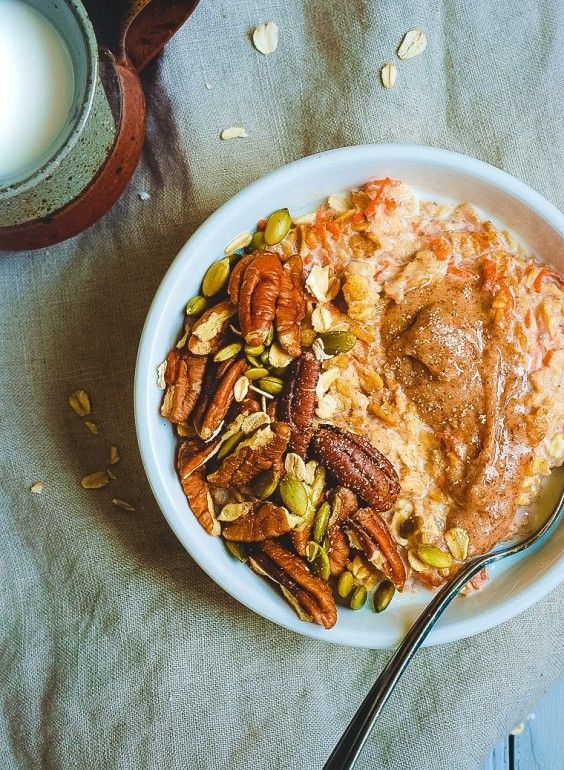 This hearty bowl takes all the goodness of the classic carrot cake — the spices, the nuts, and the carrots, of course — while leaving out the sugar and butter, leaving you with a super-nutritious breakfast that still manages to taste like dessert. Who said oatmeal was boring?!
2. Healthy carrot muffins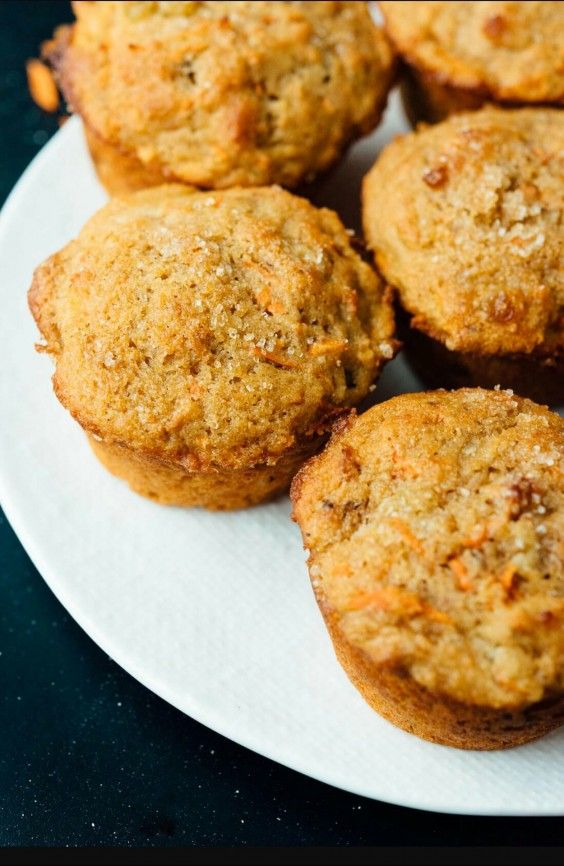 Most carrot muffins just call for throwing shredded carrots into the batter, but this recipe actually requires roasting the carrots first.
The process gives them a natural, caramelized sweetness that adds a layer of depth and warmth to the batch, while hints of orange juice and zest lift it all up.
3. Harissa roasted carrot toast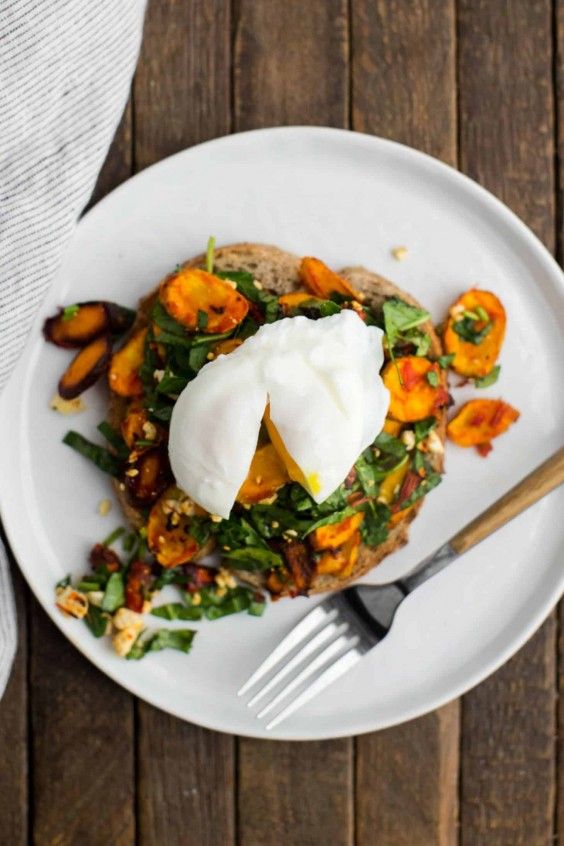 Tossed in harissa and combined with crumbled feta, lemon, and cilantro, this sweet, spicy, and savory carrot mixture gives avocado toast a serious run for its money.
Take it to an entirely new level of tasty by adding a poached egg on top. The runny yolk spilling over the bread and vegetables is pure breakfast heaven.
4. Shredded carrot breakfast hash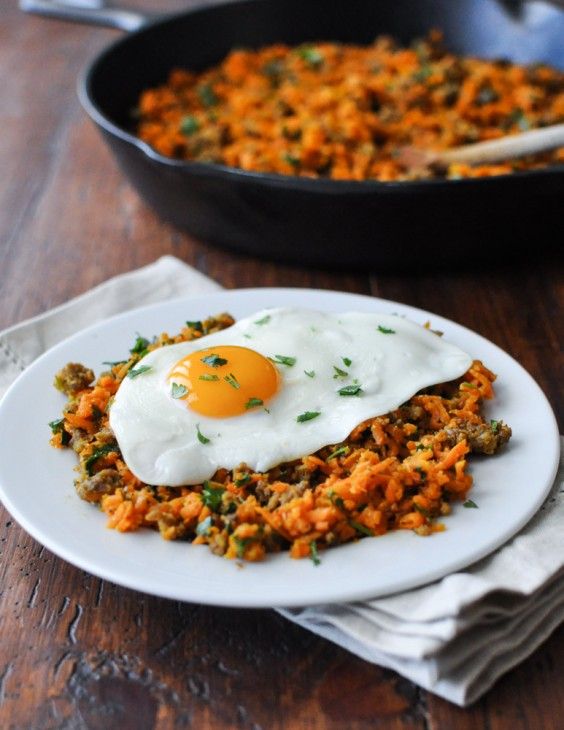 If you love the idea of a breakfast hash but aren't exactly a fan of the carb count, swap out potatoes for shredded carrots instead.
This one does just that, but is still plenty filling thanks to the sausage, which adds some protein.
Meanwhile, the cilantro and lime juice go the extra mile to keep the dish from feeling heavy.
5. Spiced carrot congee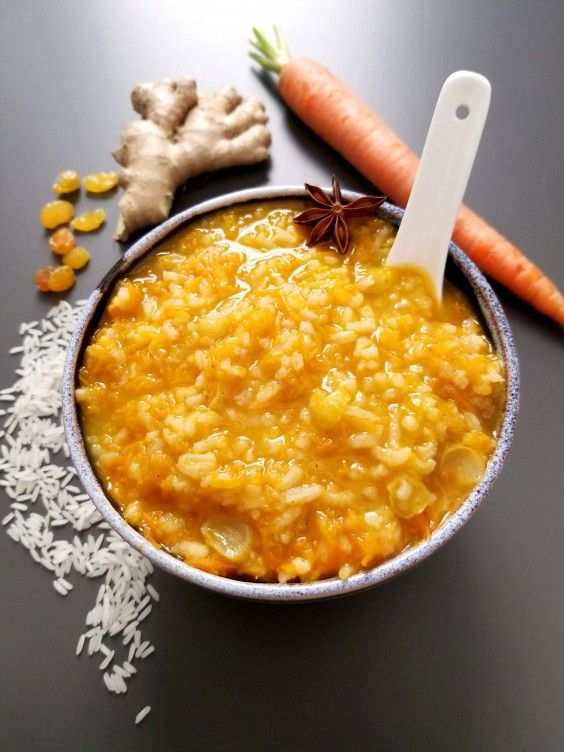 Different versions of congee, or rice porridge, are immensely popular breakfasts all over Asia, but we're guessing few of them involve ingredients that taste like carrot cake.
Here, a heaping cup of the vegetable is stewed with coconut milk, raisins, cloves, and cinnamon before jasmine rice is added to the mix.
The result is a warm, naturally sweet, and delicious marriage of rice pudding and oatmeal that's sure to become your new favorite cold-weather breakfast.
6. Chilean carrot frittata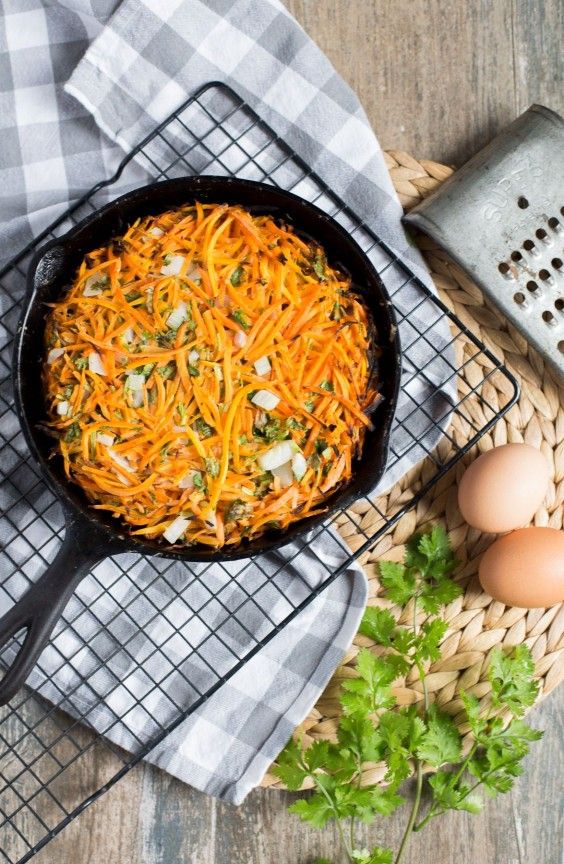 With more emphasis on the vegetables than the eggs, this take on a Chilean breakfast staple is a great way to start your day off on a fiber-packed note.
Skillet-cooked and then quickly broiled in the oven, the grated carrots and onions get perfectly browned and crispy, making for a crust-like texture without the added carbs.
7. Vegan roasted carrot soup
Thought only butter and cream could produce rich and velvety soups? Try roasting, then pureeing, a heap of carrots and onions, and you'll be surprised at how silky the results are without a drop of dairy.
Even if you leave out the optional (but recommended!) coconut cream swirl, it'll feel like you're ladling up a dish that's far more indulgent than it really is.
8. Carrot fritters
Pan-cooked in just a tablespoon of oil instead of deep-fried in a vat of it, these carrot fritters are the perfect, light, and crispy side or appetizer.
The cumin and garlic seasoning gives them a spicy, earthy taste, while the Greek yogurt topping cools them down.
9. Instant Pot honey soy carrots
For a last-minute side that tastes like it's been cooking for way longer than just 10 minutes, these Instant Pot carrots have you covered.
The soy and honey mixture forms a sticky glaze that coats the veggies without making them too sweet, and a sprinkle of scallions on top makes for the perfect photo finish.
10. Baked shoestring carrot fries with za'atar
Spiced with the Middle Eastern (and easy to find) za'atar spice, coated lightly in olive oil, and baked until crispy, these carrot fries are tasty on their own, but the dipping sauce here may be what really takes them over the top.
With a vegan tahini base, earthy notes of parsley, and a generous squeeze of lemon, it's a concoction that's ready in seconds but is miles ahead of the regular ketchup and mayo.
11. Savory carrot tarte tatin
The words "tarte tatin" may sound fancy, but thanks to some help from ready-made puff pastry, you don't need to roll out a dough to make this savory version of the classic French pie.
With the orange coriander and cumin-spiced carrots sitting atop the golden-brown crust, it's a pretty stunning dish to serve guests. And no one had to know how easy it was to put together.
12. Moroccan carrot salad
From the roasted carrots and the sweet currants to the sauteed onions and the lemony dill vinaigrette coating the green lentils, this is not your average salad.
Pair it up with a light protein, or enjoy it as a balanced vegetarian meal all on its own.
13. Carrot, coconut, and ginger soup
With parsnips adding natural sweetness alongside the carrots, some coconut milk for richness, and a generous chunk of ginger for just enough kick, this bold and beautiful soup hits all sorts of flavor notes at once.
It's also vegan, low FODMAP, and gluten-free!
14. Creamy carrot noodles with cashew Alfredo
Zucchini noodles are great, but can be pretty delicate. When you need a sturdier low carb alternative to pasta that can hold up better to a robust sauce, opt for spiralized carrots instead.
The orange ribbons stay "al dente" even when tossed in a rich but heart-healthy cashew and coconut Alfredo, making you feel like you're digging into actual spaghetti.
15. Easy savory carrot balls
The plant-based answer to meatballs, these vegan bites have a carrot and oat base that's bound together by a flax egg and bread crumbs.
Curry powder, paprika, and chili powder add tons of spice, while the baking option keeps them grease-free and crisp at the same time.
16. Carrot noodle bowl with ginger peanut sauce
Shredded carrots can often be found in a peanut noodle dish, but in this case, they play the main role, taking the place of the usual lo mein or soba.
Tofu adds some hefty vegan protein, while the homemade peanut, soy, and ginger sauce is a much more wholesome alternative to the oily, sugary restaurant versions.
17. Vegan gluten-free carrot gnocchi
Packed with potato and flour, regular gnocchi can be a bit heavy.
This 5-ingredient recipe swaps the spuds out for steamed carrots. It also uses blanched almond flour and gluten-free oat flour to reduce the carb count, amp up the fiber, and make for generally more nutritious gnocchi.
They're surprisingly easy to make at home and are lovely with practically anything, from pesto to a simple vegan butter sauce.
18. Carrot farro risotto
With both pureed and grated carrot in the mix plus protein and fiber-rich farro instead of white Arborio rice, this brilliantly orange riff on risotto fits the bill as an impressive date-night meal that's both pretty and nutritious.
For an extra something different in the flavor department, the cumin and fennel in here go particularly well with the mildness of the carrots.
19. Carrot hot dogs
Their resemblance to the real deal is uncanny, but rest assured, these are indeed entirely plant-based.
Peeled and cut to fit the buns, poached until tender, and topped with a simple yet spicy onion and mustard dressing, the carrot "dogs" are more nutritious than pork sausages, much less processed than fake meat varieties, and ridiculously easy to make.
You'll be wondering why you didn't try them sooner.
20. Roasted carrot sandwich with sunflower cream
Cooked carrots don't usually make it into sandwiches as fillings, but this recipe is setting out to change that — and it makes a pretty strong case, too.
The veggies are roasted until sweet and tender, then tucked between slices of whole-grain bread with a creamy, nondairy sunflower seed and avocado spread. We're sold — and we have a feeling you will be too.