We all know there's one unequivocal star of the show on Thanksgiving Day: the turkey.
It's just not a holiday feast without the plump, crispy bird at the center of the table — plus leftover turkey sandwiches, soups, and casseroles fueling your online shopping and movie-watching for days afterward.
You can't go wrong with a traditional preparation of turkey — the stuffing-packed poultry you get up at 4 a.m. to put in the oven. But maybe this year you're looking for something a bit more unique (or at least less time-consuming).
To make your bird a true standout, we've rounded up 12 new takes on turkey. With novel cooking methods and unexpected flavors, these will put a fresh spin on the feast.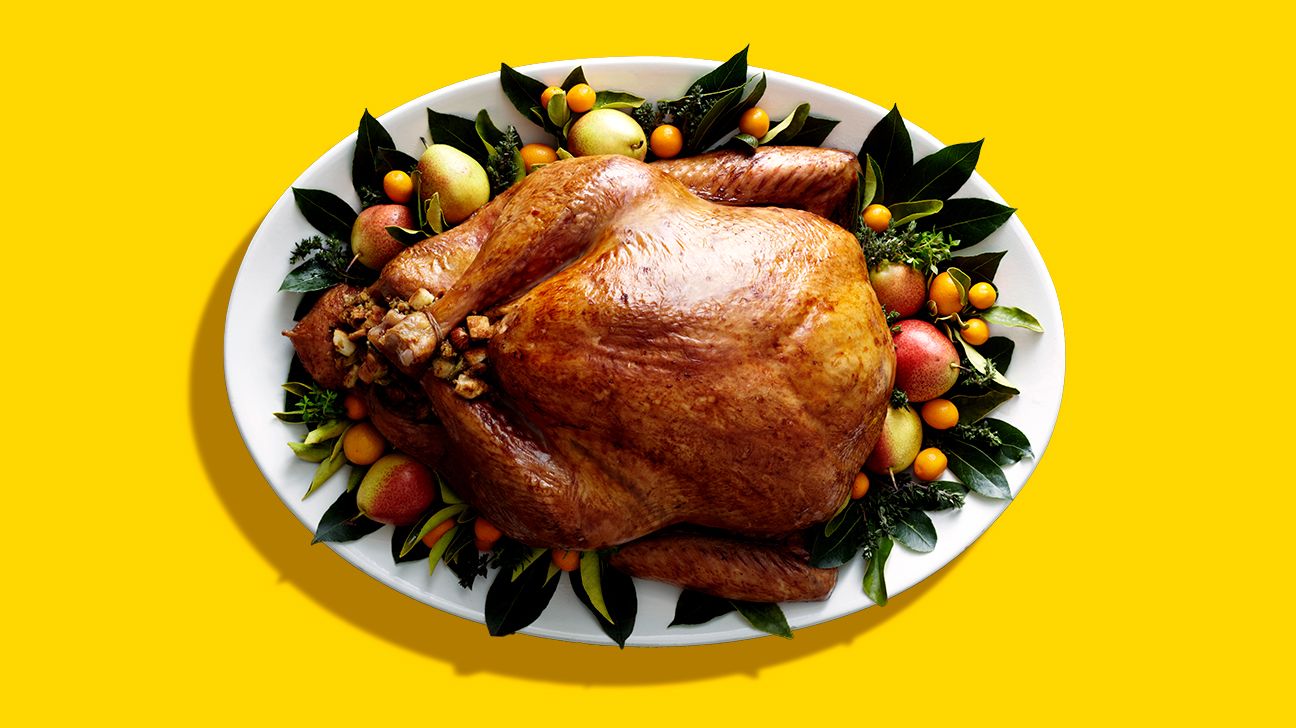 Thanksgiving Day eating can be as healthy as you want to make it, and you're off to a great start with turkey. One large slice of turkey contains 23 grams of protein, the macronutrient your body needs to build muscle, create enzymes and hormones, and promote feelings of fullness.
Turkey is also a surprisingly lean meat, with 6 grams of fat per serving of breast meat (slightly less than chicken breast's 7 grams). Plus, one serving supplies 6 percent of your daily iron needs and about 45 percent of your daily dose of selenium, a critical antioxidant that boosts reproductive and thyroid health.
Oh, and as for tryptophan, turkey's supposed sleep-inducing compound?
It's true that tryptophan boosts your body's production of the sleep hormone , but turkey is no meaty medicine for sleep. In fact, chicken actually contains more tryptophan than turkey. And besides, tryptophan has limited effects on drowsiness when paired with the other proteins in meat.
Here are 12 can't-miss recipes to spruce up your Thanksgiving spread. See how each of these birds holds up after T-Day with our leftover ratings.
5 — Great (Just as good or better than on day one)
4 — Good (Holds up really well after day one)
3 — Fine (Might need some doctoring, but passable)
2 — Not great (Edible but not recommended after day one)
1 — Nope (Strictly for T-Day eating)
You might not want to guzzle garlic-infused beer all on its own… but it sure does make an amazingly juicy flavor infusion for turkey. With this recipe from Café Delites, you'll roast meaty turkey pieces in a beer bath to impart the taste of your favorite lager.
Leftover rating: 4
Pair with a beer-mushroom gravy to re-create the feast the next day.
Not every Thanksgiving feast involves cooking for a crowd. If you're not inviting everyone down to your third cousin's house, it's probably more practical — and certainly simpler — to opt out of making a full bird.
Instead, try stuffing turkey breasts with a mixture of savory herbs in this quicker-cooking recipe.
Leftover rating: 3
Since you're cooking just the breasts, you may not have lots of leftovers here. But any extras will hold up well in the fridge for up to 4 days.
No one could accuse this bird of being bland. With a seasoning of chopped chipotle peppers, herbs, and fresh orange and lime, this Mexican-inspired turkey from Isabel Eats is a veritable fiesta in your mouth.
Leftover rating: 4
Save leftover meat for next-level turkey tacos later in the week.
This recipe from Foodie Crush calls for a full cup of hot sauce. All it takes is a totally doable 20 minutes of prep to spice up your Thanksgiving (literally) with this caliente bird.
Leftover rating: 3
The flavors may deepen further as leftovers sit in the fridge, so be prepared for even more spice as days go by. Cool things off by whipping up a dairy-based dipping sauce.
You probably got an Instant Pot for a reason: to make quick work of lengthy cooking times. The little appliance delivers in this easy whole-turkey recipe.
According to food blogger Bacon Is Magic, an 8-quart Instant Pot can handle an 8- to 9-pound turkey, cooking to crispy-skinned perfection in just about an hour.
Leftover rating: 4
This recipe makes a bird similar to the traditional baked or roasted kind. Use or freeze leftovers within 3 to 4 days.
Fun fact: You can use a grill more or less like an oven (a fiery, slightly more temperamental oven, perhaps, but an oven just the same).
Take your turkey outside and roast it in a closed grill for a couple of hours with this recipe from Street Smart Kitchen. You'll get the crispy exterior you know and love without making a mess indoors.
Leftover rating: 3
Grilling a large piece of meat can lead to dryness. Rehydrate leftovers with gravy or cranberry sauce.
If you can cook a turkey in an Instant Pot, you can sure as heck cook one in a Crock-Pot! Slow cooking may take a bit longer, but the fall-off-the-bone tenderness in this garlicky turkey from the Recipe Rebel will be worth it.
Leftover rating: 4
With plenty of garlic flavor, leftovers from this recipe will add oomph to pasta, soups, or salads.
This recipe from Calling to Chit Chat ain't the turkey roll-up of your childhood lunchbox. This roulade is turkey tenderloin rolled around a mixture of mushrooms, walnuts, and herbs for a presentation that's — dare we say — even more showstopping than a traditional bird.
The best part? You can prep this a day ahead to make the holiday less stressful.
Leftover rating: 4
Turkey roulade should reheat well in the oven or microwave. Just be sure to roll the tenderloin tightly to keep the filling from falling out during reheating.
Braising is a cooking method that browns meat in the pan and then lets it simmer in liquid. In this recipe from My Three Seasons, the turkey legs turn out tender and juicy after soaking in a mixture of apple cider and turkey stock.
Leftover rating: 5
Extra moisture in this meat prevents drying out in the fridge, so it makes for top-notch leftovers.
For a handheld piece of Thanksgiving heaven, look no further than this turkey Wellington from A Slice of Spice. Turkey gets the royal treatment here, wrapped in a pocket of golden puff pastry alongside stuffing, mushrooms, and leeks.
Leftover rating: 2
As delicious as turkey Wellington is right out of the oven, its mix of textures doesn't necessarily make for great leftovers.
You don't need a tandoor oven to make turkey with an Indian twist. Simply brine the bird overnight in a stockpot and then roast it with a DIY tandoori paste from Nish Kitchen.
Leftover rating: 5
For obvious reasons, leftovers will make the perfect base for Indian dishes like turkey tikka masala and turkey curry.
Want to get really unconventional? Skip carving the bird altogether and use ground turkey as the base of your feast. In these aromatic meatballs from Budget Bytes, you'll enjoy the flavors of both turkey and stuffing with way less hassle.
Leftover rating: 5
Meatballs are fridge- and freezer-friendly. Since you're saving time on Turkey Day prep, make extra and freeze 'em! Then pull them out for cozy winter dinners for days to come.