It's the most wonderful time of the year… It's pie season! Classic flavors like pumpkin, sweet potato, and pecan pie add a nostalgic feel to the holiday season.
Whether you'll be celebrating Halloween, Thanksgiving, Christmas, Hanukkah, or Kwanzaa, pies are a delicious way to get into the holiday spirit.
And if you're the next Julia Child or a baking newbie, we have delicious recipes for beginners and Star Bakers. Plus, if you're vegan, gluten-free, or have allergies, most recipes can be made with alternatives to your liking.
Get that apron on, and get ready for a piece of pie!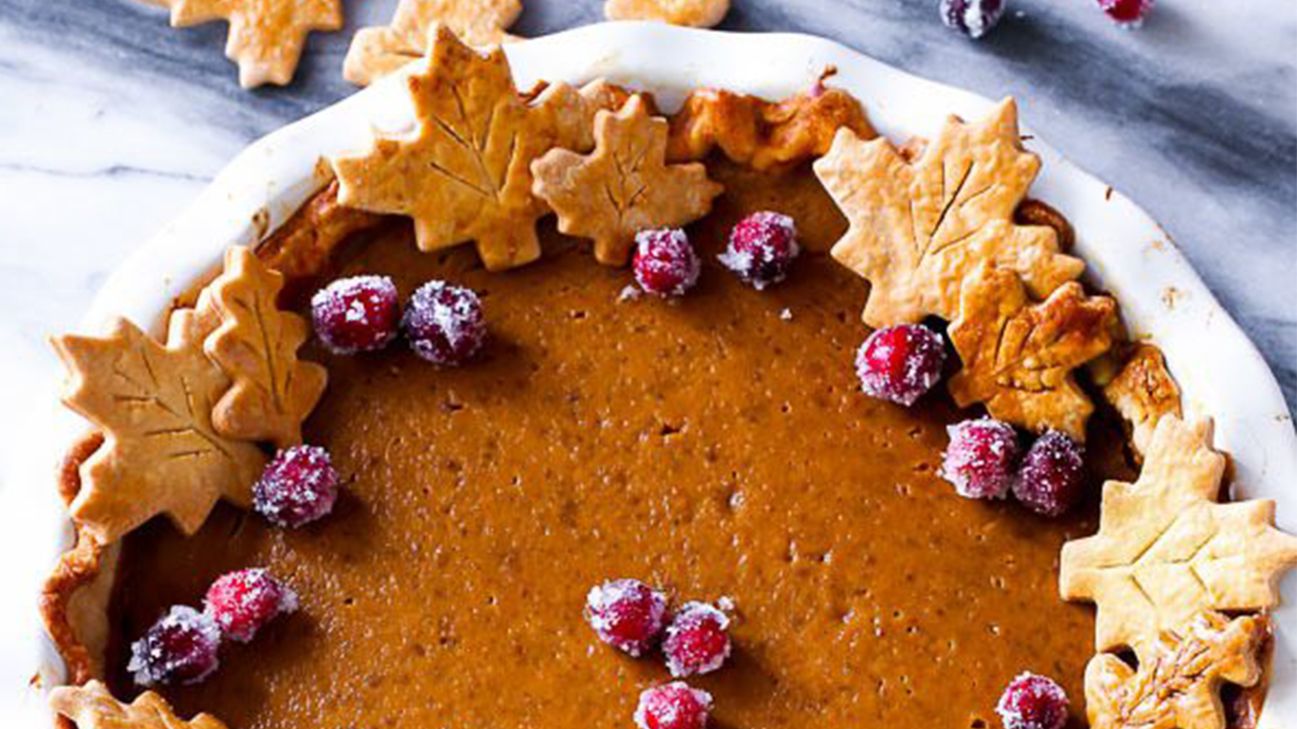 What's the holiday season without some pumpkin? We've got you covered with a classic pumpkin pie recipe. The warm, sweet layers of pumpkin won't last long before it's all in your belly. Grab your PSL and roll those sleeves up. It's time to get baking.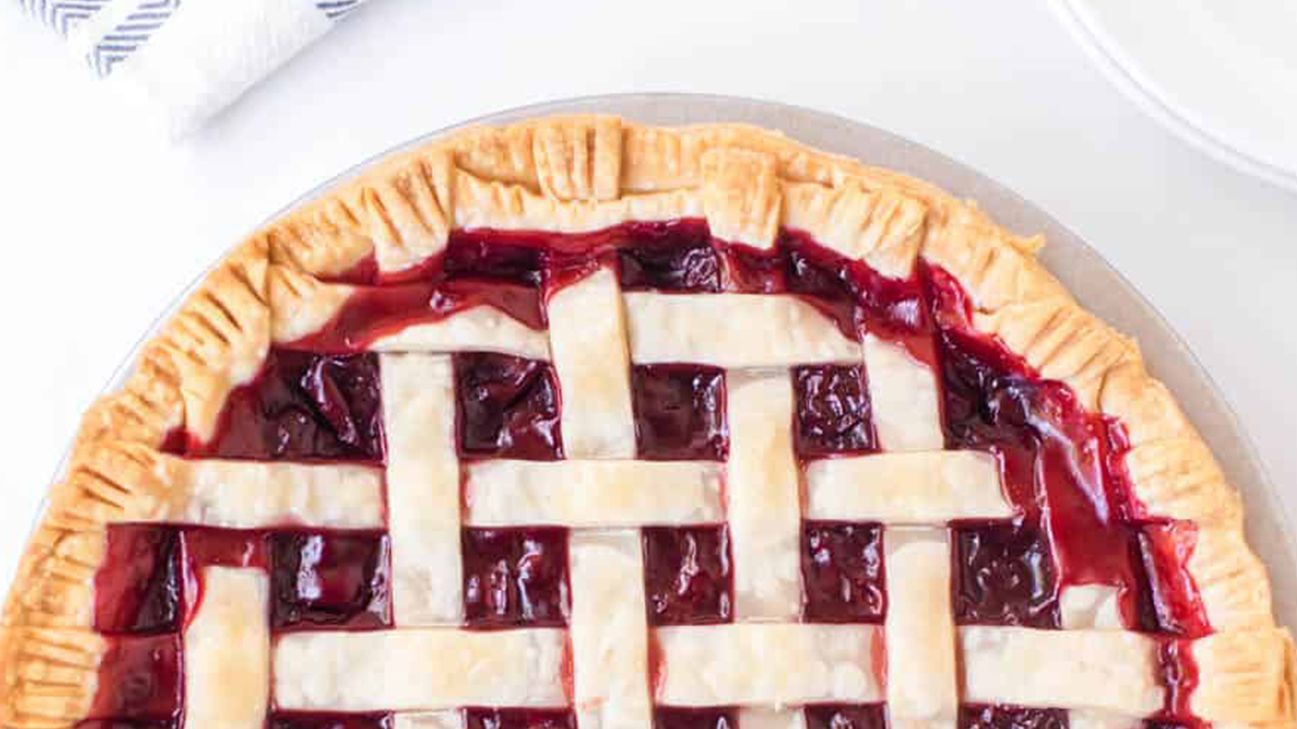 With a cherry pie this good, it'll have you cranking up Warrant's 1990 "Cherry Pie" to get your groove… and pie on. This cherry pie is a simple, fruity classic for any holiday sweet tooth.
Are you even celebrating a holiday without sweet potato pie!? Sweetened, spiced, and perfectly buttery, you can count on this sweet potato pie made with baked sweet potatoes (not canned!). Add some whipped cream or a toasted homemade marshmallow topping for an extra sweet treat.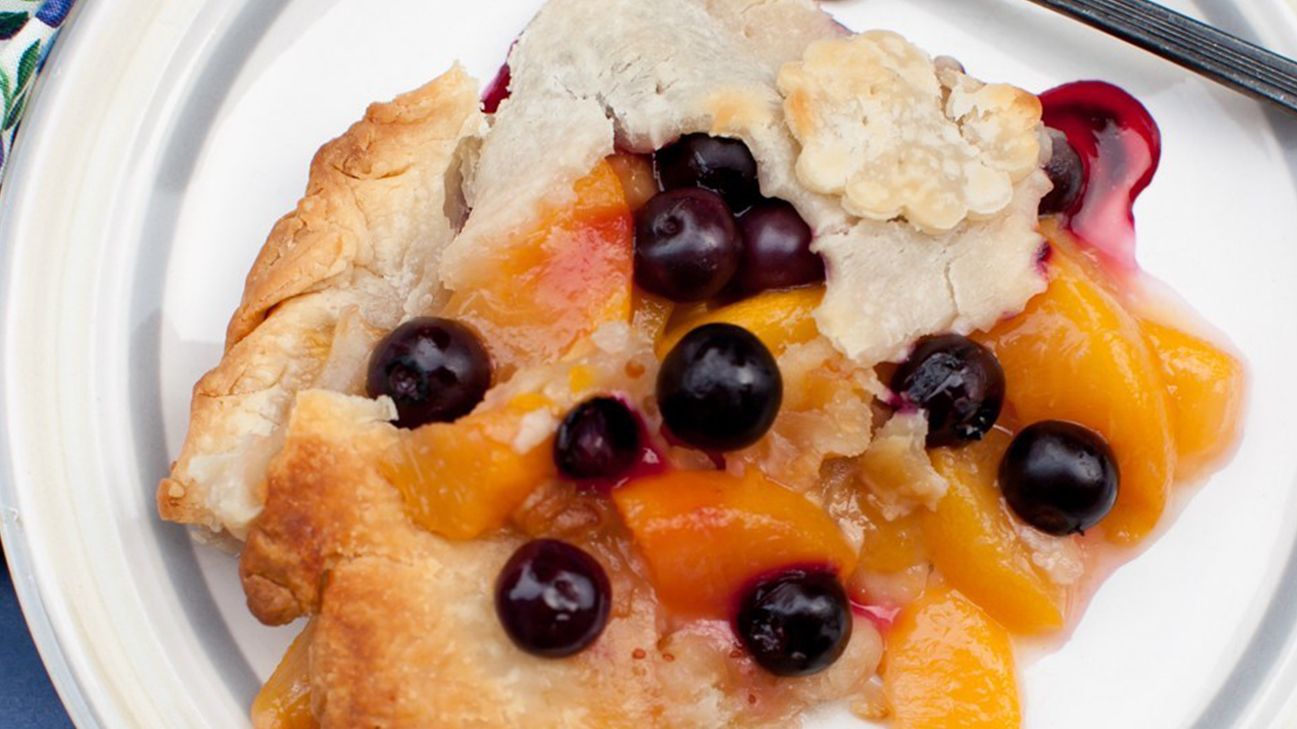 These two fruits make a great couple for a sweet, flavorful treat. This might seem more like a summer dessert, but this hot pie can be a great addition to any holiday event. Take it to your next shindig, and you'll thank us.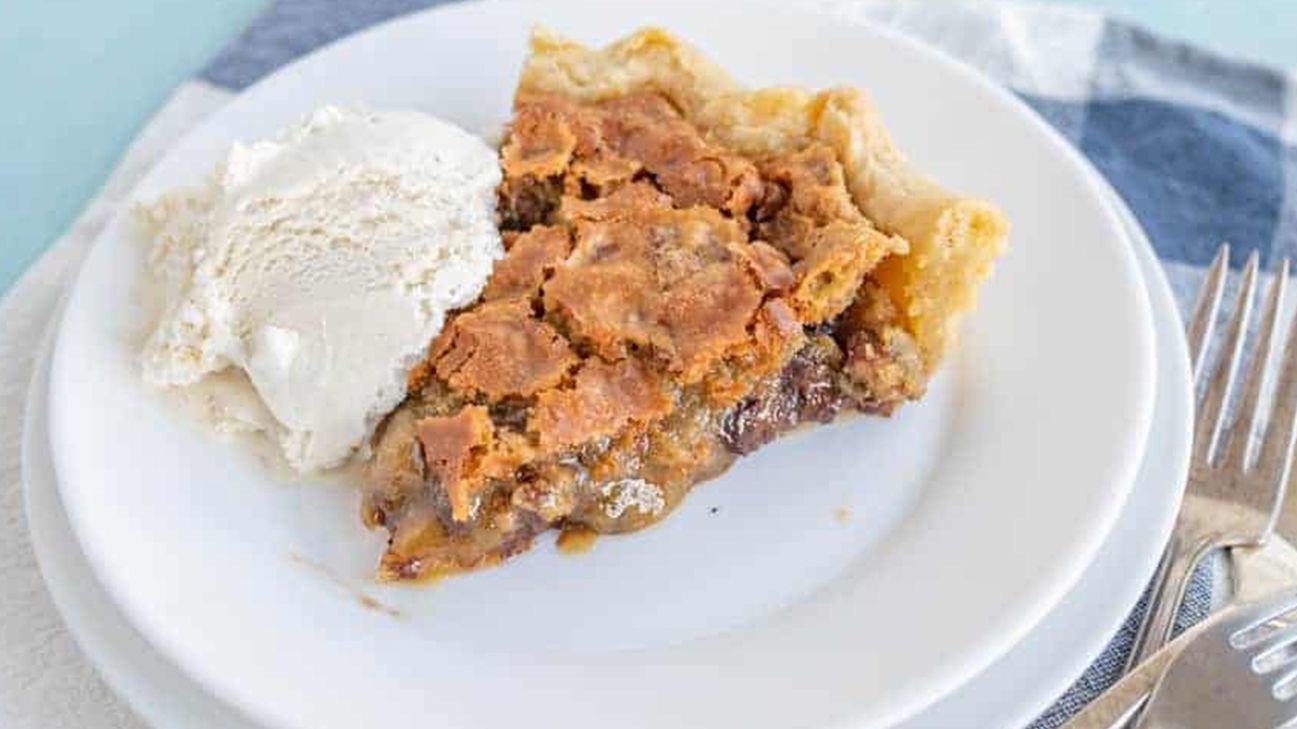 Who would've thought you'd have a pie and a chocolate chip cookie at the same time? If you're a fan of pies and all things chocolate chips, make this right now! It's definitely not your average holiday pie, and it's great with ice cream.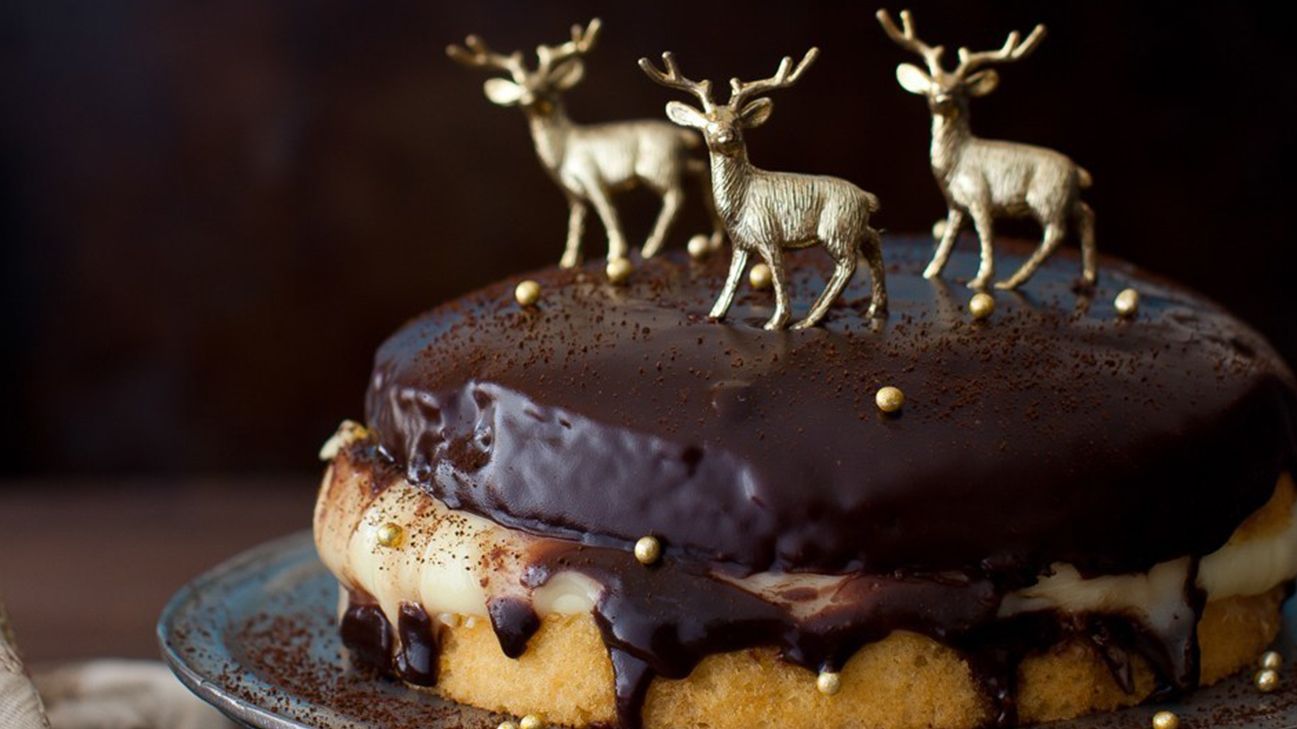 So, technically this is a cake, but hear us out: This is a fluffy, gooey gift from above. It's the perfect chocolatey dessert and it looks pretty dang good, too.
Whether you're vegan, have an allergy, or want to try a different take on a classic pecan pie, this vegan maple pecan recipe is for you. It's free of dairy, eggs, corn syrup, and has no refined sugar. Sign us up!
With the similar simplicity of a classic apple pie, turn it up a notch with an oatmeal crumble for some crunch. Pair this apple crumble pie with some vanilla ice cream and enjoy this sweet take on an American fav.
Need some meringue in yo' life like grandma used to make? This cloud-like pie uses coconut oil instead of butter, but still gives you that fresh lemon taste.
There are so many variations of the pumpkin pie. This recipe full of maple, ginger, cloves, and brown butter will have you trying not to eat it all while baking it. The recipe is fairly simple and a great step up from the classic pumpkin pie.
You have your chocolate pies and your classic pecan pie, but what about a chocolate pecan pie (and it's paleo)? Full of coconut crust, a layer of chocolate ganache, and pecan filling, what more could you ask for? Get ready to eat it up!
This take on a traditional apple pie is one of the easiest recipes you'll find, but you'll swear your grandmother made it. The combination of cranberry and apple will add the perfect touch to your Thanksgiving dinner.
For our gluten-free friends, this is the dessert for you. It might sound like the taste of summer, but trust us, this pie can be made for any and every holiday. Whip up this fruity pie and serve warm with ice cream.
Love a pumpkin pie, but just need more toppings? Enter streusel, the best part of this pumpkin pie. And, you can make this for breakfast, brunch, or dessert!
Oooh a pumpkin pie without baking? This creamy pumpkin pie is a treat for just about everyone, and you'll definitely want to lick the spoon for this recipe. The crust is paleo and baked before the creamy filling. But if you don't want to bake at all, just use a pre-made crust!
Just the title of the pie has us screaming for the fall season. Pumpkin spice, caramel, AND chocolate (oh, and it's dairy free.)? Even if you drink the moo-juice, these layers of dairy-free sweetness will make anyone happy. It's basically necessary for your next "Hocus Pocus'' movie night.
This is one of the easiest pumpkin pies you can make. If you're short on time and don't care for complicated recipes, try this out! Flavors of caramel, pumpkin, nutmeg, and pecans will have your holiday season senses tingling.
Can you really overdo the pumpkin spice? We say, no way! This creamy rendition of tart meets pie is simple and can easily be made GF or vegan.
Just make your own simple graham cracker crust (or buy one!), and pour in the sweet ingredients like vanilla, pumpkin, brown sugar, cream cheese, and yogurt. Voila! You've got yourself one of the best holiday treats.
This quick and easy vegan pie can be whipped up in minutes. So, if you think you're too busy for desserts, think again! Pop it in the fridge to set or place it in the freezer. Then enjoy the chocolate vegan goodness, without sacrificing any creamy, chocolate flavor.
Start with a homemade graham cracker crust and fold in the ooey gooey goodness of the coconut cream. Top it off with some fresh coconut and whipped cream, and you'll have yourself drooling coconut heaven.
Calling all chocolate lovers! This is for you. This no-bake pie includes only five ingredients, a coconut crust, and whatever store-bought chocolate ice cream you desire. This dessert is irresistible and will be gobbled up way before it melts.
Peanut butter can usually win people over in just about any treat. This recipe is a quick no-bake peanut butter pie alternative made with ice cream and the PB OG cookie, Nutter Butters.
This easy pie can be made with a homemade gluten-free crust, or a store-bought one. It's vegetarian, gluten-free, and naturally sweet. If you don't want strawberry, you can totally switch it up with an alternative flavor like pumpkin or cherry!
This is an *almost* no-bake pie. The crust is one of the best parts that needs baking, but you can use an alternative store-bought crust, too. This cookie butter pie will have everyone craving it after the first bite. It's rich in taste, so a little piece goes a long way. You'll definitely come back for more.
This holiday season is your time to shine in the kitchen as the next baking queen (or king). From classic treats to easy desserts that require zero baking, you got this!
Just make sure you get a piece first. These pies will def disappear from the dessert table.