We include products we think are useful for our readers. If you buy through links on this page, we may earn a small commission Here's our process.
Greatist only shows you brands and products that we stand behind.
Our team thoroughly researches and evaluates the recommendations we make on our site. To establish that the product manufacturers addressed safety and efficacy standards, we:
Evaluate ingredients and composition: Do they have the potential to cause harm?
Fact-check all health claims: Do they align with the current body of scientific evidence?
Assess the brand: Does it operate with integrity and adhere to industry best practices?
We do the research so you can find trusted products for your health and wellness.
The traditional Filipino tuber just keeps getting more popular.
With coronavirus making travel a tricky and even potentially dangerous prospect this year, we're embracing the summer staycation. All week (and all summer) long, we'll bring you transportive flavors and travel-inspired ideas from around the world, so you can take your taste buds on a trip and give your mind a mini vacation while you're still at home. Here, an overview of ube, the Filipino purple yam that's taken over Instagram.
If you've been watching Instagram at all for the past couple years, you'll notice there's one trend that still seems to be popping up everywhere. From soft serve and pastries to bubble tea and cocktails, foods have been looking very, very violet thanks to ube, the purple yam.
Last year, Trader Joe's got in on the action with their ube ice cream (which is back this summer), and the current bread baking craze has collided with this striking tuber in the form of ube sourdough:
So, What Is Ube?
It's a tuberous vegetable called Dioscorea alata, or ube, also known as the purple yam—no surprise the vegetable is celebrated for its distinctive hue. While that color may be familiar around a Filipino dinner table, it is pretty unusual for the average American diner and they've been clamoring for it.
Indigenous to the Philippines, the yam has grown in popularity in the U.S. for a few reasons. First, Filipino cuisine is gaining notoriety with the rise of hip restaurants like Jeepney in New York, Bad Saint in Washington D.C., and Lasain Los Angeles. With a demand for Filipino food, a few farmers have started to grow the hardy, tropical plant stateside too. But most notably, with all the attention on Instagram-friendly dishes and unicorn foods, ube is getting a lot of love because of its color.
What Does Ube Taste Like?
Like the yams and sweet potatoes on your Thanksgiving table, ube is a very versatile ingredient, but a little unique to describe as a flavor.
"The best way I describe it, is that it tastes very similar to taro," said Michael Tsang, a co-founder of New York's Asian-inspired Soft Swerve ice cream spot. "If you haven't had taro before, I'd say ube has a slightly nutty flavor and a hint of chestnut in it. It's not really recognizable for an American palate."
Michael Tsang and his friend Jason Liu—who both grew up in New York's Chinatown—were inspired by the classic Filipino dessert halo-halo when they set off to create their ube soft serve, which has become quite the sensation online.
Tsang explained that halo-halo is actually Filipino for "mix mix," which blends beans, corn, and rice over a scoop of ube ice cream. It's often a place where young Filipinos first encounter the purple ingredient. After finding some pretty low quality ube ice cream on the market, Tsang and Liu wanted to introduce diners to something a little more elevated.
Oishi Pillows Ube Filled Crackers, 10 bags for $125.99+ from Amazon
Try a taste of ube via these crunchy-creamy Filipino treats. Buy Now
The chefs warn that, like all veggies, the flavors between each ube plant can vary a bit and can be especially dependent on where it was grown. Larger yams are generally much sweeter than smaller versions, and if a yam has wintered over properly, the starches break down into sugars making the sweet vanilla flavor much more pronounced.
How Can You Use Ube?
Ube shows up in a lot of desserts stateside because of its slightly sweet flavor and rich texture, and because dessert is where it often appears in traditional Filipino cuisine.
"Often you see ube converted into jams and pastes called halaya," explained Nicole Ponseca, owner and CEO of New York's Filipino gastropub Jeepney and restaurant Maharlika. "That jam is used in jelly rolls, bread cakes, and ice creams. Ube is a little bit like a mix of vanilla and pistachio. It's sweet and earthy."
In the past couple of years, it has appeared in viral dishes at Williamsburg's Manila Social Club as a purple frosted ube donut and as an ube tart at popular California bakeshop Mr. Holmes Bakehouse.
Ube's not only getting a starring performance on dessert plates, though. Chef Mark Russell with posh New York catering company Great Performances said he was more inspired to use the yam as a savory dish. He includes ube in a vegetable carving station served with sauces like aioli.
"We serve ube where you would traditionally serve the Sunday roast," he said. "As people move to more of a vegetable-based diet, we're trying to get variety and trying to shake the rafters a bit."
For New York-based mixologist and Den Hospitality beverage director Grant Wheeler, ube's color and subtle flavors were the perfect addition to a The Violet One at newly opened lounge called Blue Light. The drink, a riff on a Pisco sour, blends lemon, housemade falernum, egg whites, ube and house simple syrup infused with ginger, clove, allspice, and cardamom.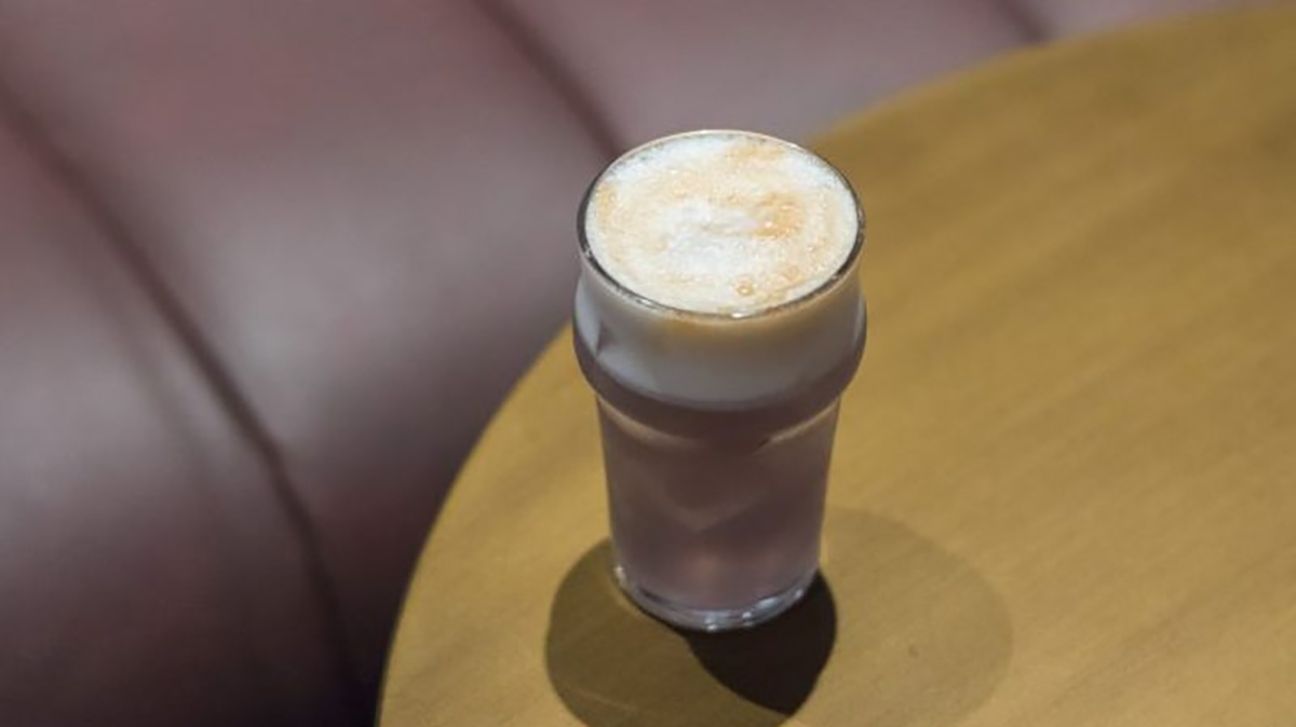 "I've always been an impulsive consumer of junk food, and as far as Filipino junk food goes, ube reigns supreme. Cakes, candy, ice cream: ube is the answer," he said. "I think the ube zeitgeist encouraged me to use it in a cocktail. Everyone is hyped on ube and peripherally familiar with it these days because it's photogenic."
Want to try your hand at homemade Insta-worthy ube dishes? Try these on for size.
Here's a modern riff on the classic Filipino dessert in a perfect package. Get our Halo-Halo Pops recipe.
Simple, slightly tropical, and totally delicious. Get the Roasted Ube with Coconut, Lime, and Tahini recipe.
Everything you need to know about that ube jam present in cookies and cakes. Get the Halaya recipe.
Get the big color and impress friends next time you host brunch with these easy to make ube and coconut donuts. Get the Baked Ube Doughnut recipe.
Here's a more traditional interpretation of halo halo using a great time saver: store bought ube ice cream. Get the Halo Halo recipe.