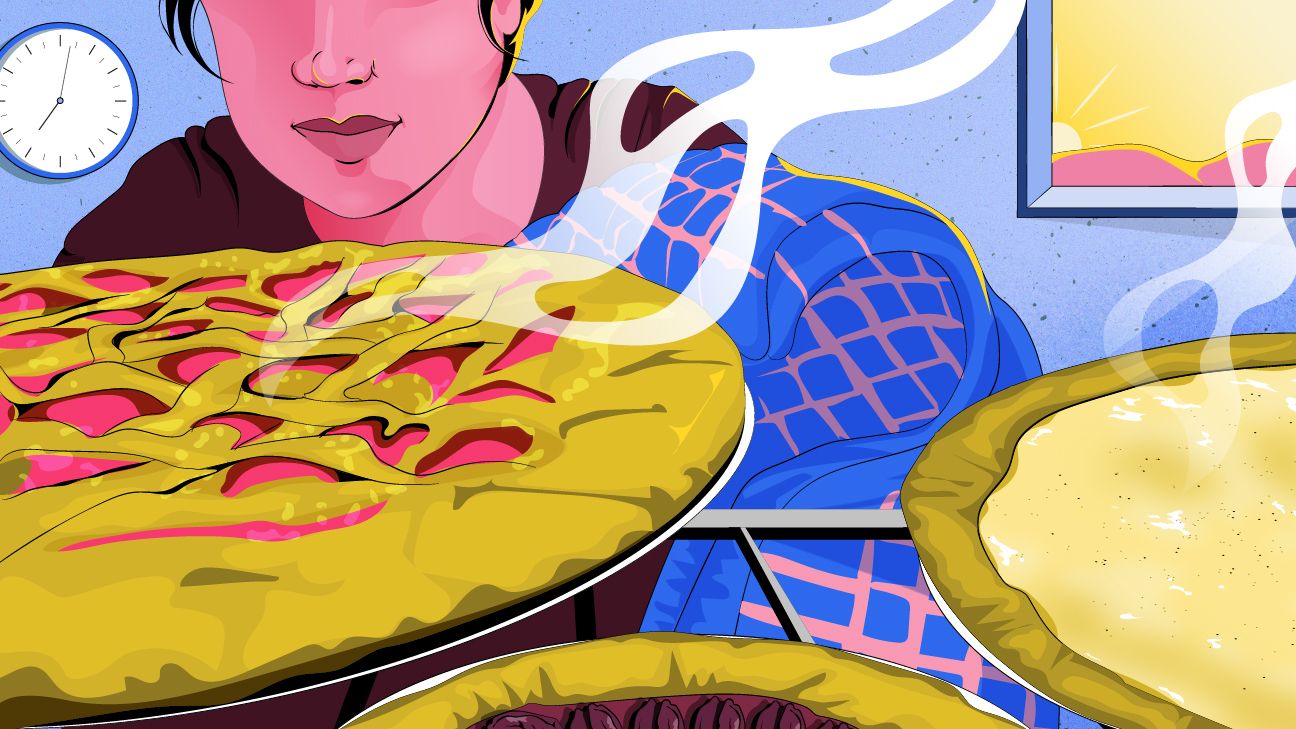 Thanksgiving is prime time for pies, and if you're the one on Pie Duty for the big feast, it can be hard to choose just one to make. Before you start sweating over your pie plan, check out this easy guide for how to bake multiple pies at once.
If you're facing pie-mageddon ahead of your upcoming holiday celebrations, try these six simple steps to wow your friends with three (or more) amazing pies — all completed before you start thinking about lunch.
The 3-pie Thanksgiving: A holiday anecdote
My brother was hosting Thanksgiving dinner and requested we bring three pies from an amazing local bakery. Easy-peasy, right? Well, it was… until I went to reserve them online and discovered they weren't taking any more orders.
I wracked my brain for alternatives: Show up early to the pie shop on Thanksgiving morning and shamelessly beg? Brave the grocery store crowds?
"Why don't we just bake all three pies ourselves?" asked my boyfriend. I paused in the middle of my panic attack.
Since pies weren't exactly materializing from thin air, perhaps baking was a viable option. But I was skeptical. Especially since our schedule was all… well, Thanksgiving-y — meaning that we had a single morning to prepare our pies.
It sounded daunting but we took a chance and pulled it off! Our apple, pumpkin, and bourbon pecan pies garnered rave reviews. Throughout this guide, I'll share some examples of how we negotiated the tight schedule.
Pies range from the super-simple to the uber-fancy. But you don't need to fall on your sword to make something crazy and complicated to impress your family. They'll still love you regardless.
If pie is your food assignment this Thanksgiving, take some time a few days ahead to find highly rated recipes with just a few steps. They may involve some prep ahead of time (see number 3 below), even better, so you're less rushed come baking day.
In our seemingly endless recipe research, we found many pies that were simple to assemble (and had hundreds or thousands of 5-star ratings).
Our apple pie, for example, used an apple cider syrup that gave it a little pie-zazz, and was super easy to make with the cider we already had at home.
Along the lines of "don't be a martyr," don't turn your nose up at ready-made crust. It's an easy shortcut when you're pressed for time.
While there are some truly amazing pie crust recipes out there — and some people will argue that the crust really makes the pie — most people won't notice if yours is store-bought (especially if it's got an amazing filling).
It's so easy to find pie crusts at any grocery store. Simply let them warm up a bit, roll them out, and voila: You're ready to go.
The premade crust was a no-brainer for us. I don't think I had ever made a pie crust from scratch before (or if I had, it's been a really long time) and if I screwed it up, I wasn't going to have time to redo it.
Rome wasn't built in a day, and great pies don't have to be, either.
There's a surprising amount of prep work you can get done before assembling and baking your flaky holiday dessert. This takes a hearty slice of stress out of the next day, leaving you to put together your pies in peace and enjoy your celebrations.
The night before Thanksgiving, I didn't get home from work until after 7 p.m., and we had dinner reservations for our anniversary an hour later.
But a lot can happen in an hour. We quickly whipped up the pumpkin pie filling and left it in the fridge overnight so the flavors could develop.
The next day we simply poured it into the pie pan and popped it in the oven before we had our morning coffee.
Pie numero uno: Done in a flash.
Just like getting to the airport on time or working your way up to a 5k, successfully baking multiple pies at once comes down to mapping out a schedule.
When you're on a tight timeline, be sure to look at how much time each pie needs to bake, along with how much prep time each requires. And make sure the timing is realistic! Slower bakers might find it better to double up on a recipe that states a 30-minute prep time — because they know it will take an hour.
Pro tip: Time your prep for one pie while the other is in the oven.
Since we mixed our pumpkin filling the night before, that pie went into the oven right away while we assembled the other two.
Similarly, the pecan pie took less time to prep than the apple, so it went in the oven next, even though its cooking time was technically longer.
Kitchen tools like immersion blenders, food processors, egg separators, and cherry pitters can make all the difference between a time-consuming slog and a dessert that's easy as, well, pie.
If you don't have essentials like these, they may be worth purchasing — you'll have plenty of opportunities to use them in the future. Or, if you don't want to buy them, chances are a pie-happy friend will lend them to you. (Especially if you promise them a slice later.)
I've never been more thankful for my glorious mandoline than when I used it to thinly slice 8 cups of apples for the apple pie. It would have taken me forever if I had to do it by hand.
Nothing will ruin well-made pies faster than wrapping them up before they've fully had a chance to cool. Fillings will collapse or remain watery, crusts will get soggy, and all that effort will result in mediocrity instead of fabulousness.
So when planning your Thanksgiving timeline, make sure to account for at least an hour or 2 to cool the pies on a wire rack before you transport them.
Put our feet up and watched the Macy's Day Parade. With our night-before prep, immaculate schedule, and handy kitchen tools, that spare hour was ours for the taking.
This gave our pies a whole chunk of time in which to cool.
Now that you have the plan, here are some delicious pies that fit the bill for easy, fast baking — starting with the three that we made.
Get ready to impress your friends without taking up all your vacation time!
Apple pie
The little something extra in our recipe was apple cider concentrate, also known as boiled cider. It gave this pie a super-kick of apple flavor.
To make the concentrate:
Pour a generous amount of apple cider in a saucepan.
Bring to a rolling boil, then turn down to a simmer until it reduces down to as little as 1/7th of its original volume.
Remove it from the heat — it should still have quite a liquid consistency.
Pour the concentrate into a glass container.
Put it in the fridge for an hour, where it will gel into a delicious, apple-y syrup.
To save on time, try making the concentrate the night before. Or you can let it reduce down while you work on other steps. (Just keep your eye on it as you go.)
Pumpkin pie
This was so incredibly easy and the clear winner at our Thanksgiving dinner.
Simply mix all the filling ingredients the night before, let it rest in the fridge, then pour it into the crust when it's go-time. Then, boom! Into the oven.
I'd recommend brushing the crust with an egg white wash. You can get this by whisking one egg white with one tablespoon of water. An egg white wash keeps the crust from burning in the super-hot oven.
But even if you forget this step, you can't go wrong with the earthy flavors of cinnamon, ginger, nutmeg, and cloves married to warm, creamy pumpkin.
Bourbon pecan pie
The recipe doesn't actually call for bourbon, but my boyfriend, who believes that pecan pie is "the greatest pie to ever be a pie," wanted it. So we threw a few tablespoons into the mix.
We overloaded on pecans so they didn't sink to the bottom. If you end up with that sinking pecan feeling, simply layer decorative pecan halves on the top before you put it in the oven. The sunken pecans still taste like pecans, and this will just keep it looking festive.
Key lime pie
It may not be a Thanksgiving staple, but key lime is a firm favorite — and why not embrace the unexpected?
This pie uses a graham cracker crust that's actually pretty foolproof and easy to make. If you wanted a little extra time to try a homemade crust, this is probably the recipe to choose. If not, premade graham cracker crusts are easy to spot in the baking aisle, already pressed into disposable pans.
It's best to use real key limes and not regular limes. You'll get a delicious tang that offsets the sweetness of the rest of the pie.
Chocolate mousse pie
Who doesn't love chocolate in their pies? Don't be scared off by the supposed need for a stand mixer for this one. A little bit of elbow grease or a handheld mixer will do just fine.
The convenient thing about this pie is that it's no-bake. Once you're done, just throw it in the refrigerator for a while to set up while all the other ones are doing their thing in the oven.
Peach Melba pie
Fruit pies are always refreshing, and this one is a cinch to pull together — simply mix and go.
It's also really easy to finish the different steps in this one. You can prep the streusel while the main pie bakes, then sprinkle it on top as soon as it's done.
Banoconut cream pie
Another refrigerated option!
Cream pies lend a certain decadent mouthfeel and elegance, and banana and coconut are a winning flavor combo. You'll need a thermometer for this one, and it'll take a little time. You'll also need to keep your eye on the filling as it cooks.
As soon as this pie is done, though, just set it in the fridge and you're good to go.
Sarah Garone is a nutritionist, freelance writer, and food blogger. Find her sharing down-to-earth nutrition info at A Love Letter to Food or follow her on Twitter.