Whether you're traveling with your fam, exploring with your crew, or seeing the world solo, hitting up one of the United States' many national parks is a great way to vacay.
And with so many national parks to choose from (like, more than 400), there's a park for every kind of traveler — from the super outdoorsy and U.S. history lovers to Instagram models and beachgoers.
But which one is right for you? We're glad you asked! Our short quiz will help you find the perfect parks to visit based on your travel personality.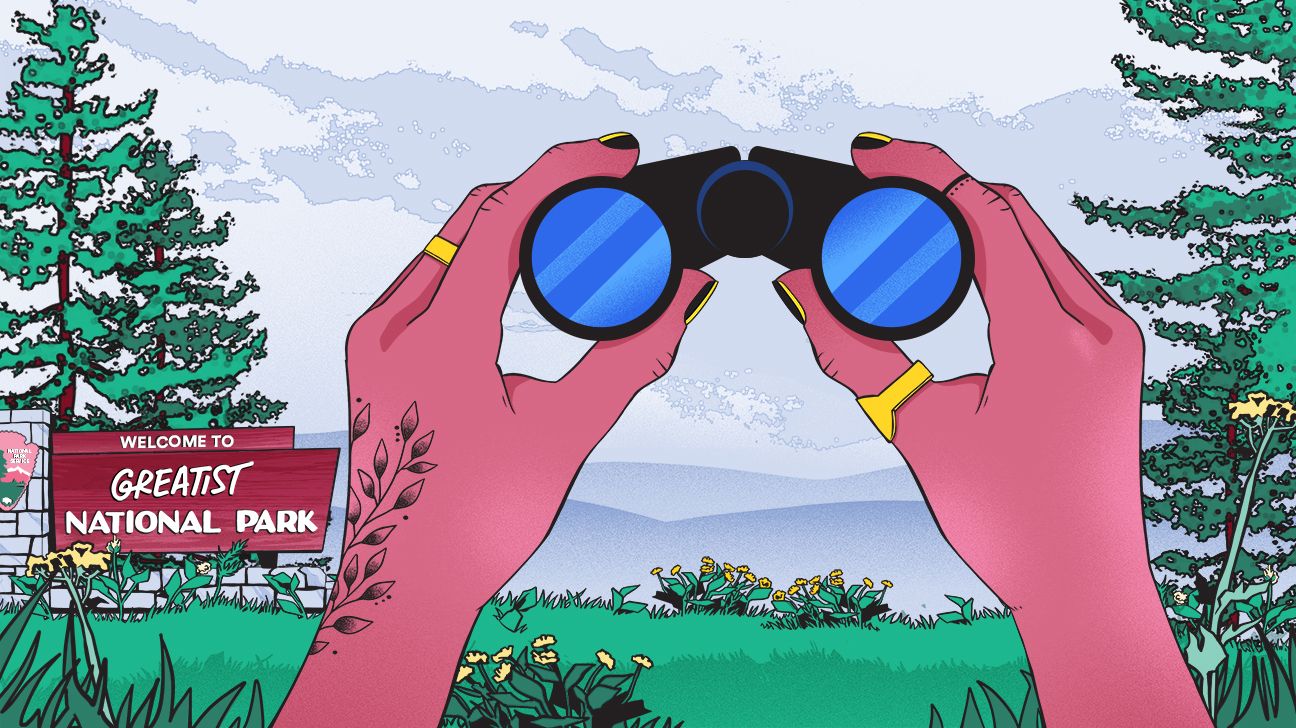 Learn more about your national parks:
Home to rugged mountains, stunning glaciers, and beautiful lakes, Glacier National Park is a nature lover's dream. It's located in Montana and is part of the Rocky Mountains.
While you can enjoy incredible views driving the famed Going to the Sun Road, really getting a feel for this gorgeous park requires lacing up your hiking boots. Glacier National Park features more than 700 miles of trails, including many kid-friendly day hikes.
You can pitch a tent and sleep under the stars in one of the 1,009 campsites. Want to be even more off the grid? Wilderness camping is available, but it requires advance registration. This park is a popular one, so you better make your reservation ASAP.
Glacier National Park is also home to some impressive wildlife, including:
bears
mountain lions
elk
bighorn sheep
mountain goats
If mountains are your thing, add Grand Teton National Park to your bucket list. Located in Wyoming, the Teton Range (another subrange of the Rocky Mountains) towers over serene valleys and pristine lakes.
You can immerse yourself in the mountains by camping at one of the parks many campsites. RV hookups are also available. And if you're feeling really adventurous, you can get a permit to pitch your tent in the backcountry. But be bear-y careful: The park requires all backcountry campers to carry bear-resistant food storage canisters.
Calling all thrill seekers: The mountains of Grand Teton National Park make for some tough hikes. The terrain is rugged, the trails can get steep, and the elevation changes create some serious weather swings. It's also a great place for climbing if you want to feel a little ~dangerous~.
Take it off land
You can also boat or float down the Snake River, which flows through the park. Catch some fish, see the wildlife, and you may even encounter mild rapids.
Great Smoky Mountains National Park is the most popular national park in the country, and it's no wonder why. It's home to the famous Appalachian Trail, countless breathtaking waterfalls, and mountains that reach almost 7,000 feet high.
Despite its millions of visitors each year, you can still find seclusion in the Great Smoky Mountains. The massive park stretches over 500,000 acres divided almost evenly between North Carolina and Tennessee and offers frontcountry and backcountry camping.
And there's no shortage of hikes to choose from. Great Smoky Mountains National Park has more than 150 trails covering 800 miles.
*Do* go chasing waterfalls
Great Smoky Mountains National Park is known for its falls. It's home to 11 major waterfalls, but smaller falls can be found in almost every river and stream in the park.
Get ready to blink in disbelief at the beauty of Utah's first national park. Walking around Zion will make you feel like you've been transported into a Bob Ross painting of colorful cliffs and happy canyons.
There are many ways to indulge your outdoorsy side in Zion National Park, including:
hiking
camping
horseback riding
rafting
And you can also treat your social side. Right outside the park sits the town of Springdale. Don't let its size fool you — there's a lot to explore in this charming little town.
Pick up an espresso from a coffee shop or stop by a pub for local craft beer, and then hit up an art gallery or shop for souvenirs. You can end the day refueling at the one of the town's cafes, pubs, breweries, bistros, or even a steakhouse.
Canyoneering — it's a thing
Up for a walk on the really wild side? Zion National Park is the it spot for canyoneering, a super outdoorsy activity that involves:
route finding
rappelling
problem solving
swimming
hiking
There are countless ways to explore Acadia National Park, which is located on the coast of Maine. Go for a summit hike to take a selfie (carefully!) on top of a mountain, hike along the rocky coast, or weave through the forest with views of lakes and ponds.
And you don't have to travel Acadia on foot. In addition to 158 miles of hiking trails, the park has 27 miles of historic roads you can drive and 45 miles of carriage roads that are great for biking.
But much of the area's charm sits just outside the park. Acadia is surrounded by adorable towns and villages. To get a true New England experience, you def need to check out Bar Harbor.
Bar Harbor is home to boutique hotels, quaint B&Bs, and some of the area's best restaurants. Enjoy fresh seafood, local produce, and craft cocktails while looking out at yachts and lobster boats heading out to sea.
Located on the coast and up in the corner of the country, Acadia is far from any big city lights, so it's ideal for stargazing. Grab your blanket and head out to one of the park's recommended stargazing locations:
Seawall
Cadillac Mountain
Jordan Pond
Ocean Path
Sand Beach
When it comes to nature, California's Yosemite National Park has it all: mountains, waterfalls, giant sequoias, wildlife, cliffs, valleys, meadows, and more. And it's a great spot for all the outdoor things. Think hiking, camping, rock climbing — ya know, the usual.
It may be a national park, but it's still got a social scene. Yosemite has a lot of options for some evening fun, including:
craft cocktails in Curry Village
fine dining in the Ahwahnee Lodge
s'mores on the patio at the Mountain Room Restaurant at Yosemite Valley Lodge
plays and presentations at the amphitheater at Yosemite Valley Lodge
Home to more than 165 species of birds, Yosemite is a birdwatcher's dream. Keep your binoculars handy in case you come across one of these rarer species:
great gray owl
spotted owl
peregrine falcon
pileated woodpecker
northern goshawk
The Grand Canyon is no doubt an impressive sight with a photo op around every bend. But Arizona's famous national park is also rich in history, which you can literally see in the layered bands of colorful rock.
Walk the Trail of Time and read about 1 million years of the Canyon's geologic history. Or go back in time in Grand Canyon's Historic Village, a historically preserved village that dates back to the early 1900s, and check out the Grand Canyon Railway Depot, Hopi House, or Buckey O'Neill Cabin.
When you're done learning and in the mood for some good old-fashioned outdoorsy fun, the Grand Canyon doesn't disappoint. Popular activities include:
day hiking
backcountry hiking
river trips
mule trips
camping
biking
river rafting
Jeep and van tours
helicopter tours
Yellowstone is the country's first national park and it sits in three states: Idaho, Montana, and Wyoming.
With its OG status comes a whole lotta history. People have been visiting and living in the Yellowstone area for more than 11,000 years. Every area and building in the park has a story.
Here are just some of the ways you can nerd out Ken Burns-style on Yellowstone's amazing history:
Watch the Old Faithful Geyser erupt.
Take a wagon to an Old West Dinner Cookout.
Visit the Lamar Buffalo Ranch.
Check out the Norris Geyser Basin Museum.
Tour Fort Yellowstone.
Yellowstone has something not all parks can offer: It's actually an enormous volcano. The largest volcanic system in North America, to be exact. But don't worry — scientists aren't expecting it to erupt anytime soon.
In the meantime, the volcanic environment features some super cool sites, including:
geysers
hot springs
mudpots (Mud Volcano)
It may not be the tropics, but Olympic National Park has more than 70 miles of coastline. Add mountains and rainforests and you've got a national park that has something for everyone.
For ocean vibes, check out Kalaloch, Ruby Beach, or Rialto Beach. You can walk the shores, play in the waves, or search for tidepool treasures. They also all have hiking trails, picnic areas, and campgrounds.
If you're more into #LakeLife, there's plenty to choose from. Olympic National Park is home to 800 lakes. You can lake in leisure on a boat tour or get active with a canoe, kayak, or paddleboard.
The coast, rivers, and lakes of Olympic National Park are full of wild salmon, trout, and char. But don't go packing your favorite fish seasoning just yet. Most fishing in Olympic National Park is catch-and-release only, so be sure to check the guidelines before firing up your grill.
Craving some time in the actual tropics? Say hello to Dry Tortugas National Park. Located about 70 miles off Key West, the park consists of seven small islands and a lot of open water.
Only 1 percent of Dry Tortugas National Park is dry land, so to really enjoy it, you'll have to get wet. You can go for a swim off one of the many island beaches or snorkel or dive to see a colorful world of coral reefs beneath the surface.
Bring your camping gear and stay at the park, or stay on one of the Florida Keys and take a high speed catamaran to visit the park.
Dry Tortugas National Park is home to historic Fort Jefferson. Made of 16 million handmade red bricks, it's one of the largest 19th-century forts in the country. And its interesting history includes a pretty famous prisoner — Samuel Alexander Mudd, who was involved in the assassination of Abraham Lincoln.
Channel Islands National Park may be located just off the coast of California, but you'll feel like you're a million miles away from civilization. The park is made up of five islands and the ocean that surrounds them.
The Channel Islands are known for their wildlife. They are home to more than 2,000 species of plants and animals, many of which can't be found anywhere else in the world. On a trip to this park, you're likely to see elephant seals, dolphins, and whales (even blue whales!).
The Channel Islands offer a ton of ocean-centered activities, including:
boating
kayaking
snorkeling
diving
fishing
surfing
tidepooling
Each island has one designated campground. Or you can opt for comfier accommodations in Ventura, which is only 14 miles away.
Many species of seals frequent the Channel Islands to get their feed on or get their groove on, including:
California sea lion
harbor seal
northern elephant seal
northern fur seal
Guadalupe fur seal
Steller sea lion