If there's one truth about camping season, it's that it has us hungry for fresh air, adventure, and, of course, snacks. Sadly, bringing half the snack aisle on a camping trip just isn't practical — or environmentally friendly.
So we've rounded up some of our fave make-ahead camping snacks you can munch on while hiking, while out on the water, or while just hanging by the fire.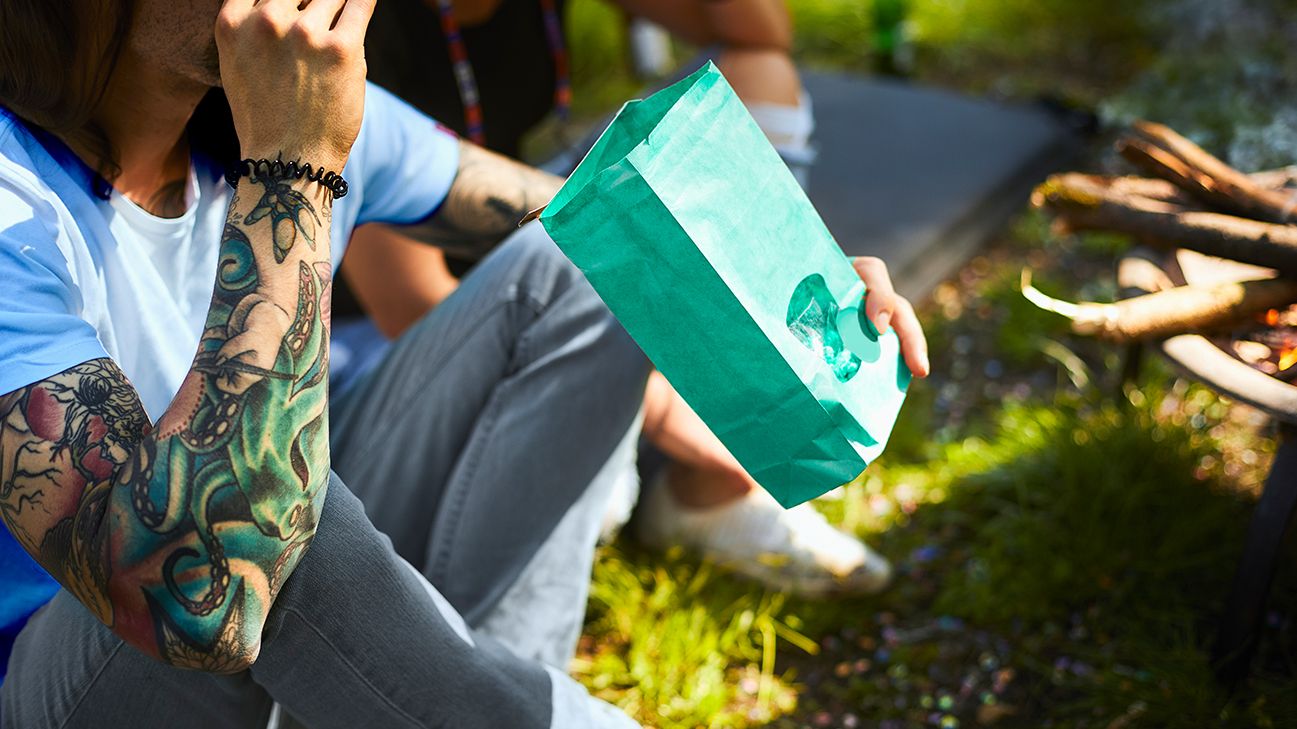 Room-temperature storage
Everything on this list can be safely stored at room temperature for several days, if not longer.
If you're camping in an RV or have a cooler that can safely keep things cold for 24 to 48+ hours, then you're fine to bring snacks that require cold storage. But for the purposes of this list, we're assuming you're roughing it (aka no cooler).
Non-meltability
You'll also want to consider the temperature of things that melt or become soft at room temp and above.
Things like chocolate, certain nut butters, and coconut oil might be fine all day in a school lunchbox with a small ice pack, but they're less ideal when you're in the middle of a hike without any napkins to wipe down sticky fingers.
Minimal packaging
You don't want to bring a lot of potential litter with you into the woods, so any snack that uses minimal packaging is ideal. Some bars or wraps, especially if they're sticky, might need to be wrapped individually. Most of the snacks on this list can be stored in a large reusable container together.
Deb from Smitten Kitchen has yet to steer us wrong, and these granola-crusted nuts are another winner. They're crunchy and filling, with a little bit of sweetness — the perfect trail snack to bring when you need an energy boost on a hike.
Roasted chickpeas are an ideal low effort snack. They're a great protein-packed alternative for people who don't eat nuts. This recipe calls for Cajun seasoning, but if you're looking for something with a little less heat, you'll find a handful of other flavor suggestions to choose from.
Even if you aren't planning to make s'mores on your camping trip, you can still enjoy the classic marshmallowy, chocolaty, graham cracker-y flavor combo in other ways. Make this chocolate-drizzled popcorn topped with mini marshmallows and graham cracker crumbs at home and enjoy s'mores around the campfire with a crunchy twist.
Note: This is a very "meltable" snack, so you'll probably want to keep it in the shade until snack time.
These energy bites are so easy to make, with just six ingredients and no baking required! They've got protein from peanut butter and chopped peanuts, carbs from oats, and some welcome sweetness from chocolate chips and honey.
If you were impressed by the six-ingredient energy bites, you're going to be even more impressed by these five-ingredient raw fig bars. No baking required here, either — just some time in the fridge to set before you cut 'em into rectangles and stash 'em in your pack.
British flapjacks are nothing like American pancakes. They're chewy oat bars — almost like granola bars but not quite as crunchy and a whole lot sweeter.
These double ginger almond British flapjacks are a great make-ahead option for any camping trip. They need just a short stint in the oven, and then you break them apart once they cool.
Homemade Fruit Roll-Ups, you say? Count us in! This strawberry apricot fruit leather is made with whole fruits and is so unbelievably simple. Roll it up with strips of parchment paper for easy storage on the go.
Just saying the phrase "rosemary roasted cashews" has our mouths watering. If your camping trip involves an RV and some chilled white wine around a campfire, you'll be glad you thought to make these at home to munch on while you wait for dinner to come off the grill.
These cranberry almond granola bars are loaded with cashews, almonds, dried cranberries, and pepitas (aka green pumpkin seeds). They're also topped with a chocolate drizzle, but if you're worried about it melting, you can skip it.
They're small but filling and packed with lots of tasty goodness to keep you satisfied until lunchtime.
Larabars have a dedicated following for a reason — they're vegan and tasty AF. These six-ingredient homemade apple pie imitation "Larabars" are also vegan, and they're easy to make at home. And unlike store-bought Larabars, these don't need to be individually wrapped. Less waste, less mess.
These babies transform a handful of trail mix into a cookie. They're made with oats and spelt flour with lots of cranberries, sunflower seeds, and chocolate chips mixed in. If that's not enough, they've also got almond butter, coconut oil, and half a banana just to round out the trail mix experience.
And while there is a small amount of flour in the recipe, there's also a note on how to replace it in case you'd like to make these gluten-free.
We're back on our s'mores ish again — but seriously, what kind of camping trip is complete without s'mores??? What we love about these is that they're part Rice Krispies Treat, part granola bar — the perfect handheld sweet snack for the end of a long day.
This is probably the most involved recipe on the list, but it's worth including because hand pies are a camping classic.
Flaky puff pastry filled with a maple-pecan mixture — what more could you want? They're like Pop-Tarts but homemade. Definitely a tasty treat you'll be glad to eat after a day of nuts, granola, and dried fruit.
These crispy fruit chips are basically crispy fruit leather. They're also sneakily packed with 2 cups of spinach, though you'd never guess from eating them!
They do take 8 to 9 hours to dry out (at a low 140°F/60°C) in the oven, so make sure you've got plenty of time before you leave if you're planning to make these.
The ingredients for this recipe from wallet-friendly blogger Budget Bytes cost just $6.15 and make 5 to 6 cups of nutty, cinnamony granola. Don't be shy — go back for seconds.
Kale chips can be a bit divisive — some people love them, some people hate them. If you're in the former group, this recipe is about as easy as it gets. Since kale chips can be fickle, we're grateful for foolproof options like this to keep us fed without the stress.
Chex Mix is one of the all-time greatest snack foods, hands down, and making it at home is so much easier than most people think. This recipe is the definition of minimal effort, and the best part is you can choose your perfect ratio of cereal to breadsticks to bagel chips to pretzels.
Rebecca Eisenberg is the freelance food editor at Greatist. She's the voice behind the food blog The Practical Kitchen and recently earned her Certificate in Pastry Arts from Cambridge School of Culinary Arts (Class of January 2021). She lives in Boston with her husband and two cats.