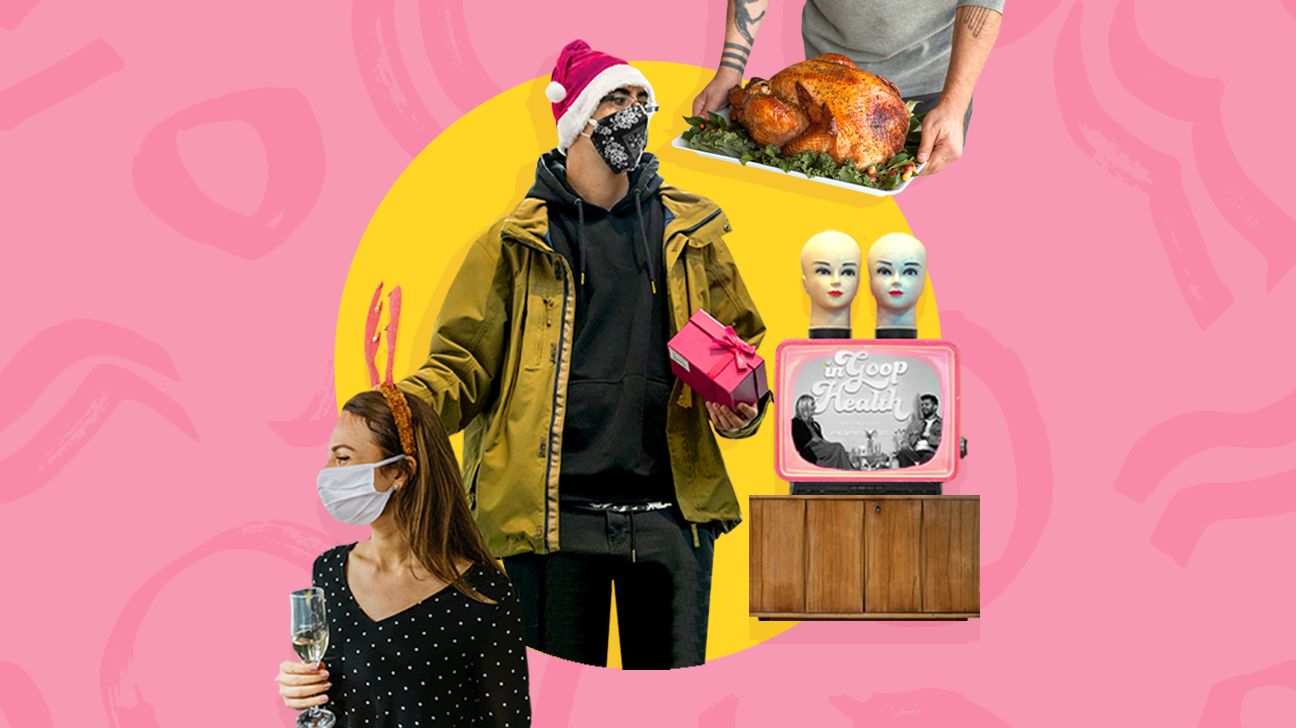 Oh gosh, golly. It's December, folks, and the holiday season is a swingin'! But, hey, not everyone's into all the merry and bright. Even if you are a huge fan and ready to crank out the cutout cookies and dial up the holiday ditties, the season can still bring about stress, anxiety, and even depression.
So in this installment of The Download, I want to address holiday stress and offer some pointers on how to cope. Plus, I've included the usual newsy health bits you should be in the know about.
But first, let's start with a little light news from the gal who brought us the V-jay-jay candle and more — and never ceases to spark conversation on both the naughty and the nice…
This time she's got a Netflix show called "Sex, Love & goop." And boy is it goopy. One good thing of note is that Gwyneth Paltrow says she aims to promote pleasure for peeps with a vulva. In fact, the show even features a vulva puppet. (New throw pillow, anyone?)
In her fresh show, Paltrow pairs couples with sexologists to work through intimacy and pleasure issues. Although it does foster sex and pleasure positivity (a good thing), it's also equal parts cringe, WTF, and Paltrow's usual dose of woo.
With all things Gwynnie and goop, keep in mind that she's been known to push some seriously questionable products and wellness practices — especially for vaginas. And she's been sued for it.
Let us not forget the jade egg she wanted us to shove all up in there to "tone" our yonis. She agreed to pay $145,000 in civil penalties for those false claims. Goop girl also wanted us to mugwort steam-clean our precious parts, which plenty of OB-GYNs have said is totally unnecessary and could even cause harm.
So, if you give the show a go, just keep in mind that misinformation has been a goop and Gwynnie mainstay. Watch for your viewing pleasure, but perhaps don't take any wellness tips seriously, at least not without confirming whether they're based on an important thing called science.
Allow me to be Scrooge-y AF for a minute. I promise it's in the name of health and well-being. And I vow to make up for it with holiday cheer at the end of this column.
Holiday gatherings can be a source of angst to say the least, especially if you have relatives or close family members who grate on your nerves or upset you in other ways.
Sure, it's one thing if Cousin Carla likes to drone on about her latest work drama. You can simply excuse yourself for more nog. But it's entirely another thing if a family gathering subjects you to physical or verbal abuse, hate speech, microaggressions, or potential exposure to COVID-19, etc.
You don't have to attend a toxic gathering and endure an environment that causes you harm. You also don't have to endure old family dynamics where people refuse to acknowledge or change destructive behavior. You can set your boundaries and say no. You have every right to spend the holiday season in a safe space. And since the holiday season may involve some time off from work, you should spend that time in a way that rejuvenates you, not saps your energy or triggers you.
You have the right to stay home.
You have the right to start your own traditions.
You have the right to skip out on old traditions.
You have the right to say no to old family dynamics.
You have the right to say no to food and drink you do not want.
You have the right to say no to or otherwise limit being around toxic people.
You have the right to say no to gift exchanges, especially if they'll put you in debt.
You have the right to not engage in drama that people try to force you to engage in.
You have the right to set new boundaries and be assertive when someone pushes them.
As we round out 2021, a stat has come to light that's quite disheartening. Over the course of the pandemic, from April 2020 to April 2021, more than 100,000 people in the U.S. died from drug overdoses. This is the first time the number of deaths from drug overdoses has reached the six-figure mark in a 1-year period. The provisional numbers reported by the Centers for Disease Control and Prevention (CDC) show a 28 percent increase from the same period from 2019 to 2020.
If you want to learn more about opioid addiction and why the U.S. is facing such a crisis, I recommend the nonfiction book Dopesick: Dealers, Doctors, and the Drug Company That Addicted America, by journalist Beth Macy. Or you can catch the miniseries based on the book on Hulu. And this Washington Post piece features some important graphics and info about overdose deaths.
U.S. opioid overdose deaths
The number of opioid overdose deaths from fentanyl is now higher than that of overdose deaths for all drugs in 2016.
The death rate from overdose is 21.1 per 100,000 people in the U.S.
Other wealthy countries all have overdose death rates of 5 or less.
West Virginia, Kentucky, Tennessee, Louisiana, Ohio, Delaware, Maryland, New Mexico, Pennsylvania, Connecticut, and Washington, D.C. have been hardest hit with overdose deaths during the pandemic.
The U.S. has a misinformation problem. A Kaiser Family Foundation report shows that 78 percent of adults surveyed believe false information about COVID-19. Yikes! FYI: Unvaccinated adults in the survey population were among the most likely to believe fake news.
The researchers presented 8 false statements to more than 1,500 peeps about the pandemic and COVID-19 vaccines. The survey results show 64 percent of the unvaccinated adults believe or are unsure about the validity of 4 or more of the myths. That's compared to 19 percent of vaccinated adults who believe in 4 or more of the falsies.
Where people get their news also plays a part in how much false info they fall prey to. For example, people who rely on Newsmax, One American News, or Fox News believe in more false statements than those who get information from NPR, MSNBC, Network news, and CNN, according to the research.
COVID ear is not when people talk your ear off about COVID-19 topics. *Who, meeeee?* Some people who've had COVID-19 have experienced issues with balance, hearing loss, dizziness, and more. Now a small MIT study provides evidence that the coronavirus can infect cells in the inner ear. The researchers say that once someone has contracted COVID-19, the virus may make its way to the inner ear and potentially cause these symptoms. But more research is needed.
On the first day of Christmas the FDA gave to you… expanded access to boosters. Now, everyone 18 and older who completed their Moderna or Pfizer-BioNTech COVID-19 vaccine series at least 6 months ago can get a booster shot. And remember, if you received a Johnson & Johnson vaccine at least 2 months ago, you can also get your booster. Plus, you can mix and match. So, if you received Pfizer for your primary series, you can get a Moderna booster if you prefer. You do you.
The mRNA technology that has proven effective in some COVID-19 vaccines is showing promise for a potential Lyme vax. Researchers at Yale are still in the early stages of developing and studying the vaccine, but so far it's shown to offer protection against the tick-borne illness in guinea pigs. The vaccine works by prompting an immune response against tick saliva, limiting the time the creepy crawlies can feast on you. The researchers say the vaccine may even provide protection against other tick-borne baddies. But more studies are needed.
I started out this installment of The Download as a bit of Scrooge. But I'm ending it with some Greatist gift guides to make up for it. So sip your favorite hot toddy if that's your jam and get your shopping on in peace. Most of all, be healthy and safe this season!