We include products we think are useful for our readers. If you buy through links on this page, we may earn a small commission. Here's our process.
Greatist only shows you brands and products that we stand behind.
Our team thoroughly researches and evaluates the recommendations we make on our site. To establish that the product manufacturers addressed safety and efficacy standards, we:
Evaluate ingredients and composition: Do they have the potential to cause harm?
Fact-check all health claims: Do they align with the current body of scientific evidence?
Assess the brand: Does it operate with integrity and adhere to industry best practices?
We do the research so you can find trusted products for your health and wellness.
The Centers for Disease Control and Prevention (CDC) recently updated its guidelines for fully vaxxed peeps: no more masks or physical distancing — with a few exceptions.
As the world slowly gets back to normal, we're all itching to make the most of it. But many restaurants still aren't at 100 percent capacity and trying to find an outdoor patio with enough space for you and your besties on the fly is near impossible. Sooo what's a post-quarantine social butterfly to do? We have just the thing.
A picnic is a perfect way to take advantage of gorgeous summer weather and you can have one on a whim. All you need is your posse and the right accessories to make it happen.
Enjoy a festive AF outdoor feast with your crew that's worthy of gracing your Insta timeline. Feel like an influencer for a day and give your picnic a major glow-up with these must-haves, recipes, and tips for a perfect day.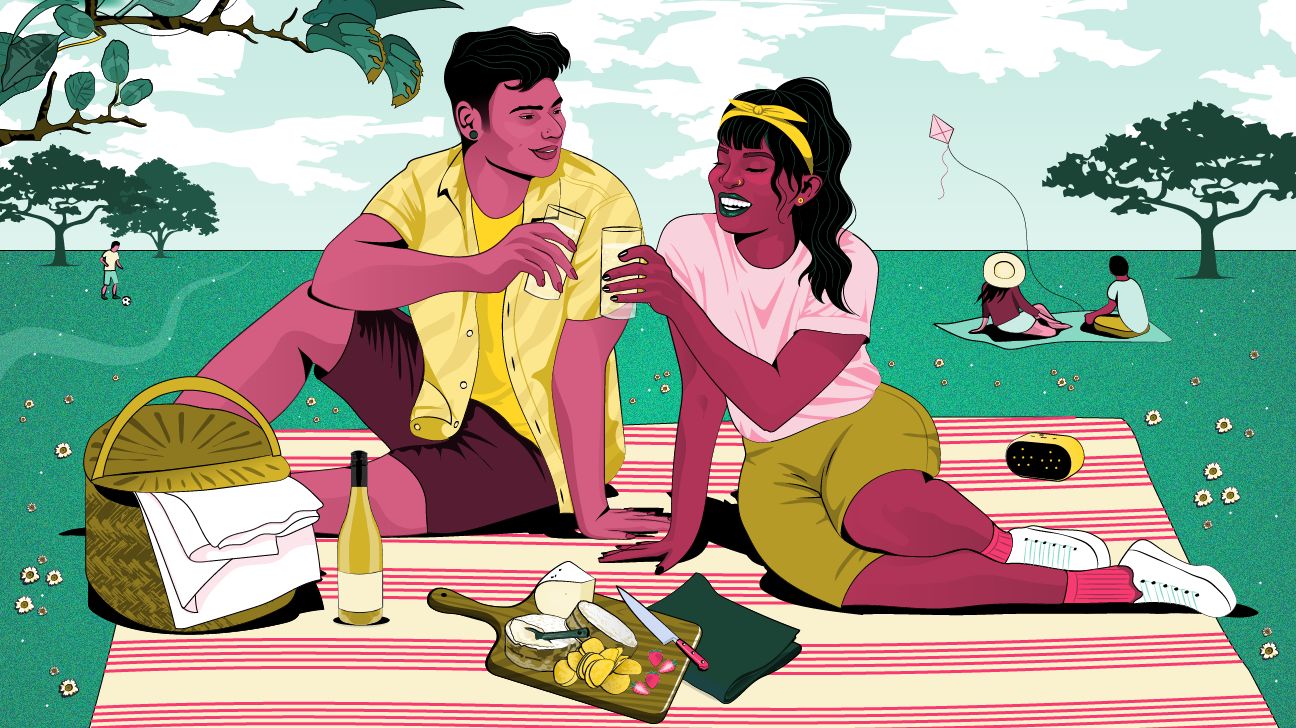 Here's everything you need for an IG-worthy picnic extravaganza.
A super cute water-resistant picnic blanket
Whether you're lounging on grass, sand, or dirt, you'll need something between you and the ground for comfort's (and cleanliness) sake. This adorable citrus-themed blanket from Society6 will keep your bum dry and sand out of your skivvies.
It has a UV-coating to prevent the design from fading, and the polyester material is easy to wipe down. The blanket is also water-resistant, so you can lay it down on damp grass without a prob.
A roomy picnic basket that gives off rustic vibes
If you're going for the traditional picnic look, this romantic wooden basket is cute AF. It features a fabric-lined interior and has enough plates and cutlery for you and your three BFFs — or a double date. 😏
Inside there's also a stainless steel corkscrew for popping open some bubbly, a wooden cutting board, wine glasses, and classy cotton napkins. All the dinnerware is dishwasher-safe, so post-picnic cleanup is a cinch.
An all-in-one picnic backpack for traveling light
If a rustic picnic basket seems too cumbersome to lug all the way to the nearest park, consider this stylish yet practical option that's a lot more portable.
Hop on your bike with this insulated picnic backpack in tow — it carries enough lunchtime supplies for up to four peeps and comes with stainless steel cutlery, plastic wine glasses, cotton napkins, and plates. It's also equipped with a picnic blanket so you can carry everything you need right on your back. A roomy, insulated compartment keeps food and drinks cold for hours.
A cooler to maintain the chill
These canvas coolers from Food52 are functional and adorable. And they're eco-friendly, too!
Pop some ice packs inside, and the lining will help keep your beers or La Croixs cool until you're ready to crack 'em open. The striped canvas exterior is bright and cheery and ultra-durable. You can bring this cutie to a picnic, but it's also versatile enough to tag along wherever you're heading for the morning or afternoon — beach, farmer's market, or backyard BBQ.
A snuggly spot for wine
This handy carrier fits two bottles of wine and features a leakproof, insulated design. The thick padding keeps glass bottles snug as a bug. A strap and handle make the tote easy to carry whether you're walking, biking, or taking public transit to your go-to picnic spot. The durable fabric keeps your drinks safe wherever you go, so no need to worry about ripping or tearing.
Tunes to set the mood
TURN. IT. UP.
What's an outdoor picnic without some beats to set the scene? This portable speaker is small but mighty, pumping out your fave Spotify playlist without skipping a beat. It has 12 hours of playtime (perf for all-day fun) and is waterproof up to 3-feet deep, so you're covered whether you bring it to the park, the pool, or the lake.
It's Bluetooth-enabled and can even connect to other JBL speakers to take the party to the next level. The best part? It comes in a ton of colors — and you can even design your own on JBL's site. Just make sure whoever connects has good taste in music. 😛
Games to keep the party going
In these almost-post-pandemic times, you'll probably have plenty of stuff to talk about with friends you haven't seen in a while. But you can still have a bit of extra entertainment on hand. Mix fun and food with this foodie chessboard where cheese bites double as chess pieces. 🧀 🧀🧀
If chess is a bit too cerebral for your taste, just flip the board over to reveal a backgammon board. Not into board games? No worries, skip the games and use it to serve alllll the cheese.
Another fan fave to consider is a Mexican train dominoes set. The dominoes are waterproof and heavy enough that they won't blow away — plus, it's fun for both kids and adults. You decide how long the game goes depending on how many rounds you play.
A portable grill for on-the-go cooking
If you want to go all out and cook while you're out and about, invest in this portable grill and whip up some burgers.
If you're planning an evening picnic, the BioLite also doubles as a fire pit. It produces hyper-efficient flames, so you're not choking on smoke and rubbing your eyes as you peer into the flames. And, get this, it's also Bluetooth enabled, so you can control the flame size with your freaking phone.
A shelter to keep the sun from ruining the fun
The sun gives us life, BUT it can also really eff up your skin. Too much of it can cause heat stroke and rapidly turn a refreshing picnic spread into a melty pile of unappetizing slop.
Plopping down your picnic blanket in a wide-open field can be freeing. When the sun's beating down on you though, you'll start to feel the heat — literally.
A shelter like this pop-up shade tent is lightweight and easy to transport. You can use it with or without stakes, depending on the wind sitch. It snaps open with a toss, and voila! You've got an instant shelter for naps and snuggle sessions.
A picnic without food? Yeah, bye. We're going home.
The whole point of a picnic is enjoying tasty finger food with your fave people. Here are a few picnic-friendly recipe ideas for your next al-fresco dining experience.
Sandwiches galore
There's a reason sammies are the quintessential picnic food.
No melting? Check.
Eatable with one hand? Absolutely.
Easy to put together on a whim? Hell yes.
Portable? You betcha.
Whether you're going for deli meat delights or prefer to keep it veg-centric, keep those sandwiches simple. Slice them into bite-sized pieces that are perfect for sharing.
Here's a vegetarian-friendly salad sandwich recipe to try:
Ingredients
1 can of chickpeas, drained
2 tablespoons of mayo
1/2 teaspoon of your fave mustard
1/2 teaspoon onion powder
Salt and pepper to taste
Your fave bread
Toppings (optional)
Smash those chickpeas with a potato masher or other comparable utensil. Mix in the mayo, mustard, onion powder, salt, and pepper. Then scoop the mash onto sliced bread and add optional toppings.
Charcuterie board
Skip the chess-playing and use the cheeseboard listed above for your mini picnic charcuterie spread. Ideas for what to include:
All these components are easy to toss into a picnic basket or backpack. And don't forget to pair your beautiful board ingredients with wine. 🥂
Corn salad
Corn is the it-girl of summer veg and has a short in-season period, so take advantage of it and buy fresh corn from the farmer's market for this recipe. Of course, frozen corn works too.
Make this salad ahead of time and transport it in your backpack or basket in a leak-proof food storage container. This yields about six servings, but the recipe is easy to double. It pairs well with burgers, sandwiches, and pretty much anything on the grill.
Here's an amaze go-to secret corn salad recipe that's always a hit at summer BBQs.
Ingredients
4 cups of corn (frozen or fresh)
1 cup of cucumber, diced (preferably seedless)
1/2 cup feta, crumbled
3 tablespoons butter (preferably half-salted)
Salt and pepper
The key to this corn salad is slightly charring and caramelizing the corn. Melt butter in a cast-iron pan and add the corn. Continue stirring the corn and cook until you start to hear the kernels making a popping sound.
Transfer the cooked corn to a large container or bowl. Add in the diced cucumber, crumbled feta, and salt and pepper to taste. Toss to combine.
You can also add other in-season veggies you have on hand, like diced zucchini or tomatoes.
Here are some tips for having a fab time at your next picnic:
Prep as much as you can in advance. Avoid a morning scramble and prep salads and sandwiches beforehand. If they sit in the fridge overnight, they'll be easier to keep cool on the go.
Freeze water bottles. Toss some water bottles into your freezer and use them as ice packs. When you're done eating and the bottles eventually melt, you can use them to hydrate after a game of frisbee in the park.
Have a trash plan. Don't assume there's a bin nearby. Bring a trash bag in case you need to haul out your waste.
Forget the ice cream. We know it's the ideal summertime dessert, but it's going to melt all over you, and you're going to feel like an idiot for attempting the impossible.
Don't try to make everything from scratch. It's OK to pick up premade foods and desserts for your picnic. Focus on enjoying the experience! And, don't be afraid to share the prep work. Ask one friend to bring the wine, another to bring the cheese, while you get the cold cuts. You'll each have to lug around less.
Check the weather. Sure, it's sunny now, but what about later today? Check the weather forecast to avoid surprises.
Mad for melamine. If your picnic basket or bag doesn't come with dinnerware, go for melamine or enamel. These materials are lightweight, reusable (yay for the planet!), and durable.
Choose a smart spot. You can picnic anywhere, but if you're going to be drinking wine coolers and eating tasty goodies, there'd better be a bathroom nearby… just sayin'.
Now that you're all equipped, it's time to call up your buds and plan a picnic in the park. Remember, it doesn't have to be perfect. As long as the sky is clear, it's always a good day for a picnic. ☀️