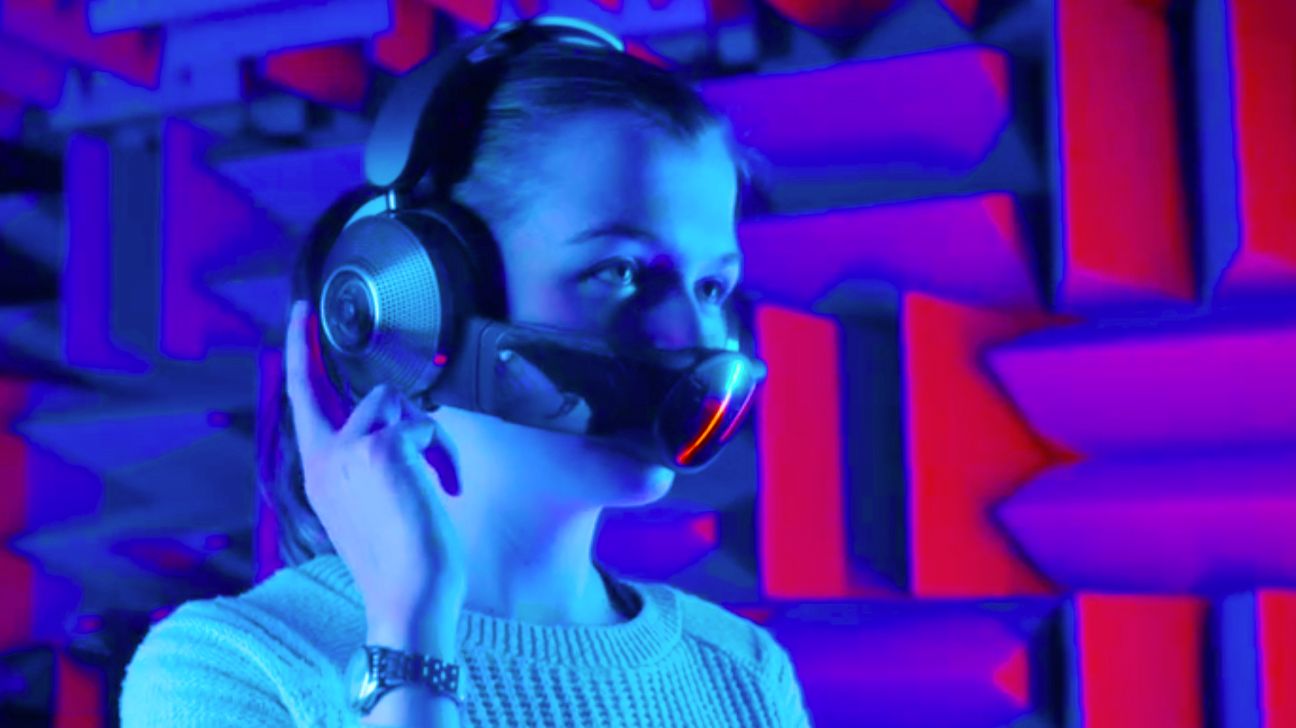 Last week, Dyson announced its next groundbreaking product: Air-purifying headphones. Wait, what?
TBH, lots of people (us included) were convinced this was an April Fool's joke, but we reached out to Dyson and the company confirmed that this is 100 percent real.
Here's everything you need to know about the Dyson Zone air-purifying headphones.
The fancy vacuum and air purifier company pleasantly surprised us in the past with the release of beauty products like the Dyson Supersonic hair dryer (which we're obsessed with) and the Dyson Airwrap styler (which almost everyone is obsessed with). So, really, it's not surprising that Dyson is veering into the world of wearable tech.
The Dyson Zone headphones are considered Dyson's first step into wearables. The over-the-ear headphones are designed to tackle air and noise pollution simultaneously. The mouthpiece filters out harmful or polluting gases, allergens, and larger particles, while the headphones use noise-canceling tech to eliminate ambient noise and play your favorite tunes, podcasts, or whatever else you use headphones to listen to.
Video courtesy of Dyson.
The Dyson Zone headphones have been in production for 6 years, and there have already been 500 iterations of the original Dyson Zone prototype. So, while it seems like COVID-19 might be the main catalyst, it's actually not.
The product's press release cites data from the World Health Organization (WHO), which estimates that worldwide, 9 in 10 people breathe air that exceeds WHO guideline pollutant limits. And more than 100 million people (in Europe alone) are exposed to long-term noise levels that are potentially harmful to health.
This is not good. The same WHO report above states that 4.2 million premature deaths can be attributed to outdoor air pollution exposure each year. And though noise pollution doesn't cause as many premature deaths as air pollution, it still has serious health consequences, including cardiovascular disease, cognitive impairment, sleep disturbance, and tinnitus.
These headphones, in theory, should solve both issues at once by purifying the air you breathe and canceling out too-loud noise wherever you go.
But like any product claiming to benefit health in some way, it's impossible to know how these headphones might impact health without a legit clinical trial testing them. Dyson told us there aren't any plans to do that kind of testing, ATM.
"Air pollution is a global problem — it affects us everywhere we go. In our homes, at school, at work, and as we travel, whether on foot, on a bike or by public or private transport. The Dyson Zone purifies the air you breathe on the move. And unlike face masks, it delivers a plume of fresh air without touching your face, using high performance filters and two miniaturized air pumps. After 6 years in development, we're excited to deliver pure air and pure audio, anywhere."
— Jake Dyson, chief engineer
While noise-canceling headphones aren't anything new, on-the-go air purification certainly is. So, who are these space-age headphones even for?
"We anticipate that those living in large cities like New York, LA, SF, etc., will be most interested in this product. Particularly commuters who are exposed to outdoor air pollution and lots of noises that are often at a dangerous level on their commutes. But it's by no means exclusive to that group," Katie Doan, a Dyson rep, told us.
The company hasn't publicly announced the price yet, but we'd expect them to cost anywhere from $400 to $700 based on the cost of Dyson air purifiers, the Airwrap, and popular over-the-ear headphone competitors.
So, while they sound freakin' awesome, it seems like peeps who need air purification most (read: low and middle income countries) are probably priced out of this exciting product.
There isn't an official release date yet, but you can expect them to drop sometime this fall.
We'll follow up with a more in-depth review as soon as we can get our hands (ears and mouths) on 'em, so stay tuned. 😈