This article originally appeared on April 16, 2021, on our sister site, Lonely Planet. Some info may have been updated to be more current.
The United States was built for driving. Together, the 48 contiguous states comprise more than 3 billion square miles of land and 4 million miles of public roads (nearly 200,000 of which are highways), and within those miles lie 53 of the USA's 52 national parks.
While you can certainly road trip from park to park, traveling by car doesn't always allow you to spend much time at individual parks — especially if you're limited to just a few days of travel. To make the most of your trip, try these 1-day driving itineraries for 5 of the lower 48's most epic national parks.
Editor's note: During COVID-19, please check the latest travel restrictions before planning any trip and always follow government health advice. Events may be subject to change.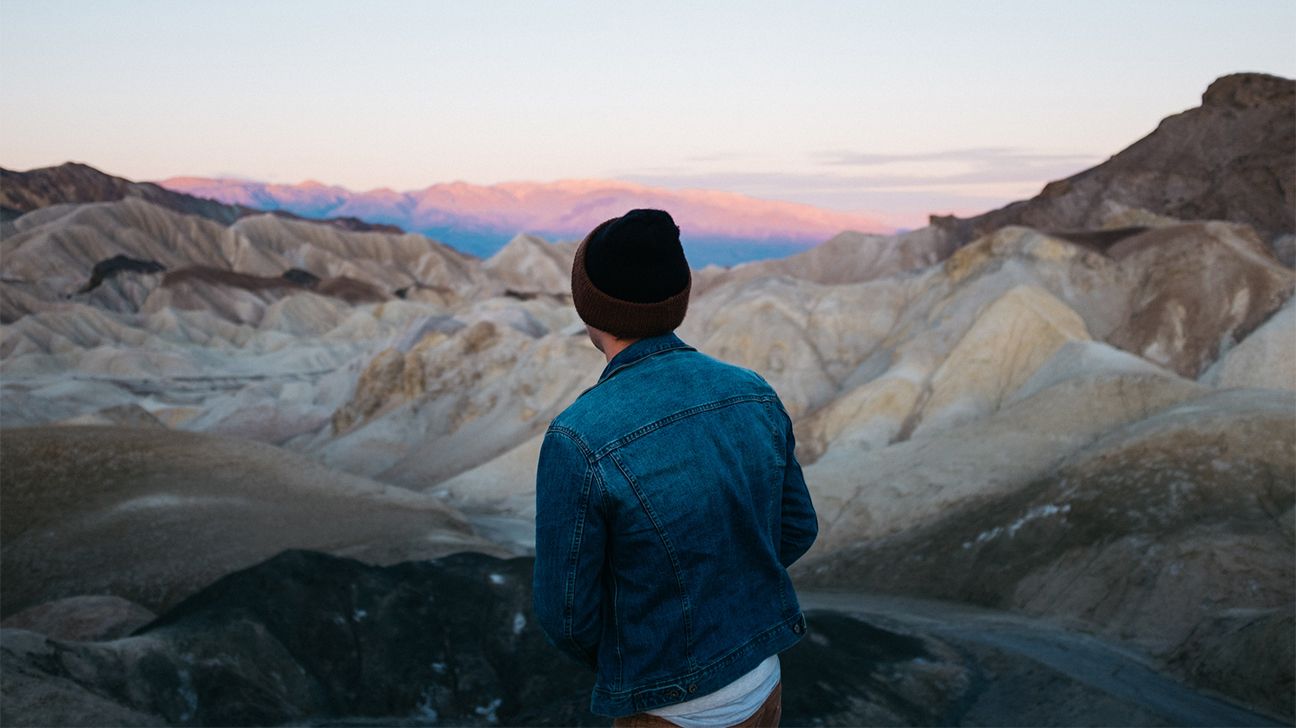 Sequoia and Kings Canyon are actually two separate parks but, because of their proximity and connectedness via Generals Hwy, most visitors consider them one and the same. Even in the height of the California summer, Sequoia and Kings Canyon National Parks have that crisp, cool air that makes you want to nosedive into a pile of raked leaves, and the towering sequoia trees can turn any person into an avid forest bather.
Together, these parks are epically vast and deserving of more than just 1 day but, when that's all you have, here's how to make the most of it.
9 a.m.
Arrive at the park. Crowds start amassing by 10 a.m., so it's better to get there even earlier than 9 a.m. — expect longer lines during the weekends.
9 a.m. to 10 a.m.
Enjoy a scenic drive along Generals Hwy. From the park entrance, it takes an hour to get to the sequoias.
10 a.m. to noon
Wander through Giant Forest and marvel at Tunnel Log, Moro Rock, and General Sherman.
Noon
Have a picnic lunch on Beetle Rock.
1 p.m. to 3:30 p.m.
Take a hike to a granite dome on Little Baldy Trail.
3:30 p.m. to 5:30 p.m.
Gaze up at the second-largest sequoia tree, General Grant in General Grant Grove.
5:30 p.m.
Enjoy the drive along Kings Canyon Scenic Byway.
At 5,312 square miles, Death Valley National Park is the largest national park in continental USA. Known as the "land of extremes," Death Valley exemplifies the desert: it's (very) hot, (extremely) dry, and (incredibly) low. Despite its claim to fame as the hottest, lowest, and driest national park, more than 1 million people bravely voyage to Death Valley each year.
If you're up for the challenge, follow this itinerary to make the most out of Death Valley National Park in just 1 day.
7 a.m.
Arrive at the park. You must get an early start at Death Valley National Park — temperatures soar to over 100°F (38°C) by 10 a.m.
7 a.m. to 9 a.m.
Adventure to and around the Mesquite Flat Sand Dunes.
9 a.m. to 9:45 a.m.
Study up on mining history at Harmony Borax Works.
9:45 a.m. to 11:45 a.m.
Gaze way, way down at badlands and basins from Zabriskie Point and Dante's View.
11:45 a.m. to 1:30 p.m.
Backtrack a bit to Devil's Golf Course and Badwater Basin.
1:30 p.m. to 2:30 p.m.
Take a quick detour off of California Rte 190 to travel the one-way Artist's Drive and enjoy mountains of blue and mauve at Artist's Palette.
3:30 p.m. to 5 p.m.
Travel north along Hwy 190 until you get to Ubehebe Crater, which is 600 feet deep and a half-mile across.
5 p.m. to 6 p.m.
Watch rocks move at the Racetrack Playa.
6 p.m.
Travel back down Hwy 190 and stop for a cold drink at the rustic Stovepipe Wells Village before leaving the park.
Best known for its towering cliffs and crags, Yosemite National Park has skyrocketed to the top of the national park list, enticing more than 4 million visitors each year. Within its nearly 1,200 square miles, Yosemite contains crisp, bright green meadows, plentiful peaceful wildlife, gushing waterfalls and crystalline pools, towering granite monoliths, and ample scenic byways and lookouts.
It's a haven for extreme rock climbers, casual hikers, and nature lovers alike — here's how to get the most out of 24 hours in Yosemite National Park, Instagram-worthy backdrops included.
7 a.m.
Arrive at the park via Tioga Pass (reservation required).
7 a.m. to 9 a.m.
Visit Tuolumne Meadows, and be sure to hit Olmsted Point, Tenaya Lake, and Soda Springs.
9 a.m. to 11 a.m.
Enjoy the scenic 56 miles of Tioga Road (Hwy 120 East) that takes you to Yosemite Valley. You must have a reservation. Note, though, that Tioga Road is only open during the summer and early fall, and then it closes due to snowfall. If you visit Yosemite in the winter, you may want to stay on either the east side of the park (Tuolumne area) or in the valley.
11 a.m. to 3 p.m.
Venture around Yosemite Valley. Hike to lower Yosemite Falls, poke your head inside the Ahwahnee Hotel (formerly The Majestic Yosemite Hotel) and Ansel Adams Gallery, and snap valley-view photos of Half Dome and El Capitan.
3 p.m. to 4 p.m.
After you've explored the valley, see the entire thing at once from Tunnel View on Wawona Road (Hwy 41).
4 p.m. to 6 p.m.
Take the short hike to Sentinel Dome, one of the easiest ways to get expansive views of the entire park.
6 p.m. to 6:30 p.m.
Have a picnic dinner on Sentinel Dome.
6:30 p.m. to 8:30 p.m.
If the sun hasn't set already, enjoy the show and the day's last light at Glacier Point.
Mammoth Cave isn't one of the most popular parks on this list, but it still draws an impressive 2 million visitors each year. It's one of the smaller national parks — encompassing just under 83 square miles — but, boy, does it have a lot to offer.
Nestled in the Kentucky backcountry, Mammoth Cave emanates a somewhat gloomy yet grandiose vibe with its 400-plus miles of twisty, dark caves brimming with mind-boggling rock formations and tokens of a bygone era.
Because of the park's relatively small size, it's easy to see a lot in a short time. Follow this driving itinerary for the best 24 hours in Mammoth Caves National Park.
8:30 a.m.
Arrive at the park. Earlier is always better!
9 a.m. to 11 a.m.
Take the Domes and Dripstones Tour to learn about the unique rock formations inside Mammoth Cave — there's more than just stalagmites and stalactites! Your exact itinerary will differ based on tour times, but a good plan for Mammoth Cave is to book one tour for the morning and one tour for the afternoon.
11 a.m. to 1 p.m.
Walk along the half-mile Heritage Trail, and take the brief Discovery Self-Guided Tour. Have a picnic lunch while you're out and about (but not in the cave).
1 p.m. to 3 p.m.
Visit the many places that made Mammoth Cave famous on the Historic Tour.
3 p.m. to 5 p.m.
If you have any energy left for more hiking, take the 1-mile Cedar Sink Trail for a rewarding view of several sunken water holes.
5 p.m.
Explore the surrounding area of Park City, Kentucky, a teensy town that serves as the gateway to Mammoth Cave.
By far the least-visited park on this list — which is all the more reason you should visit — Petrified Forest National Park offers much more than its famous petrified logs. You can see plenty of mind-boggling sights just from the pullouts on the scenic byway through the park that connects Hwy 180 (south side) and I-40 (north side), including the colorful Painted Desert, and you'll drive the Petrified Forest Scenic Drive throughout the entire park.
However, to get the most out of your trip, you should do some sightseeing on foot. Here's how to make the most out of 1 day in Petrified Forest National Park.
9 a.m.
Arrive at the park via the north entrance off of I-40. You can reverse this route if you enter from the south side of the park on U.S. Hwy 180.
9 a.m. to 11 a.m.
Enjoy expansive views of the Painted Desert on the 1-mile Painted Desert Rim Trail.
11 a.m. to noon
As you drive along the scenic byway, pull over at Chinde Point, Picado Point, Nizhoni Point, Whipple Point, and Lacey Point to enjoy the views. Choose one at which to stop and have a picnic lunch.
1:30 p.m. to 2 p.m.
Explore the historic Route 66 exhibit and take cool pics of the rusted-out car.
2 p.m. to 3:30 p.m.
Walk amongst Puebloan ruins at Puerco Pueblo and try your hand at reading petroglyphs at Newspaper Rock.
3:30 a.m. to 5:30 p.m.
Check out the Agate House and Agate Bridge, Jasper Forest, and Crystal Forest.
5:30 p.m. to 7 p.m.
Learn more about Puebloan culture at Rainbow Forest Museum, and then hike Long Logs Trail, one of the most concentrated areas of petrified wood in the entire park.