Travel was pretty unwell in 2020 when the pandemic shut down even the thought of a European vacation. But 2 years and three major variants later, is travel finally getting back on track?
We chatted with our friends at Lonely Planet and The Points Guys for a wellness check on 2022 travel, plus their top trends and predictions.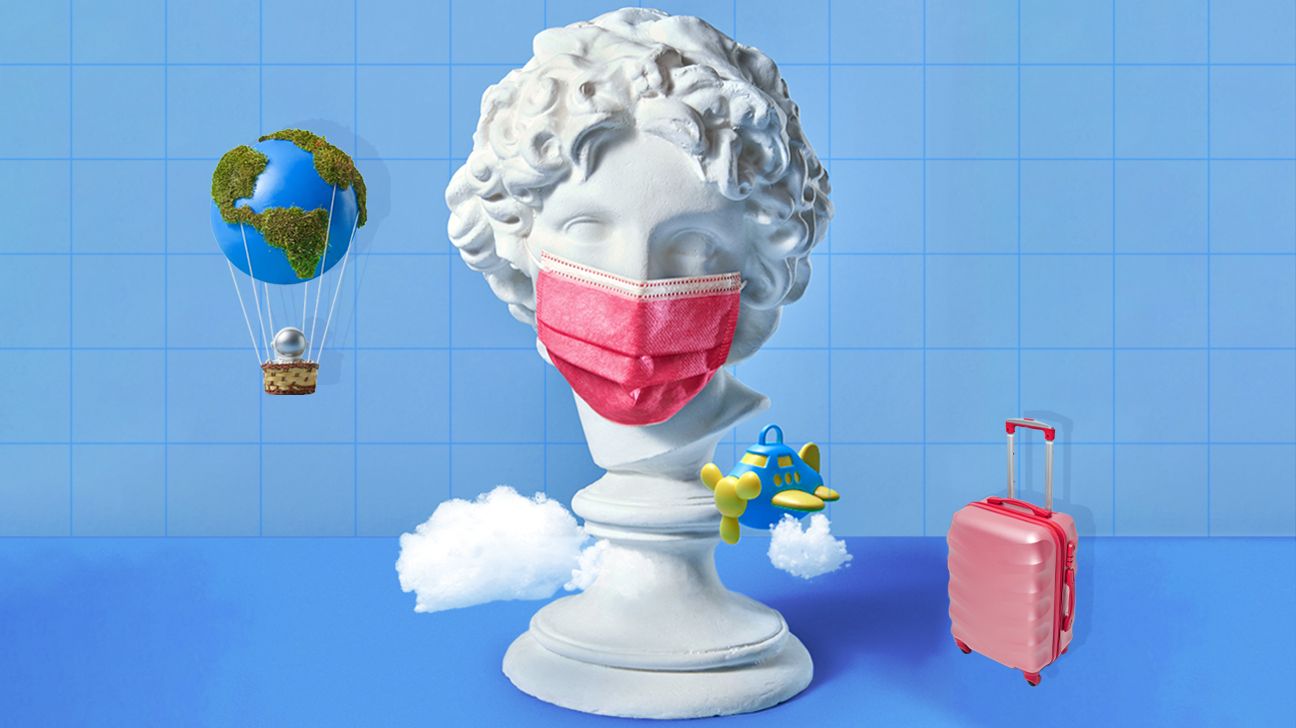 If you escaped the four walls of your home to sunnier sights like Hawaii and Cancun, Mexico, these pandemic travel faves will likely still be dependable destinations.
But our travel gurus think more international travel may be on the up and up as travel restrictions are cut back and virus spread settles 🤞.
"If we don't see another variant, cases continue to drop, vaccination rates climb, and we see a rollback of travel restrictions and requirements, I expect summer 2022 to be big for international travel — especially transatlantic travel," says Melissa Yeager, senior news editor at Lonely Planet.
Plus, as more places open to vaccinated travelers or throw out their restrictions and quarantines, it might just be easier to go abroad this year.
"We're hopeful that 2022 — especially the latter half of the year — will see more of a shift to COVID-19 being endemic and thus allowing for more freedom and flexibility in terms of international destinations open to vaccinated [and in some cases, boosted] Americans," says Nick Ewen, senior editor at The Points Guys.
"Just be aware that a trip to Europe this summer or fall may be less of a sure thing than many closer-to-home destinations, while one to Asia may still be up in the air as to the likelihood of actually being able to take it."
If you're ready to jet set this year, can you even get a deal with more folks ready to get out into the world again? Don't walk, run to your computer and book your flight to score the best deals.
"Right now prices are still below their pre-pandemic peak, but it's not going to last," says Clint Henderson, senior news editor, The Point Guys. "Hopper did a price analysis that suggests airfares will climb by 7 percent per month for the next several months. It's time to book those spring break flights and summer trips right now before prices increase further."
Henderson also notes there are still a lot of deals on international flights (i.e., It's easy to visit Mexico, Ireland, Croatia, and Colombia for a good price). Plus, if you're up for the risk, Japan has some bargain flights, too.
"Now that Omicron appears to be peaking and declining, demand will increase as case counts drop. You can expect prices to only go higher from here. Increasing prices for jet fuel and labor can't help," adds Henderson.
If you've actually seen an airport recently, you've probably seen a lot of the airport. Not quite "The Terminal" stay, but you've probably been stuck for a few extra hours thanks to cancellations and delays.
Sorry, but it's a good idea to get used to being flexible. Omicron really messed with the already existing reliability issues, and then staffing challenges were added to the mix, just as travel demand rebounded.
"This summer, we'll see airlines try to operate as many flights [or more] as they did in 2019. Without the staffing and back-end support — and with the possibility of another wave of the pandemic — flyers will likely need to pack their patience more than ever," says Zach Griff, senior reporter at The Points Guy.
But if you do get stuck, there's always Airportle.
We've waited so long to finally get back into the world that the days of cramming ourselves into uncomfy seats and carrying-on everything may be over. People are actually starting to pay more for travel for peace of mind and "treat-yo-self" feels.
"Throughout the pandemic, we've seen that people are, generally speaking, comfortable spending more on travel," says Melanie Lieberman, senior travel editor at The Points Guy. "We know that they're spending more for longer trips. Particularly since so many people continue to have flexibility with remote work and since it can be more arduous to get where you're going in the first place."
And while you're paying more for seats and baggage, don't skimp on the travel insurance.
"People are also paying more to protect their investment in travel [travel insurance, refundable flights, and reservation]," adds Lieberman. "Not everyone will be willing to pay for a business-class seat for extra space after the pandemic is behind us, but the idea of paying more for additional peace of mind is one that I do believe has real staying power."
Just make sure you get travel insurance that doesn't exclude COVID-19 cancellations, notes Lonely Planet's Yeager. "Look for policies that offer cancellation for any reason or interruption for any reason, as well as policies that cover medical and costs if you need to quarantine abroad."
Having to cancel your dream vacay hurts (TBH, we're still mourning 2020 plans). But to counteract the disappointment, folks are planning an entire second vacation, juuuuust in case.
"There is a trend right now of people booking what I would call 'backup vacations' in case their destination closes to travel due to COVID. They book the vacation they want to go on… and a second one should the first one need to be canceled," says Melissa Yeager, senior news editor, Lonely Planet.
One silver lining to travel in the age of COVID-19, is cancellation policies are getting more flexible. But make sure you read the fine print of any terms and agreements for payments made in advance. You don't want to end up actually paying for two trips.
"Set calendar alerts in your phone for deadlines to change your travel or book your vouchers so you don't get burned," notes Yeager.
If you haven't already heard your aunt and that one guy from high school rant about the world's impending doom from 5G, 10 major airlines have joined the chat. This convo, however, isn't a conspiracy theory. These airlines were actually warning that 5G phone service will cause issues with plane navigation systems. Um, so… should we be worried?
"The aviation industry sounded a really loud alarm with regard to cellular carriers deploying the 5G C-band. Despite warning of doomsday when turning on the new bands, major U.S. airlines avoided what could've been a catastrophe," says Griff from The Point Guys.
"For one, the cellular providers agreed to avoid deploying the new technology near major U.S. airports. Plus, the Federal Aviation Administration began approving large swaths of aircraft to operate near the new 5G towers. We'll continue to see some disruptions for smaller regional jets, but the big planes that are crisscrossing the country on a daily basis have all received the necessary approvals at this point," adds Griff.
Nature was having a serious moment during pandemic travel (hello, relaxing escape from reality and physical distancing) and outdoorsy trips aren't going anywhere.
"Nature will definitely continue to be big this year," says Yeager from Lonely Planet. "With everything changing worldwide in terms of travel restrictions, a lot of people have seized the moment to see some of the national parks on their travel lists."
"One downside of that — a lot of the parks and popular outdoor destinations like Sedona, Arizona, have been crushed by crowds. The good news is there are a lot of great places to visit that are under the radar," adds Yeager.
What's on Yeager's national park list this year? For Galapagos vibes, take a ferry to California's Channel Islands national park or visit the orchards left by the Mormon pioneers at Capitol Reef in Utah. And if you want something more secluded and less crowded, don't forget about national forests and state parks.
If you need more inspo for your next road trip or camping getaway, check out The Greatist Guide to the Great Outdoors.
If you need to use up those travel vouchers from cancelled 2020 plans or spend miles you've been hoarding, "safer" travel to Hawaii, Cancun, Mexico, or national parks probably isn't on your mind.
So, what's on our travel gurus' lists as a must-see destination in 2022?
"I'd probably do a big trip to Ireland where it's easy for Americans to visit or Colombia where it's super cheap [the U.S. dollar is strong]. The Caribbean has many, many options, and Paris 'is always a good idea,'" says Henderson from The Points Guys.
Lonely Planet's Best in Travel 2022 also has a long list of domestic and international journeys, but Yeager says she's personally eyeing Puerto Rico as her go-to and that Europe has a lot of possibilities.
"There have been a lot of airfare deals to Europe — Spain, Italy, and Greece in particular — lately. Depending on how much you have, you might be able to get a couple of trips out of that voucher, especially if you pick dates during swing season [spring, fall] when schools are in session, and so there aren't as many travelers," says Yeager.
No one wants to get sick on vacation, but using gallons of hand sanitizer and constantly fixing your mask in-flight isn't fun either. Still, these minor inconveniences probably aren't going anywhere anytime soon.
Like a lot of the world right now, entry/reentry policies and in-flight mask mandates all depend on what happens with the evolution of the virus and vaccination rates.
Plus, as we get used to living with COVID-19 as part of our daily lives as (hopefully) things get better with less severe variants and higher vaccination rates, travel in general will get less complicated.
"This would likely lead to fewer restrictions on international travel and a gradual easing of mask mandates — though the data and trends would need to be crystal clear in order for these to happen," Ewen of The Points Guys adds. "For now, be prepared for complicated entry [and reentry] policies, and recognize that these will almost certainly continue to shift — both for the better and for the worse — as things evolve."
For now, travel isn't exempt from COVID-19. So, staying healthy and trying our best to prevent spread is still a priority when you're traveling. You can also check the CDC for regular updates on COVID-19 travel recommendations to assess the risk of your vacation.
"I think the biggest one is get vaccinated," says Yeager from Lonely Planet. "Aside from the health benefits, you'll find your destinations limited and a number of hoops to jump through in order to enter if you are not vaccinated."
Ready for your 2022 escape? These tips can help you minimize risk and travel more safely this year:
Check out Lonely Planet's ​​Health Hub and tour tips for vaccinated travel for more on traveling during COVID-19.