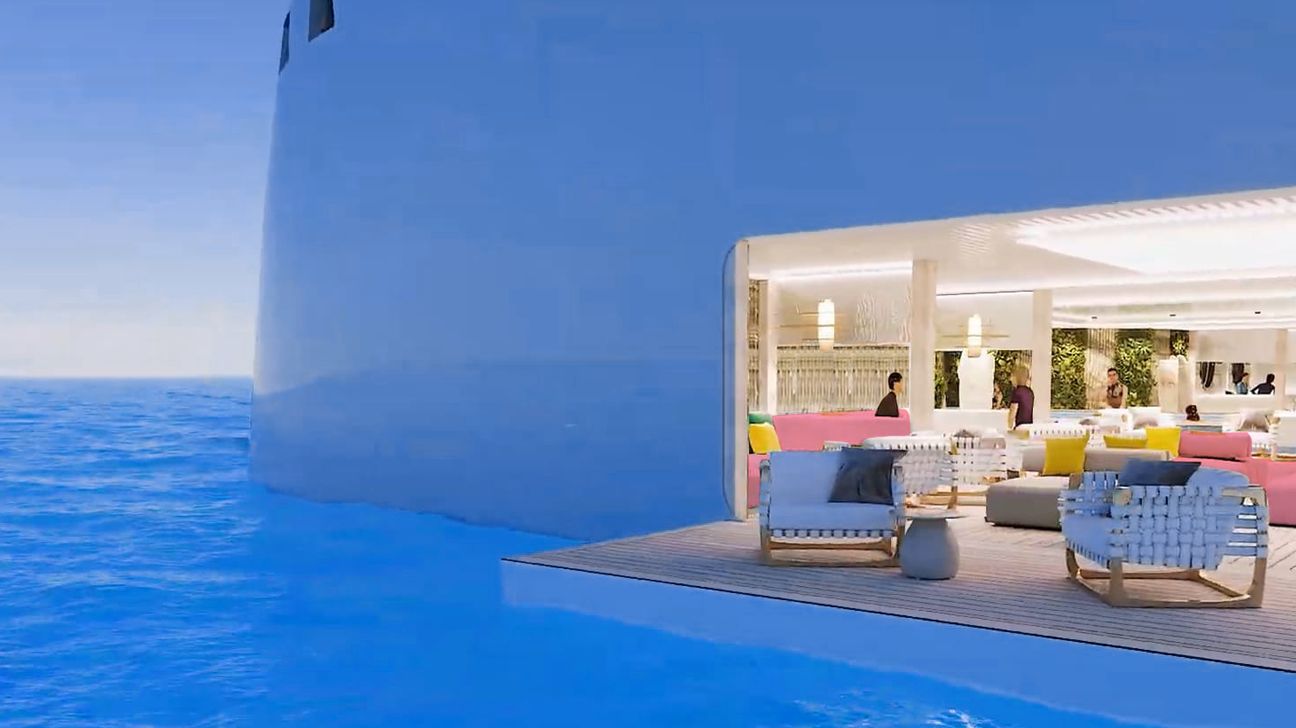 The COVID-19 pandemic has changed the way we do a lot of things — including how we interact with others (fist bumps only, pls), how we work (remote alll the way), and how we vacation (wait… have we figured this out yet?).
For a lot of peeps, traveling has been on the backburner due to travel restrictions and virus concerns. And for some, missing out on travel for the last couple of years is the perfect excuse to ditch dry land and head out to sea for good. Literally.
Luxury cruise line Storylines is hard at work building what it calls a "luxury residential community at sea" — aka a residential cruise ship where you can buy your next home and turn your entire life into a cruise. And people are already reserving their spots aboard the superyacht.
Storylines is currently selling residences on its MV Narrative ship, with prices ranging from $297,000 for a 237 square foot (sq. ft.) studio with no balcony to near $8 million for a 1,948 sq. ft. two-story penthouse. The company calls this an "affordable" way to cruise *forever.*
You can either choose to buy your new home at sea outright or sign on to a 12- or 24-year lease. The benefit of buying outright is that you'll be able to secure a residence in a new ship once the MV Narrative reaches the end of its 60-year lifespan (because ships can't sail forever).
Amenities
The ship will be outfitted with all kinds of cruise ship fun:
1 movie theater
20 restaurants and bars
5,400 sq. ft. garden
1 microbrewery
3 pools
10,000-book library
spa and wellness center
Once you board the MV Narrative, your life will transform into an all-inclusive vacation. For a (pretty steep) fee, most of your meals, bevvies, onboard activities and events, laundry, housekeeping, fitness classes, wellness visits, Wi-Fi, TV, and even onboard gratuities are covered.
The cost for all-inclusive living starts at $70 per day, but it varies depending on what residence you live in and how many people live with you.
Sustainability
If you're concerned about what your carbon footprint would look like living on a ship like this, Storylines has (some of) your sustainability concerns covered:
a zero-waste farmer's market stocked with produce grown on board and sourced from local ports
waste-to-energy tech to turn waste heat, excess energy, and carbon-based waste into usable energy like electricity
Storylines donates 1 percent of its profits to ocean conservancy
the ship will be free of single-use plastics
Itinerary
The ship's full itinerary won't be announced until 2023, but if you decide to live aboard the MV Narrative, you can expect a never-ending loop around 6 continents, staying at each port for 1 to 5 days.
This all comes as the Omicron variant is making its way around the globe and onto cruise ships, causing major cruise lines like Royal Caribbean International and Celebrity Cruises to cancel multiple trips.
Storylines seems pretty confident that COVID won't be an issue by the time residents embark on their never-ending cruise, but there's no way to know for sure if or when the virus will reach a point where cruise ships aren't gigantic super spreaders.
Until we know for sure, though, it's pretty fun to daydream about living that digital nomad life, WFY (working from yacht), and seeing the world.
Or, you can make that daydream a reality and reserve your new residen-sea (sorry, had to) on the Storylines website.