This article originally appeared on June 1, 2021, on our sister site, Lonely Planet. Some info may have been updated to be more current.
If you crave adventure, traveling in a camper van is one of the most intimate ways to experience the USA. In 2017, I set off on a 2-year road trip with my husband and dog. We camped in 48 states, hiked countless national parks, ate in local towns, and drove from coast to coast in our 1996 Dodge Ram Van.
Throughout the trip, we quickly found that some states were more conducive to van life than others. The Southwest USA, for example, has a wide diversity of landscapes within their free public lands. The East Coast amazed us with stunning fall colors and historic towns we had previously only seen in books.
While every state added a unique aspect to our itinerary, a few stand out among our favorite states to visit in a camper van.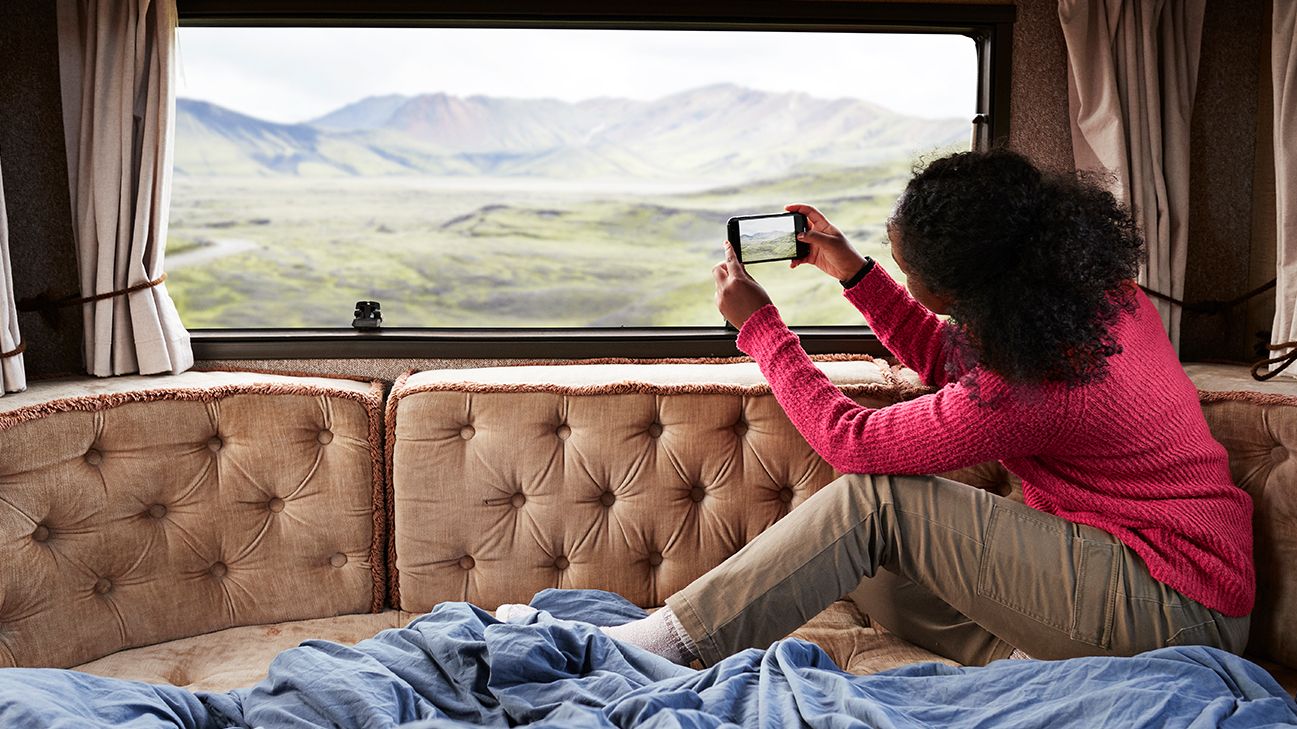 Camping in the desert is particularly enjoyable because of the starry nights, predictable temperatures, and few flying bugs. New Mexico is home to a desert landscape unlike any I've experienced. There are distinctive hoodoo rock formations, an unending trail system, and large swaths of Bureau of Land Management (BLM) areas that allow free camping.
New Mexico generally flies under the radar, which makes it less crowded even in the most scenic areas. A lack of trees in the north allows for excellent landscape visibility, and some of the most magnificent sunsets we have seen. An underrated food haven, New Mexico gave us vibrant and affordable cuisines that we could find in every town. It's also home to our favorite cave system, Carlsbad Caverns National Park, on the state's southern border.
For outdoor enthusiasts who love mountain biking, rock climbing, and stunning hikes, Arizona cannot be beat. Most people think of visiting the Grand Canyon, but the entire state is ripe for adventure. Free campsites scatter the forests surrounding Sedona, Flagstaff, and southern Arizona, which makes it one of the most budget-friendly places to visit year-round.
One of the things we loved most about this area was the kind reception to outside explorers. Arizona is a mecca for off-grid living. Each February, the town of Quartzsite swells to accommodate nearly 2 million travelers that visit in camper vans, RVs, and school bus conversions. Workshops and community events are held on the outskirts of Quartzsite so travelers can learn about van life, get help with solar panel installations, and plan out future road trips. The weather, services available to nomads, and sense of community make Arizona the perfect place to launch a road trip.
California is so large and diverse that it's almost unfair to mention. Vast amounts of land made finding campsites easy despite California being a popular tourist destination. We spent evenings under the famous redwood trees, had picnics alongside the ocean, and wandered aimlessly among the cacti of Death Valley National Park. All of this could keep us occupied for any length of time.
If we had to pick one state to experience a little bit of everything, California would be it. There's such a wide range of environments that you don't need to drive too far to witness something new. Within a matter of days, we were able to rock climb in Joshua Tree National Park, take a dip in Lake Tahoe, and hike among the volcanoes of Lassen Volcanic National Park.
Coming from the west coast, Minnesota was a refreshing alternative. We were able to travel all the way north to the border of Canada and take a canoe trip in the Boundary Waters. Known as the state of 10,000 lakes, Minnesota had no shortage of fishing holes and quiet campsites by the water. Minnesota is not a state that you would typically find included in a top 10 list of road trip destinations, but to us, that's what made it so special. Winter in Minnesota is exceptionally cold, but traveling in the fall, chances are good that you can see the northern lights on a cloudless night.
Michigan varies wildly from the southern stretches to the Upper Peninsula. This state has a surprising number of pristine beaches that are not packed with tourists like the ones we visited in California. In the summer months, there are fresh berries to pick and vibrant farmers markets to attend. In Michigan, we were able to find camping all the way north to the Upper Peninsula, and we feasted on whitefish and pasties along the way. One of my favorite memories of Michigan is camping on the shore of Lake Superior. We had dinner on a pebble beach after several days of visiting lighthouses.
Great Smoky Mountains is the most visited national park and for good reason. Driving through Tennessee in the fall is a special treat. Rolling mountains and a vast number of waterfalls dot the landscape. We found countless surprises around each corner of the twisty back roads. Traveling in a camper van, we're always on the lookout for affordable things to do. The mountain town of Gatlinburg is the perfect entrance to free trails, and we spent the majority of our visit hiking through the colorful forests and climbing fire towers to get the best viewpoint.
New York was one of the hardest to choose for our top 10 list — not because it's lacking, but because it shares many things we loved about Vermont and New Hampshire as well. The trees are incredible in the fall, and New York has a surprising amount of geography to visit. From Eternal Flame Falls to wineries in the Finger Lakes and watchtower hikes high in the Adirondacks, we were quickly running out of time to check off everything on our list. That's not to mention the more well-known Lake Placid Olympic village, Niagara Falls, and Letchworth State Park.
New York was not on our radar for hiking, but now that we've visited, it's at the top of our itinerary for future road trips.
Pennsylvania turned out to be one of our most memorable states when it comes to history. We spent an entire day taking an auto tour around the Gettysburg National Military Park. Seeing the battlefields in person brought to life the history books we had read in school and made us appreciate past accounts in a new way.
Visiting Eastern State Penitentiary and Valley Forge National Historic Park were other stops we hadn't considered before rolling into Pennsylvania. While federal public land is sparse in this direction, Pennsylvania has a lot of state parks that are easily accessible for free camping.
Driving into Maine from the northwest side, we experienced incredibly tall pine trees, skinny roads, and no cell phone service for miles. The setting personified a Stephen King novel, and to us, it was the unfamiliar territory that made the trip that much more exciting.
In northern Maine, the entire landscape smells like Christmas trees. We learned from a fellow camper that balsam fir collected from Maine provides the largest supply of Christmas wreaths in the country. Continuing to the coast, Acadia National Park is where the mountains meet the ocean. We were happy to find that this is one of the most dog-friendly parks in the USA, so we got to bring our travel companion along many of the trails.