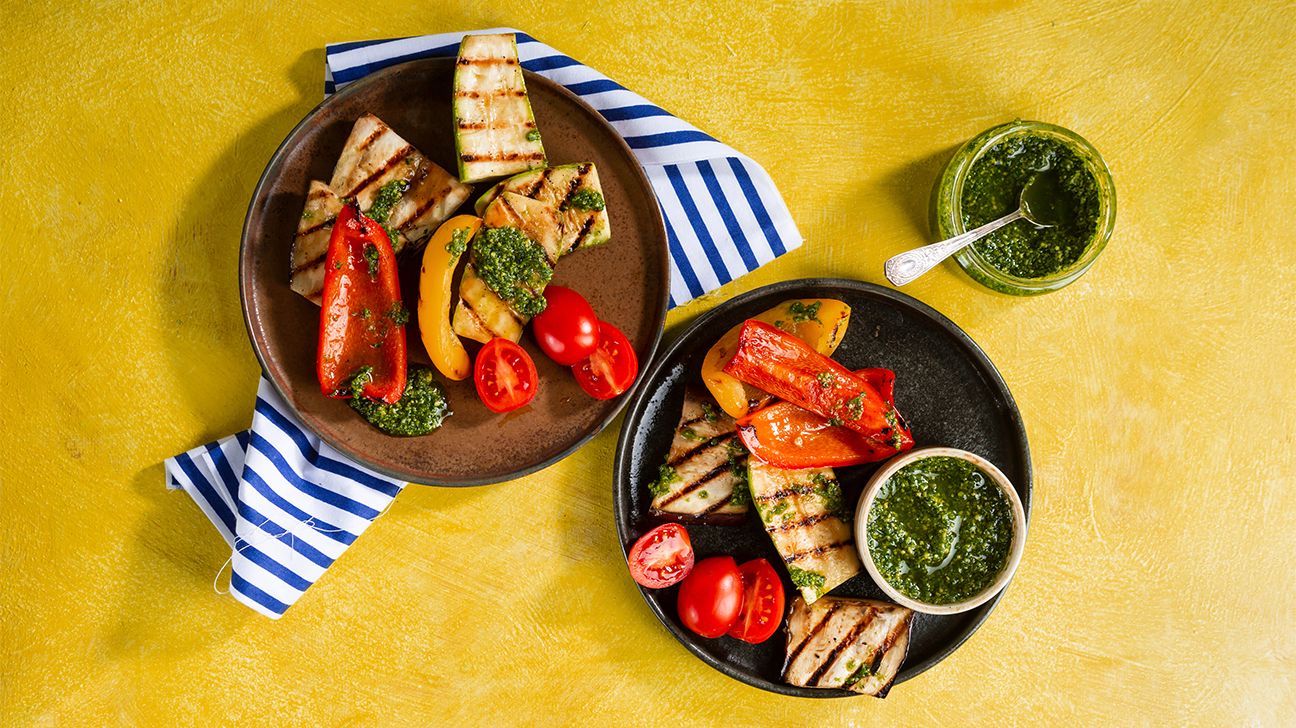 Let's face it, outside of vegan or vegetarian circles the phrase "plant-based grilling" doesn't exactly inspire excitement in most people. For a lot of people, grilling equals meat, and a portobello "steak" isn't fooling anyone into thinking it's a rib-eye.
But that doesn't mean plant-based grilling is boring! In fact, the vegans and vegetarians amongst us are totally on to something here. The diversity of vegetables makes for a more interesting grilling experience than if you limit yourself only to grilled meats — or to vegetables trying to replicate meat flavor and texture.
Trying to replicate meat too often only leads to disappointment. Instead, focus on creating dynamic flavors and textures that highlight the best elements of each vegetable. Here's what we recommend trying on the grill this summer.
To some people, the humble eggplant is a bitter and bland veggie, more spongy mess than tasty treat. But that reputation couldn't be further from the truth. When properly grilled, the versatile eggplant becomes creamy and smoky, producing a hearty flavor that'll satisfy any meat eater (and might even convert eggplant haters).
How-to: If roasting whole, blister the eggplant thoroughly on the grill until the skin has collapsed. After it's cooled, peel the skin and mash the flesh with tahini (sesame paste), lemon juice, and olive oil for a delicious Middle Eastern baba ganoush dip. For a Chinese-inspired dish, grill thick eggplant slices directly on the grill (or on a skewer) and toss the finished pieces with chili oil, minced garlic, Sichuan chili bean paste, sugar, and rice vinegar.
Iconic to summertime, grilled corn is awesome as a side dish or entree. Feel free to experiment with seasonings like compound butters flavored with lime zest and garlic or Mexican cotija cheese and chili powder.
How-to: Corn can be cooked in the husk or directly on the grill. Corn grilled with the husk on will steam slightly, becoming more tender. To achieve that classic charred flavor, set up a two-zone fire and grill husked corn over direct heat. When the corn is lightly charred on all sides, transfer to indirect heat to finish cooking, about 10 to 15 minutes. To remove the kernels for salsa or salads, take a kitchen knife and cut down each side, slicing along the cob to remove the kernels.
Mushrooms have a secret — they're packed with natural umami. A properly grilled mushroom has an incredibly satisfying meaty texture along with a rich, earthy flavor. Seasoning can be as simple as salt and a splash of citrus. But feel free to get creative. For a flavor punch, try tossing grilled mushrooms in olive oil, roasted garlic, and herbs.
How-to: For the best results, select a large and firm mushroom such as portobello, shitake, or king oyster as these will not shrink too much during cooking.
For peppers, char equals flavor. Fire brings out a mellow and complex sweetness in both sweet and hot peppers that completely changes their flavor profile. Blistered peppers are great for salsas and sauces but are also delicious by themselves. And peppers like vibrant green shishitos are super tasty, grilled quickly and seasoned with salt and a splash of lemon juice.
How-to: To cook, simply grill the whole pepper directly over the grill grates. You can rub the pepper with oil first, but you don't have to. Remember, black marks are good. For a more intensely charred flavor, do not remove all the blackened skin after grilling.
Surprisingly, leafy greens like lettuce or bok choy are great on the grill, producing a smoky and exciting flavor. For lettuce, use a sturdier variety like romaine.
How-to: To prep, slice vertically down the head of lettuce (lengthwise). This cut will ensure the leaves stay attached to the core. Cook briefly over direct heat on a clean grill just until it produces sear marks. Grilled greens are a surefire flavor boost to any salad.
A firm vegetable, zucchini is sturdy enough to withstand high heat grilling. A squeeze of lime and lemon juice goes especially well with zucchini, which can be cooked on skewers or grilled and tossed with chili sambal and crispy shallots. Grilled zucchini can also be served cold as a salad. Try it with a fragrant sauce of chili oil, salt, scallions, and sesame seeds or a dash of ponzu, a Japanese citrus-laced soy sauce.
How-to: Zucchini can be sliced thinly lengthwise or cut into chunks for skewers. Texture is key for zucchini –– you still want the flesh to be juicy with just the right amount of sear. Grill quickly over direct heat for 2 to 3 minutes or until you see grill marks for the best results.
Grilled tomatoes are a fantastic addition to salsas and salads. Just be careful not to overcook them or they will become mushy and fall apart. Looking to impress the crowd with a killer salsa? Chop grilled tomatoes with grilled peppers, onions, garlic, and cilantro and prepare for your friends to ask for the recipe.
How-to: This works best with larger tomatoes like beefsteak or Roma tomatoes. Cut them in half and remove the seeds before brushing with olive oil and placing directly on the grill grates. Be sure to grill with the skin-side down to protect the tomato. Grill quickly, about 2 to 4 minutes, just until a light char appears, and the skin starts to shrivel. For a flavor boost, mix olive oil with Parmesan cheese and roasted garlic, and brush it onto the tomatoes while cooking.
Soy products like tofu tend to be a love 'em or hate 'em sort of deal but, when handled properly, they can be incredibly diverse in both flavor and texture. And on the grill is a place where tofu really shines. Tofu is a blank canvas flavor-wise so anything from Cajun spice, chimichurri, or sweet and spicy Southeast Asian peanut sauce will be delicious. Be sure to use either extra firm tofu or tempeh (a fermented soybean product from Indonesia) as the softer varieties are not substantial enough to withstand grilling.
How-to: Cut extra firm tofu into thick slices (or place on skewer) and brush with oil and seasoning of your choice. Remember, tofu is ready-to-eat straight from the packaging, so grilling is more about char and texture.
A perfect dessert, the natural sugar in fruit like pineapples or peaches becomes caramelized when grilled. The char also adds a unique smoky taste to the finished fruit. For seasoning, try sprinkling chili powder and chopped herbs like mint or basil on the grilled fruit. And for a really decadent dessert, serve the grilled fruit with a scoop of ice cream or Chantilly cream, if you're feeling extra fancy.
How-to: To grill, slice pineapple into thick rings and halve peaches. Be sure the grill is clean and well-oiled before placing the fruit. Grill on high heat just until char marks appear.
Hunter Lu is a New York-based food and features writer. He also writes fiction and has been published in The Line Literary Review and The Bangalore Review. His work can be found at hunterlu.com. Follow him on Twitter.