Soy seems to have gotten itself into a sticky situation in recent years. Once a poster child for plant-based protein, it now raises red flags since it tends to get overprocessed into imitation meats, energy bars, cheese substitutes, sauces, and even ice cream.
The secret to reaping the potential health benefits of soy is to eat it in the most unprocessed forms possible, including tofu and its lesser-known cousin tempeh.
Cultured and fermented tempeh offers a texture that's meatier, heartier, and chewier than tofu. Plus, some research in animals suggests that tempeh may have some neuroprotective effects, like reducing inflammation in the brain,Ahmad A, et al. (2014). Total isoflavones from soybean and tempeh reversed scopolamine-induced amnesia, improved cholinergic activities and reduced neuroinflammation in brain. DOI: 10.1016/j.fct.2013.12.025 and antioxidative properties because of the high polyphenol content.Kuligowski M, et al. (2016). Isoflavone composition, polyphenols content and antioxidative activity of soybean seeds during tempeh fermentation. DOI: 10.1080/19476337.2016.1197316
And don't worry, it's no longer such an obscure, specialty store item. It can be found at pretty much any mainstream supermarket. Pick up a block the next time you're grocery shopping and experiment with these super tempeh-ting recipes.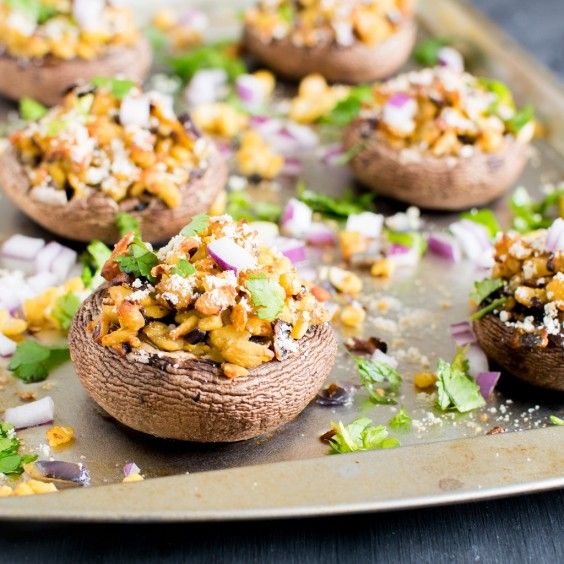 Meaty baby portobellos get even meatier when they're stuffed with a crumbled tempeh mixture.
Nutritional yeast and vegan Parmesan give it that all-important cheesiness that no stuffed mushroom is complete without. There's no way to describe the end result other than "party in your mouth."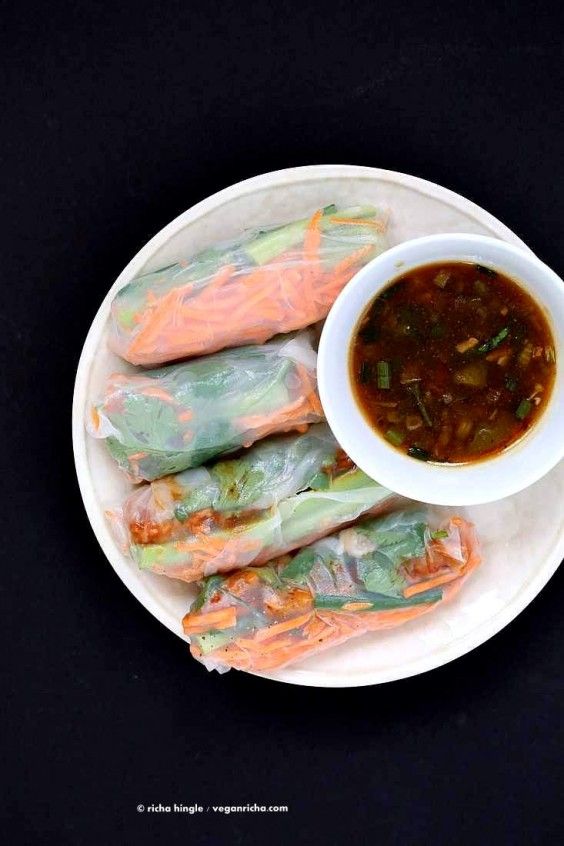 Tofu plays the starring role in most meatless summer rolls, but this recipe uses tempeh for a fun and clever twist. Its nuttier flavor comes through, and both its texture and taste hold up especially well to the bold red curry marinade.
In this recipe, chicken wings are traded out for slices of tempeh, the Buffalo sauce is made sans butter, so it's totally dairy-free (though check the labels on the store-bought stuff), and the rice Chex is ground up for a gluten-free coating.
As you can see, there are lots of smart swaps happening in this recipe, for a snack that suits meat-eaters and herbivores alike.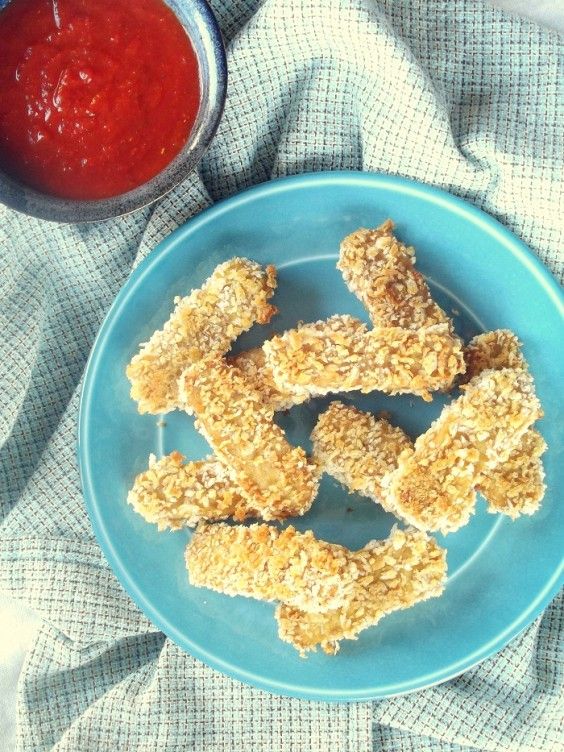 Despite what their title suggests, there's no actual frying involved in making these crunchy bites, which could easily substitute for chicken nuggets.
There's some marinating, battering, breading, and baking involved, so it might sound like a lot of work. But most of the process is hands-off, so don't let the multiple stages dissuade you.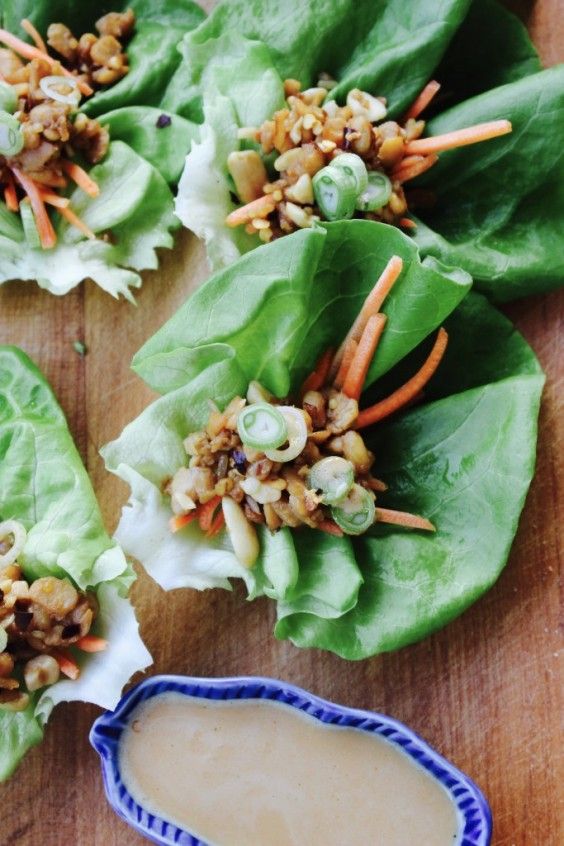 These easy but impressive wraps call for just a handful of classic Asian seasonings, but the garlicky, gingery, peanuty results are savory but sweet, crunchy but buttery, hearty but refreshing… you get the point.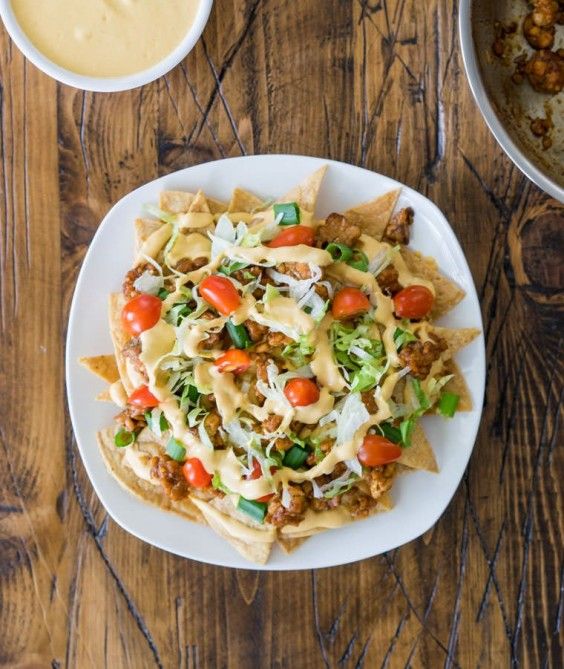 Incredibly enough, this recipe takes just four main ingredients and a few basic pantry spices to make.
A chili-and-maple-kissed tempeh mixture stands in for ground meat in these loaded nachos, while a cashew-based sauce is a much lighter, but still creamy, substitute for processed cheese.
Kale Caesar salads seem to be popping up on every other restaurant menu, but why shell out $15 for one when you can make something more affordable and more nutritious at home?
This vegan version has the same classic flavor, thanks to a dressing combo of cashews, Dijon mustard, and nutritional yeast. Throw cooked tempeh on top, so you're not just eating a pile of greens.
Peanut butter and tempeh both make appearances in this salad, so it's a great way to get in some quality, plant-based protein.
This is no boring meal: Carrots and cabbage add natural sweetness, and a rich but refreshing citrus, peanut, and maple syrup dressing provides yet another flavor dimension.
Taco salad is always a good time, amiright?
In this version, you've got crunch from the crumbled tortilla chips, black beans to amp up the protein factor, and tempeh coated with smoky paprika and apple cider dressing to wow your taste buds for dinner.
Roasted vegetable salad may sound a little, well, blah but the spice blend and smoky tempeh makes it anything but. The beauty of this recipe is that you can bake all the veggies on one single tray, then set it and forget it.
While you're waiting, you can throw all of the dressing ingredients into a blender, hit pulse, and you're done. How can something so delicious be so easy? We're still not sure, but we're delighted anyway.
Yes, vegan ranch. Do we have your attention? Good!
All your favorite guests make an appearance in this southwest favorite — black beans, corn, cherry tomatoes, red onions — but the real heart of the recipe is the homemade BBQ and ranch sauces, which are surpassingly easy to make in your own kitchen.
Pro tip: Top with vegan shredded cheddar cheese and avocado slices so it feels even more like the original.
Think vegan meals are wimpy or boring? This sandwich proves otherwise.
With layers of avocado, sweet potato, and balsamic-maple marinated tempeh, it's right up there with meatball subs and BLTs when it comes to taste and satisfaction. It scores even higher in terms of nutrition.
The Reuben might be one of the most un-vegan sandwiches out there, so stripping it of dairy and meat might sound like a stretch. This recipe manages to do it justice. It's hard to explain. Just make it.
Modeled after the turkey, chicken, or egg salads you'd find in a deli, this tempeh mixture was born to be in your regular lunchtime rotation.
You'll find typical ingredients such as celery and carrots in here but also some heart-healthy updates like avocado instead of mayo. Somehow, it's still just as rich and creamy as the original. You'll see.
This blogger had a love for ham and cheese sandwiches and needed to find a meat-free and dairy-free way to get his fix. But what could provide both the heartiness and simplicity of his favorite snack food?
You guessed it, tempeh. Between the meaty replacement and smashed avocado spread across toast, it's sure to satisfy. Don't forget peppery arugula and sun-dried tomatoes for a hint of Mediterranean flavor.
Vegan BLT always seems like a bit of head-scratcher, but work with tempeh long enough and you'll see just how possible — and easy — it is.
Tempeh can easily soak up all the flavors a BLT needs: salty, smoky, and a little bit sweet. The trick to fakin' your bacon is slicing the tempeh extra thin and letting it marinate for a half an hour before you cook it.
Attention spicy seekers: This is the meal for you. The homemade Buffalo sauce will provide the heat you're looking for, while fresh avocado and veggie-filled ranch slaw cool it down. Life is all about balance, after all.
Serve with a side of homemade sweet potato fries coated with a splash of lime juice and sea salt. This is comfort food to the max.
Pro tip: Keep this recipe plant-based by sourcing a vegan ranch sauce at the store or making it at home with this recipe. Also, replace the butter in the sauce with olive oil or a store-bought vegan butter, like Earth Balance.
Tempeh + peanut sauce is a match made in foodie heaven, and this stir-fry is one of the easiest ways to get acquainted with it. The key is giving your tempeh enough time to sit in the nutty marinade before cooking — it adds an hour to the prep time, but it's so worth it.
Want to give your chili a bit more oomph without going the ground beef or turkey route? Look no further than tempeh.
This meat replacement holds its own against the kidney beans and rich pumpkin and tomato gravy, and the liquid smoke makes it taste so meaty, you may have to eat a second bowl to make sure it's really plant-based.
Tempeh is no stranger to Southeast Asian flavors, so it fits right in with the coconut milk, turmeric, and curry powder in this fragrant dish. With kale also in the mix, it works well as a hearty soup, but it's ideal when ladled over steamed rice.
The stuffing in stuffed peppers is usually some version of ground beef and rice, but this recipe turns tradition on its head in several ways: Tempeh takes the place of the meat and pulsed cauliflower slashes the carb count.
Pro tip: To make it totally dairy-free, top with vegan cheese.
Who needs pancetta and egg yolks when you can make an equally luxurious carbonara with cashew sauce and crisped tempeh? The soy protein is so amazing at mimicking the meat, it may be better than bacon.
When cooler temperatures roll in, this dish is a wholesome and comforting dinner. Simply seasoned mushrooms, tempeh, and butternut squash team up and hang out in the oven until crispy but still tender. This is the food equivalent of a warm hug.
Tempeh is one of those ingredients that you often see at the grocery store and want to try, but can't think of what to do with it. Now there's no need to put it back on the shelf — you've got a whole roundup right here.
From BLTs to pasta, chili to taco salad, you'll run out of tempeh before you ever run out of possibilities in the kitchen. This is one plant-based staple to keep on your grocery list every week.
Hilary I. Lebow is a health journalist with fitness and nutrition certifications through the Yoga Alliance and the National Academy of Sports Medicine (NASM). When she's not working, you'll find her playing on the beach with her two dogs or exploring around Miami, the beautiful city she calls home. Read more of her work here.