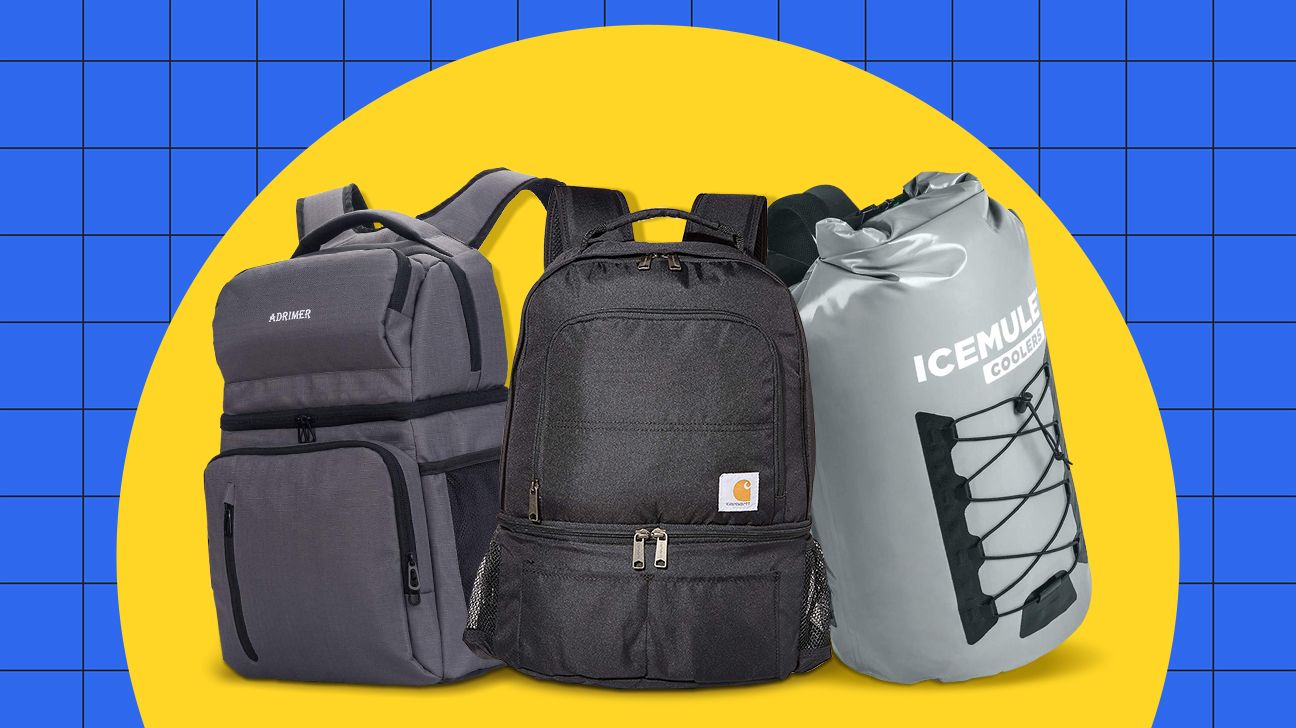 When you live so much of your life on the go, you need gear that accommodates that constant movement. That includes totes that can safely store your perishable items while you're out and about.
Enter: the insulated cooler backpack — one of the most genius inventions designed for those who spend most of their time going from point A to point B (and then C to D).
An insulated cooler backpack, which is also referred to as a backpack cooler, is a backpack-style bag with a large insulated interior for keeping both beverages and food cold for long periods of time.
They're convenient, easy to carry, and useful on just about any outdoor excursion or long workday. It's a great way to ensure that everything you're carrying with you stays as fresh as possible when you might not have access to a fridge or freezer.
When shopping for an insulated cooler backpack, the first thing you want to confirm is that it is indeed insulated and that there's enough room for you to store everything you need.
Some backpack coolers have split designs, where only one side is insulated and the other is room temperature.
This can be incredibly useful for folks traveling with other, nonperishable items like a laptop, textbook, kids' toys, etc. It's also a plus when cooler backpacks have extra pockets and even a separate area for holding beverages on the outside as well.
Another key thing to consider is the weight (that is, without a ton of stuff packed inside).
Like regular backpacks, cooler backpacks have a weight range usually anywhere from 4 to 10 pounds, but because of their insulation, they tend to be heavier than their standard, noninsulated counterparts.
It's important to consider just how much you plan to pack inside your cooler backpack in order to have an idea of how heavy it'll be while you're on the go. Comfort is key, especially for a bag that you'll wear on your back every day.
With so many insulated cooler backpacks on the market, the process of shopping for one can be overwhelming, to say the least. We're here to help. Here are our picks for the best insulated cooler backpacks on the market right now.
$ = under $50
$$ = $50–$100
$$$ = over $100
YETI Hopper Backflip 24 Soft Sided Cooler/Backpack
Price: $$$
Yeti as a brand has an amazing reputation for their ability to create innovative and future-forward coolers that meet the demands of modern day professionals. So it's no surprise that their cooler backpack isn't, well, super cool.
It's part backpack and part cooler with the capacity to store a day's worth of drinks and food (20+ cans with ice!). The high-density fabric is waterproof and resistant to mildew, punctures, and intense UV rays. It's insulated with closed-cell rubber foam, keeping your goods cold for 12+ hours.
Buy the YETI Hopper Backflip 24 Soft Sided Cooler/Backpack.
IceMule Pro
Price: $$$
The IceMule is engineered for high-performance and portability, offering over 24 hours of cooling temps. It can hold 23 liters or 18 cans along with ice thanks to a large inside in which the insulation is stitched together with welded seams and a zipperless closure.
It's worth noting, however, that this cooler backpack does not come with a noninsulated side, so anything you intend on carrying should be meant for refrigerator or freezer temps.
Coleman Soft Backpack Cooler
Price: $
While many insulated cooler backpacks are expensive, there are some cheap diamonds in the rough — and this one by Coleman is certainly one of them.
If you're looking for the basics, this one has you covered. It contains one large insulated compartment with a leak-proof design, thanks to heat-welded seams that can fit up to 28 cans.
It's surprisingly comfortable with extra padding in the back and the waist area. It also has zippered front pockets that are noninsulated for storing dry snacks and other nonperishable items.
Buy the Coleman Soft Backpack Cooler.
TOURIT Backpack Cooler
Price: $
This reasonably priced option has all the bells and whistles you could ask for: it's light (weighing only 1.6 pounds), durable thanks to a tear-resistant fabric, and has a water-repellent outer layer. It has multiple compartments that are large enough to fit 28 cans (with ice).
It's insulated with a PEVA hot-pressed material that can keep your food and beverages cold for as long as 16 hours with freezer packs. The outside has a bottle opener, two bottle holders, and a mesh pocket that's perfect for holding a standard smartphone.
Buy the TOURIT Backpack Cooler.
OUTXE Cooler Backpack Insulated Cooler Bag
Price: $
If you're looking for an all-in-one backpack that can carry your food and beverages along with your regular everyday items, like your laptop, this is a great choice.
It has two separate compartments, one that's insulated, thanks to a PEVA hot-pressed material, and can fit up to 20 cans along with ice, and one non-insulated zippered back pocket that's large enough to store a 15-inch laptop.
There's even an extra front pocket for small items and two side pockets to store water bottles and/or an umbrella.
Buy the OUTXE Cooler Backpack Insulated Cooler Bag.
Carhartt 2-in-1 Insulated Cooler Backpack
Price: $
Whether you're heading out for a day trip to the beach, an outdoor concert, or a hiking or camping excursion, this cooler backpack will cover all of your packing and cooling needs.
It has one base compartment that's fully insulated with the ability to hold up to 12 cans (with an ice pack) and keep them cold for over 24 hours. It also contains two mesh side pockets for additional drinks as well as a front zipper pocket for small essentials.
It's made from durable, water-repellent material to protect against inclement weather or accidental spills.
Buy the Carhartt 2-in-1 Insulated Cooler Backpack.
ADRIMER Cooler Backpack Insulated Waterproof
Price: $
With high-density insulation and a leak-proof liner, you won't have to worry about spills with this extra roomy cooler backpack. It has 10 liters of noninsulated storage as well as 15 liters of fully insulated storage.
Three medium zipper pockets on the front can fit extra odds and ends, and there's even a hidden anti-theft pocket in the shoulder strap for items you want access to quickly. Support and comfort are a priority, with a back panel for maximum airflow ventilation and adjustable shoulder straps with extra foam padding.
Buy the ADRIMER Cooler Backpack Insulated Waterproof.
VAKKER Insulated Cooler Backpack
Price: $$$
This certainly doesn't look like your average backpack. It features a closed-cell foam insulation that promises to keep your perishables cold for up to 3 days! It has a ton of storage space and can fit 24 cans along with 5 lbs of ice.
The exterior construction is equally impressive, with a waterproof material that stands up to all the elements, mildew, UV rays, punctures, pokes, prods, you name it. While this might not be your average everyday backpack, it's one you'll want to have with you on trips long and short.