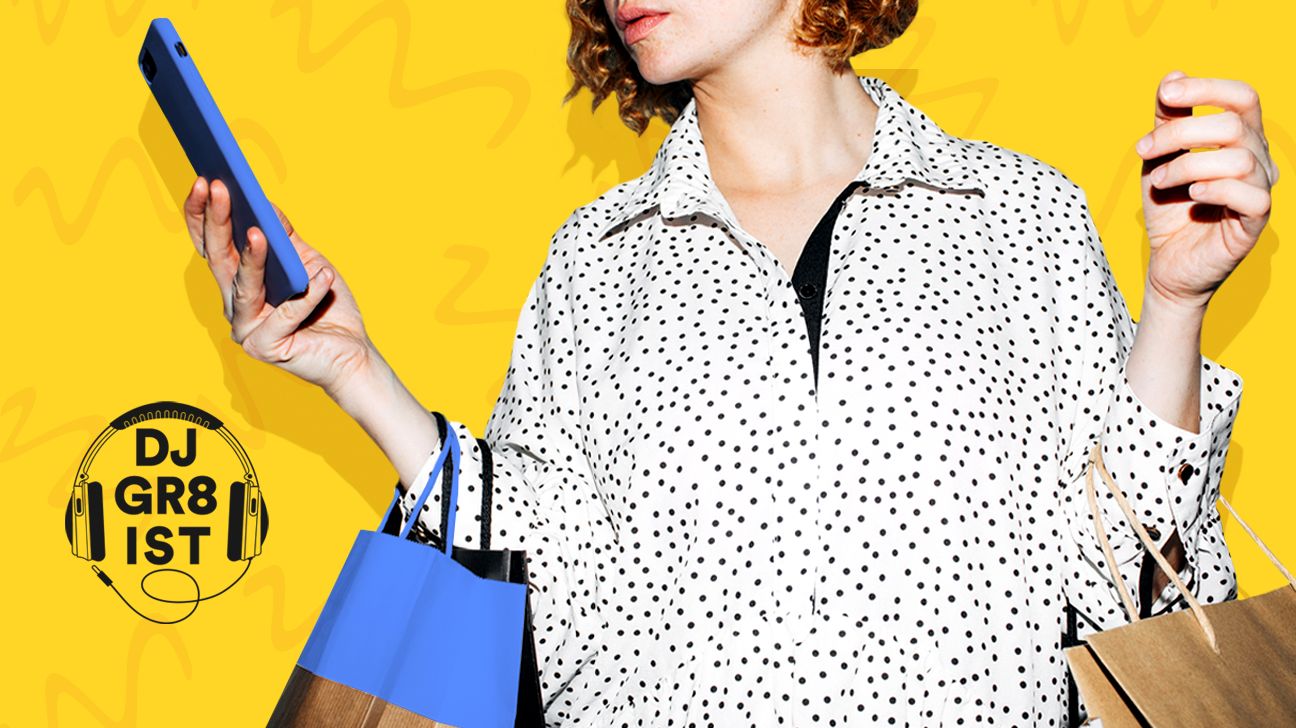 If you usually wait until you're digesting Thanksgiving leftovers to start saying "happy holidays," you might feel like you're a little late to the holiday purchasing party (hello, Christmas decor in late October).
No worries — we compiled this shopping spree playlist to get you in the buying mood, whether you love it or hate it. Hopefully, this will help you avoid frantically Googling gift guides for friends and family at the last minute (socks again?).
Follow us on Spotify for more happy holiday sounds.
35 songs, 2 hr 14 min
"Ka-Ching!" by Shania Twain
"Money" by Cardi B
"Price Tag" by Jessie J feat. B.o.B
"Money, Money, Money" by ABBA
"Bills, Bills, Bills" by Destiny's Child
"If I Had $1,000,000" by Barenaked Ladies
"Shoes Remix" by Kelly
"Can't Buy Me Love" by The Beatles
"No Money" by Kings of Leon
"Lost in the Supermarket" by The Clash
"Dinero" by Jennifer Lopez feat. DJ Khaled & Cardi B
"Thrift Shop" by Macklemore & Ryan Lewis feat. Wanz
"Nan You're a Window Shopper" by Lily Allen
"I Am a Grocery Bag" by They Might Be Giants
"7 Rings" by Ariana Grande
"Queen of the Supermarket" by Bruce Springsteen
"Run It Up" by Marshmello
"Luxurious" by Gwen Stefani
"Money" by Pink Floyd
"Billionaire" by Travie McCoy feat. Bruno Mars
"Material Girl" by Madonna
"Just Got Paid" by *NYSNC
"Money" by The Flying Lizards
"Window Shopper" by 50 Cent
"Money Honey" by Lady Gaga
"Drip" by Cardi B feat. Migos
"Money Talks" by Rick James
"Give a Little Bit" by the Goo Goo Dolls
"Self Care" by Mac Miller
"Money Machine" by James Taylor"
"Shopping Bags (She Got from You)" by De La Soul
"Whatever You Like" by T.I.
"Give it Away" by the Red Hot Chili Peppers
"If I Had the World to Give" by the Grateful Dead
"SOS" by Rihanna