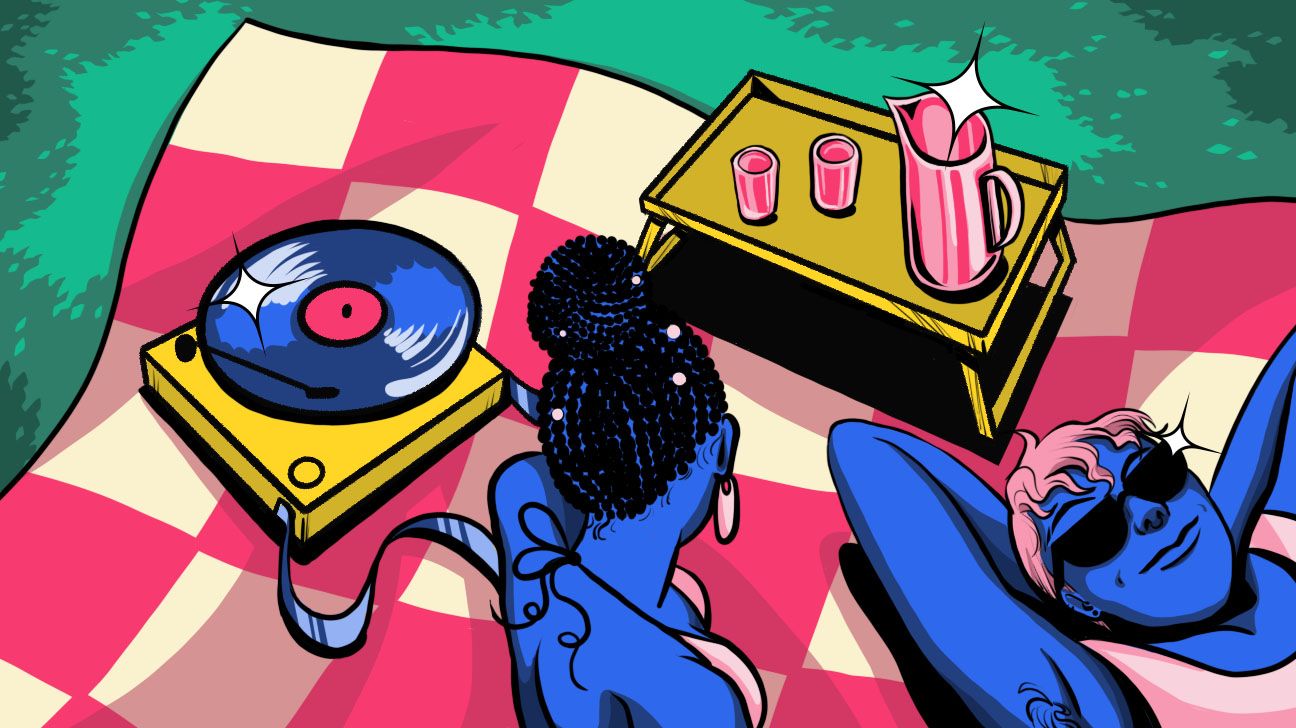 You've got drinks, snacks, and your crew, but what about tunes?
Wherever you're hangin' this summer — a backyard, patio, or rooftop — the right background music will serve up feel-good vibes from the moment you step outside.
Fortunately for you, we've got a mix that channels that midsummer golden hour feeling long after the sun goes down. ☀️
Follow us on Spotify for more.
49 songs, 2 hr 52 min
"3 Nights" by Dominic Fike
"As It Was" by Harry Styles
"Banana Pancakes" by Jack Johnson
"Better Together" by Jack Johnson
"Beyond" by Leon Bridges
"Can't Take My Eyes Off Of You — (I Love You Baby)" by Ms. Lauryn Hill
"Carolina In My Mind" by James Taylor
"Cherry" by Harry Styles
"Dancing In The Moonlight" by King Harvest
"Dear August" by PJ Harding & Noah Cyrus
"Dirty Work" by Steely Dan
"Dreams" by Fleetwood Mac
"Free Spirit" by Khalid
"Get Out The Map" by Indigo Girls
"Good Days" by SZA
"Good Kisser" by Lake Street Dive
"If It Feels Good (This It Must Be)" by Leon Bridges
"Landslide" by Fleetwood Mac
"Let's Fall In Love For The Night" by FINNEAS
"Light On" by Maggie Rogers
"Lost" by Frank Ocean
"Love Grows (Where My Rosemary Goes)" by Edison Lighthouse
"Malibu" by Miley Cyrus
"Meet Me At Our Spot" by THE ANXIETY, Willow, & Tyler Cole
"My Stupid Mouth" by John Mayer
"Neon" by John Mayer
"New Light" by John Mayer
"No Such Thing" by John Mayer
"Outta My Head (With John Mayer)" by Khalid & John Mayer
"Real Love Baby" by Father John Misty
"Rhiannon (Will You Ever Win)" by Fleetwood Mac
"Rich Girl" by Daryl Hall & John Oates
"River" by Leon Bridges
"Saturday Sun" by Vance Joy
"Sex, Drugs, Etc." by Beach Weather
"Smokin' Out The Window" by Bruno Mars, Anderson .Paak, & Silk Sonic
"Solar Power — Spotify Singles" by Glass Animals
"Someone New" by Hozier
"Sweet Creature" by Harry Styles
"Texas Sun" by Khruangbin & Leon Bridges
"Twenty One" by Khalid
"Watermelon Sugar" by Harry Styles
"What Falling In Love Is For" by Emmit Fenn
"When Am I Gonna Lose You" by Local Natives
"XO" by John Mayer
"Your Body Is A Wonderland" by John Mayer
"Your Smiling Face" by James Taylor
"Your Song" by Elton John
"You've Got A Friend" by James Taylor