This article originally appeared on June 1, 2021, on our sister site, Lonely Planet. Some info may have been updated to be more current.
Traveling across the USA is a wonderful adventure, but traveling with your dog can make it even better. More places across the country are adding dog-friendly amenities to make a trip with your pooch easier than ever before.
Here are eight adventures around the United States to enjoy with your dog.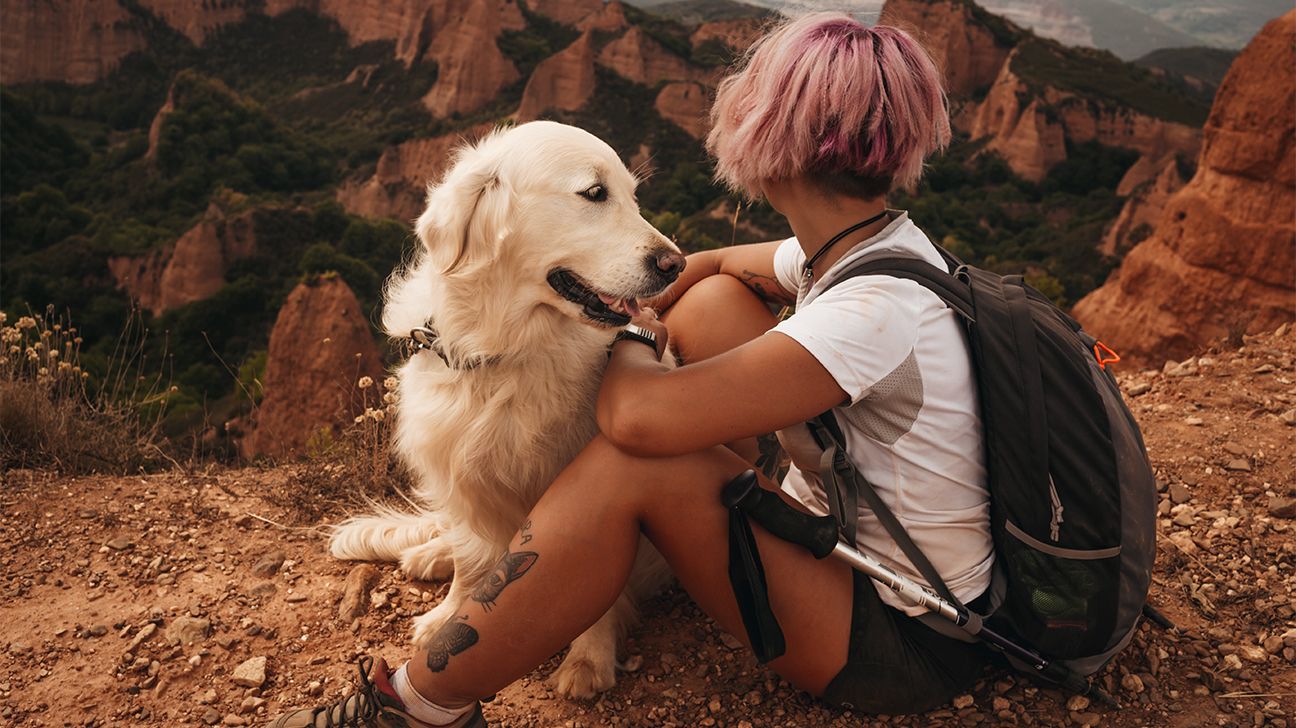 Gravity Haus, a 60-room hotel that opened in Breckenridge in 2019, welcomes dogs of all kinds (for a pet fee of $50 per day) and arranges adventures with your pup.
In winter, sign up for a snowshoe tour with Colorado Adventure Guides, who are super knowledgeable and great with canines. Your dog will have a blast trotting through the soft powder of Summit County's backcountry routes. Choose a leisurely loop through a pristine mountain meadow or opt for a tricky trek to a snow-covered peak.
If you visit in December, be sure to take part in the dog parade down Main Street. Holiday-themed dog costumes are highly encouraged.
If you're in Seattle with your pup, stop by The Seattle Barkery, a food truck for dogs at the Fremont Sunday Market.
The Seattle Barkery is stocked with handcrafted dog treats such as bacon pupcakes, air-fried chicken hearts, paw-shaped peanut butter cookies, and ice cream sundaes served in edible bowls. You can also buy doggie bowties and crowns and preorder dog birthday cakes for your next yappy hour, barkday party, or barkmitzvah.
In Miami, don't be surprised if Betsy and Rosa, two golden retrievers who serve as Canine Executive Officers at The Betsy, greet you upon arrival. The two lucky dogs live on-site at this boutique hotel. Hang out with them in the lobby bar on Fridays at 5 p.m., when snuggles are highly encouraged.
When you and your pooch need some R&R, you can book a couples massage, where you and your furry friend get gentle massages and your pooch scores healthy nibbles afterward.
Denver is filled with dog-friendly hotels, parks, restaurants, and canines sporting hiking boots.
Confluence Kayaks will let you take a kayak trip down the river with your dog in tow, but if you prefer land, you can walk your pup around Denver while checking out all the cool murals. Visit Three Dog Bakery for creative treats, and check out the Watering Bowl, a bar that caters to dogs.
Denver has events for pups throughout the year, including Dog-A-Pool-Ooza, when public swimming pools open up to dogs on the last day of the season; Growloween, a trick-or-treating session for both humans and canines; and Bark at the Park, hosted by the Colorado Rockies Major League Baseball team.
Schedule a dog-friendly getaway in Baring, about an hour's drive northwest of Seattle. Plenty of cabins here, from hobbit homes to A-frame designs, welcome dogs. Your dog can run off-leash in wide open spaces, and there are hiking trails and a gorgeous lake for splashing in. Afterward, dry off and warm up with a snuggle by a fire.
About 40 minutes from Orlando, Rock Springs Run State Reserve is a natural, free-flowing spring, and it's an ideal spot for you and your dog to go kayaking and swimming.
Because the water is so stunning, a clear kayak is one of the best ways to explore. The kayak acts as a giant magnifying glass and is a fun way to catch a glimpse of otters and fish as they swim by. Get Up and Go Kayaking provides clear kayaks and a knowledgeable guide to lead you and your dog on a leisurely tour of the springs.
If you visit Vail's GoPro Mountain Games, held every June, you'll see almost as many dogs as humans.
More than 70,000 adventure lovers flock to these games each year. The one-of-a-kind event attracts some of the best athletes in the world to compete in events such as kayaking, rock climbing, and mountain biking, but it's not only for human athletes. Canines can take part in trail runs, vertical jumping, and retrieving.
Girdwood, a cozy ski town south of Anchorage, has scenic hikes you can conquer with your dog. The North Face trail at Alyeska Resort has views of Mt. Alyeska and the hanging glaciers of Turnagain Arm.
At the top, you'll be rewarded with a meal at Bore Tide Deli & Bar, where your travel companion can lap up some water. The 2.2-mile trail ascends 2,000 vertical feet through steep inclines and narrow switchbacks. The good news is that you and your dog can take a complimentary aerial tram ride back down.